I was invited by the brilliant George Eustance who runs the ((Bounce)) fitness classes in North Yorkshire to take part in an eight week trial of the mini trampoline fitness sensation!
The ((Bounce)) class is a (HiiT) high intensity interval training, choreographed cardio workout to music on mini trampolines! George runs the class at Beckwith Health Club in Harrogate.
How ((Bounce)) Benefited Me
The idea was to see what a difference taking part in the ((Bounce)) classes twice a week made to me, my lifestyle and my health.
Having started with zero fitness, whatsoever, I was up for the challenge, given 'getting fitter' had been languishing on my to do list for quite some time!
After the initial shock to my body of having to move for an hour in one go, and vowing never to go back after my first session, I slowly began to love the classes, to a point where I was actually very disappointed when the eight weeks was up!
Here's how I benefited…
1 – Improved Fitness
So it should be of no surprise that having taken part in the fun ((Bounce)) class twice a week, on a Wednesday morning (9.30-10.30am) and a Saturday (10am-11am) for eight weeks my fitness levels massively improved!
I had zero levels of fitness when I first started at ((Bounce)), like absolute zero! And whilst at the first class I did almost actually die, I was amazed how quickly I improved.
By week eight I noticed I could manage a whole class without needing much rest, that going up a couple of flights of stairs in town I was no longer breathless and that I just had a lot more stamina generally in day to day life.
2 – More toned
Whilst weight loss was not the main reason I wanted to take part in more exercise (though that would have been a bonus) I was amazed at how much more toned my legs and arms became from twice weekly bouncing on a trampoline for an hour!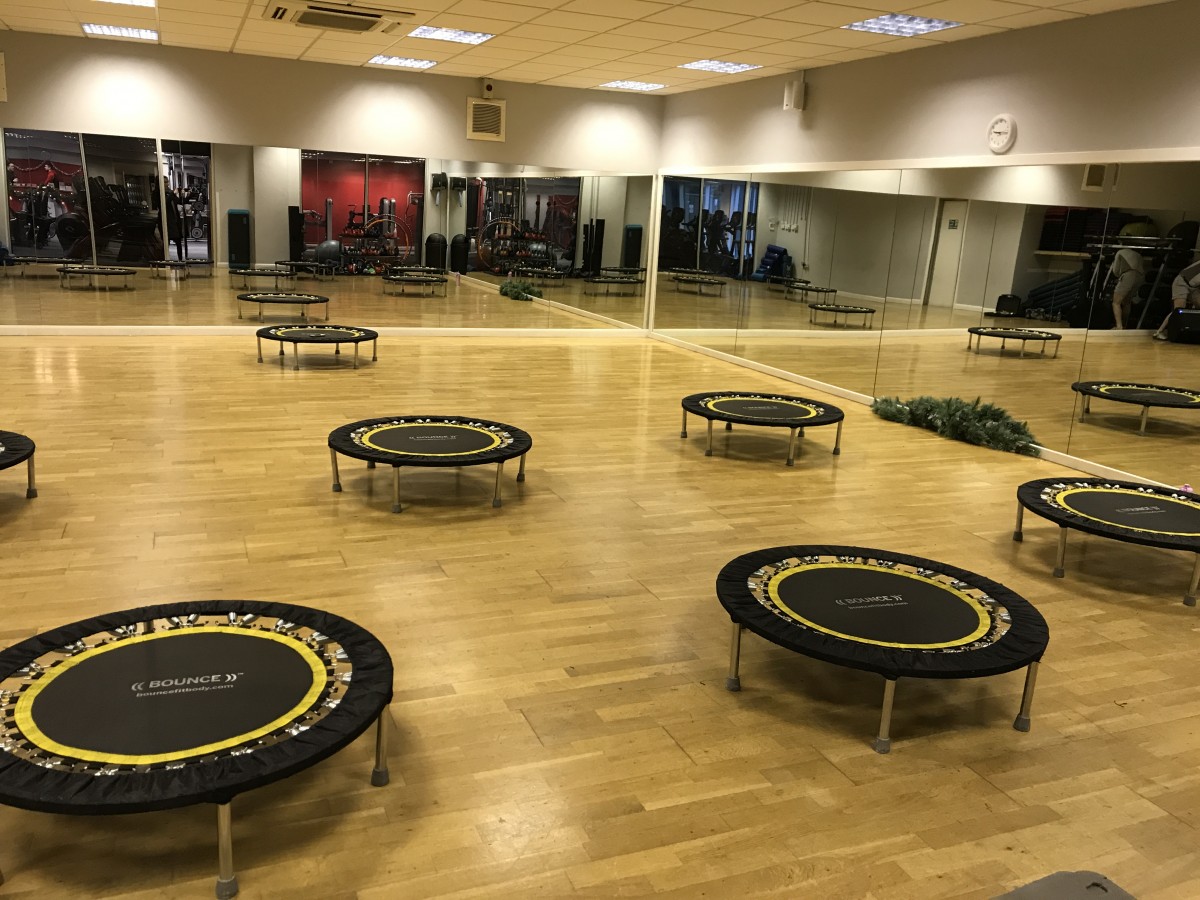 The class is divided into 40 minutes cardio and 20 minutes toning. When I started it could barely do a single sit up and after the eight weeks I was able to almost complete the whole abs track without a break. I didn't weigh myself but I'm fairly sure from how my clothes fit I've lost a bit of weight along the way too!
3 – Better Coordination
I thought I was quite a coordinated person, but turns out till you have to move to music on a trampoline with other people at the same time you soon realise how uncoordinated you are!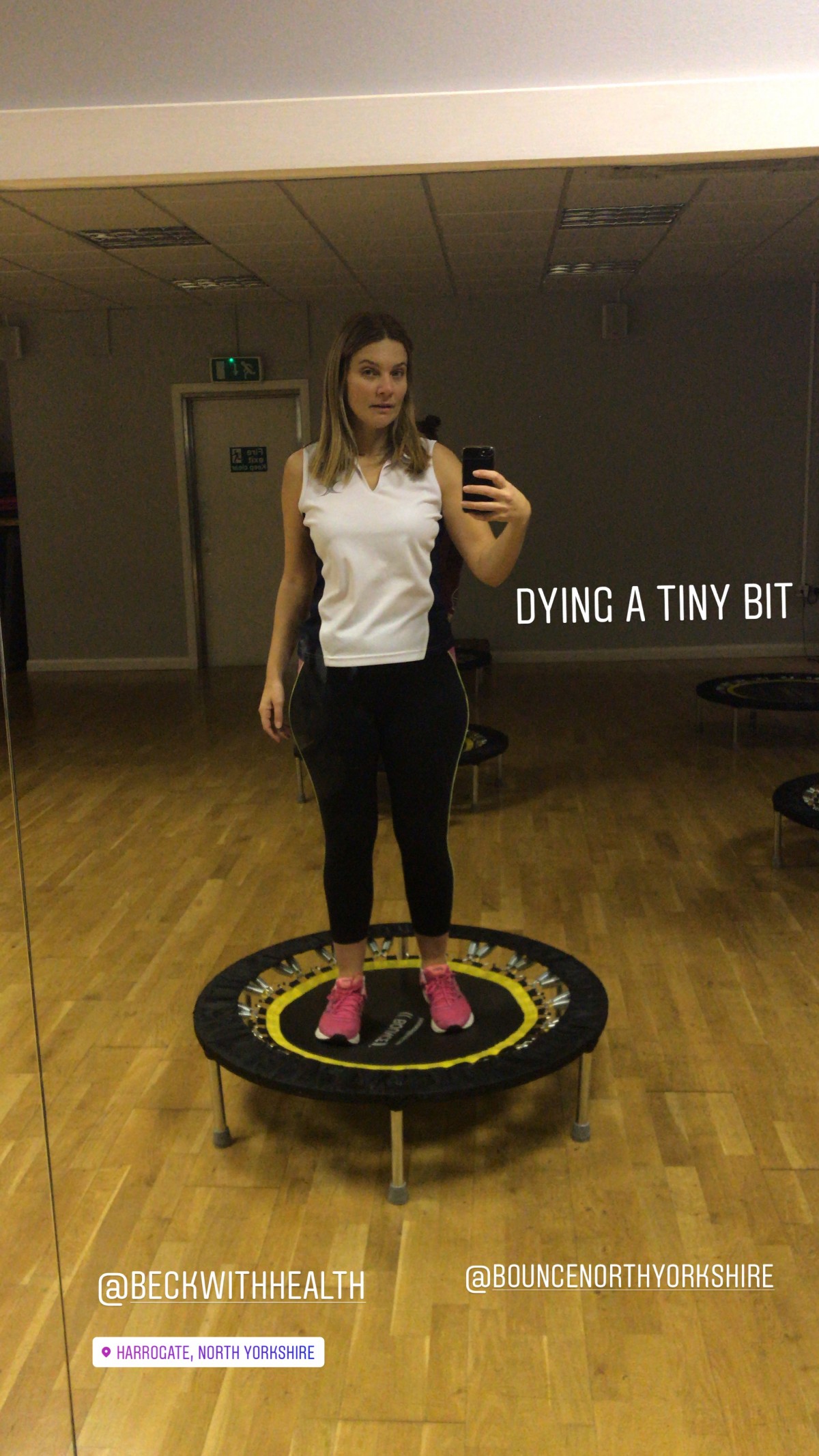 It only took me a couple of sessions to get into the groove though and I loved that feeling of all doing something together at the same time, it took me back to dance classes I'd enjoyed when I was younger! It's really great for your mind to learn new movement skills as well as your body! Plus it distracts you from quite how exhausted all the cardio workout is making you!
4 – Loads of Fun
((Bounce)) is a great way to do something different. Jumping up and down on a trampoline to dance tracks isn't for everyone, but given it's all in the name of fitness I totally loved it! There's a great class spirit and it's not cliquey or exclusive at all.
George who runs the class is very motivational, not shouty and is really accommodating and non-judgy. He's a great guy and keeps you going even when you feel like you'd really rather stop for a bit. He's really happy for you to go at your own pace but makes sure to keep challenging you too! All in all it's a very friendly atmosphere!
5 – Increased Calorie burning
Taking part in a ((Bounce)) class can burn up to around 500-700 calories in an hour – which is a lot! I always left a class feeling hungry and virtuous and like I could totally justify a really decent lunch! George took some measurements before after the eight weeks and it turns out my body fat had reduced by 3% over the time.
6 – Chance to Dance
I love dancing, always have done; whether at ballet lessons as a child, in school productions as a teenager or in clubs in my twenties. Turns out your 30s and 40s don't bring much chance to dance, apart from the odd wedding. So I loved that part of the class. A chance to move to some great music and all be part of a routine together! I could pretend I was a Strictly celeb, learning all the new steps and being part of a group routine, loved it!
7 – Better Balance
I think because I'm so much more toned than I was before, (I'm not talking calendar pin-up, obvs, more 40 year old Mama who's done a bit of exercise!)  I've noticed a real difference in the way I can move around when I'm not at the classes. Little things like standing on one leg to take my socks off is really easy now and I'm just a lot stronger all over. My muscle tone must have improved as a result too I'm sure!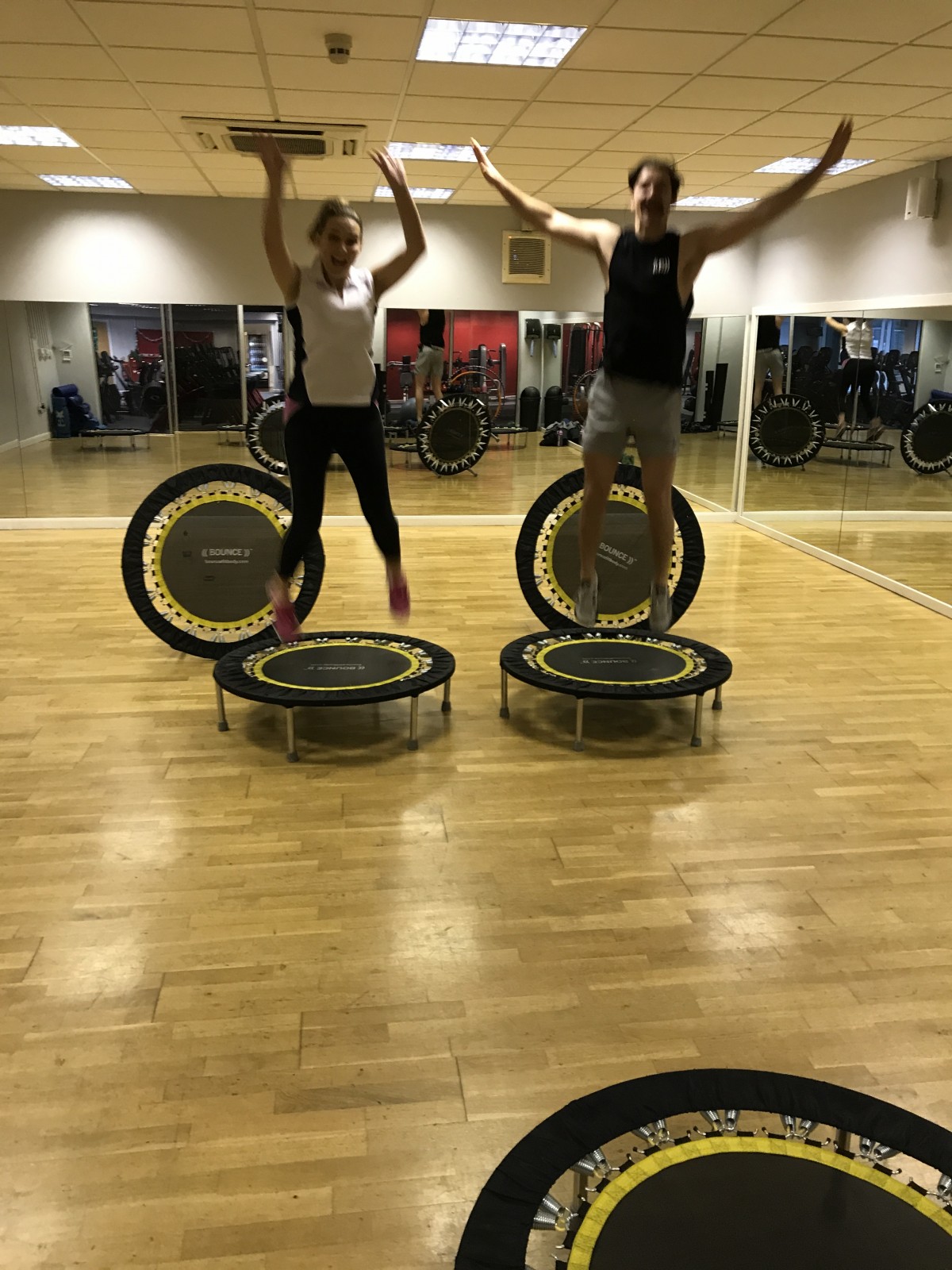 8 – Child Friendly ((Bounce)) classes
Every Saturday from 10am to 11am there's a child friendly ((Bounce)) class – which means the class is just the same as usual but kids age eight and over can join in too on their own mini-trampoline. The Small Boy came a few times too and brought some books, joined in when he felt like it and chilled out when he didn't. Some weeks there were Dads and daughters, some weeks Mamas with their little babies watching on. It was a real mix of families all doing it together and created a fab atmosphere!
The Big Girls are eleven now and while they do both have active lifestyles it's good to see them enjoying exercise and seeing it as a part of a healthy balanced life. It's good role modelling for them to see me going to classes and taking part in activity too. And while there were plenty of times they'd have rather stayed home on a Saturday morning on their iDevices, they made the commitment to come along to the child friendly ((Bounce)) class with me from 10-11am.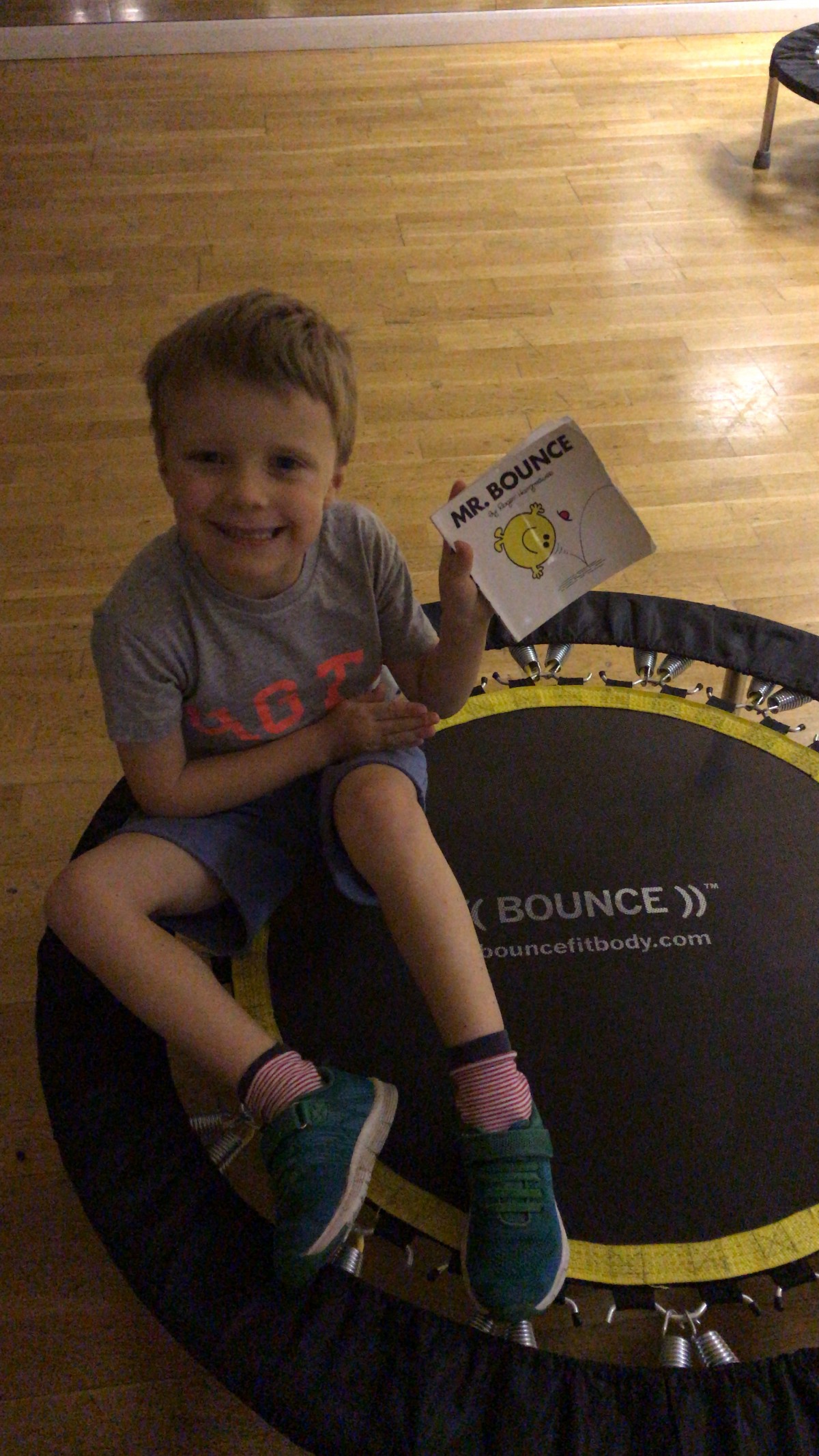 I think the classes did them both good, it was really good for their coordination too, it made them think about some of the things their 'Strictly' heroes were undertaking week in week out and improved their overall fitness levels too! I'm pretty sure it's contributed to their improved stamina in cross country at school and they both kept up a run for 5K when they went out with Harrogate Papa recently!
Overall Success
Overall I came to really love the ((Bounce)) classes! I put it down as a huge personal success and a positive achievement, all whilst having fun. In the past I've often found it hard to stick to taking part in regular exercise, but this class really worked for me. I'm hoping to continue into the New Year as I think once you've found something you love and can fit into your lifestyle, you're really onto a winner.
Harrogate ((Bounce)) Class Times
((Bounce)) takes place on the following days and times in Harrogate at Beckwith Health Club, Central House, Otley Road, Harrogate, North Yorkshire, HG3 1UF
Saturday 10am -11am  – child friendly class
Monday 6.45am – 7.45pm
Wednesday 9.30am – 10.30am
Wednesday 7pm – 8pm
Book a ((Bounce)) class
((Bounce)) sessions cost £6.95 per person and you just pay as you go.
You don't need to be a member to join a class. You don't need to be a member at Beckwith Health Club to go to a ((Bounce)) class.
You can book online at https://bouncefitbody.com and search for Harrogate (under the Yorkshire heading)
Classes in Harrogate are currently at Beckwith Health Club.
You can follow ((Bounce)) North Yorkshire on Instagram at https://www.instagram.com/bouncenorthyorkshire/
George runs some classes in Ripon too.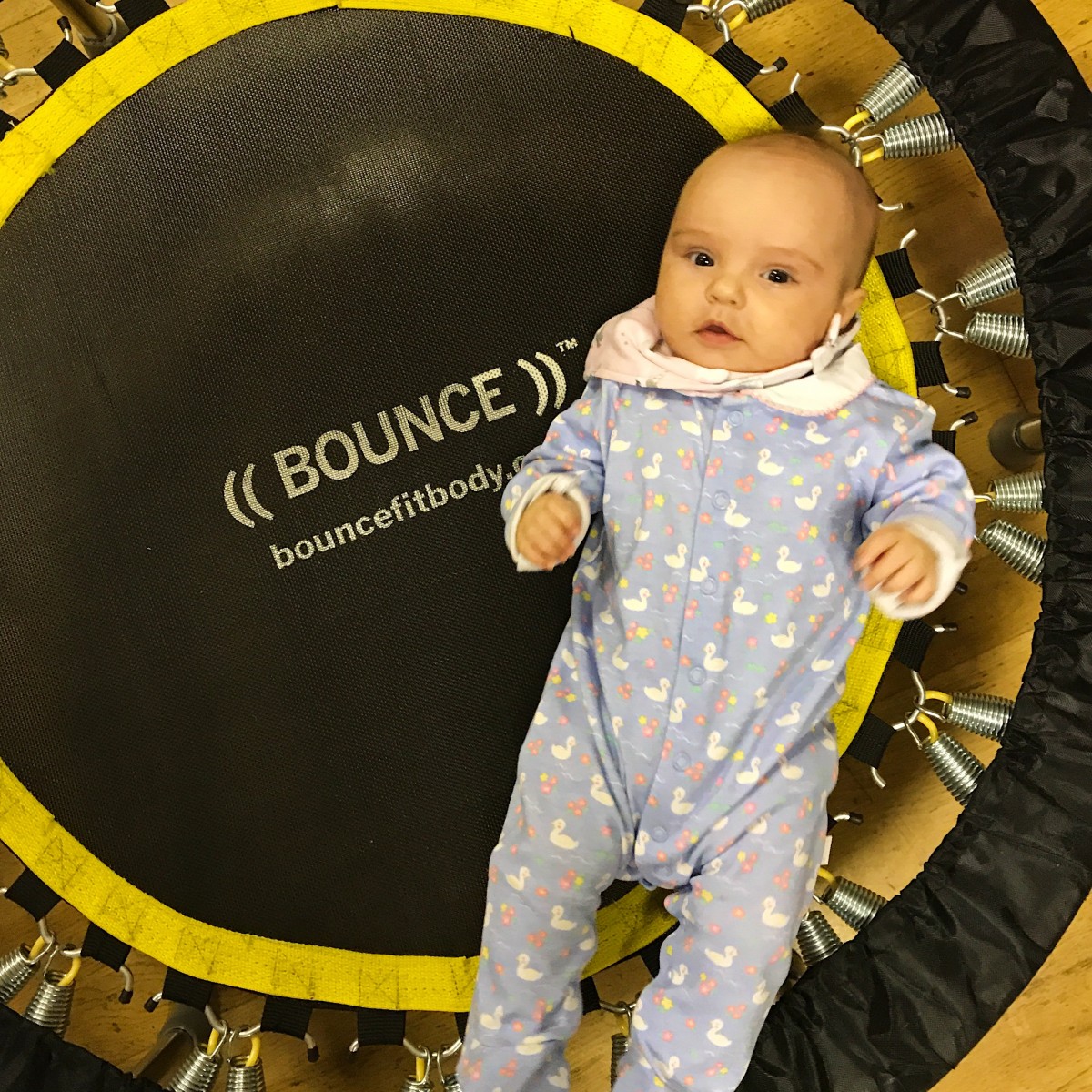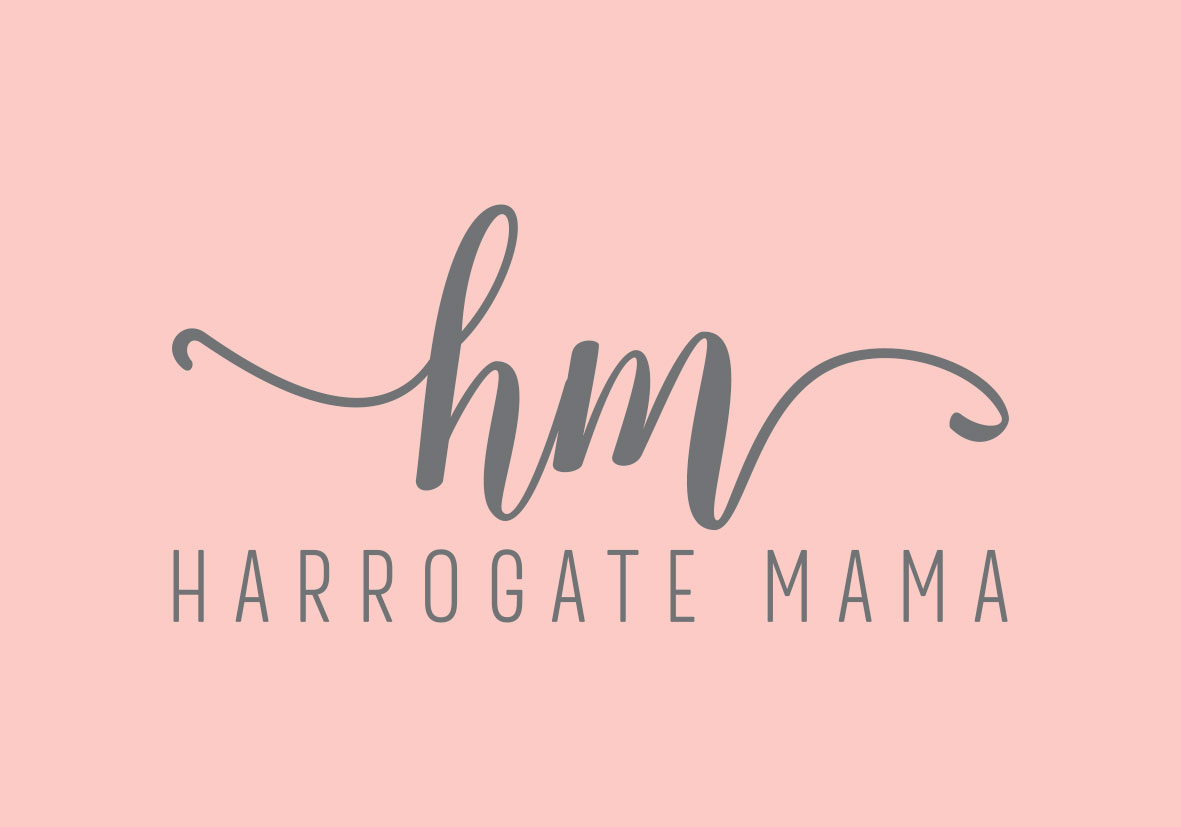 I was invited to take part in the classes as part of a collaboration with George from ((Bounce)) the views as always are my own.