Are you heading to the Harry Potter Studio Tour? We went last weekend and here's what might be helpful to know before you go!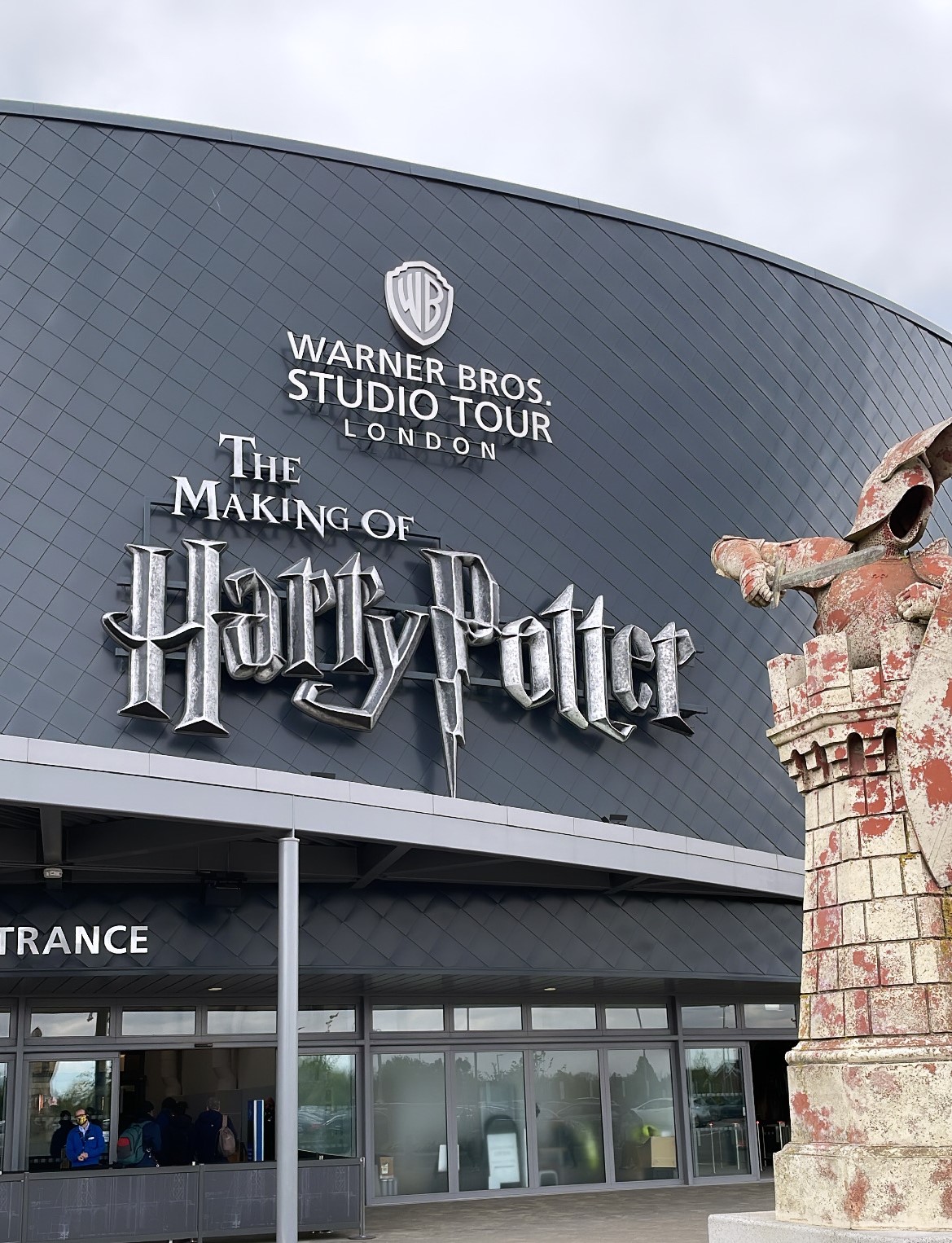 What's the Harry Potter Studio Tour?
The Harry Potter Studio Tour is totally magical, it's an experience from start to finish, whether you're a Harry Potter fan or not! It helps to have read the books, or more importantly seen the movies before you go, if you want to get the most out of it.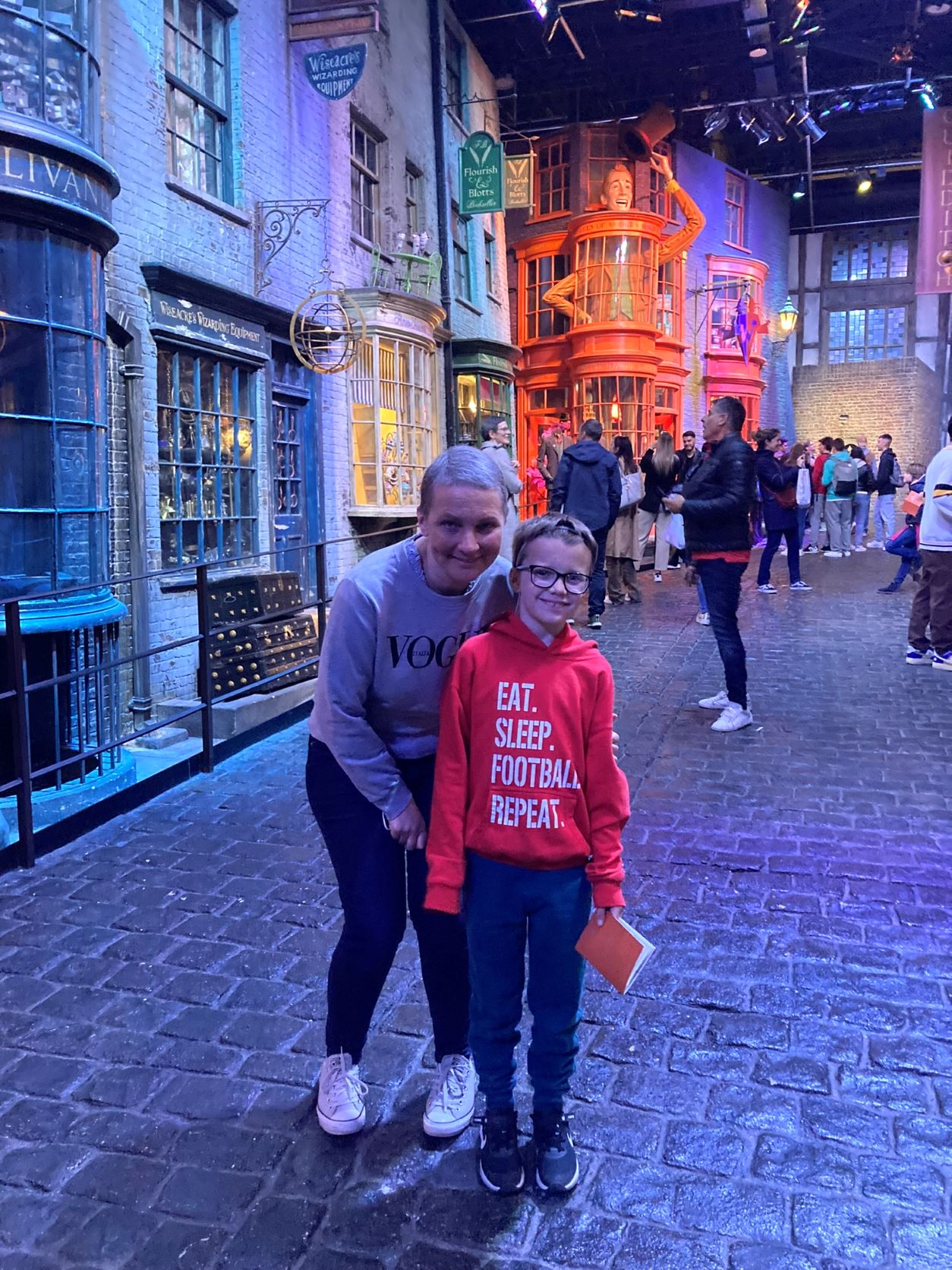 It's a walking tour of the Warner Brother's Studio where all eight of the Harry Potter films were made. You can find the tour in Watford – which is an easy, but long (three to four hour drive) from Harrogate.
It's sort of like a museum with SO MUCH to look at, bits to read, and some interactive elements too. It takes about three and a half hours to walk round, though you can stay as long or as little as you like.
What age is the Harry Potter Tour suitable for?
It's suitable for any age, children under about seven seemed to struggle a bit and there interest wasn't held in the same way. It looked hard work taking a toddler/pre-schooler who let's face it just want to run off and grab everything anywhere! Children under four are free.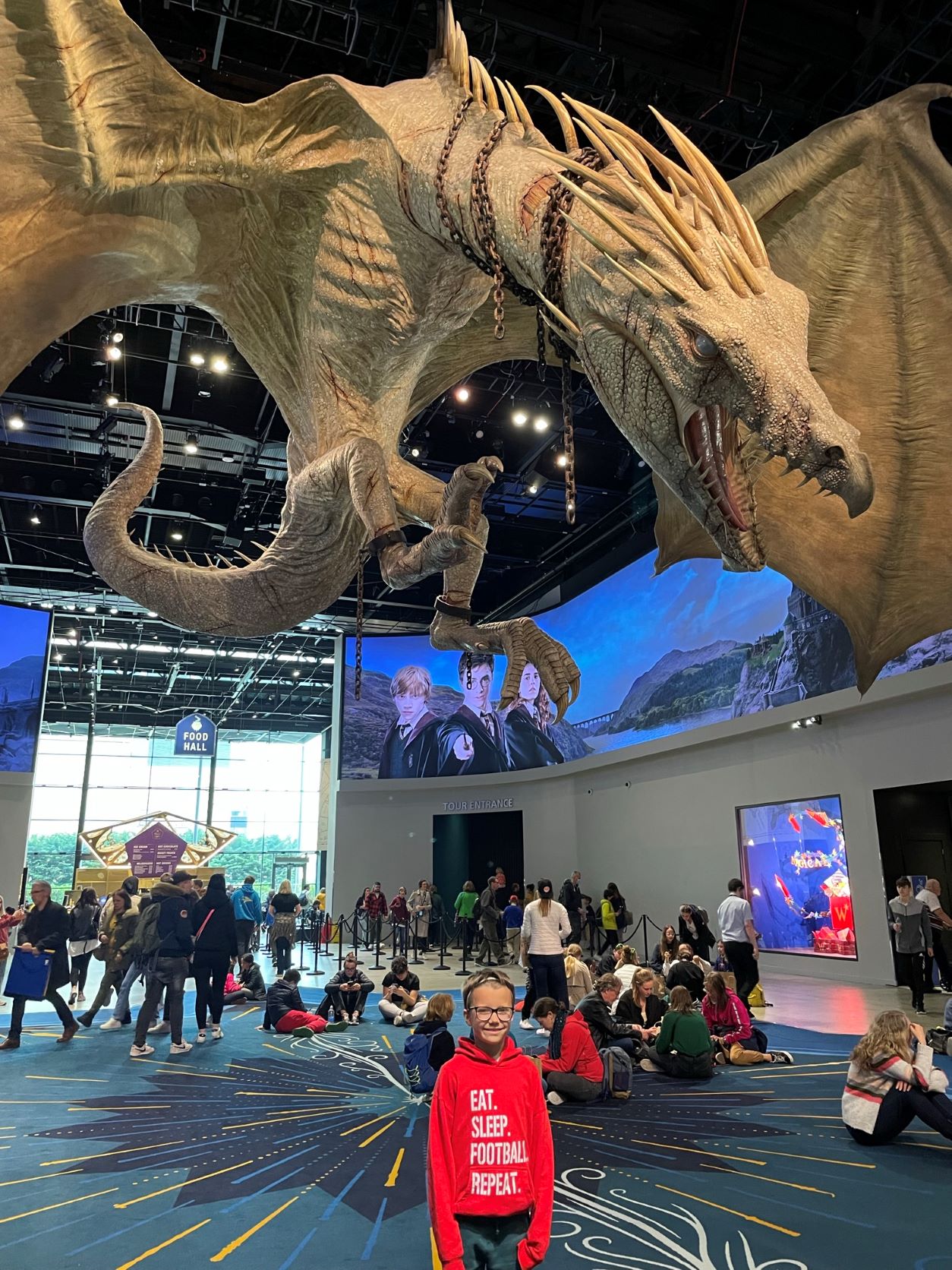 The Small Boy is nine and I would say was the PERFECT age for it! He loved every single aspect of it. In awe of everything and wanting his photo taken everywhere!
One of the Big Girls (14) was more into it than the other, takings snaps and being our very own tour guide, given she'd watched all the movies again recently.
There were also MANY grown adults, who were REALLY into the experience, so there's no age limit!
What can I see on the Tour?
There are sets, props, costumes, behind the scenes info, details about special effects, makeup and hair and design too. There's LOADS to it! There's also a 'Greenscreen experience' with an option to buy photos or video afterwards.
I'm not sharing many photos or video as I think it's much better viewed in person and I don't want to spoil it for anyone. The best piece of advice I had was just to go along and enjoy it without too much research beforehand!
Is it Busy? Is there a Better Time to Book?
The Studio Tour always seems popular and you need to book well in advance. Slots are available every half hour throughout the day, so you just book for your arrival time. The last slot allows time to complete the tour, so you're never short changed!
The time slots mean the crowds are kept to a manageable number in each 'cohort' – so while it's busy you can always see what you need to see and there feels like there's enough space for everyone.
We booked at 4.30pm and ate afterwards, by which time everyone was ravenous! If we went again I'd probably book for 10.30/11ish so we could eat at lunchtime at the Backlot Cafe. Time slots also allow for travel time which is helpful!
How much is a ticket?
Tickets are £50 for adults, £40 for kids or £160 for a family of four. (rounded up from 95p)
Can I take photos and video?
Yep – there were more cameras and videos being taken than I've seen in a long while, even people asking us to take their photos (like in pre Covid times!). No tripods allowed though!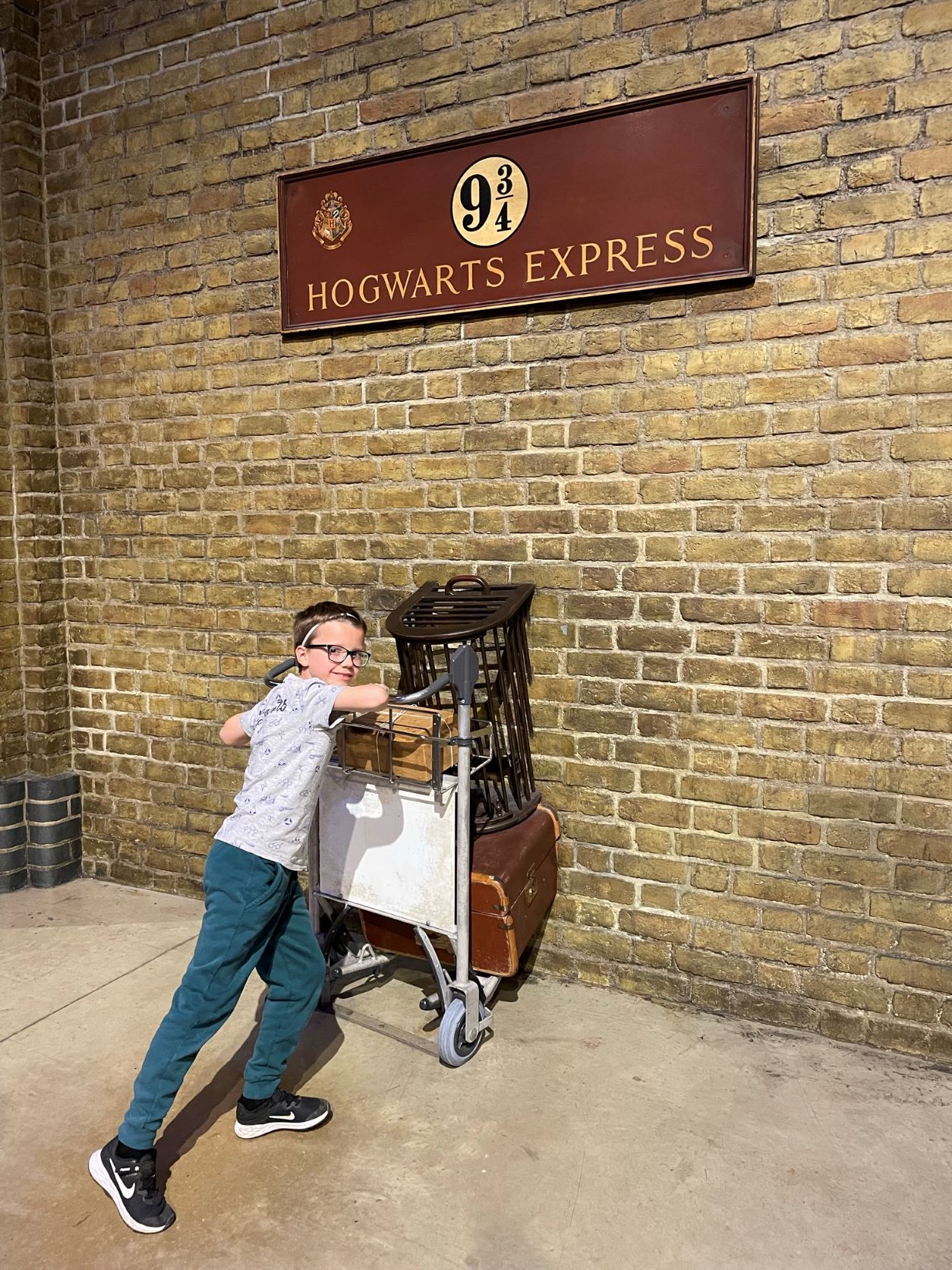 The only area you're not allowed to take photo or video is in the green screen area or in the pre-tour video welcome.
Are there any scary parts?
There's a small 'scarier' area in the 'Forbidden Forest' set which is dimly lit with a big spider – but there's an 'escape route' if you want to avoid it – it brings you out in the Christmas shop – which is a nice antidote if your Smalls were a bit overcome!
There's also an 'experience' at the end of the tour in 'Gringotts Bank' – you can see it coming, so can also skip-on through that bit if you don't think the younger ones in your group are up to it. In reality nothing too scary happens – and you're physically well away from anything too.
Can I eat at the Warner Brother's Studio Tour?
Yep – they have a coffee shop style area as you enter, 'Studio Café', selling snacks and drinks – perfect if you arrive early and want to eat before you tour.
There's a main 'Backlot Café' halfway through the tour, selling hot dogs and burgers (there is a veggie option) and Butterbeer!
And there's an ice cream/milkshake café 'The Chocolate Frog Café' at the end of the tour if you're looking for a treat on your way out!
You are also welcome to bring your own food to eat in the Backlot Cafe.
What's Car Parking Like?
Car parking is free! We arrived about fifteen mins ahead of our tour start time and there was no queue to park. There were friendly attendants directing parking, the car park looked big, but not massive so you don't look to have to walk too far from parking to the tour. We have an electric car which meant parking was really close to the entrance for us!
Coats/Bags/Digital Tour?
There is a free cloakroom to leave your coats, 95% of the tour is inside and undercover, there are a few sets outdoors but you can bypass these if it's pouring! We didn't take coats and were fine.
On the way in there's a security bag check which was effortless when we were there.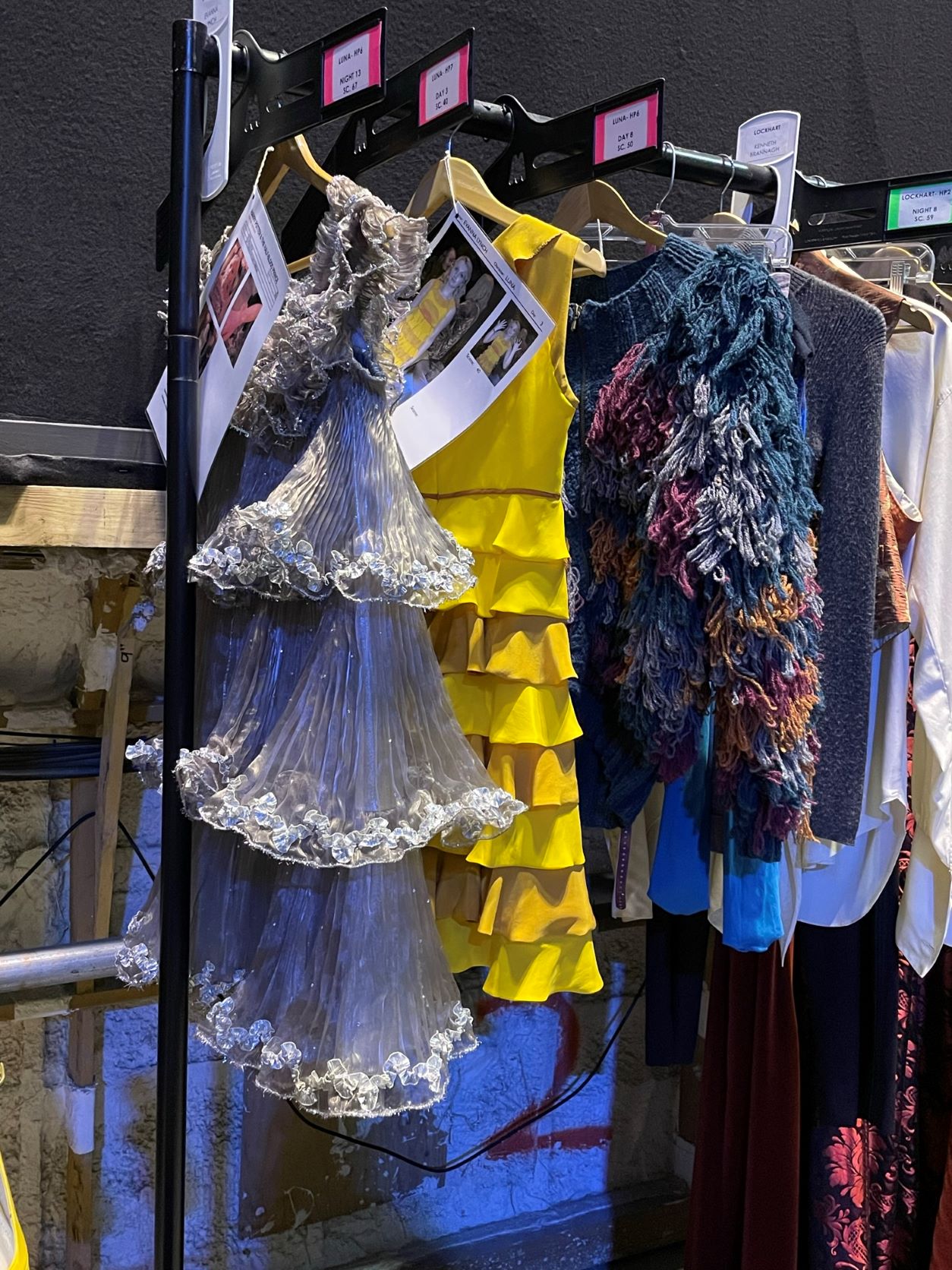 You can also buy a digital tour guide for £4.99 each, this looked useful for overseas visitors, as it's available in different languages, which is helpful if English is not your first language as all the text on the Harry Potter Tour is in English. We did notice some of the younger kids constantly playing a digital game on the tour device!
The Harry Potter Studio Tour Shop
The kids had a limit of £15 each to spend in the gift shop at the end. It's big and quite overwhelming, before you know it you've convinced yourself you need a Gryffindor Hoody to complete your wardrobe! It's pricey, be warned! The Small Boy got a packet of Jelly Beans for £8.99, and one of the big girls a Golden Snitch necklace for £10. There were smaller items, like a pencil for £1, and wands were around £30!
Anything else I should know?
Check all up to date information and any other FAQs on the Warner Bros. Studio Tour website.
If you liked this post you might like Ten Great Things to do at PortAventura for Five Year Olds or Lightwater Valley Theme Park, with Younger Children – A Review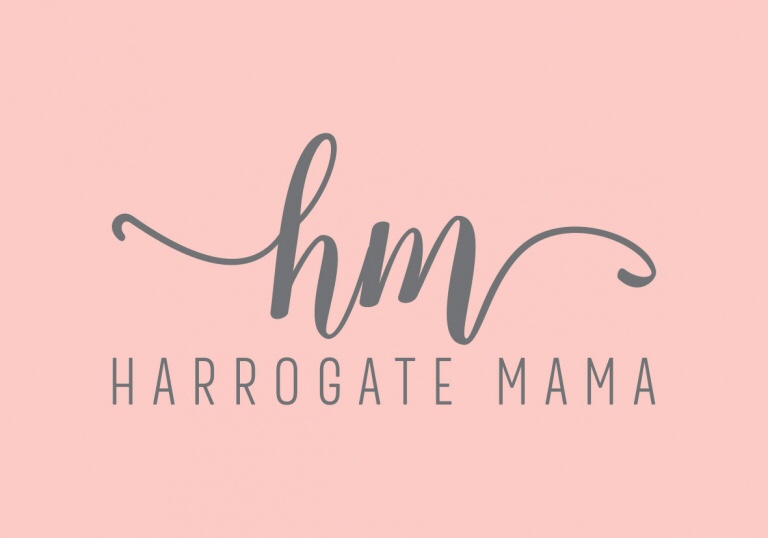 We paid for our own tickets to the Harry Potter Studio Tour, the review, as always is my own.