Almscliffe Crag is one of the most glorious places to see stunning, uninterrupted, panoramic views of most of North Yorkshire's gorgeous, green landscapes and beyond. You can pin-point lots of local landmarks from well known viaducts, to Emley Moor on a clear day.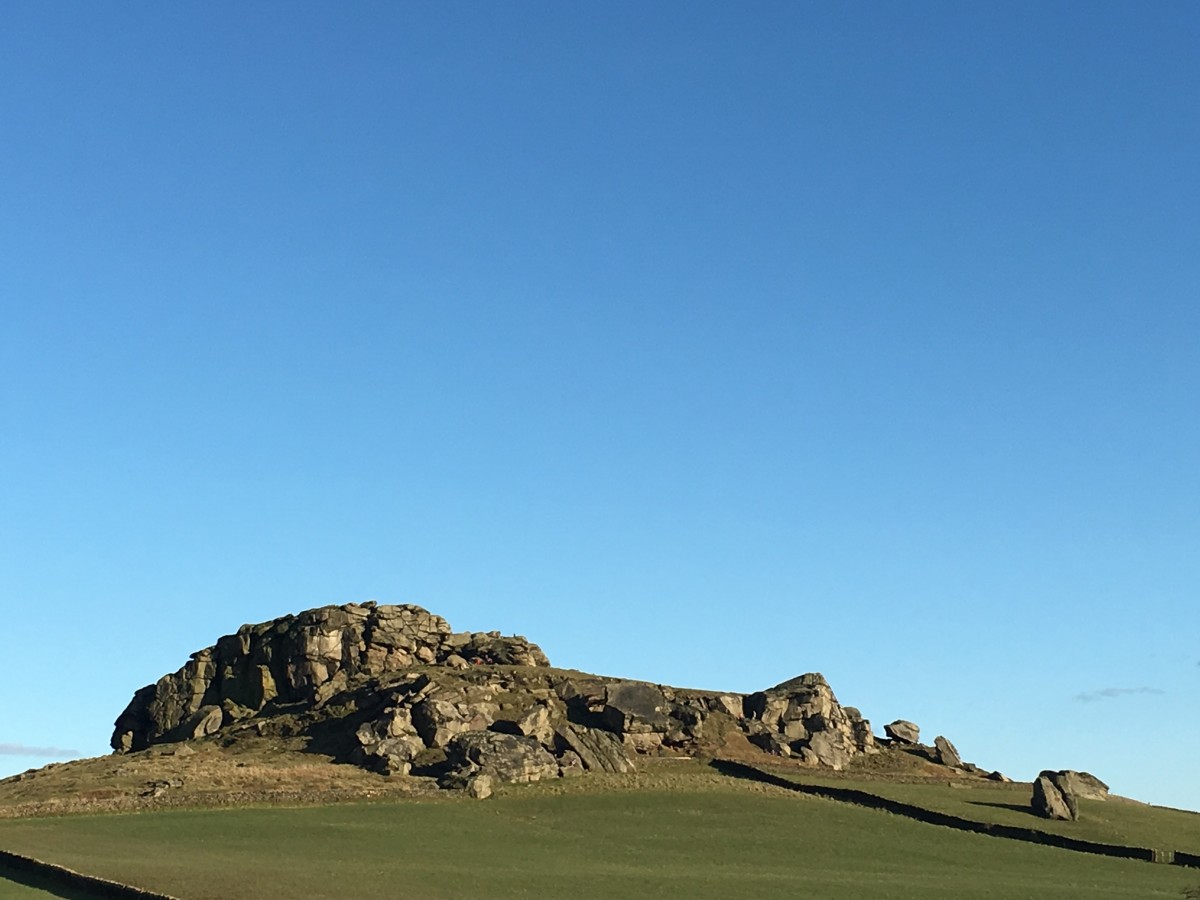 It's a outcrop of rock (millstone grit – to be exact) at the top of a small hill near Huby in North Yorkshire and it's perfect for filling a couple of hours on a dry but chilly Sunday afternoon or a summer's evening after school for a picnic tea.
The children love it as it holds a sense of an adventure, climbing is involved, and we love it as it's manageable (both in time and distance from home) and has something for everyone. You can park at the bottom of the hill, climb over a stile (exciting by itself if you happen to be three/or eight come to that) and there's a short, steep but rewarding walk to the top. The small boy can manage this quite easily, although does need to hold-hands as we near the top, and the climb becomes rockier.
Once at the top you are instantly repaid with gorgeous views and everyone feels a great sense of achievement as they look back at how far away the car is (not that far really, but you're high enough to feel impressed with yourselves!) The good news is it's not all over there! That's just the start of the fun…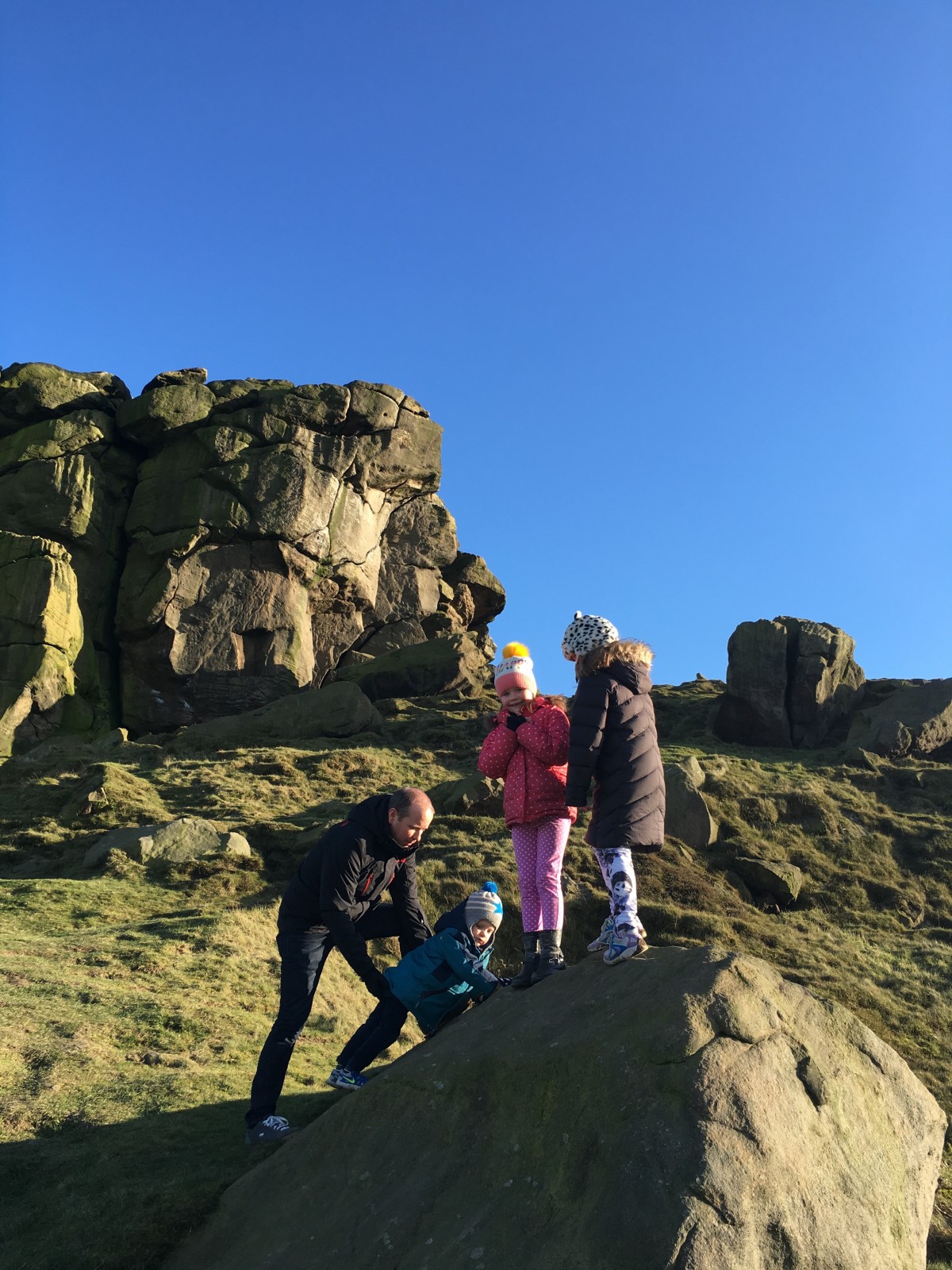 Almscliffe Crag is also known as a great rock-climbing location, and you can often spot the pro and amateur climbers lugging their gear to the top of the hill and setting up for an afternoon's exertion climbing. However, you don't need to have all the gear to enjoy the rocks. They are of all shapes and sizes which are great for children of all shapes and sizes! Little ones that the small boy can hop on to, slightly bigger ones for the girls to clamber on to and more challenging ones that they can scare themselves on – just a little bit.
There are of course the humongous rocks that no one goes near, and there in lies the rub! If you're of an overly anxious disposition when it comes to heights or have children who are unlikely to do as their told when their life actually depends on it, you may want to think twice before setting off! You can get dangerously high very quickly and very easily, and at no point when we go does anyone other than a grown-up 'go first'. We are so overly cautious that it's sometimes bordering on dull, but that's the only way to be completely safe when you have a three year old with you! I always go with Mr P, as I'm not sure I could manage the three of them on my own up there, although he has taken them without me a few times!
So if you're looking for a walk with a view and a little adventure to top it off, it's a great place; perfect for picnics, breathtaking views, awesome for photo taking, marvellous for mastering new climbing skills but keep an eye out to keep everyone safe if they're climbing!
The good:
The views are amazing
The rocks are easy (and hard) to climb
You feel like you've been 'on a walk' without going too far
It's about a ten minute drive from Harrogate (maybe less)
Perfect for picnics (rucksacks are good as your hands come in useful for clambering)
It's normally fairly quiet
Parking is easy
It's free!
The bad:
There's a lot of sheep poo about; pesky sheep – getting in our way of enjoying the countryside 😉
You have to wear sensible shoes (no ballerina pumps, flip flops or high heels)
The ugly:
Like anywhere with huge rocks and high vistas – it's dangerous!
You can find it here: