As you know being a Harrogate Mama, I am a little bit in love with all things Harrogate! So I have totally fallen for this gorgeous bespoke illustrated map of our home town created by the uber-talented Holly Francesca.
Win A Harrogate Map and get 10% off at Holly Francesca
Read on below to see how you can WIN this beautiful map for FREE and get 10% off everything at Holly Francesca too.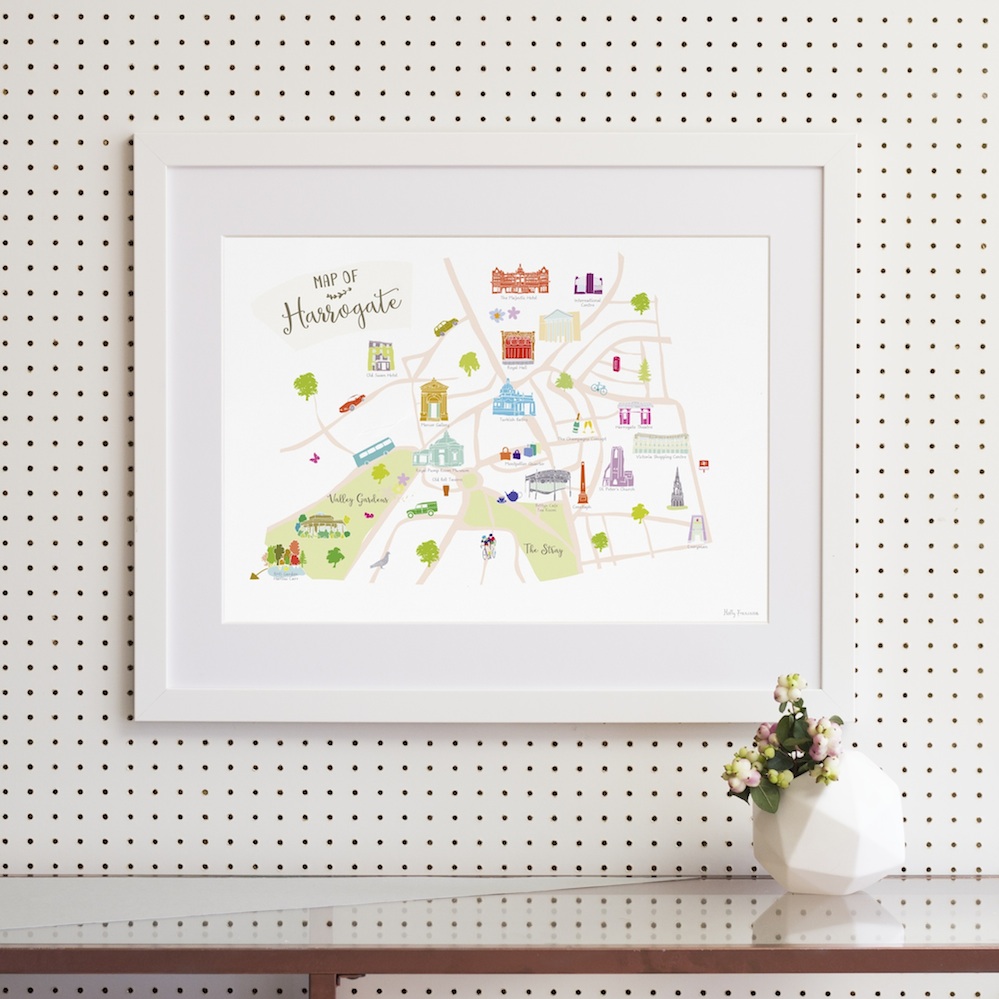 Since 2012, Holly Francesca has created colourful and unique illustrations based on the most iconic places in London, the UK and the World. Her work is all from original hand drawings, and the illustrations are created into home products including; greeting cards, art prints & tea towels.
As well as the core range, Holly offers personalisation's too (such as adding your home to an existing design) – such a cute idea & completely bespoke commissions too.
Brand New Illustrated Map of Harrogate
I first met Holly at the Harrogate Home and Gift Fair last year- she featured in my blog post Gorgeous Finds for Mamas from Harrogate's Home and Gift Fair.
Holly and her family have since relocated all the way from Hastings to Hebden Bridge and we're thrilled that she'll be coming along to the Harrogate Tribe Christmas Night Out!
To celebrate her move to the North Holly has created a brand new illustrated map of Harrogate and I'm delighted to announce you can win one of these prints on the blog today!
How many places can you spot? You can view it in more detail over on Holly's website.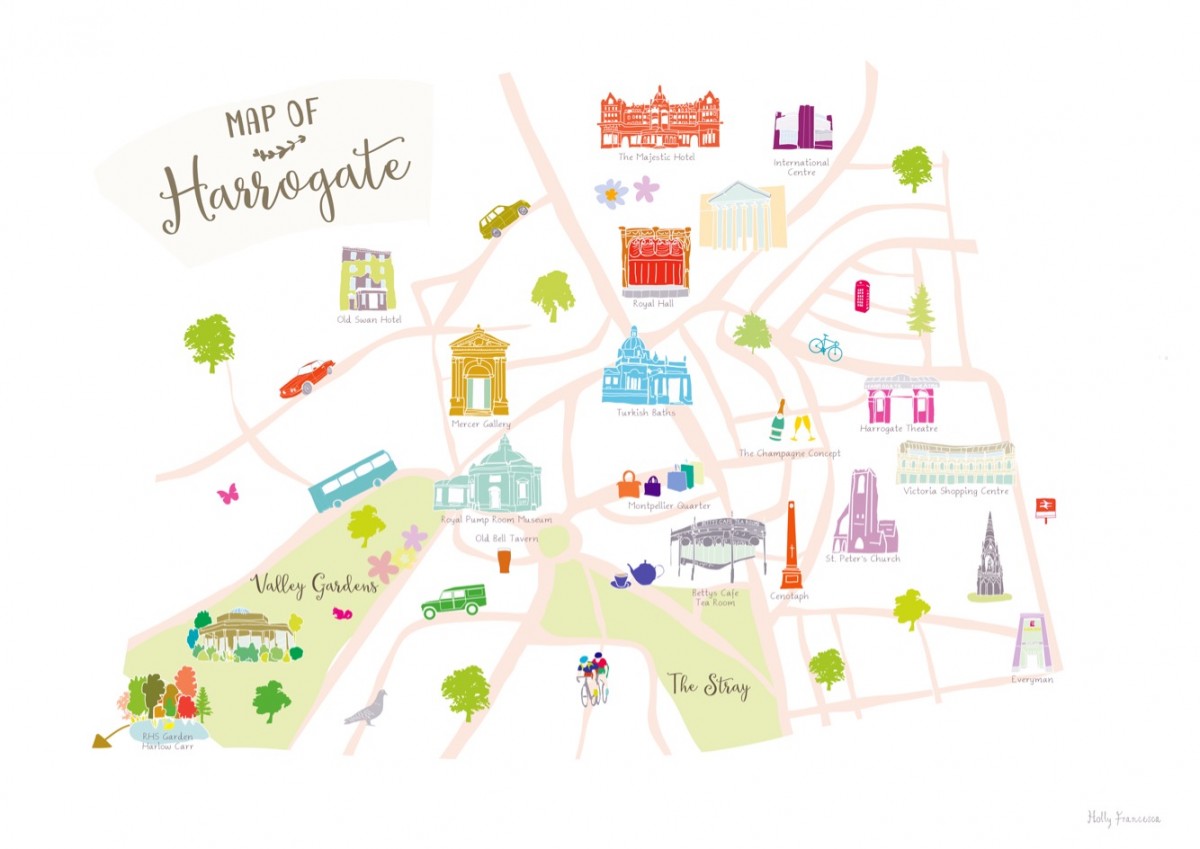 Win This Illustrated Map Of Harrogate
You can win this bespoke art print map in A3 size, unframed which is worth £34.
To enter the giveaway all you need to do is: send an email to [email protected] with the email subject – Win a Map and leave your name and email address.
One lucky winner will be selected on Saturday 18th November 2017 and the print will be delivered to you. Terms and Conditions are all below.
Get 10% off everything at Holly Francesca
Holly Francesca are also offering all Harrogate Mama readers 10% off any purchases from their online shop with the discount code HARROGATEMAMA – which you can just enter at checkout. There is a beautiful Yorkshire map too!
About Holly Francesca and the Harrogate Map
Holly shared with me some of the reasons she created the map and how she goes about designing them…
"We first came to Harrogate last year for a trade show at the convention centre and really loved the town and surroundings. With impressive buildings, lots to do and super friendly folk, we had a strong desire to come back. Well we did much quicker than planned, as we have moved to Hebden Bridge from Hastings in August, and so we are able to visit and explore more of Harrogate again 🙂 Which has lead us to creating a Map of Harrogate design here and also exhibit at the Country Living Christmas Fair taking place in Harrogate, 30 November – 3 December.
When designing a map, knowing what to add is the hardest thing. Often there is simply too much in one area, therefore we have to be selective and make sure that we have a good range of places to add. We don't want to have only pubs or churches, we want to add in places that local people and visitors regularly enjoy or easily recognise.
For us, as lovers of the Great outdoors, there is nothing better than a walk through Valley Gardens that is our favourite place in Harrogate. Many places were a dead certain to be included because they are so iconic in Harrogate, such as the Turkish Baths, Royal Pump Room, Royal Hall and The Majestic Hotel. Then there was food, and nothing we felt was more synonymous with Harrogate than Betty's.
With Entertainment we included some pubs, the theatre, the cinema and highlighted plenty of shopping locations. We even gave a nod to RHS Harlow Carr, although it is off the map, it's within touching distance and is so beautiful. Harrogate was a very enjoyable map to draw and with no shortage of different places to add, we think that you could spend a very long time taking all of the design in. We hope you like the outcome and look forward to more Harrogate visits now as Yorkshire residents."
Giveaway Terms and conditions:
1.) The giveaway is for you to receive one A3 illustrated map of Harrogate (unframed) worth £34
2.) The giveaway will run from Monday 13th November until Friday 17th November at 23.59hrs.
3.) The winner will be contacted on Monday 20th November by email.
4.) A reply to the winning email is required within 24 hours before a new winner is chosen.
5.) There is no cash alternative for the giveaway.
6.) Holly Francesca will be responsible for the redemption of the giveaway, any matters arising must be taken up with them directly.
7.) No purchase necessary to win.
8.) Entrants need to be over 18 to enter the giveaway.
9.) Facebook, Twitter, Instagram and Google+ are in no way associated with this giveaway.
10.) I will not share or sell your email address with any other parties.
11.) The winner will be chosen randomly and contacted via email.
12.) Harrogate Mama blog reserves the right to publish winner's first name and last initial.
13.) Harrogate Mama blog also reserves the right to choose a different winner in the case that the randomly chosen winner refuses to co-operate with rules, reply to winning email in 24 hour time period or does not have a verifiable entry.
14.) When you enter this competition you are signing up to receive emails solely from Harrogate Mama blog which will be sent infrequently and to which you will be able to unsubscribe at any given time.
15.) Only one entry per person please.