Last June I was lucky enough to get to spend some time away, with my husband – on our own! One of the most exciting things that had happened to me all year! This was a trip so far removed from my day to day life it was almost impossible coming back to reality!
I never posted this at the time, as it somehow didn't seem quite right, but now in February I think looking back at Summer sun is a nice fit as we dream about the summer to come and start planning new adventures!
Here's what we got up to in case you're thinking of booking a little break with your nearest and dearest and are looking for some inspiration!
Firstly I packed like a boss! Only me to pack for! That was exciting in itself!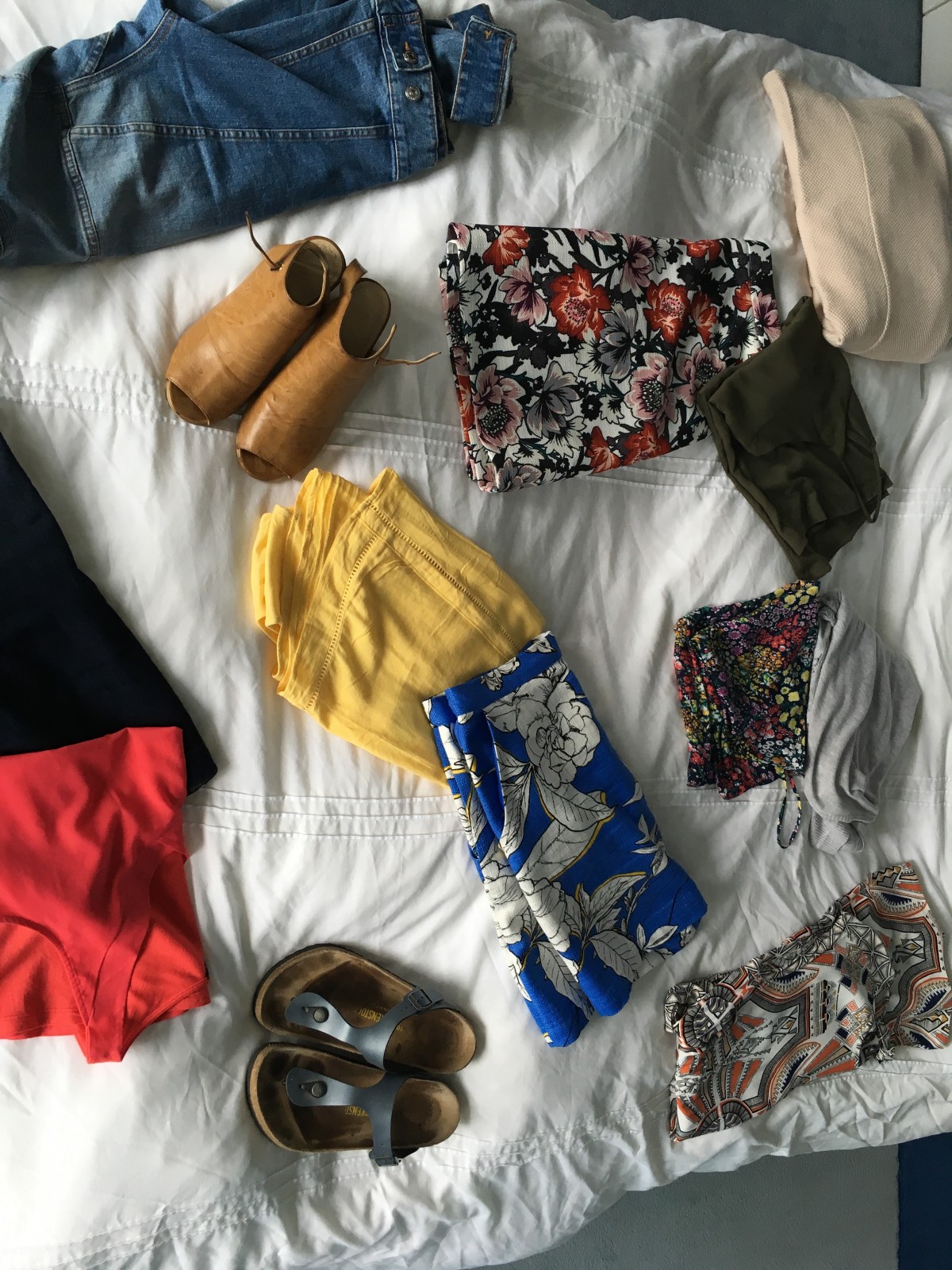 We got to stay a night at the airport, in a hotel, not normally eventful, but when you're on your own who cares if you have to get up at 4am – you're in a bed you didn't make without any children in it! Whoop!
We even ate a meal out, together, with zero children and zero interruptions from toilet trips, drink spillage or the need to shout 'sit on your bottom' to anyone! Oh the heady heights and we hadn't even taken off yet!
We had a beautiful morning for a flight, and although it looks like we traveled British Airways, we flew with Ryan Air (cos obvs, it's SO MUCH CHEAPER!)
The beauty of such an early flight is that you arrive at your destination with the whole day ahead of you! You feel like you've lost no time to travelling and when you're a parent to young children you can laugh in the face of a 4am start – that's pretty average!
We got lucky at our hotel as they let us check in really early! Bonus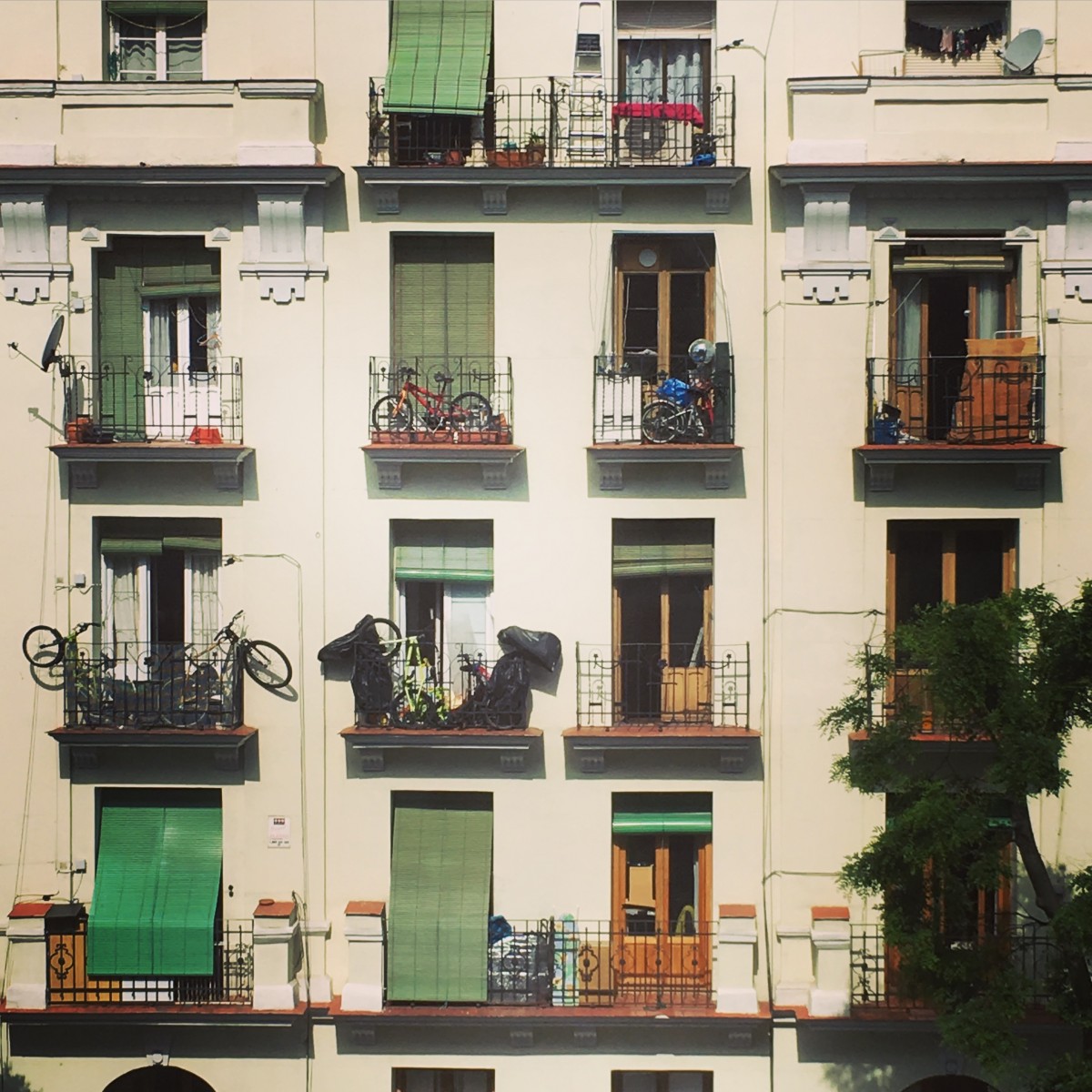 The hotel was less rustic than this and more modern. One 'interesting' feature was the shower, that was part of the room, it left little to the imagination! We picked it as it was near the main train station and thought it would be very central, however Madrid (unsurprisingly) is huge so we were a little way out really. It was the Marriot AC Atocha , I would recommend it from a style and comfort point of view, but you'd need to like walking if you stayed there!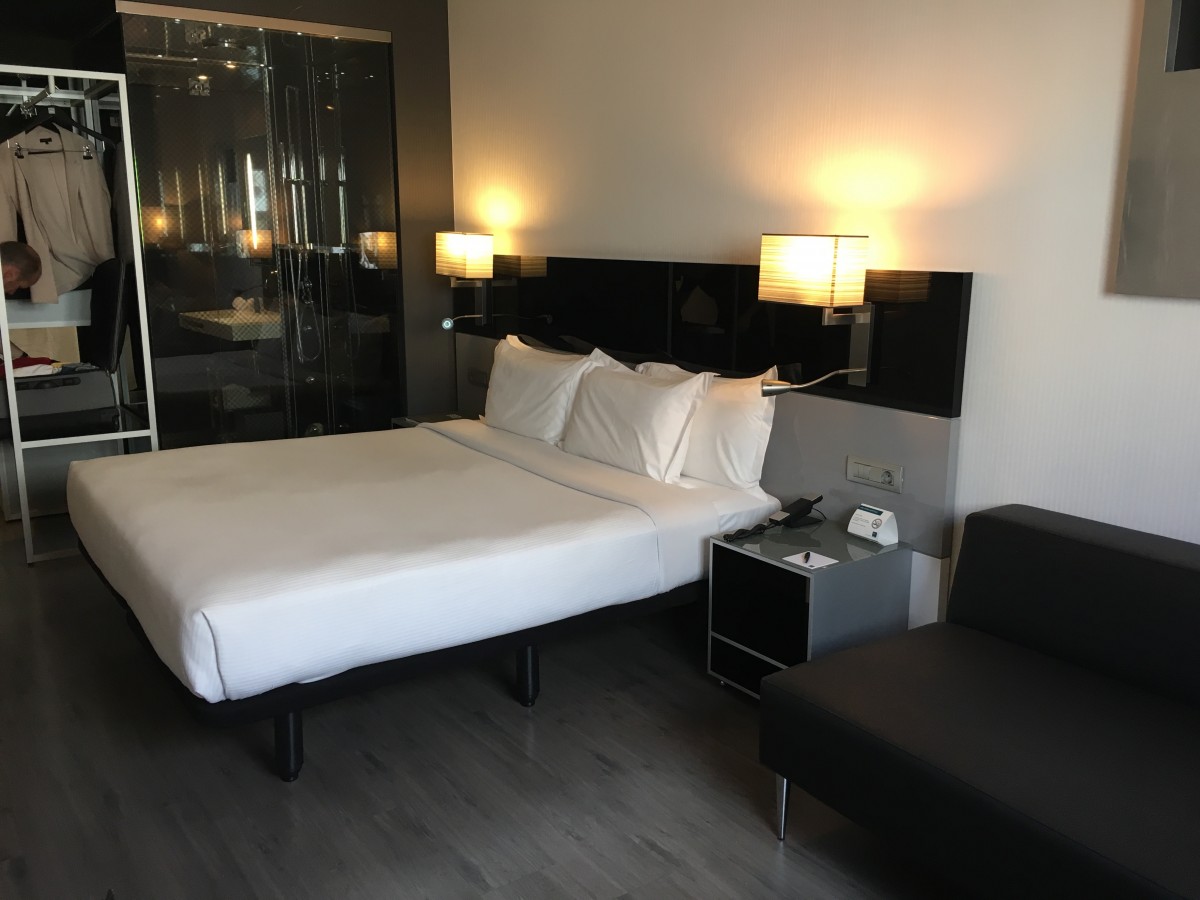 We were super unprepared for the trip before we set off, so took our time on the hotel wifi after unpacking to do a bit of Googling of the best sights to see in Madrid. Then  we set off for our first day of adventure!
One place we were recommended by the good people of the world wide web was the hot chocolate and Churros at the Chocolateria San Gines. It is a bit of an institution in Madrid (a little like our Bettys) but it's open 24hrs, it's a cafe and it mainly only sells hot chocolate and Churros (oh, and orange juice).
We walked the 40 minutes from our hotel into the main heart of the city's old quarter. It was a gorgeous sunny day and we were taking in all the sights of the city, as well as dancing around like loons as we were child free!!
It's a brilliant place for people watching, you sometimes have to wait a few moments for a table to come free (which in itself is entertaining to witness!). You go into the cafe, order what you like and are given a ticket. You then take your seat and pass your ticket to a waiter who brings you your order. Be warned the chocolate is extremely thick, and chocolatey it'd be too rich for kids I would say – but who cares, have I mentioned, they weren't with us!
We wandered around the old quarter of the city a little more and came across the Plaza Mayor, another one of the top guide book destinations.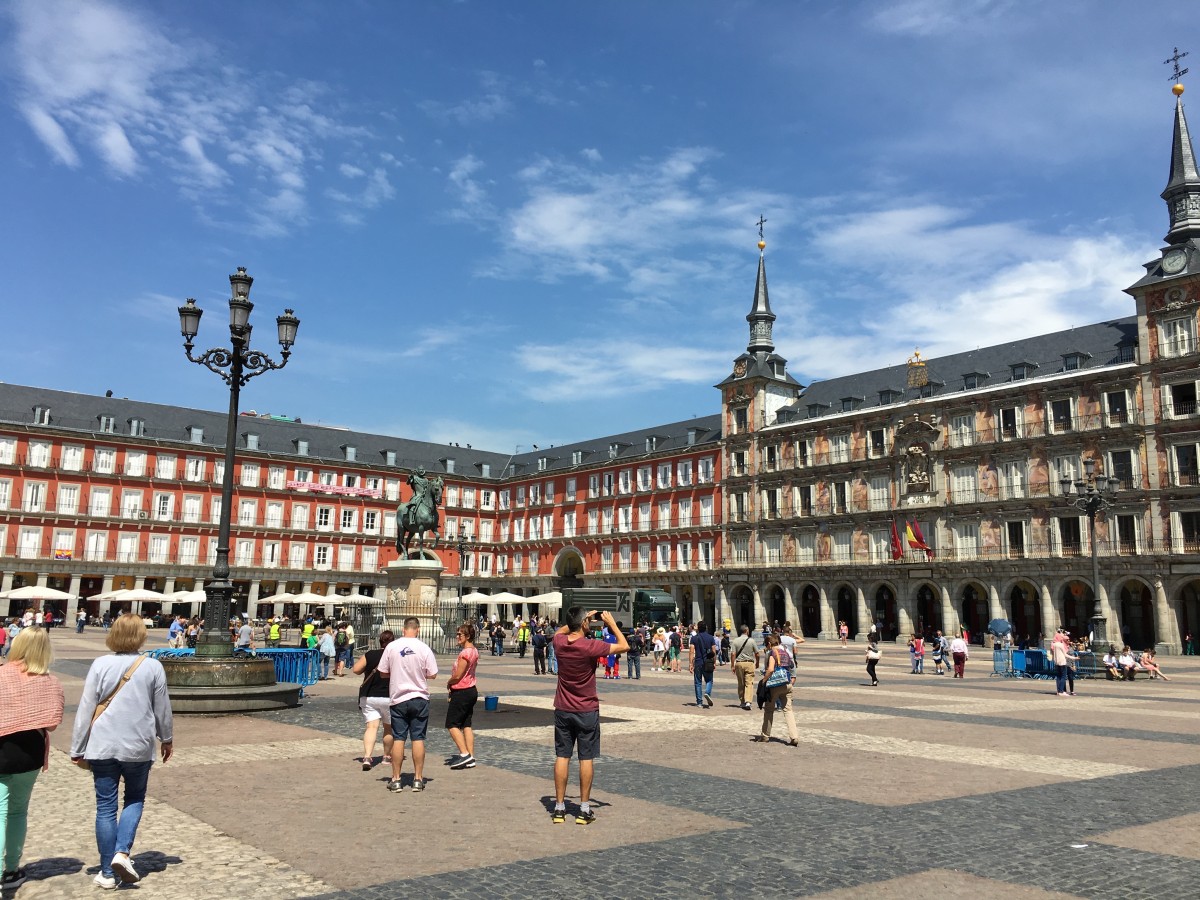 And when people talk about the architecture in Madrid, I was all like, yeah, yeah! And then when I saw it I was all like; wow! That's pretty amazing!
So after our breakfast of chocolate and donuts we were ready for a little more substance, luckily, we stumbled across the Mercado de San Miguel, which had been recommended to us by a friend, over the medium of Facebook! Whoop!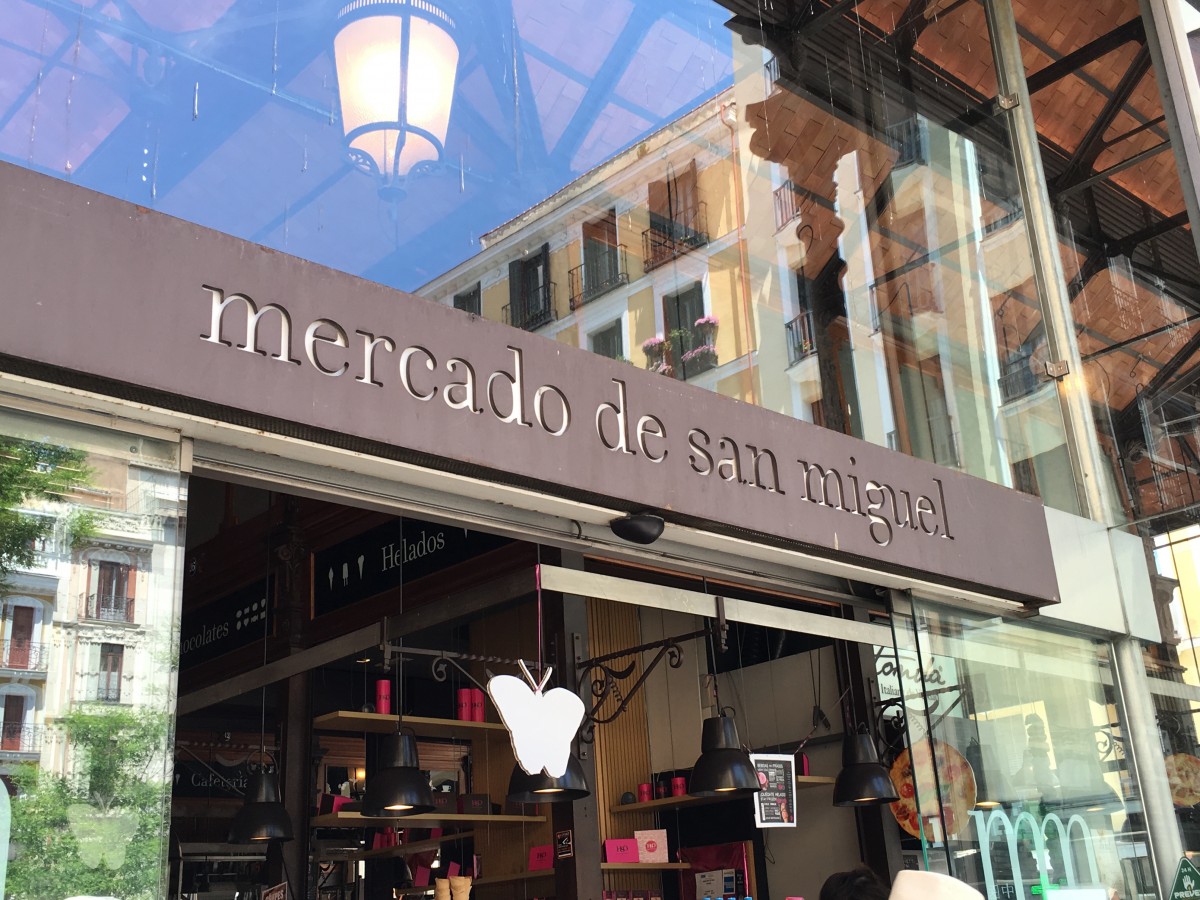 Mercado de San Miguel can only be described as a market for grown-ups, it seems much less about the shopping and much more about the eating! I felt like I was at a cocktail party with the added bonus of not knowing anyone, so there was no need to make small talk! Perfect!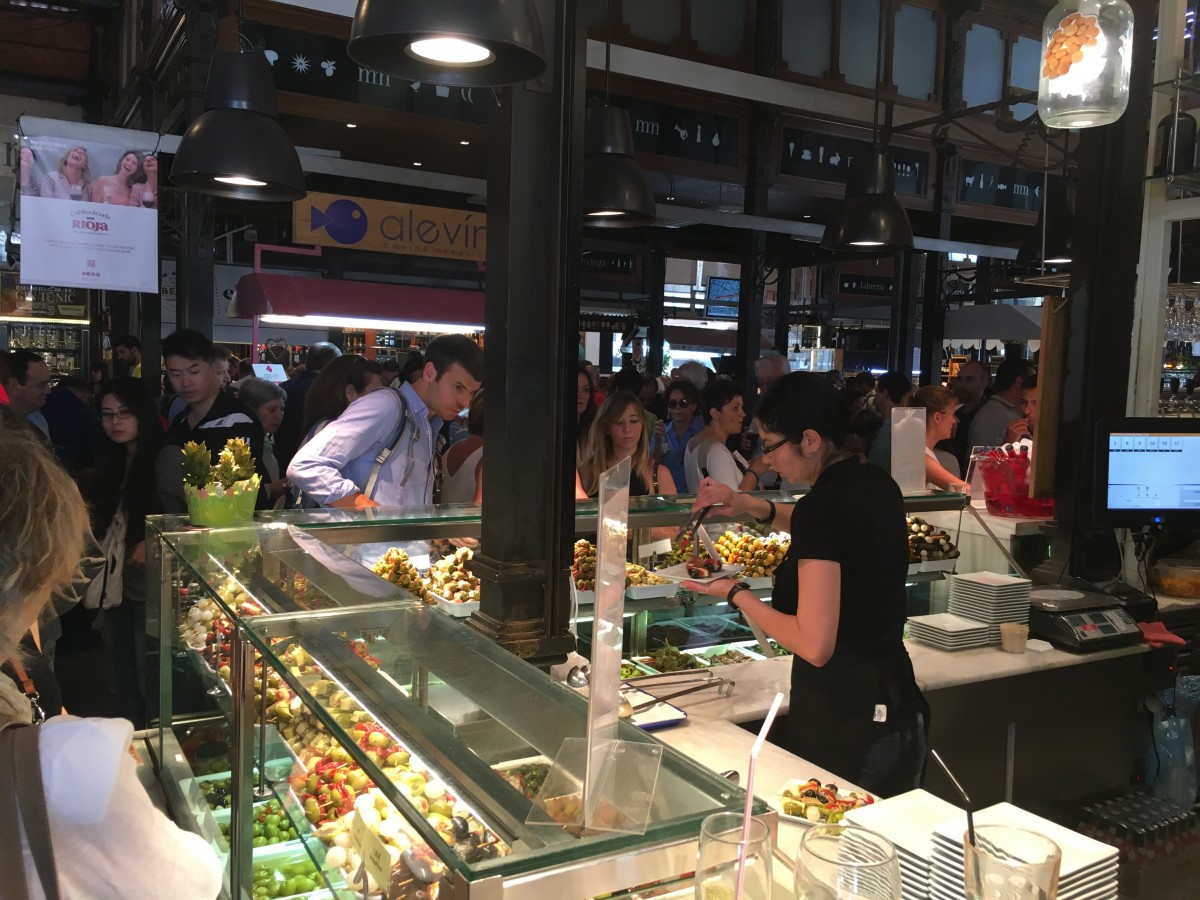 If I was making recommendations about Madrid, this would be the one place I would say is a 'don't miss'. The bustling atmosphere, the busy-ness in a nice way and the range of food and drink on offer were all perfect!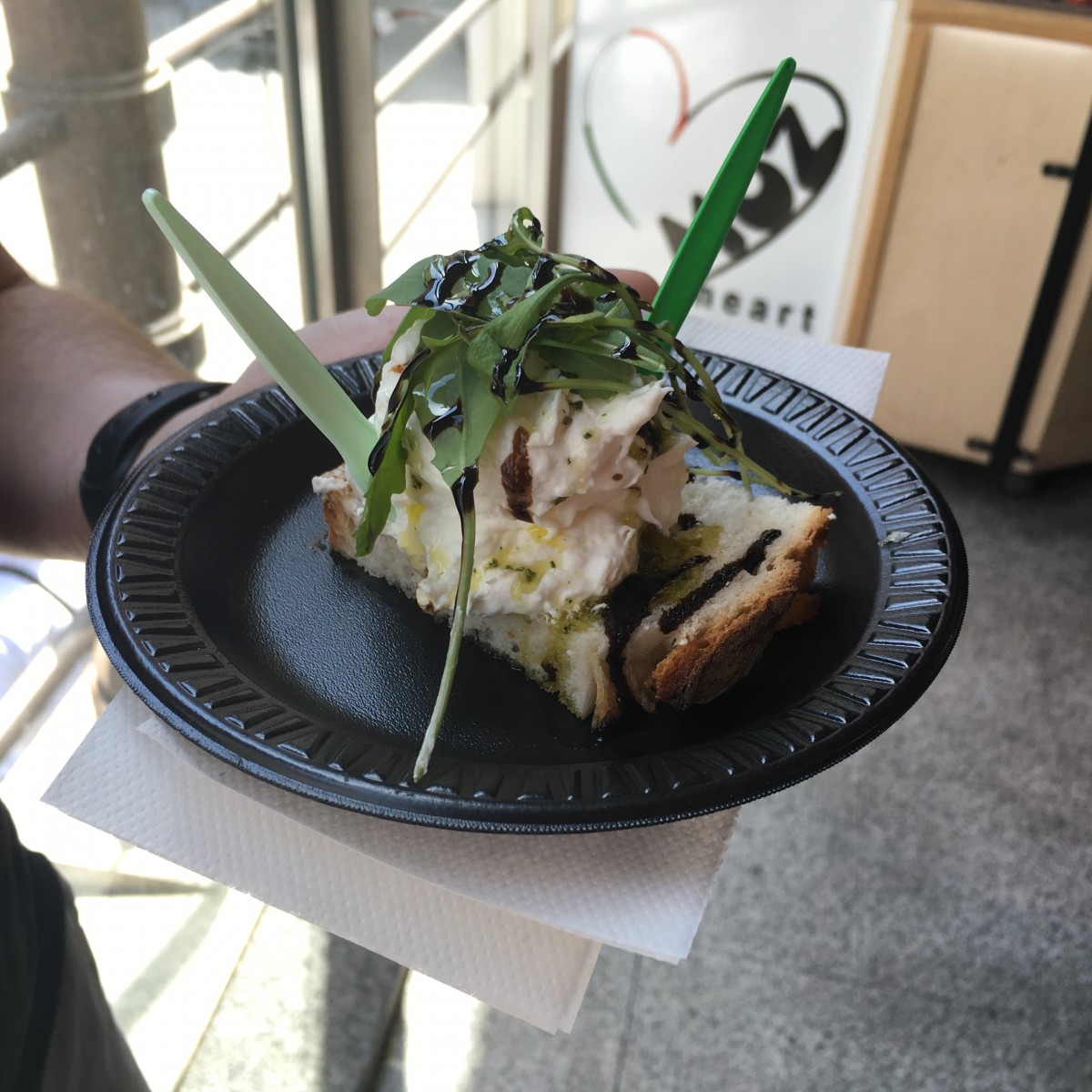 It was proper Spanish tapas, with lots of little bits of tasty dishes and of course Jerez (sherry) and Sangria! Ideal for when you've been up since 4am. This buffalo mozzarella stall was one of our favourites!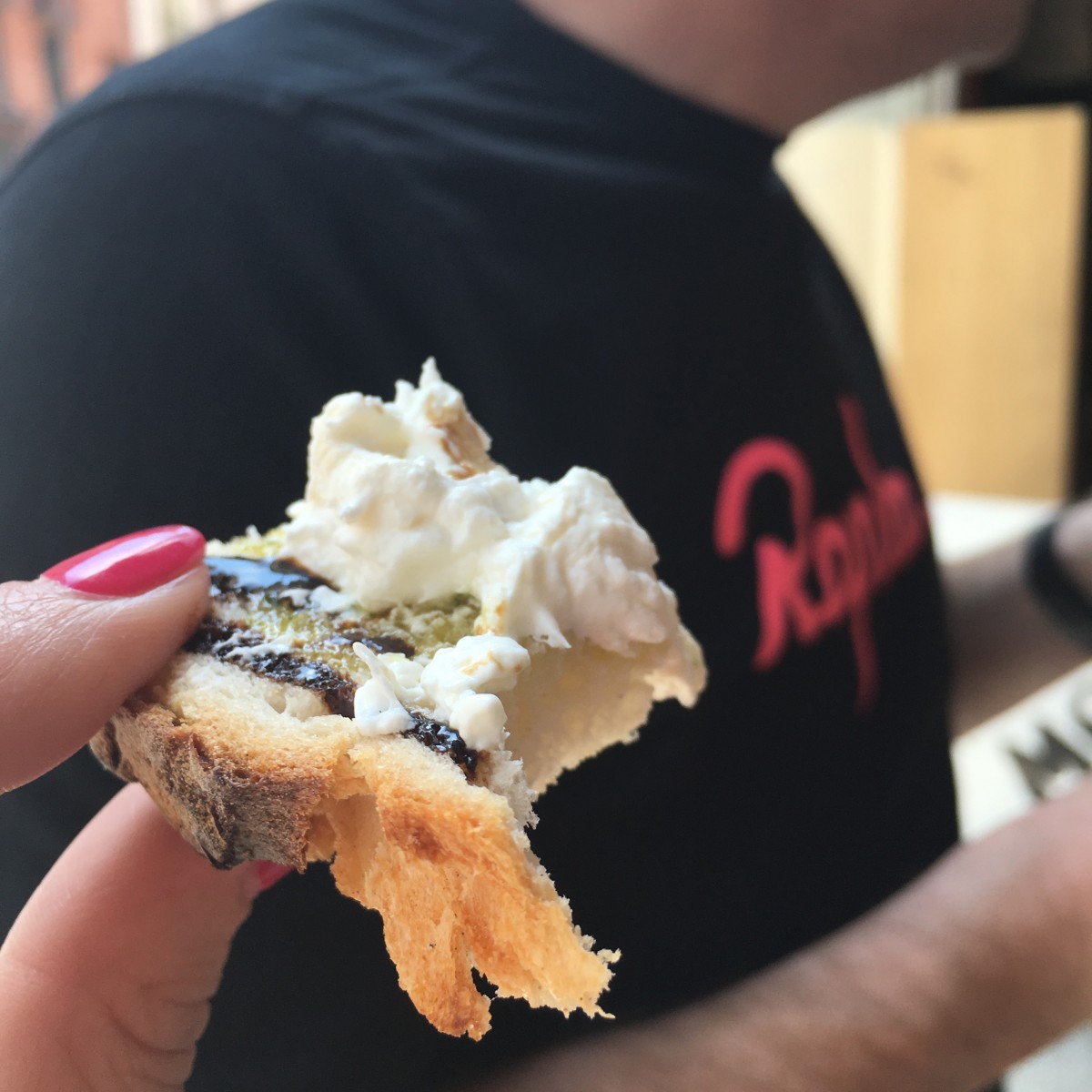 Most of the stall holders were doing deals, so this was two cheeses of your choice with a glass of white wine for five euros.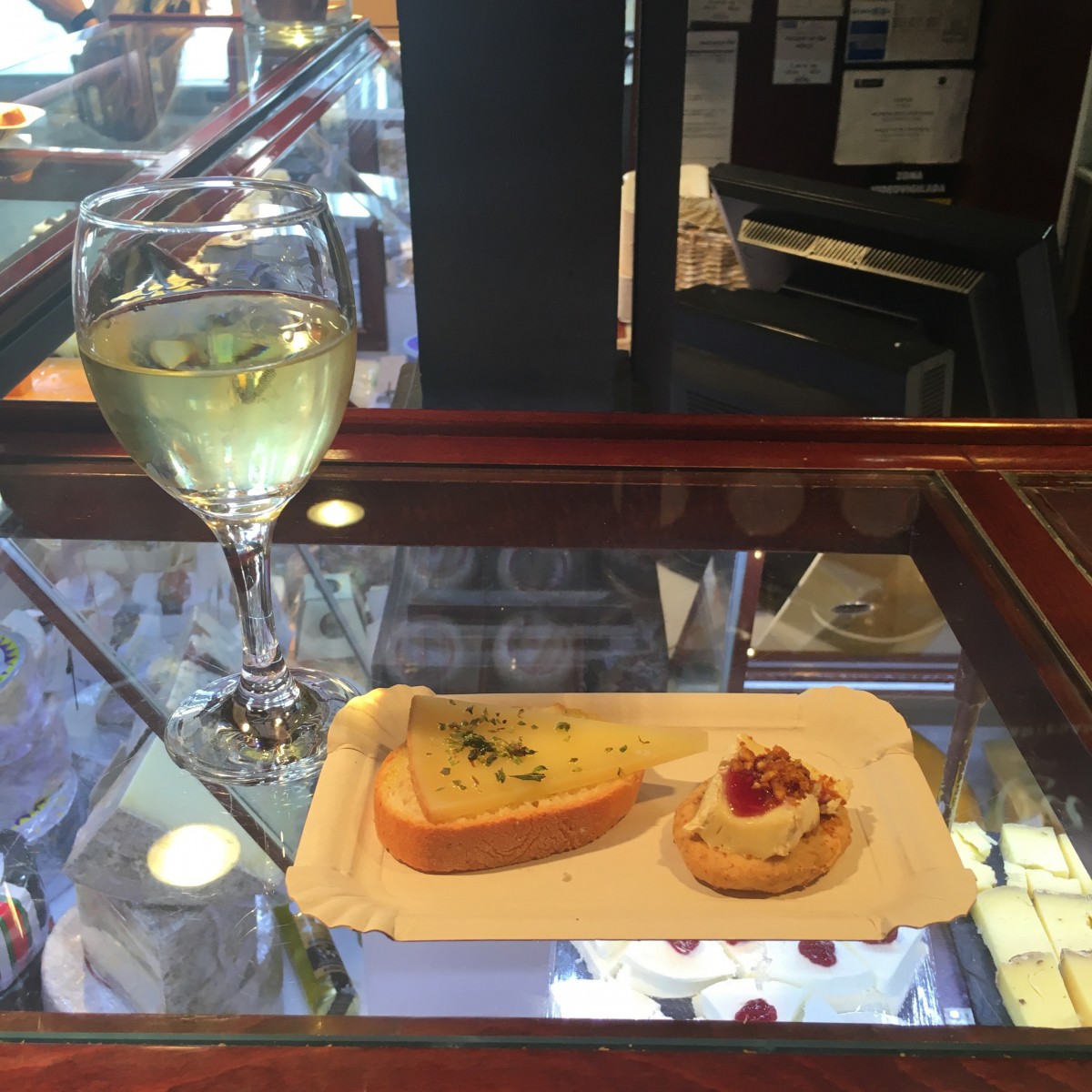 One of the really cool things about the market is that you just wander around from stall to stall, drink in one hand, tapas in the other and then pick up other drinks, food as you require them. It's as casual as dining gets and I loved it! There's no staying in one spot till you've finished, it was really relaxed and had such a chilled vibe about it while still being a bustling market!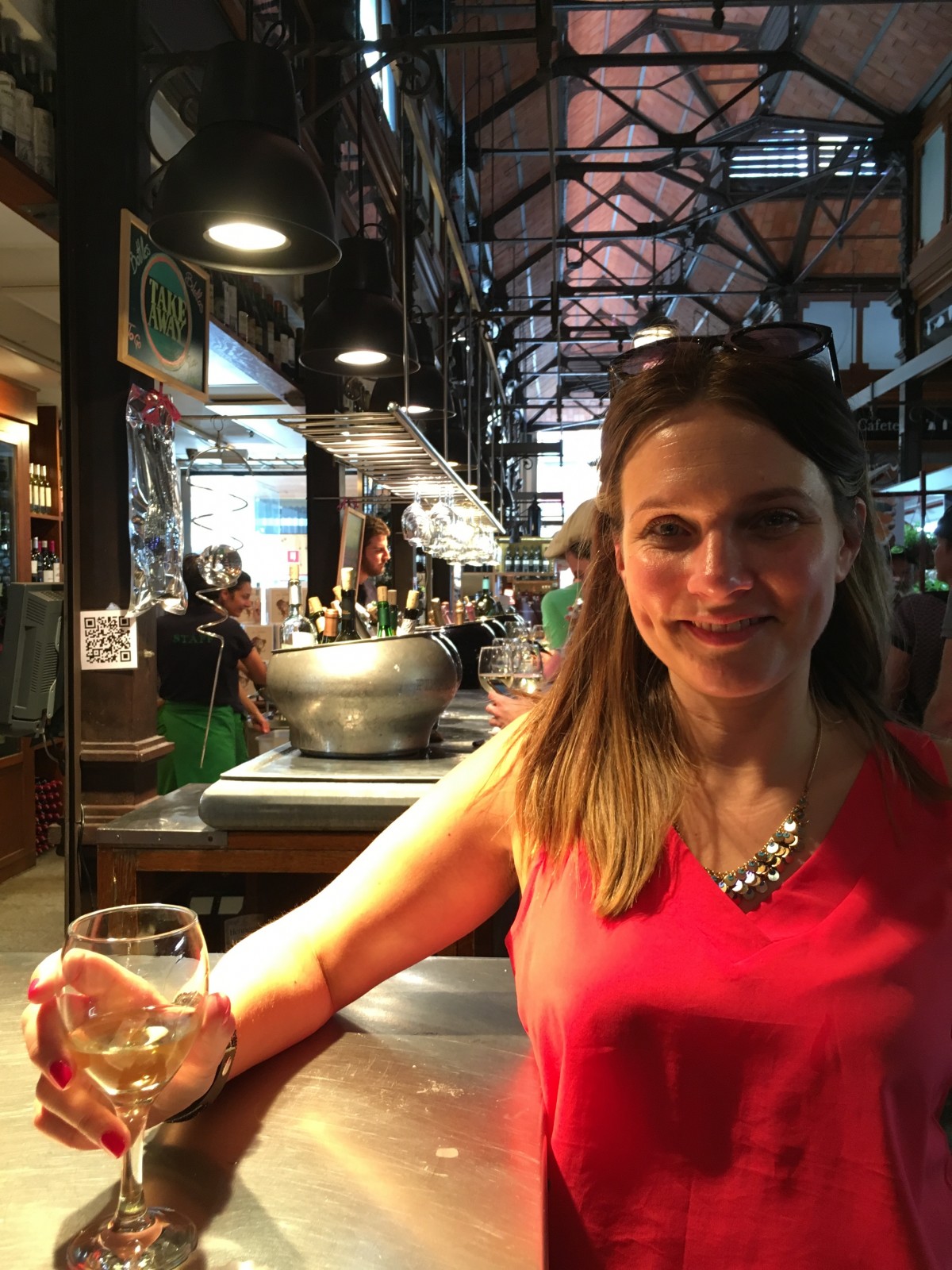 Suitable fuelled with alcohol and delicious food, we headed towards the main shopping area of Madrid, the Gran Via. The Gran Via is a long wide shopping street, it reminded me a little of London's Oxford Street, only a little wider, more chic and slighter fewer shops.
I had a wardrobe malfunction which involved olives (possibly due to the wine intake) so naturally we had to visit Zara to redress the issue, when in Rome…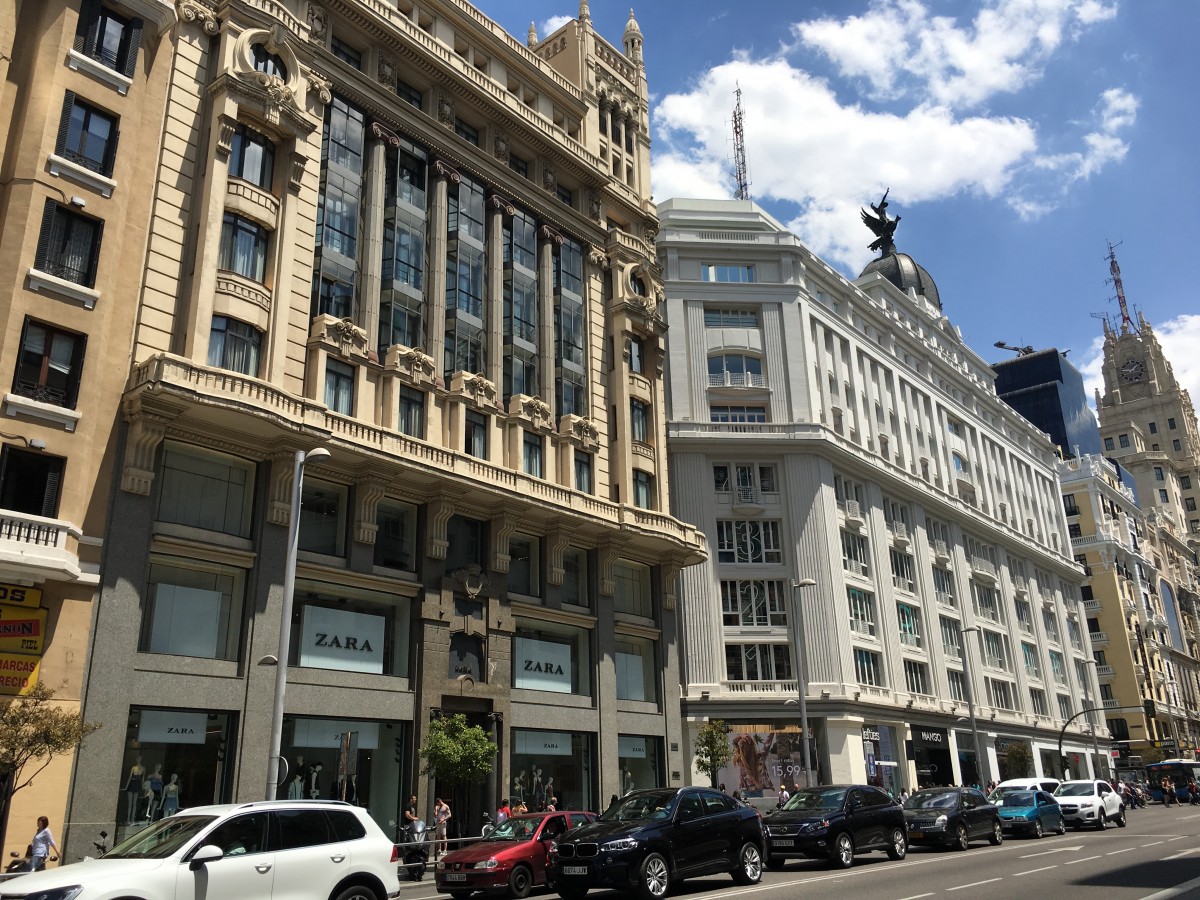 A few shopping bags heavier we decided it must be time for another drink and where best to enjoy it than another tour guide spot. The Hotel De Las Letras is famous in Madrid for it's roof top garden with panoramic views over the city scape.
The roof top gardens were beautiful and the view did not disappoint either! There was gin, so all was well!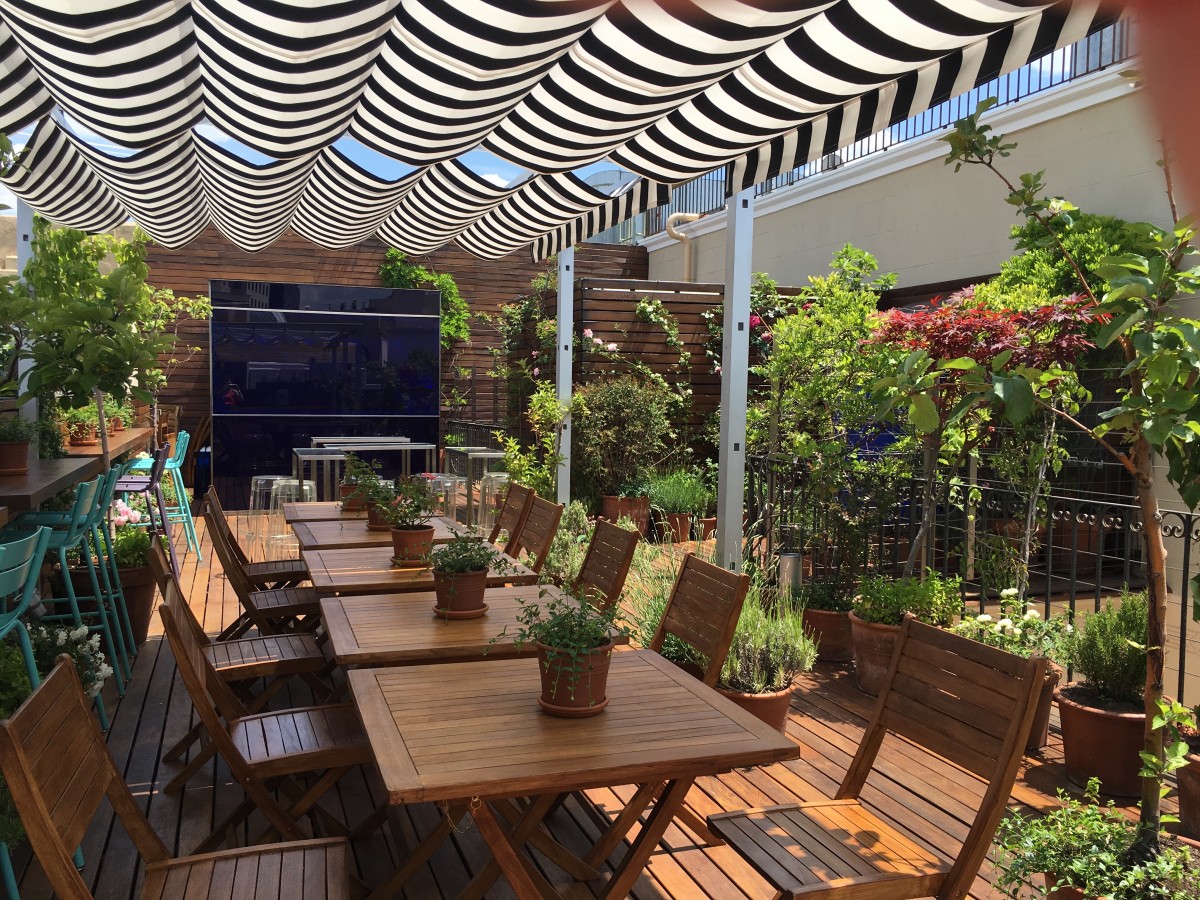 When you've been up since 4am and travelled to a different time zone, gin at 2pm is practically an aperitif! Or something like that anyway…!
Post drink we decided a stroll through a park might be nice so we headed towards Parque de El Retiro, stopping to check out some more beautiful architecture on the way.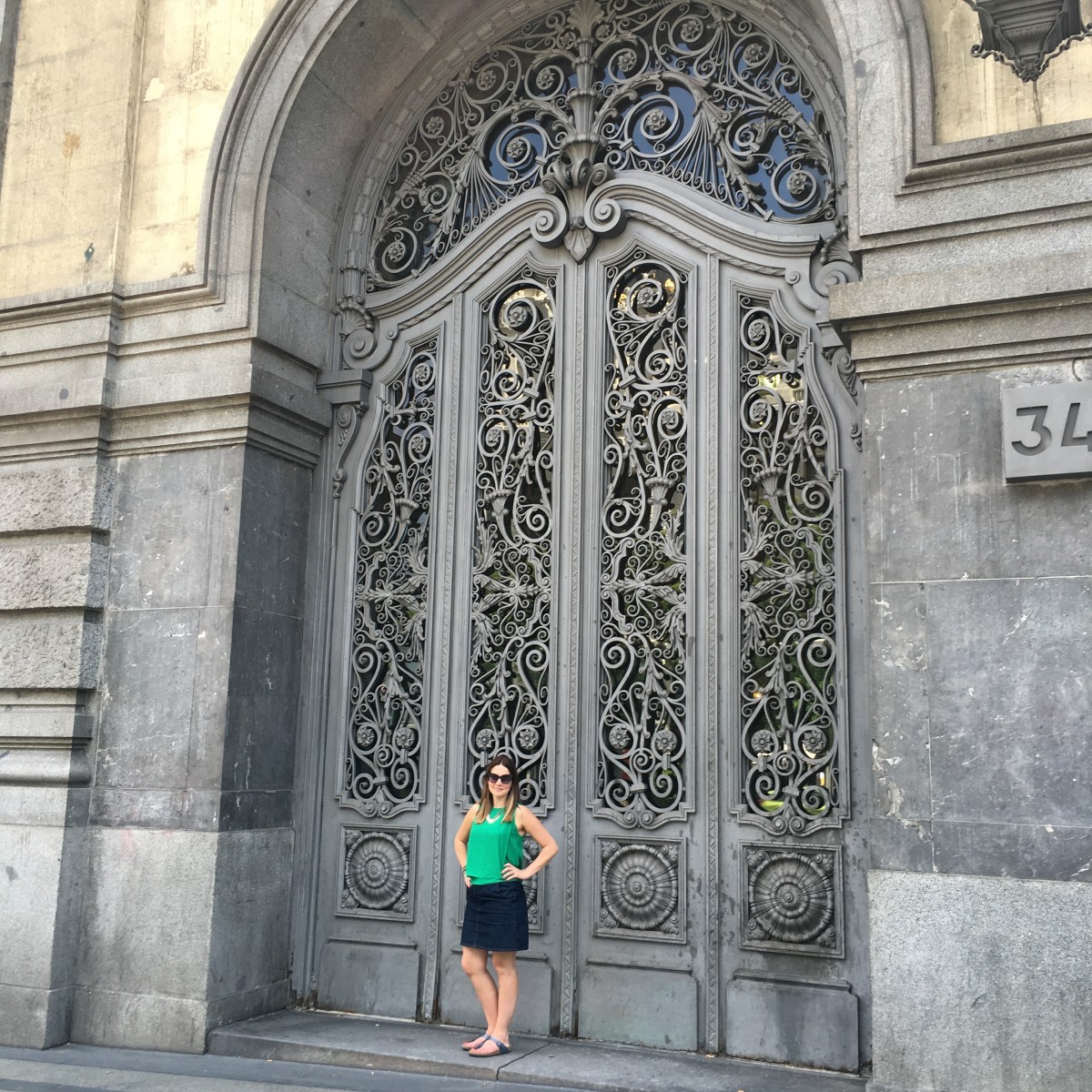 By now it was starting to get super hot, so we stopped for a chilled (non-alcoholic ?) beverage while we considered our next move!
We decided that walking back to our hotel would take us some time so, since we were carefree and fanciful we thought we'd look into taking the Metro!
We boarded the Metro, after a quick consultation of the equivalent of the tube map and tickets bought through a machine (with English translation) and headed back to our hotel for a tiny, much needed, snooze before heading back out in to town!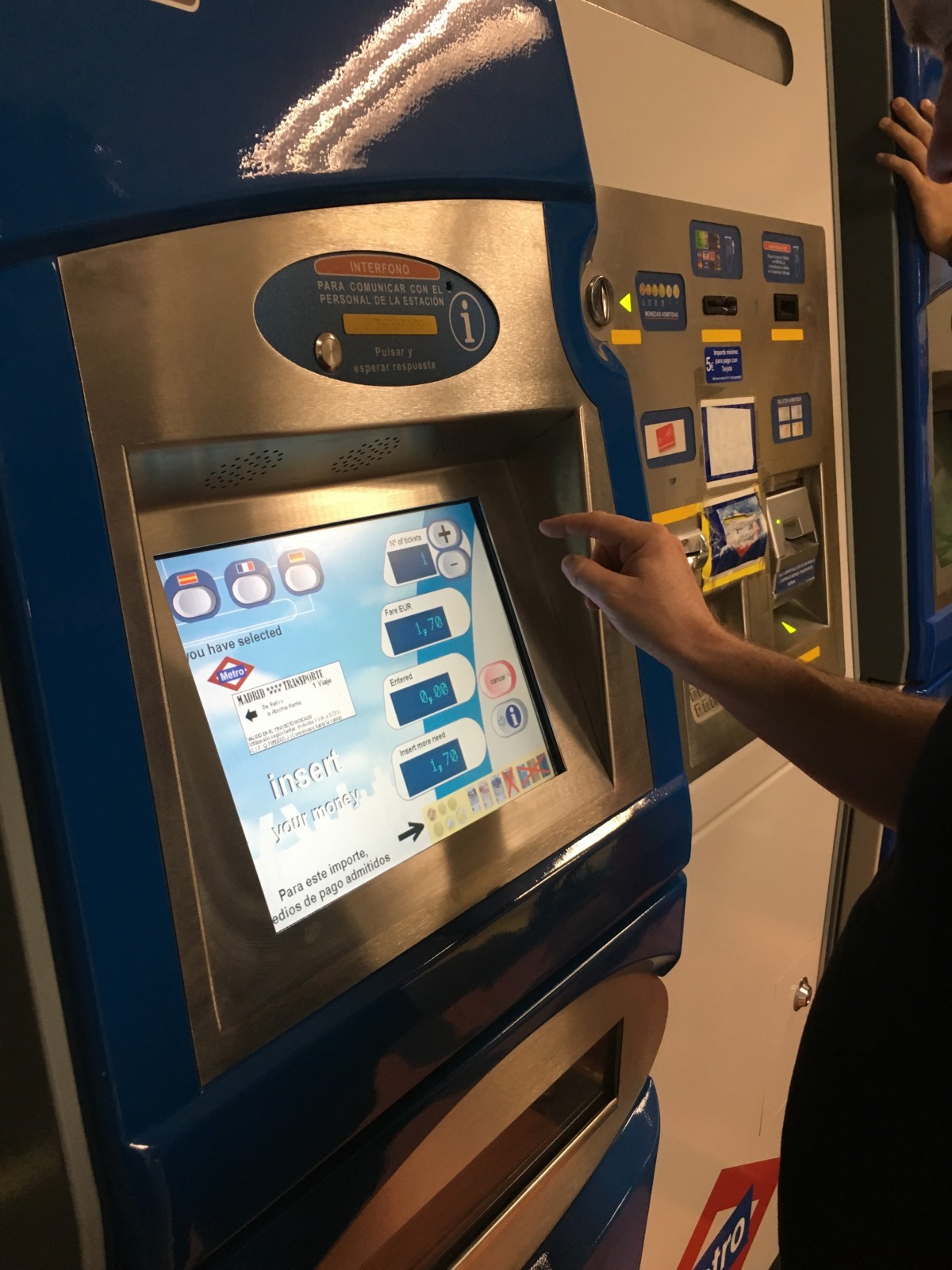 Having had such a successful tapas experience at lunch we were keen to go somewhere to repeat it for dinner. So we set off back on the Metro to the heart of the city at the central train station Sol (which seems to be the equivalent of Piccadilly Circus).
From here we stumbled across an authentic looking tapas bar, which you could discern given that there were only Spaniards inside! Always a good sign! The only downside of Cerveceria Restaurante Naviego was that they spoke no English, we didn't really know what we were doing so, like most Brits in that situation we did all we could do, which was to order 'two beers please!'
Luckily our beers arrived with two sides, that we hadn't ordered! Some olives, standard fare in Madrid for tapas and some of the tastiest Patas Bravas I have EVER had, served with Chorizo, it was just divine!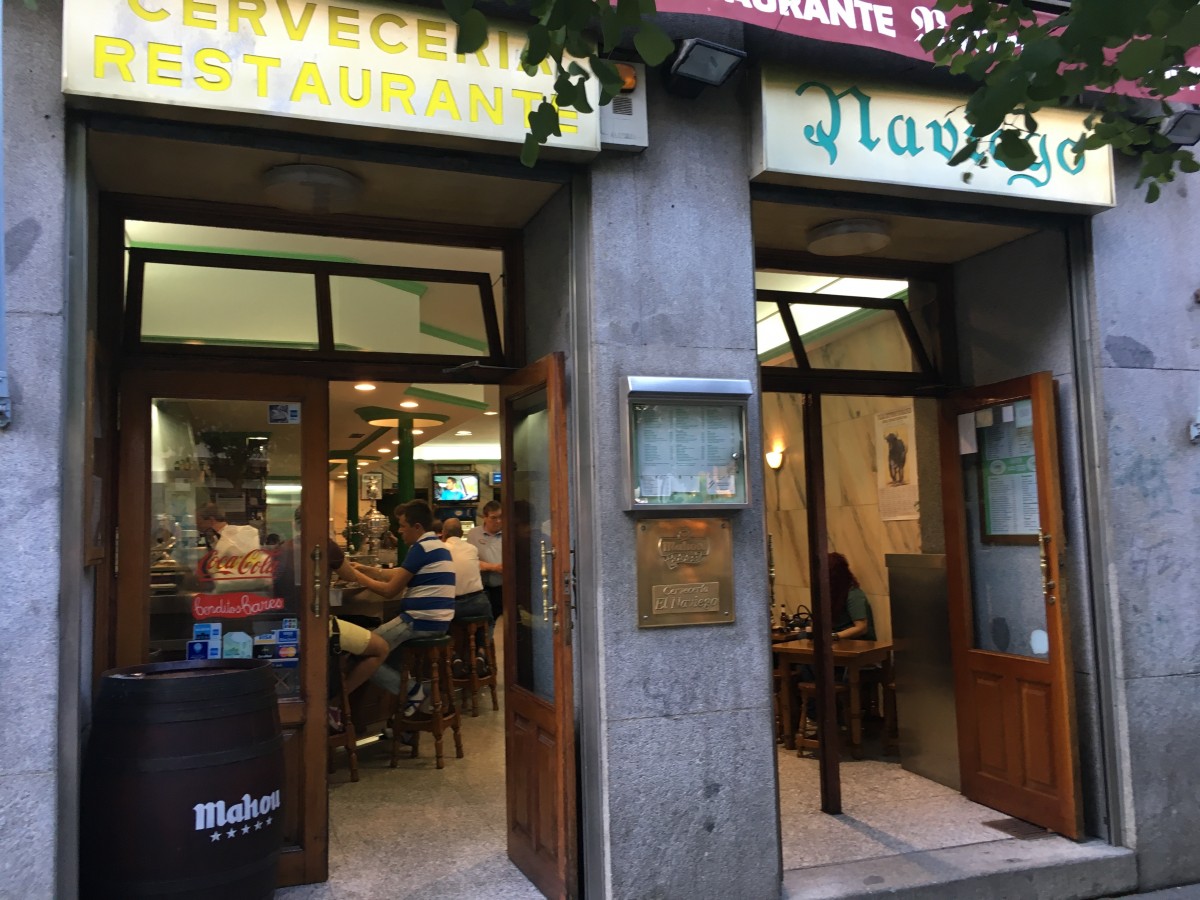 This place was packed with old school charm, zero airs and graces and loads of authentic feeling! There was a retro cash till (which was in no way designed to be retro, just one they'd been using for the last forty or so years I imagine).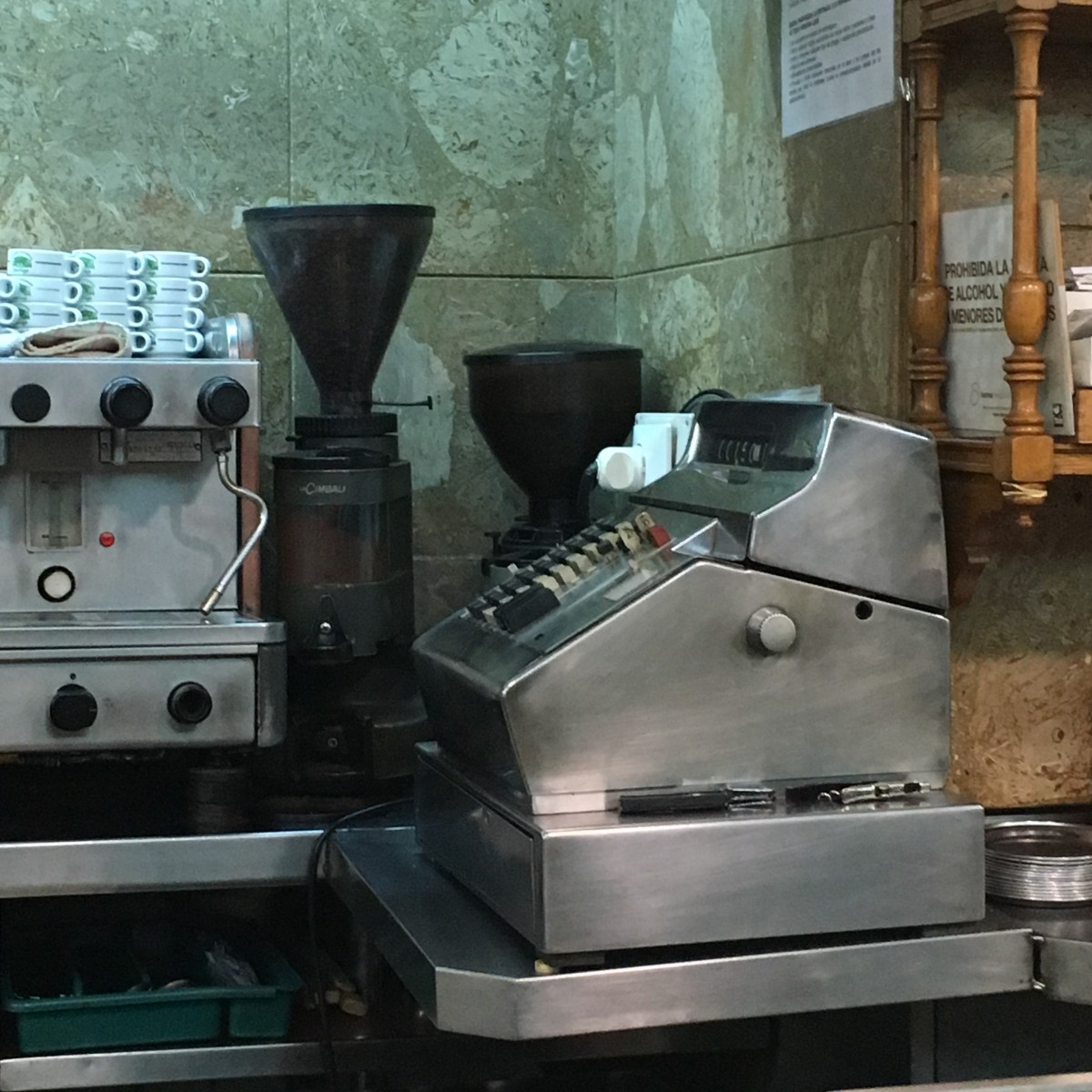 The other brilliant thing about this Tapas bar was the price, when we came to pay the bar chap presented us with a bill for three euros for drinks and food! We couldn't believe it! If I go to Madrid again, I will certainly be paying this place a visit and will have enough courage to ask for the menu next time!
A little detour back through Plaza Mayor and missing out the traditional tourist traps, we headed towards another tapas bar that Mr P had discovered through the medium of Google Maps!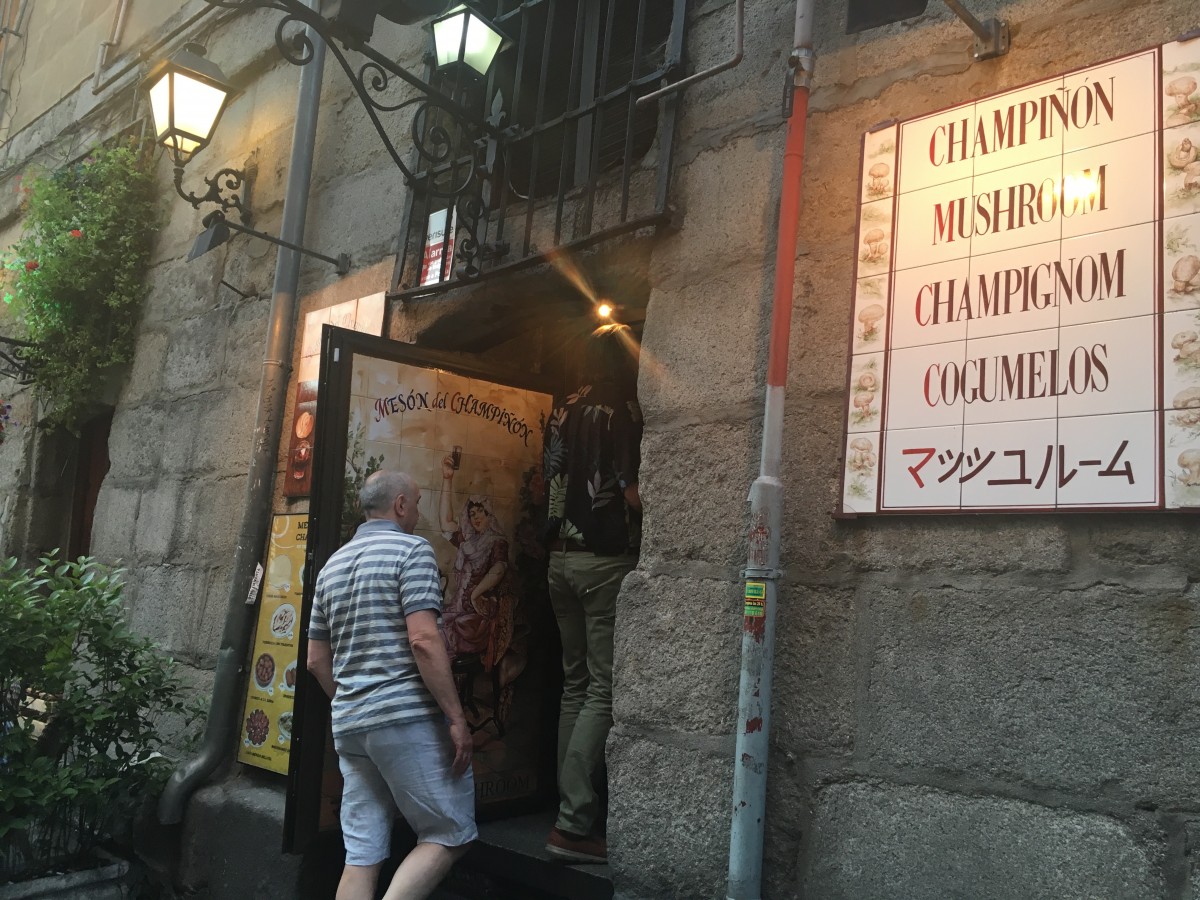 The Meson del Champinon was as you might have guessed, the house of mushrooms. It was all a little vague, but it seemed pretty much that all they sold was mushrooms, oh, and olives of course!
Another two beers later, we had a dish of mushrooms that was heavenly, Mr P doesn't actually like mushrooms ? but he LOVED these! Me too! They were perfectly cooked, shallow fried in garlic oil, very delicate but had a bite to them too!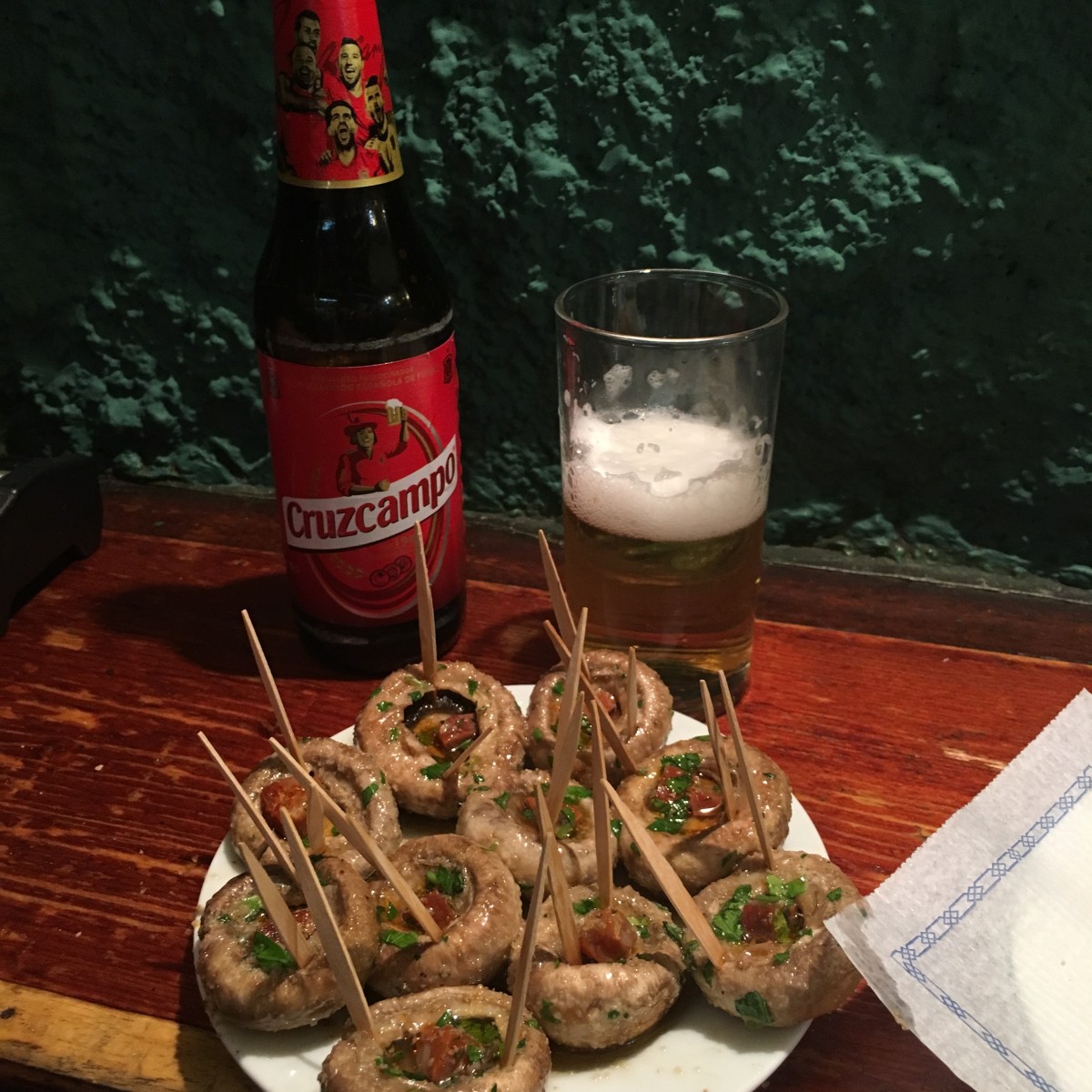 Again, there was no sitting down involved, but there was a little bit of bread! We headed back on to the streets, which were really bustling now it was around 10pm. Loads of people of all ages, having something to eat and a drink on a Friday night with family and friends.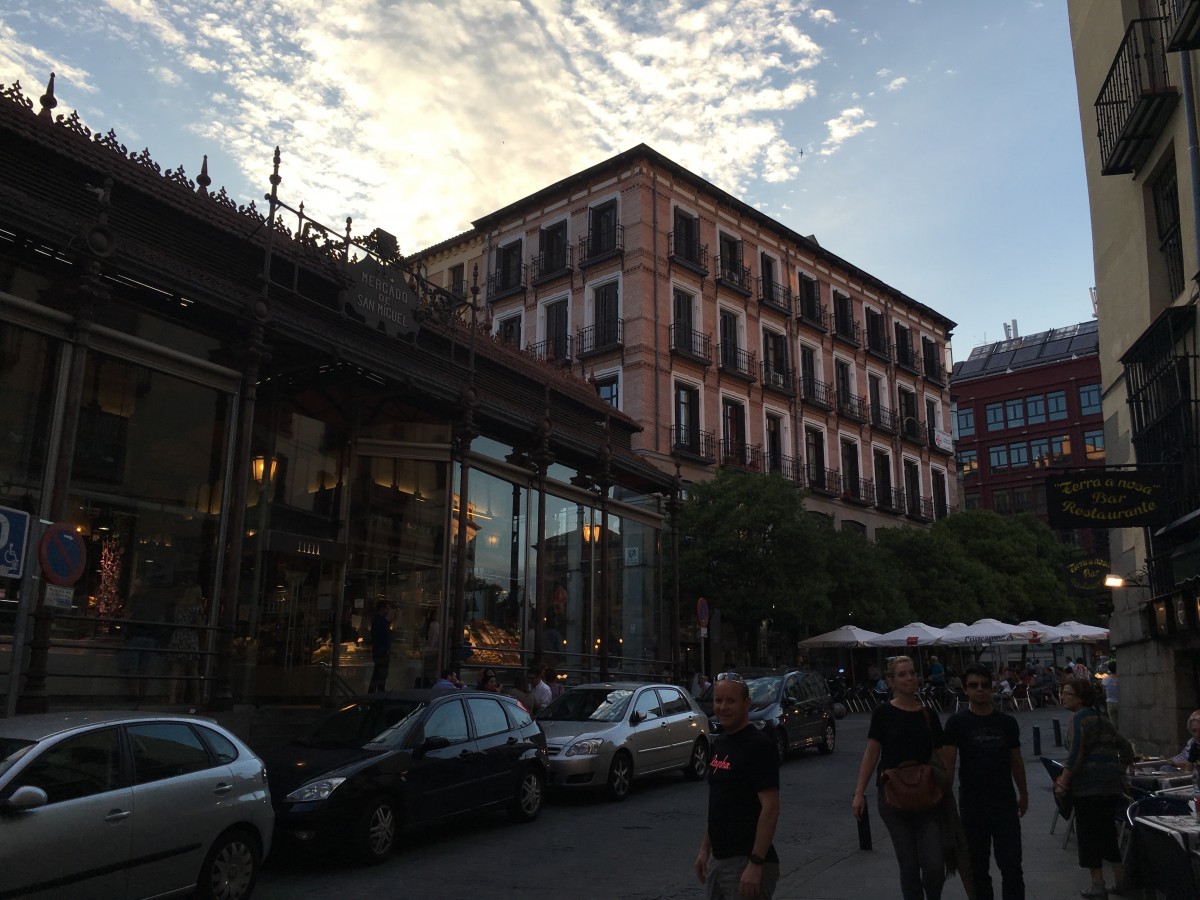 The temperature was still warm, in the low 20s even though the sun was going down and there were smells of cooking mixed with the sound of people having a good time in a relaxed and chilled way. We discovered we were back at our lunch spot of the Mercado San Miguel, so thought a little night cap to see us home would do the trick!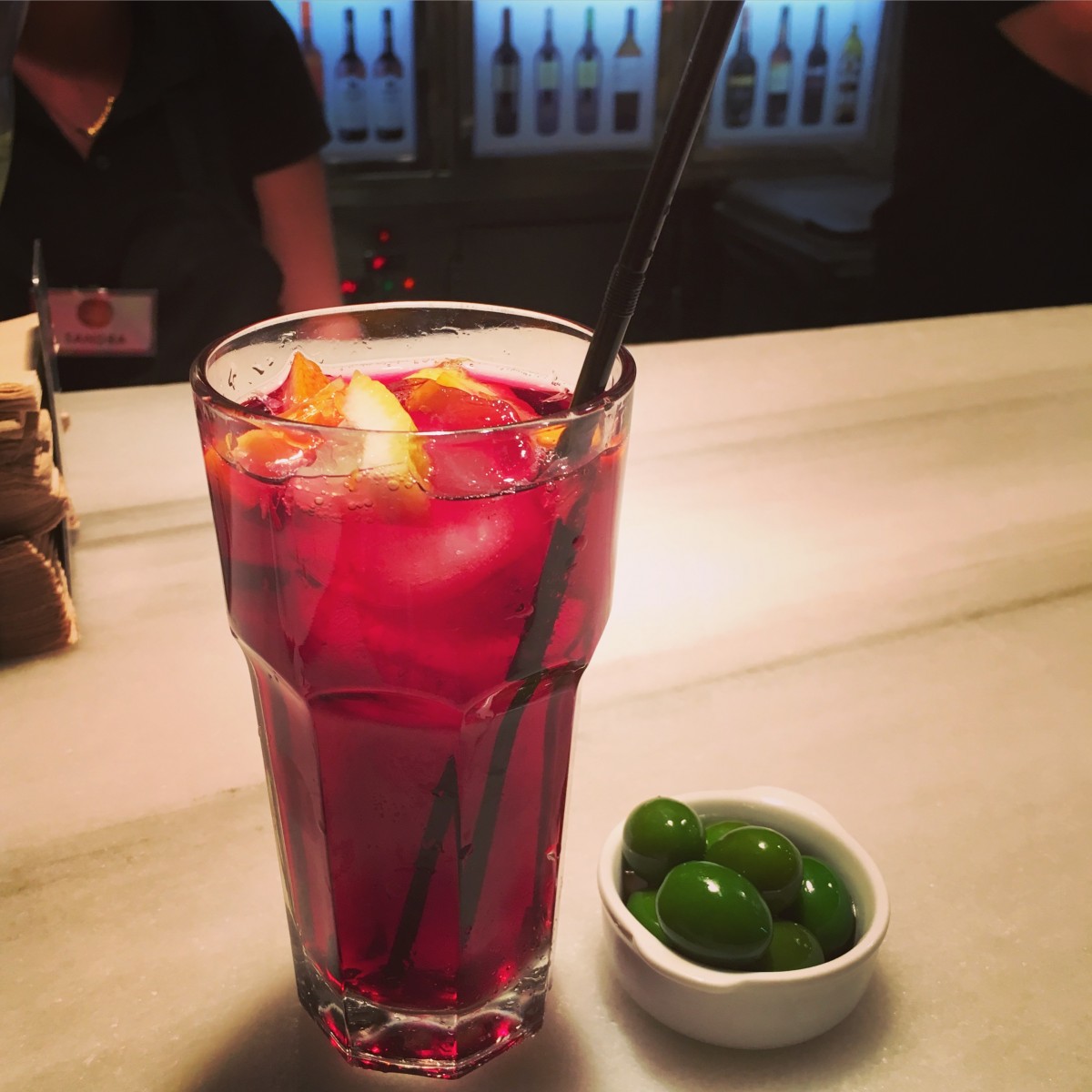 I had a perfectly mixed Spanish Sangria, with a side of, you guessed it, olives! You can't drink in Madrid without being given something to eat! Followed by some prawn bites, which were really good too!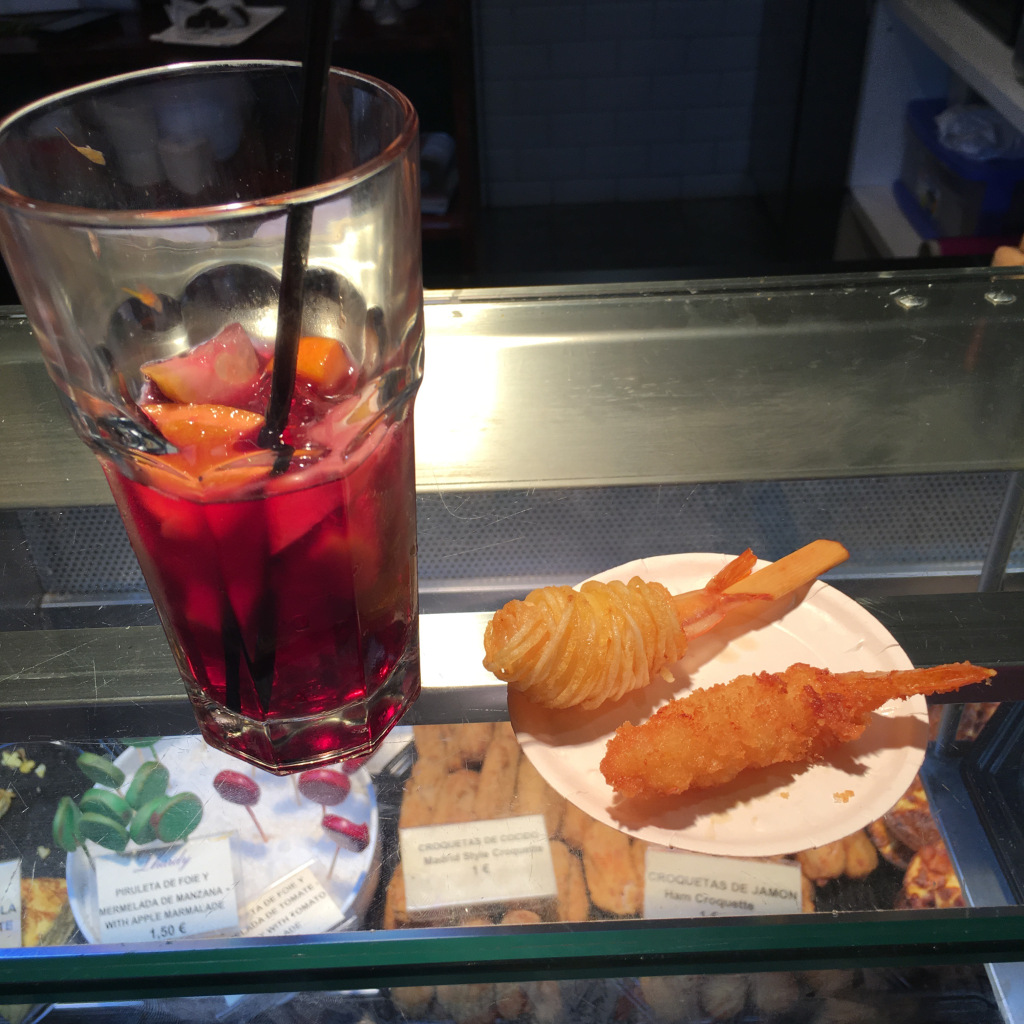 At that point we decided being on our feet for 18 hours and having walked 24km (Mr P has this App…) we really aught to head to the comfort of a freshly made bed and get some sleep!
The next morning after sleeping like babies teenagers, we thought we'd have a bit more of a chilled day after packing in so much on the previous one! So we used the wifi to look for great brunch spots in Madrid. The search engine fed back that the place we wanted to be was Fonty's which is a French inspired Bistro. We hopped back on the Metro to get there and were ravenous by 10.30am!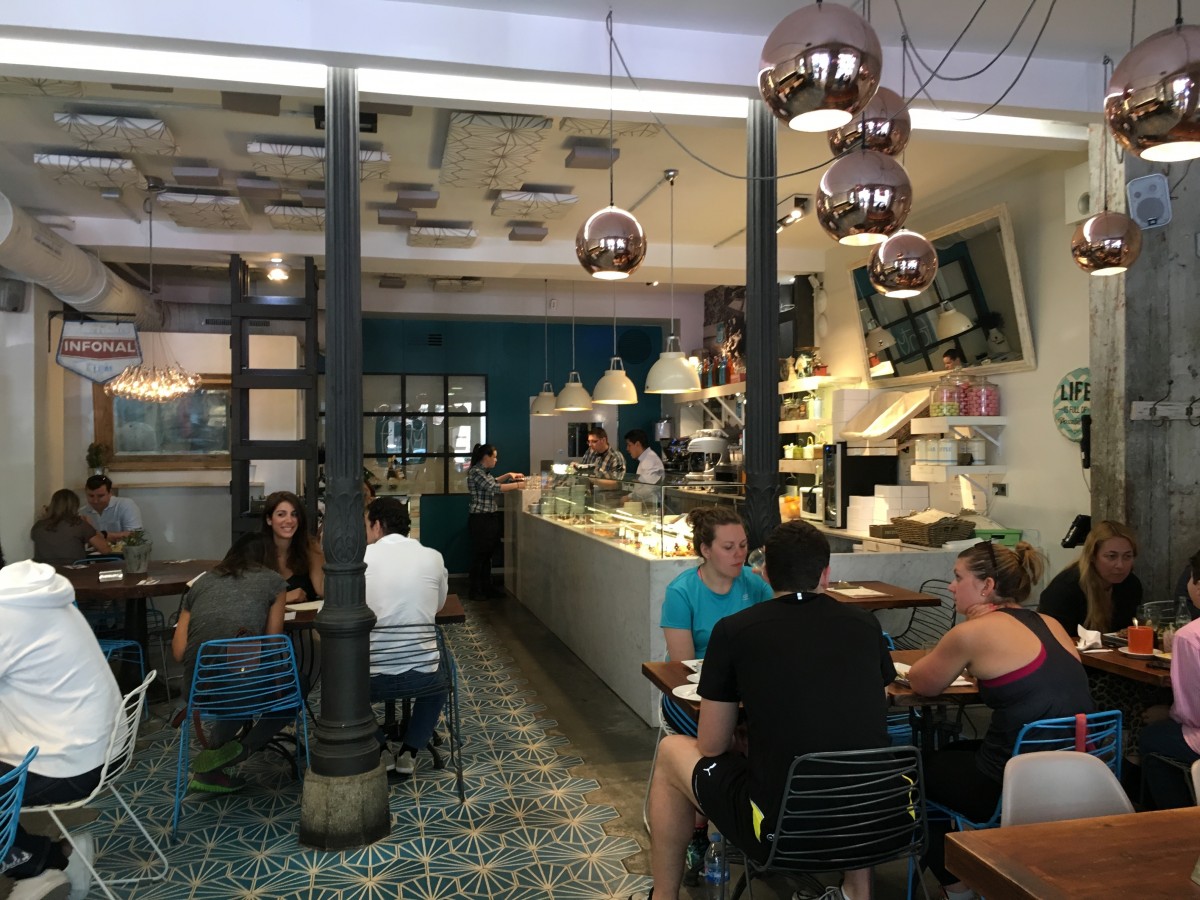 The menu was all in Spanish, so we knew we were on to a good thing.
It looks expensive at 40 euros for us both to have breakfast but you did get a lot and it was well worth it!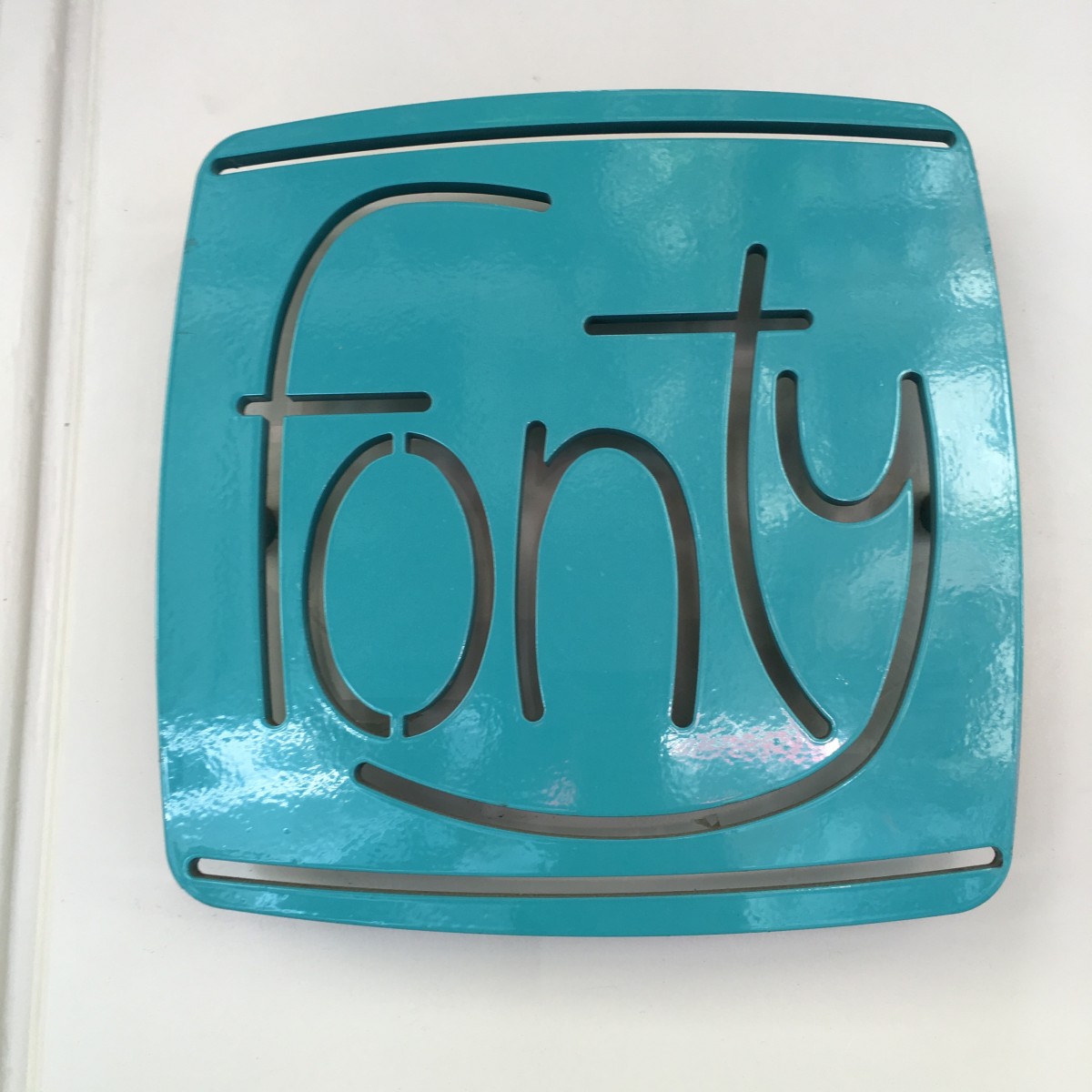 The freshly squeezed Seville oranges made for unforgettable tasting juice and the pastries were some of the best I've ever tasted, even in France.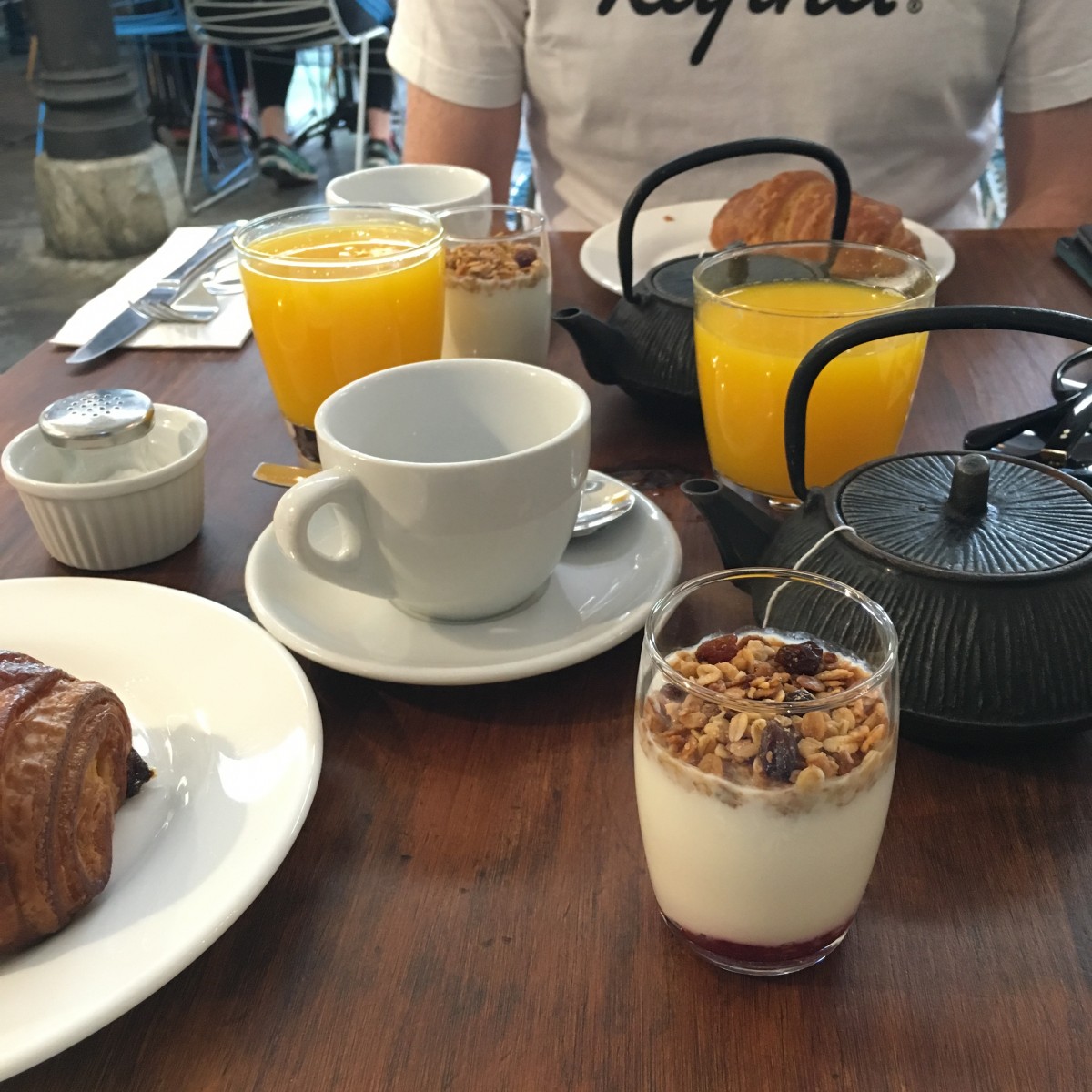 I may have been watching too much Bake Off but just look at the lamination on that Pain au Chocolat! It sliced beautifully with not a hint of sogginess anywhere! Mr P is now a convert to yoghurt and Granola since enjoying it here and the eggs Benedict gave Bettys a run for their money!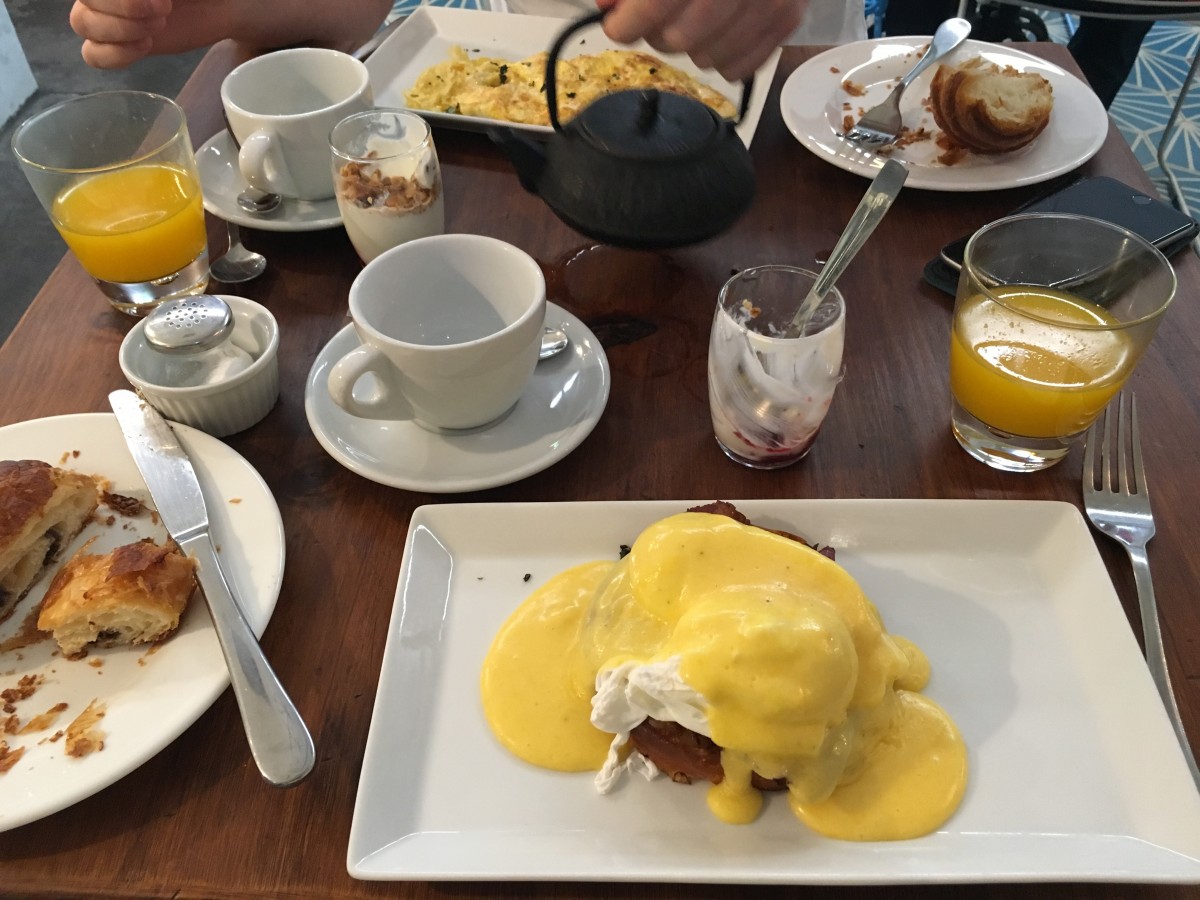 They also had some very pretty tiles and I'm a sucker for a nice tile!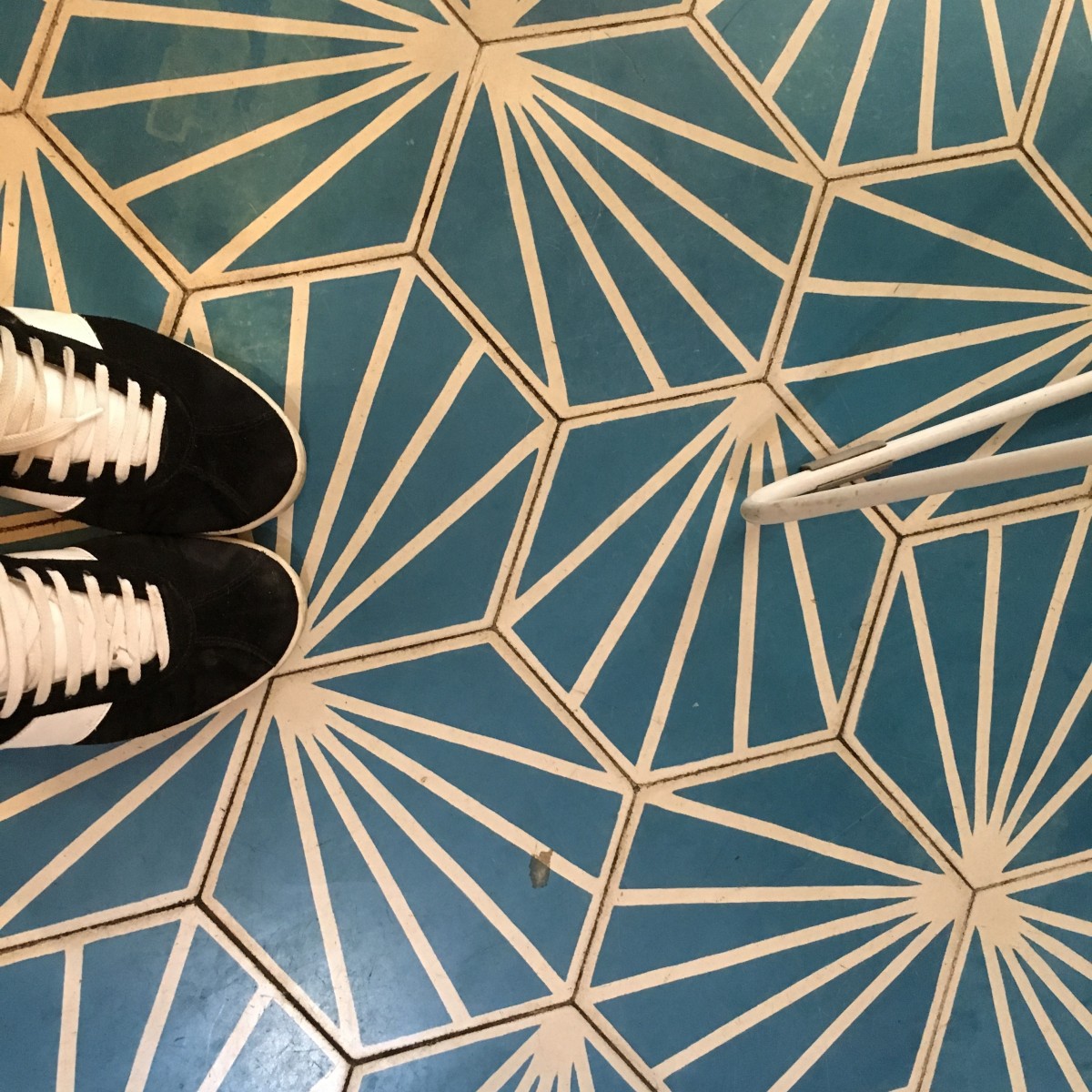 After being so full we could barely move we thought we aught to see a few more sights while we had the chance. Still running around like a couple of adolescents, with no small people to monitor for hunger, thirst or toilet trips. Not having to consider whether it was going to be too far for them all to walk to or whether or not they would like it when we got there we set off for Patrimonio Nacional or the Royal Palace of Madrid.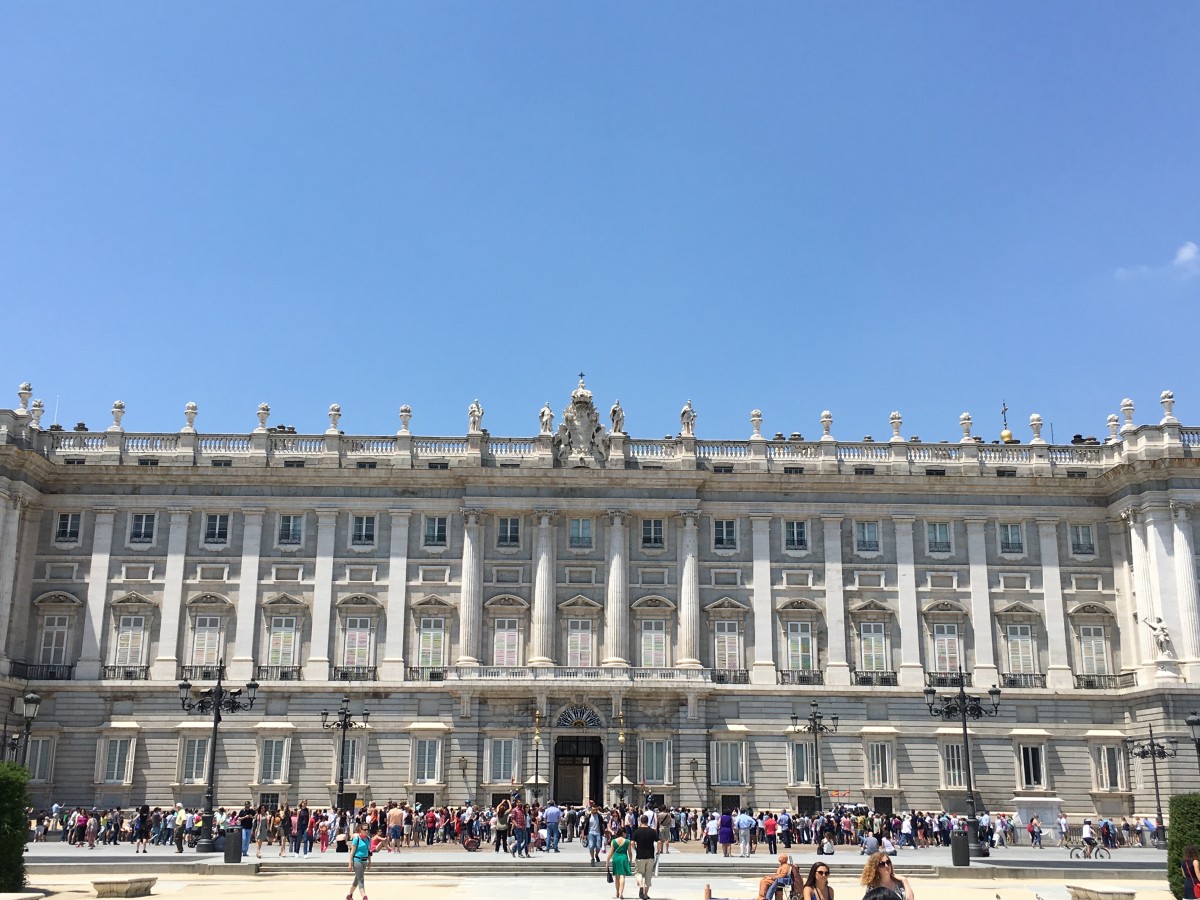 We had just missed what looked like the changing of the guards and it was, as imagined, as busy tourist spot. The palace was beautiful, not too dissimilar from Buckingham Palace, only you could get a lot closer to it than in the UK.
We also stopped by to see the Almudena Cathedral which is next door to the palace, another impressive building.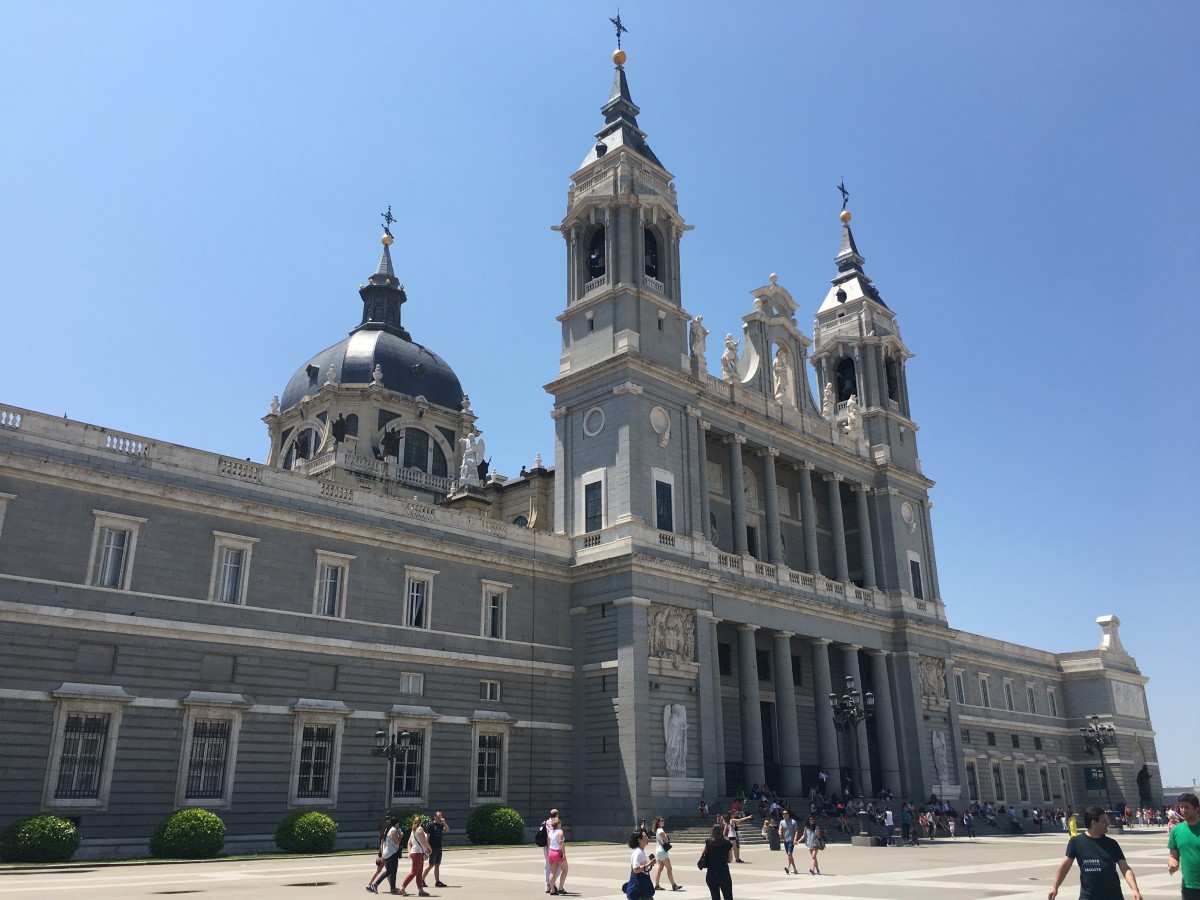 You can choose to pay to tour both of these attractions, but we decided to walk a little further to discover the Basilica de San Fransisco el Grande which is a neo-classical church built in the late 1700s. One of it's most glorious features is its 33m wide painted dome.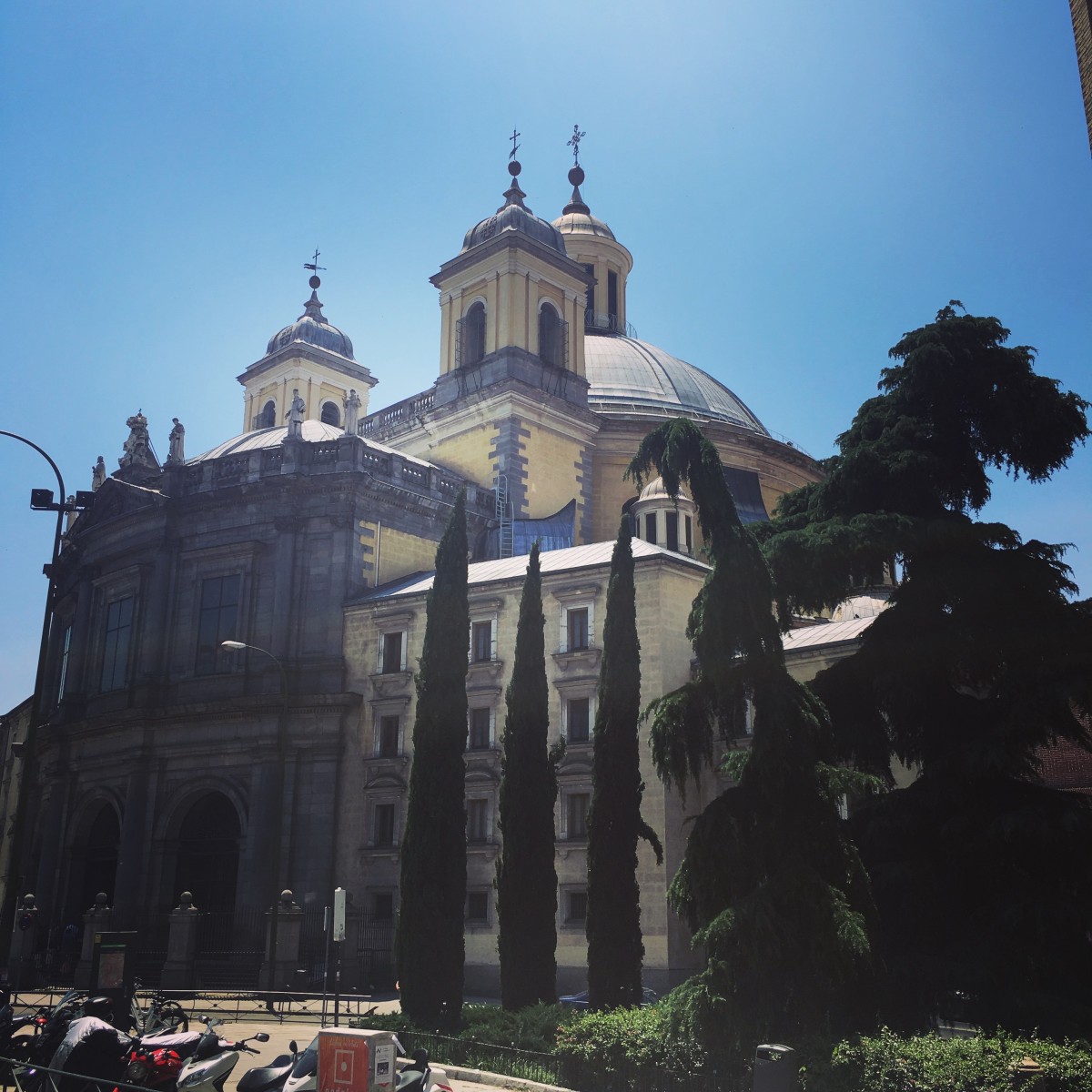 It's still a working catholic cathedral and you're not really supposed to take photos inside it! However, we got really lucky as as we entered a baptism was just finishing and lots of the congregation were snapping away, with the lights on!
I managed to photograph this beauty – which shows some of the ornate and elaborate details on display! This Basilica was my favourite tourist find of all of them that we visited and I would recommend it as a sight to behold! Before we went in I said to Mr P – 'seen one cathedral, seen them all' but I was proved SO wrong on this occasion!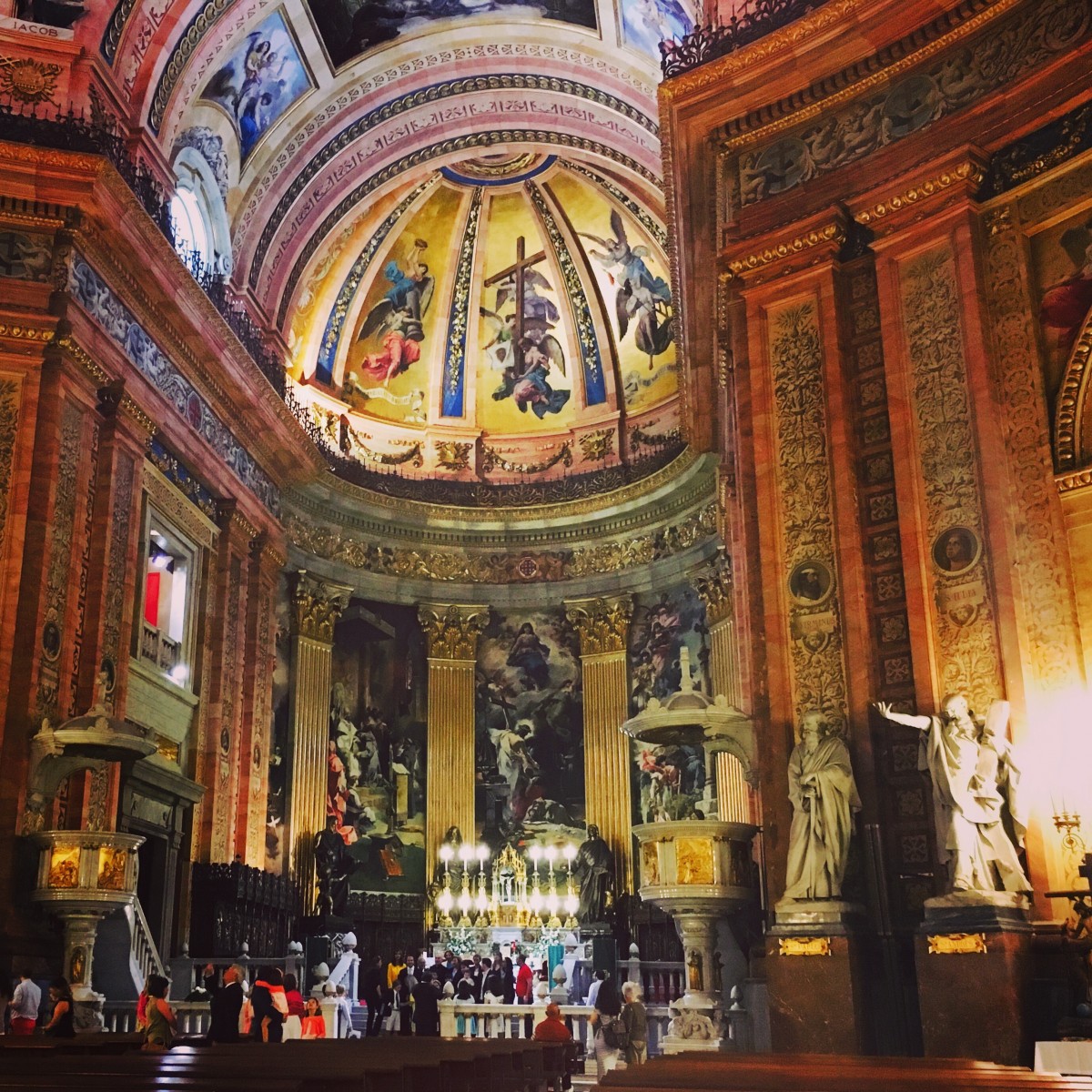 We walked across the bridge, and back towards the Palace heading towards the cable car ride across the city that I'd read about. We spotted a wedding party, looking marvellously Spanish city chic!
It was a long, hot walk to the Teleferico Madrid, where the cable cars are. The attraction looked like a 90's inspired idea. The cable cars ride away from the city so that you look back at the skyline from a different angle. It is a great way to see the views, and they are pretty gorgeous, it lasts about ten minutes each way.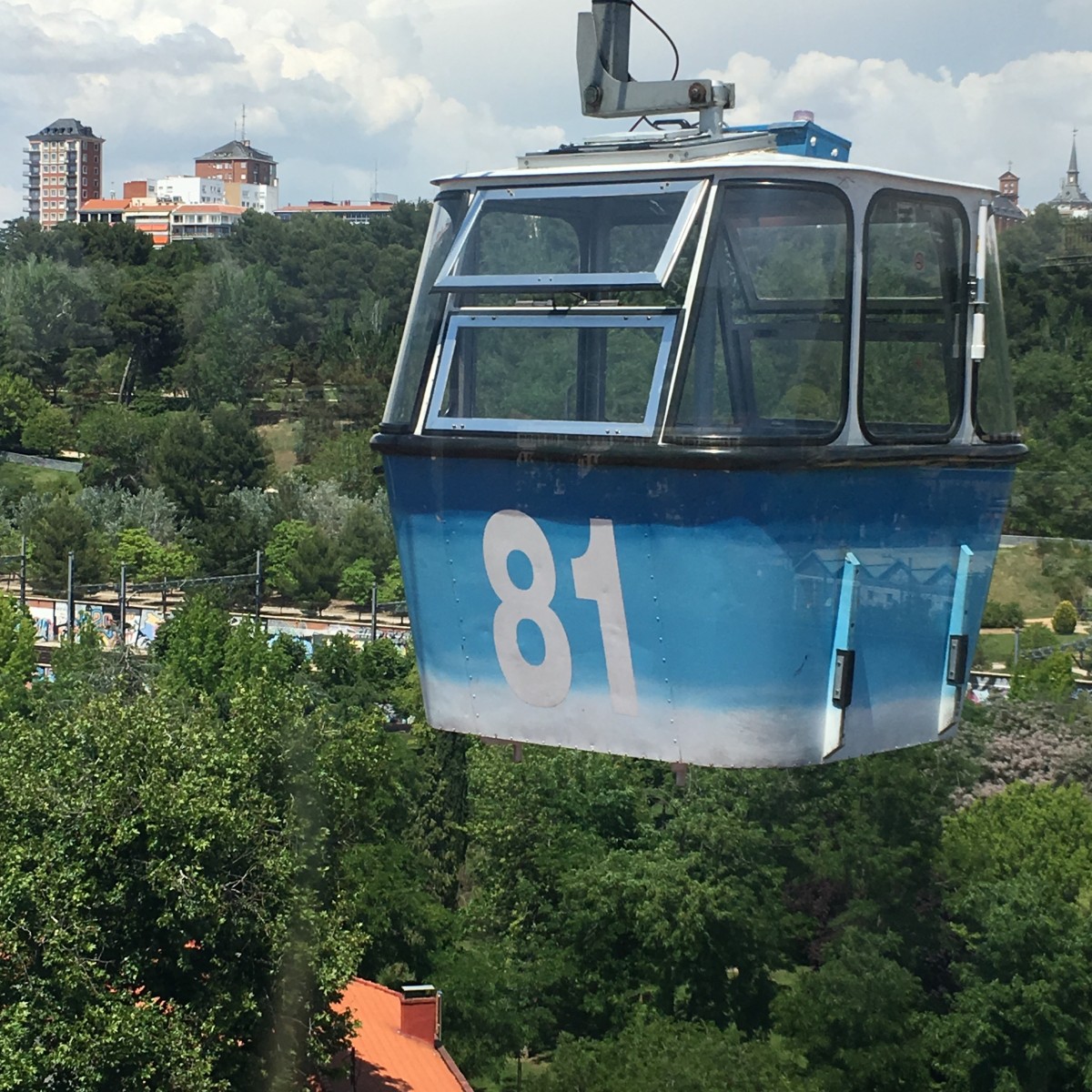 I wouldn't rush back though, the 10 euro ticket was a reasonable price for a nice sit down, but on arriving at the viewing area we were a bit disappointed. There was a soft play centre – who the hell wants to go on a city break without their kids only to find themselves in a kids foam filled birdthay party?! We quickly set off on our return leg, after the obligatory photo with the view.
By 4pm on day two we declared we had 'seen Madrid' and decided a nice sit down with a Sangria was in order, we were to chill and take in the local colour. Which we did back at Calle Barcelona which is a busy street full of Eateries,not that far from the central train station Sol.
After a long sit down and lots of people watching we did a spot more shopping before heading back to our hotel for a quick change and headed out again for supper, and beer!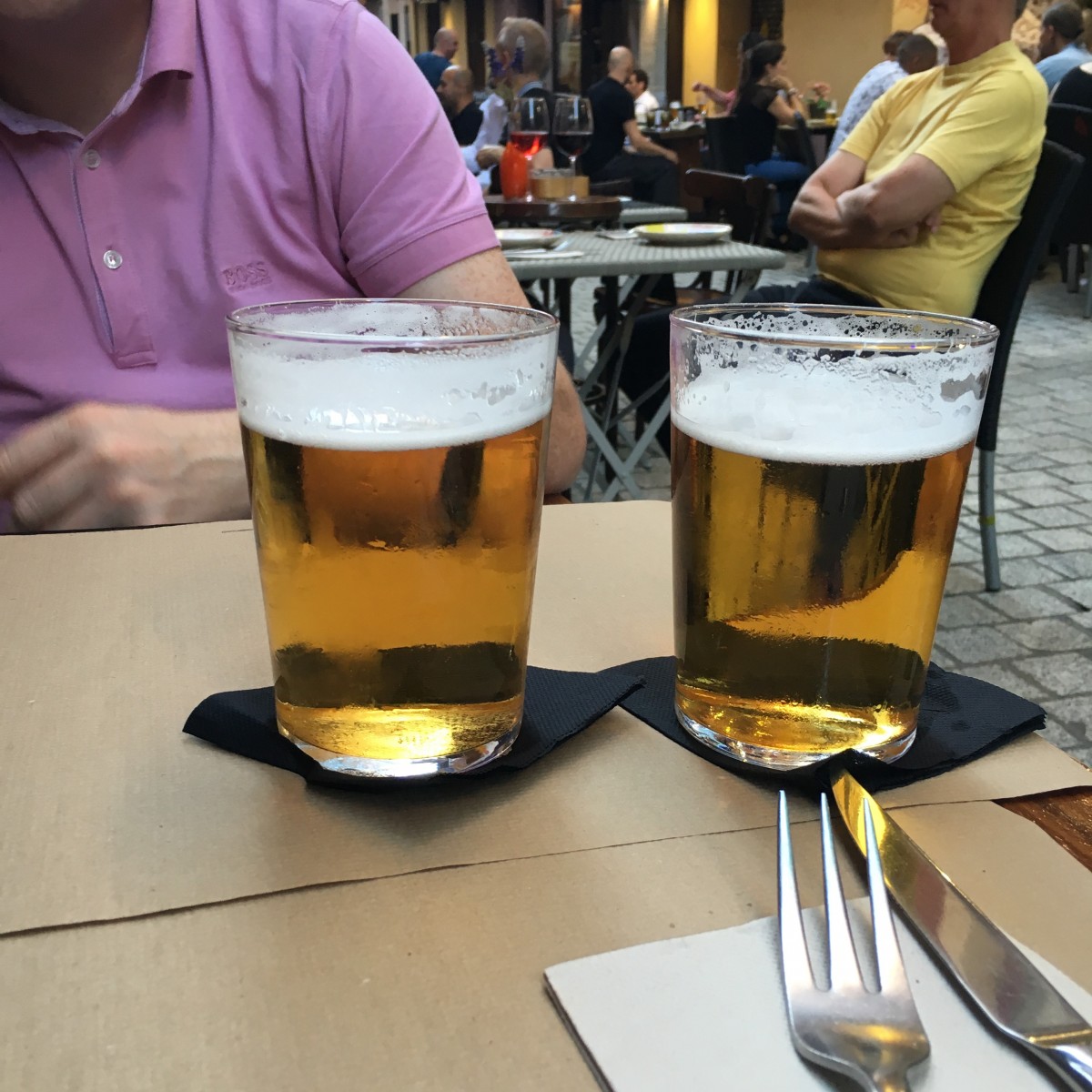 We ate at Kaixo on Calle Barcelona and were spoilt for choice with the tapas menu, we had a fabulous huge, deep fried cheese ball -what's not to love about that and some other potato based dishes!
We wandered to a few more bars, soaked up the atmosphere of grown-ups out on a Saturday evening in the sunshine. Something that was so long over due being felt! It was so nice to feel part of the 'normal' people again rather than caught up in bath time, bedtime shenanigans!
We ended up, rather fittingly, where it had all began back at Chocolateria  San Gines, for a last Churros and Chocolate before having to say adios to Madrid.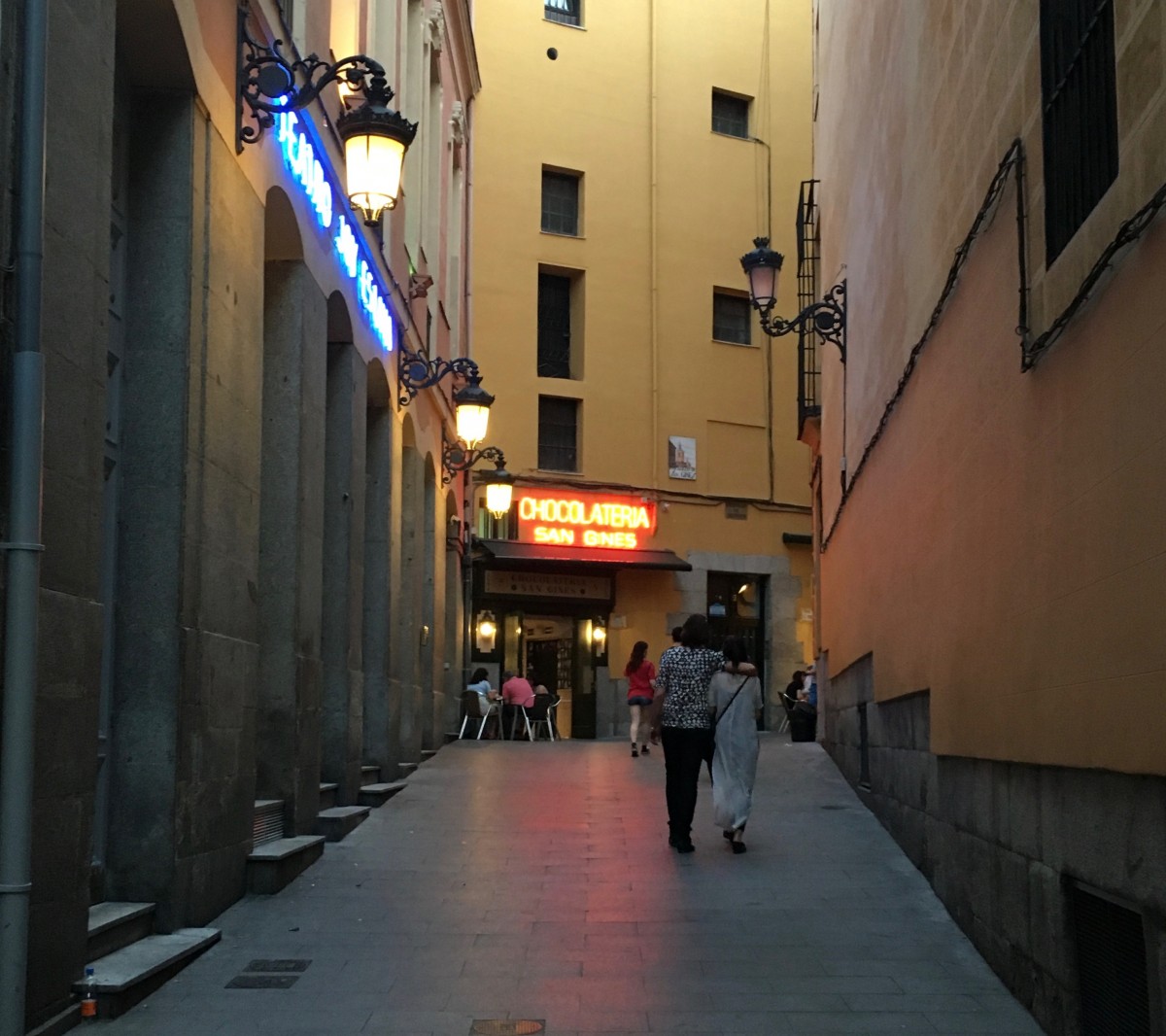 We'd had simply the best time. An adventure we wouldn't forget in a hurry. It's so important to spend that quality time with your other half, for you to remember who you are on the inside and that you're not just somebody's Mum and Dad.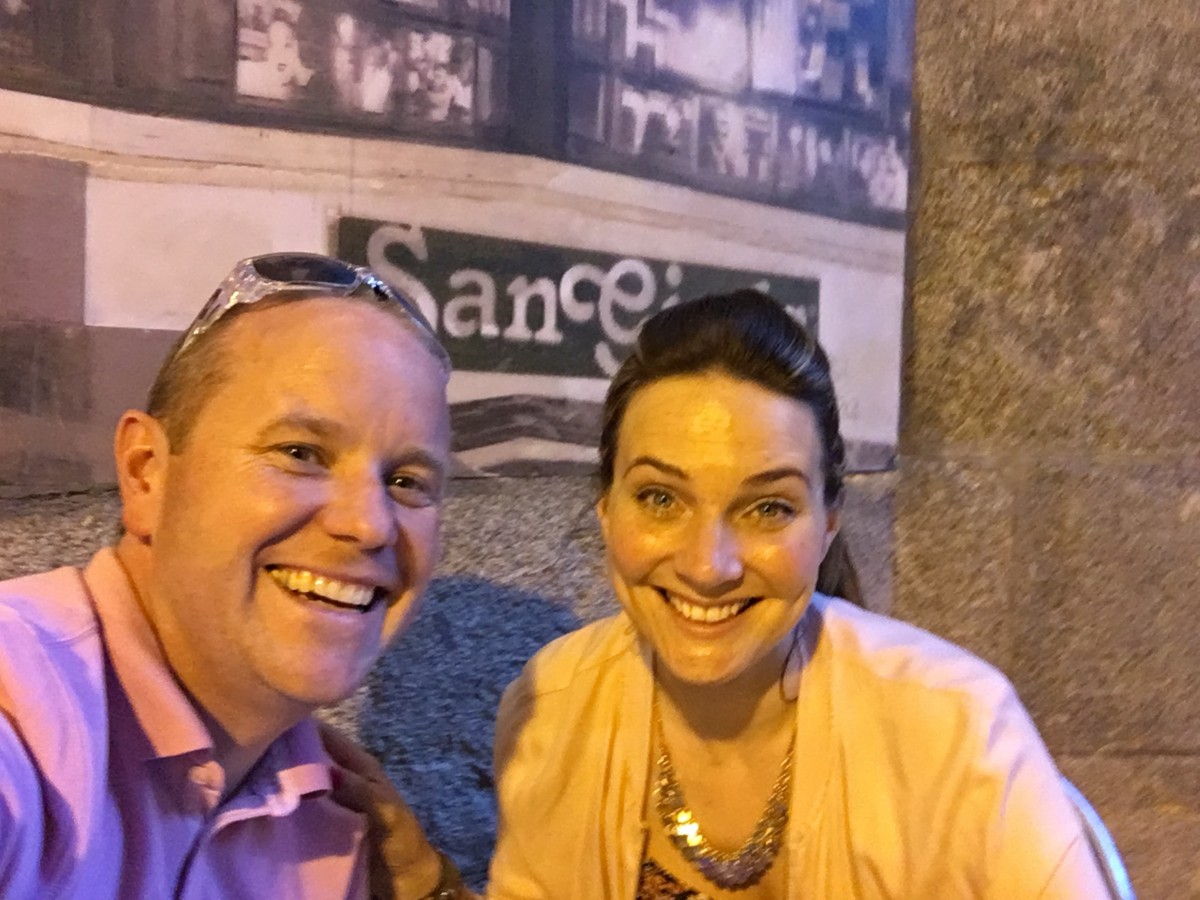 Madrid Amazed me! I can't wait to go back again! It is up there at the top of my list of favourite cities and would recommend it to anyone. The history and architecture, the culture and the vibe made it all my kind of place. Oh and the olives and Sangria too of course! If you're reading this thinking, 'we should do something like that' I urge you just to go if you possibly can. Creating memories together makes you who you are as a couple and broadens your life beyond that of which circles your kids.