Last week the Stray Ferret invited me to speak at the Digital Marketing Conference about what it means to work as an influencer.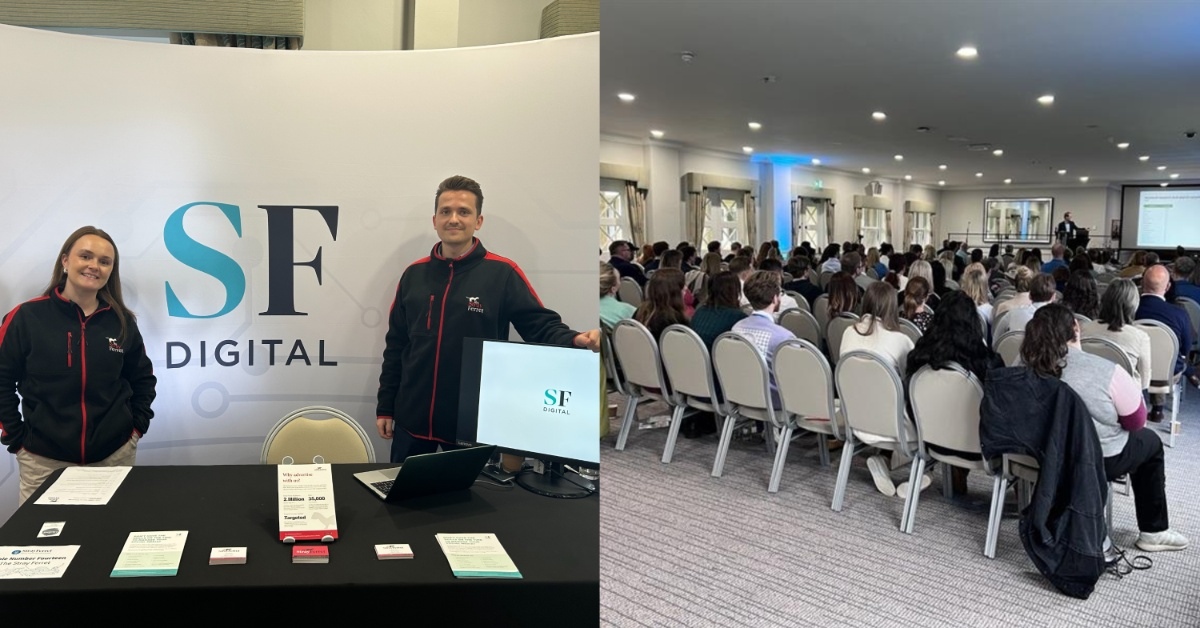 In this new world of Influencer Marketing there are many brands, businesses and your average Mama on the street trying to fathom it all out. So I thought I'd share what I prepared for the conference to help you understand how this aspect of digital marketing works.
What makes me qualified to talk about Influencer Marketing?
I started my career in PR for Orange working on national UK campaigns. Then moved into event management for a government agency which saw me deliver events at high profile government venues including No. 10 Downing Street and the House of Commons. 
During time out to raise my family I founded Harrogate Mama a lifestyle blog about living in Harrogate, and seven years later I continue to enjoy working with brands from small independents to household names. 
I currently works as a marketing manager for two charities across North Yorkshire and the Humber region. 
The knowledge of working in marketing from both sides of the coin is a huge advantage in understanding how brands and influencers work.
Working as an influencer covers;
How would you describe the work of an influencer?
Generating ideas to engage an audience
Research and planning into businesses and their niches
Creating content; filming, editing, photography, copy
Planning, scheduling and managing social posting
Building and managing an online community
All aspects of running a small business, pitching for work, building relationships, IT hassles, responding to enquiries, creating or interpreting a brief, capturing content, invoicing.
When would a company typically use a influencer?
At any point in their business journey, it's another tool in a company's marketing arsenal and helps them reach their marketing objectives.
launching a business
rebranding
celebrating a milestone
promoting an event
launching something new
driving sales
increasing footfall
raising awareness
What are the benefits of using an influencer?  
Third party endorsement from a trusted source.
A direct 'in' to your target market.
Reach to a ready made audience.
Access to a new audiences.
Content generated for you for you to use.
Potential increase to your own social media following.
New ideas to breathe into your brand.
A new way of looking at something.
Access to a marketing professional.
How do you approach the job?
I spend time getting to know the brand and marketing objectives. I work alongside the business to work together on a brief, and agree the outcomes, get down into the details; times, dates, posts etc. Create the content. Discuss approval process. Post. Evaluate and follow up.
What are your learnings?
That all brands can benefit from influencer marketing, no matter how big or how small. That business still don't understand how influencer marketing works, and we need to educate everyone better. Influencer marketing works!
Some Stats
Influencer marketing was valued at $16.4 billion in the US in 2022. 50% of Millennials trust product recommendations from influencers (this drops to 38% when it comes to celebs!) – which is why smaller, trusted individuals often work better for brands.  Businesses generate $6.50 in revenue for every $1 invested in influencer marketing. (Source HubSpot Blog April 2023)
Successes
Brands report back;
increased awareness
increased social media followers
increased ticket sales
increased customers through the door or buying their services
most brands I work with work with me again on a repeat basis – which I'm sure they wouldn't do if it wasn't bringing them a benefit!
Who do you work with?
Consumer goods brands from the likes of Marks and Spencer, Harrogate Spring Water, La Gioiosa Prosecco.
Service based businesses like tutoring services, photographers and funeral homes.
Entertainment/days out sector like; Harrogate Theatre, Harewood House, RHS Harlow Carr.
Hospitality; Grantley Hall, local independent cafes, Bettys, Fodder.
Charity sector; Henshaw's, Harrogate Hospital etc.
You can read more about who I have worked with on my Collaborate pages.
The bad parts about influencer marketing
I think sometimes influencers get a bad press as being 'grabby' and out for what they can get for free! I do find the label can have negative connotations. Sometimes you hear stories in the media about influencers asking for 'a free cake' to support an event and for some reason that outrages people; that someone else should get something for free, that a small business has had to lay out costs for creating!
What the media doesn't portray is that influencer marketing is a very successful marketing stream when used properly. If the influencers are professional and credible it's a total win win for everyone.
The influencers I know work REALLY hard at what they do with a lot of time, effort and creativity and trust me, none of them are making very much money at all!
Influencers have spent time and money (website cost money to run, camera equipment is needed) building up a loyal online following, like me, over years! So when I over hear someone saying 'the influencers will be out all getting a free drink' when a new bar opens. Or someone doesn't see the value in having their cupcakes featured in a Halloween roundup I'm sharing, because there's a cost to them. I want to reply and say. 'Do you know the value of this 'free' marketing?!
I do understand it's not business owner's fault – as influencers we need to get better at explaining our value and we need to start charging accordingly. I don't know many people who work for a 'free drink' or a 'cupcakes for their kids' – especially when they have overheads of their own to pay.
Taking the example of the 'free cake'. What the media aren't sharing is that the the company making the cakes benefits from an influencer creating new content of their product. The time the influencer spends; coming up with a creative idea, filming, editing, photographing the product. The effort the influencer goes into creating the any copy to support the image and research the right hashtags to use for the brand. The influencer then plans schedules and manages the social posting, engaging with their community about how great the brand who made the cake are.
For one 'free cake' the cake maker is getting…
A direct 'in' to their target market
Third party endorsement from a trusted local source.
Reach to a ready made audience.
Access to a new audiences who might not know who they are yet.
Content generated for them for them to repurpose.
Potential increase to their own social media following.
New ideas breathed into their brand.
Some brands might not need influencer marketing
Influencer marketing is a marketing stream, just the same as spending money on SEO for your website or putting a poster up in your local supermarket. It just depends whether it fits your target audience or not.
I would say that no brand is too big or too small to work with a local influencer who has good engagement. You wouldn't think Bettys needs to work with influencers as everyone know who they are already. Yet they regularly do, and I create some great content for them. You wouldn't think Marks and Spencer would want to work with a local influencer with only 6,000 followers, but they do – because they know it works. I have worked on a paid basis with Harrogate micro-businesses to glean excellent results – for example a tutoring business in Harrogate which helped secure them new paying customers.
I could go on…
And maybe I'll write some more on this subject soon, as I do feel passionately about it and feel a need to educate brands and the public at large about the world of influencer marketing.
I got into influencer marketing to showcase the best of Harrogate to everyone and connect people with our amazing local businesses. Harrogate Mama also serves as a way for local businesses to showcase what they do to the right people. I enjoy the creativity it brings me, the chance to meet loads people in Harrogate and connect me to the community.
Work With Me
I hope that's served to help explain a bit about how Influencer Marketing works, and show some transparency. Hit me up with your questions, happy to answer anything, and if you want to find out about more ways to work with me visit my collaborate pages where you can see more of the brands I have worked with over the last seven years.