On Father's Day we headed off on an exciting family adventure to visit the newly opened treetopnets, which is at the site of Lightwater Valley near Ripon. It's only about half an hour away in the car from Harrogate and we had so.much.fun! It's the sort of place my kids will remember going to for a long time to come!

It's so different from anywhere they've been before and a first time exerience for all of us, which is so rare these days and wonderful to share as a family.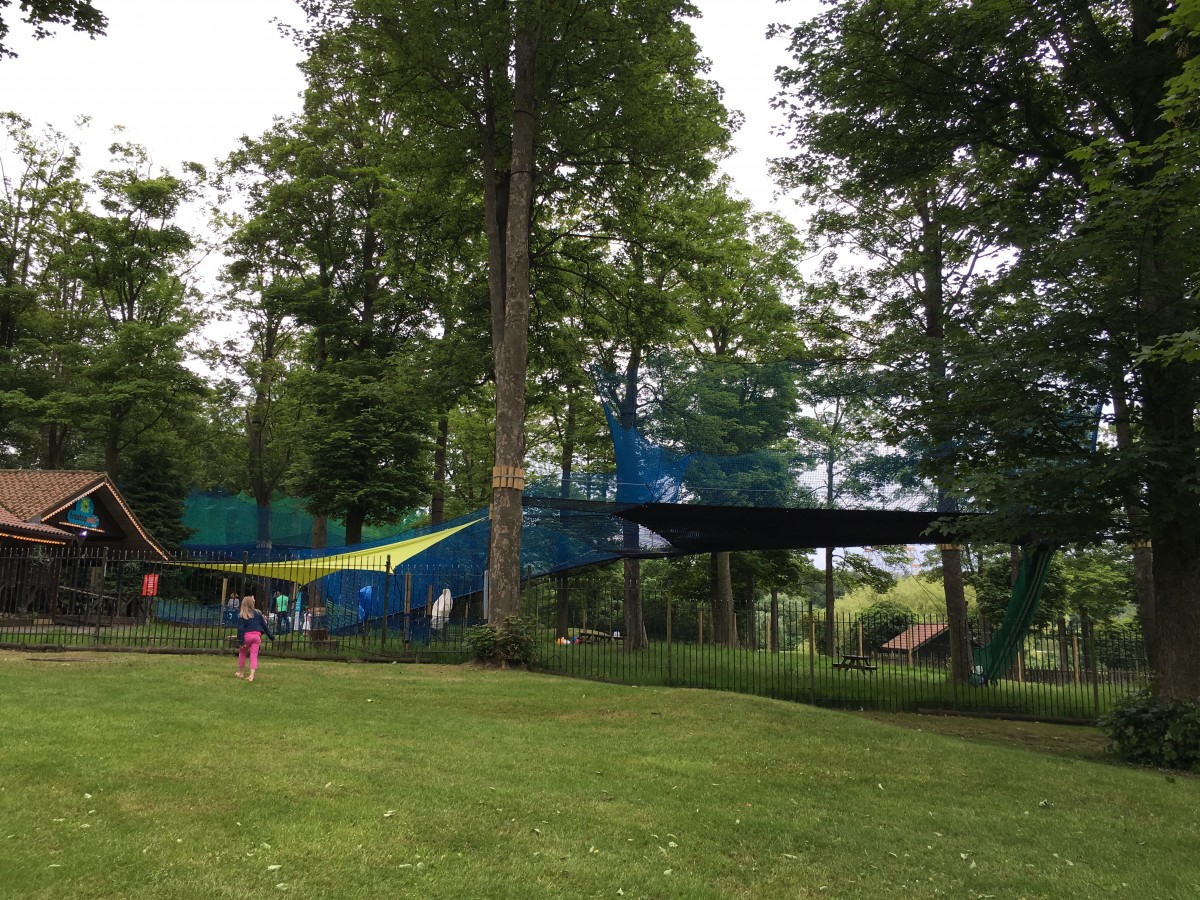 It can only be described as a series of huge trampolines, 2000m in total, suspended in the air by ropes tied securely to trees. The trampolines are all linked together by meshed walkways and it's all safely surrounded by 3m high walls of netting, with a few slides going back down to the ground.
The site is set in mature woodland under a canopy of trees, making for a really chilled, one-with-nature setting.
It's completely different from any 'high ropes courses' or similar places where you are 'harnessed-on' to climb planks high in the air etc. There's no special equipment required and anyone from age three upwards, including all adults, can join in, you just need some comfy shoes!
We had a safety briefing when we arrived, making sure we'd removed (or taped up) any jewellery and tied our hair back, to avoid anything getting tangled in the netting. The rules are there to keep everyone safe and it's all pretty sensible stuff, like no climbing on the side nettings, no running down the walkways and watching out for other people when you're bouncing around! I felt really safe the whole time I was there, and everyone was following the rules!
You approach the trampolines by netted walkways which are ramped up from the floor (you keep your shoes on) and there's no physical climbing required other than walking or bouncing along the ramps and walkways, they are a bit wobbly though, which all adds to the fun!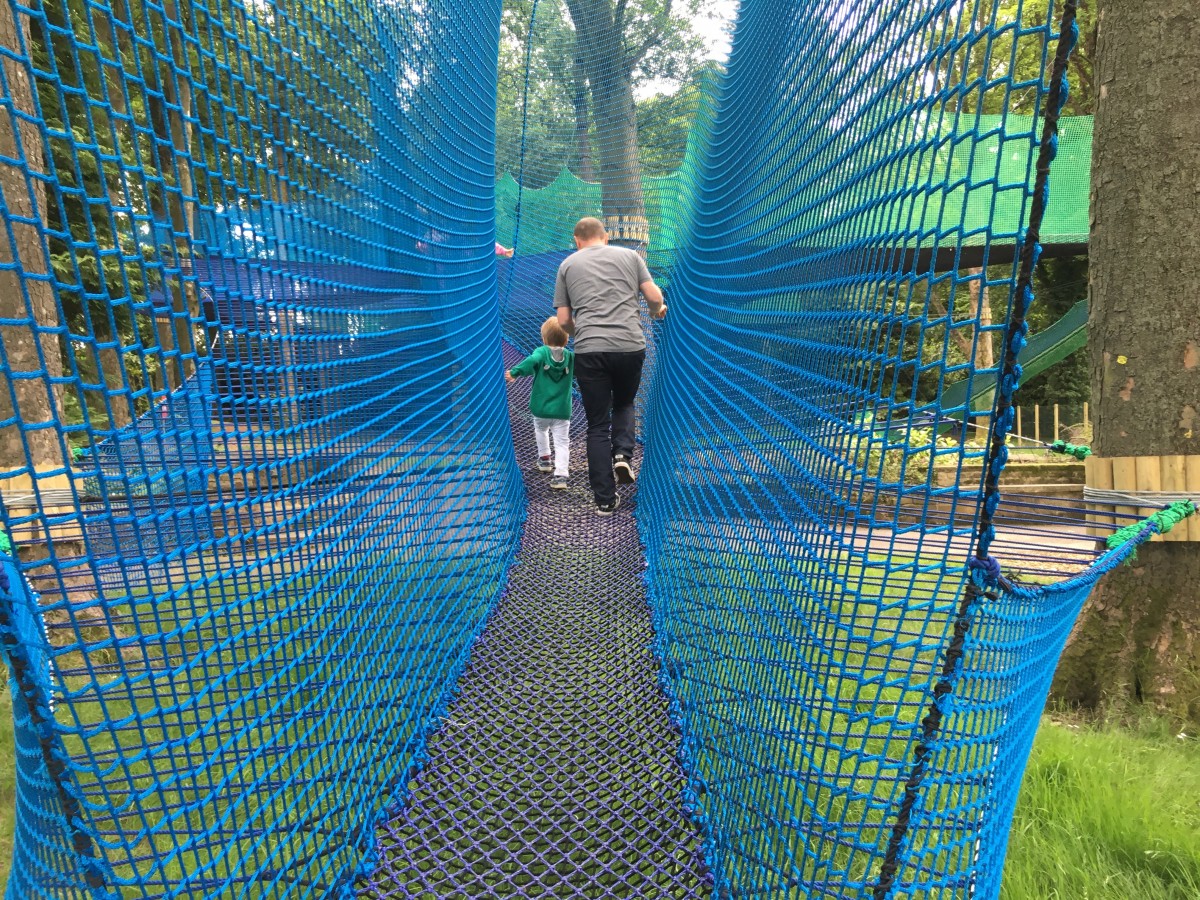 We were pointed in the direction of the quieter trampoline area to begin our session which was a great idea, while we literally found our feet!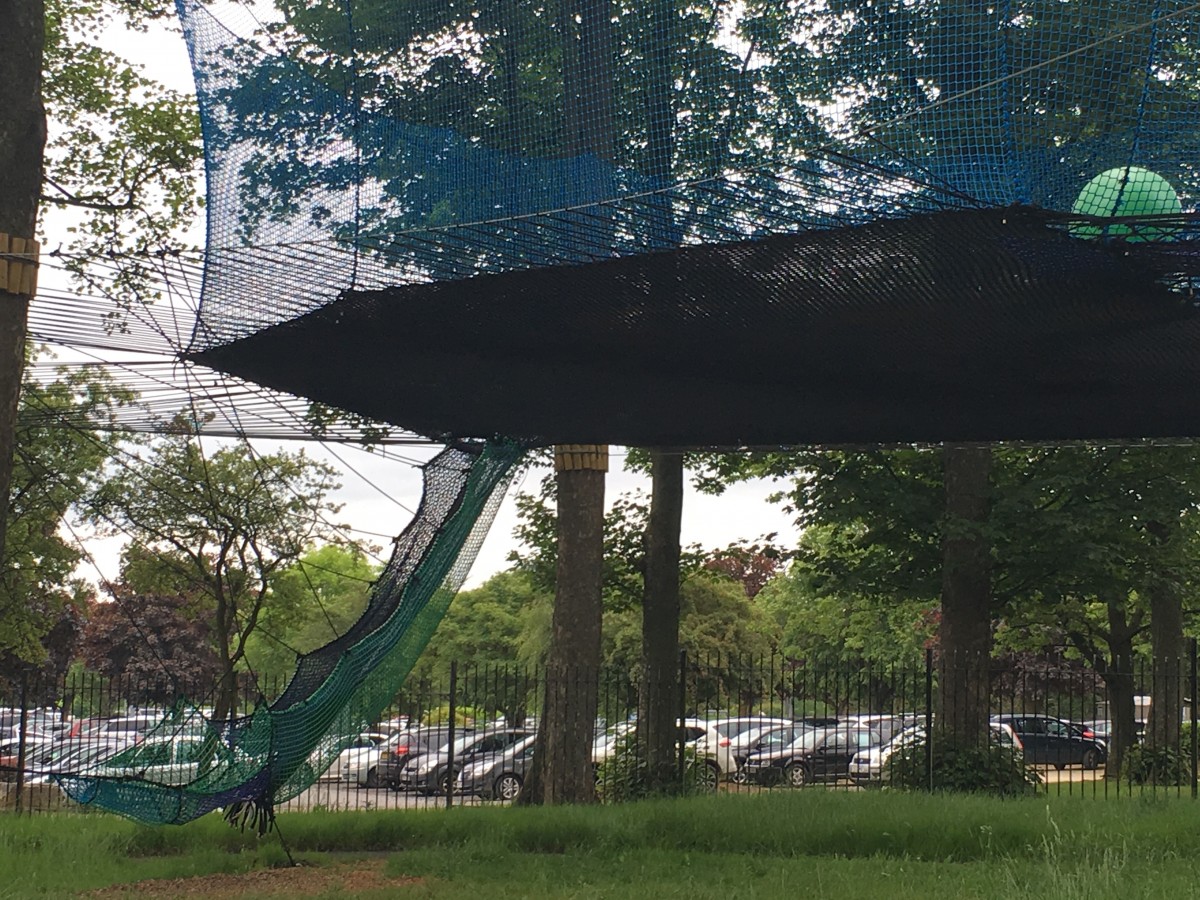 The girls did loads of jumping and bouncing about on this practice area of the trampolines. It was amazing to be so high up and over such a large area, standing over the ground with nothing but a couple of ropes between your feet and the floor! The Small Boy took a few minutes to warm up, being at the youngest end of the age permitted to bounce, but once he got into it there was no stopping him!
This 'practice' trampoline area had one of the three slides available at the site on it too. The slides are also made from ropes and net. To go down a slide you need to collect a sack from the ground and bring it up to the trampoline with you, then you climb inside to come down it (to prevent any rope burns).
Both kids and grown-ups can go down the slides, we all had tonnes of turns but couldn't persuade the Small Boy to give it a whirl, despite it being enormous fun! The slide was quite steep and just long enough to excite without being too daunting.
Once we'd built our courage up, which didn't take too long, we headed over to the other part of the nets which is where the bulk of the trampolines were. After climbing another ramped walkway we approached the second of the trampoline areas, this one had two slides in it!
It was also on an incline, the kids loved running up to the top of it and bouncing back down, it was a bit higher off the ground than our starting point too, so our confidence was definitely building!
Then we moved on through the walkway to the third trampoline / ball pool area which was filled with huge Pilates type balls! We all had a brilliant time kicking them about, bouncing on them and even playing football with them against the painted on goal posts on the wall netting – which all made for much hilarity on such a bouncy surface!
It was quite quiet on the Sunday afternoon we were there, there were probably around four or so other families around in varying numbers, even though it looks like we had it to ourselves! The beauty of the area is that as it's so large, you can find your own space quite easily!
Further along from this trampoline was the tree house, which is an area constructed with a solid ground, built into the trees, so you can rest your legs for a moment if you're tiring of all the bouncing!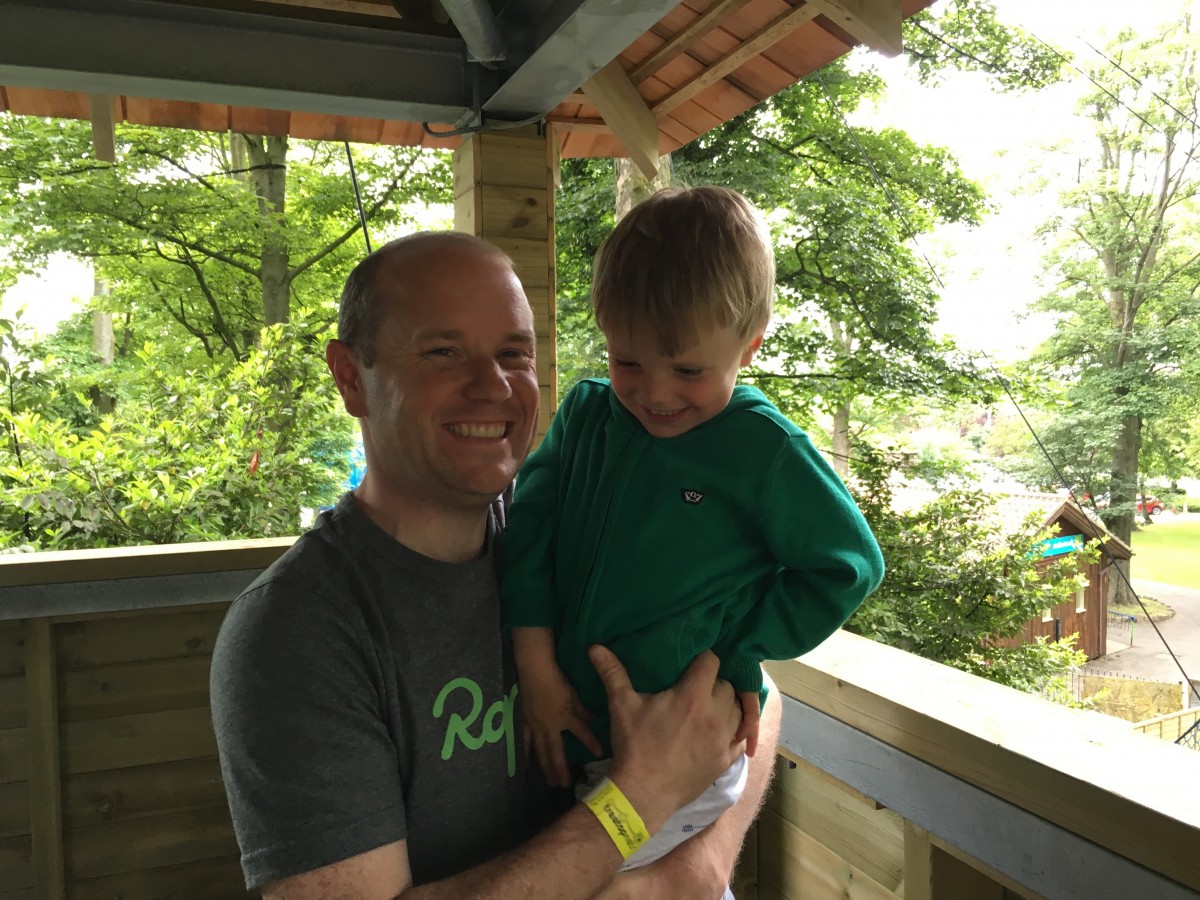 The treehouse also provides a great a vantage point if you want to look around at all the nets and take in the 360 degree sights from the treeline. It's also a great spot if you want to stand and watch your kids play as you can see pretty much all around.
Then we discovered the fourth trampoline area which is the highest of all of the nets. It's 13 meters high, which is around the height of two houses on top of each other. So when you're on it it does feel pretty freaky looking down! Though it didn't seem to phase the kids!
This highest trampoline area also has access to the crows nest part of treetop nets, which is the highest point of all at the adventure! Little Miss B and I were brave enough to head to the top and were rewarded with the views from the tree top heights!
This is the only part of the course that involves climbing and it's up a wooden ladder attached to the nets.
After all that excitement, and jumping around we decided it was time for a chill and a drinks stop. So we bobbed into the cafe in the treetopnets hut, back on solid ground, and bought a couple of snacks to enjoy on a bench underneath the nets, although there was plenty of seating inside should we have needed it.
The Small People could barely sit still long enough to drink their drinks as they were so keen to get back on the nets again!
The great thing is it's completely safe enough to let the kids go alone (we didn't let the  Small Boy as he's a bit little) because you can see them easily from the ground and can shout to them if need be. Some parents who were there weren't venturing on the nets at all, just watching their children from the ground, but we decided it was much more fun all going on together!
Drinks finished we set off to find the furthest trampoline, which was again a really high one, which caused great excitement, way above the treetopnets hut – with some great views!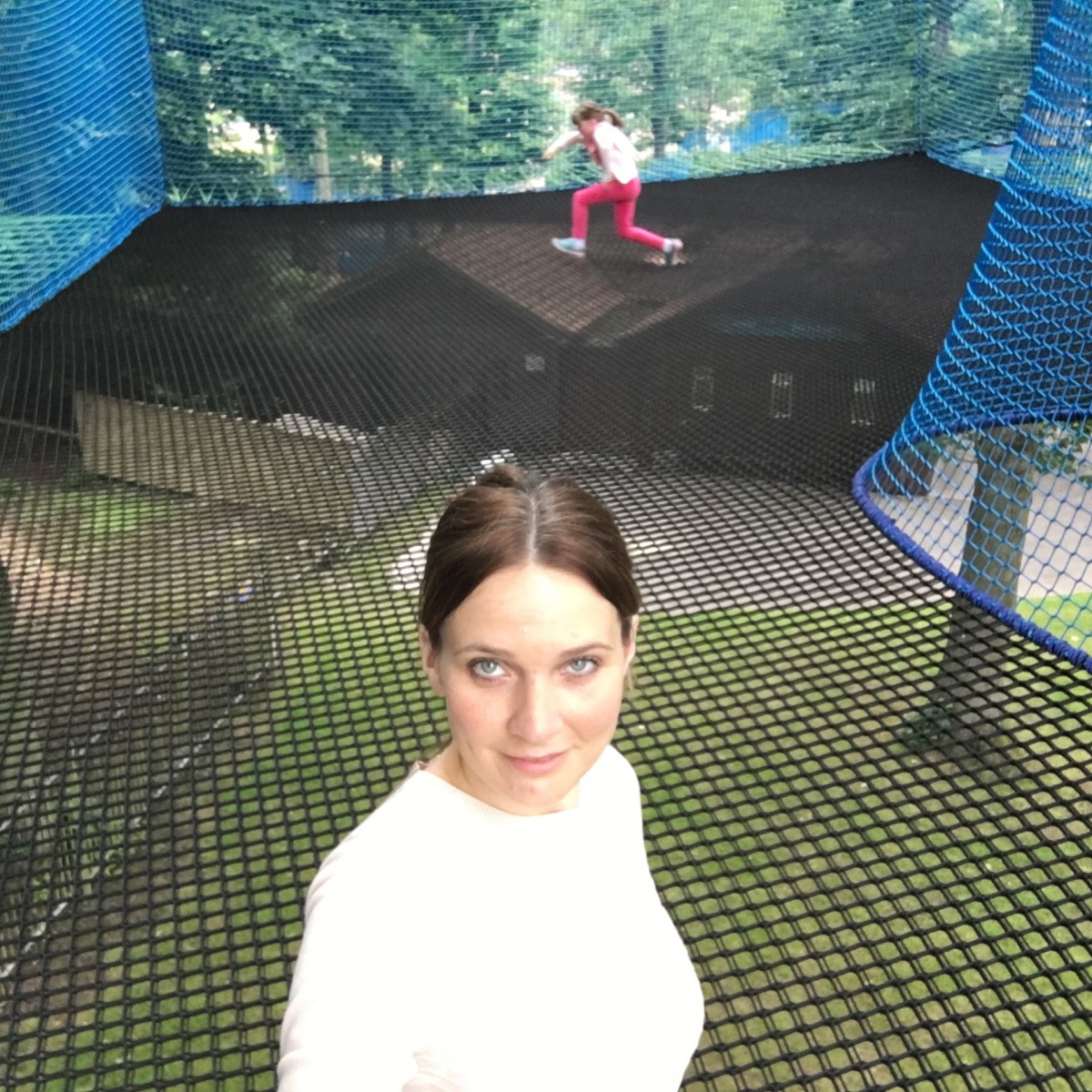 But we had the most fun in the trampoline containing the ball pool, so we kept heading back to that one. The kids were giggling their heads off throughout and the Small Boy thought it was the best thing ever!
One of our favourite things about the whole experience is that you can enjoying actively playing with your kids. I think there are too few adventures you can participate in with your kids these days, normally you're just watching on the sidelines or sitting next to them.
At treetopnets you can have as much fun as your children, jumping around, going down the slides, kicking a giant ball! Ours loved to see us, their parents, having fun doing things that they love doing too. It was brilliant being able to bounce around together with them and make up games between ourselves, just like we would have done when we were kids too!
My children loved this aspect of the adventure and wanted to make sure we were having as much fun as they were, which we totally were! How often do you get to jump around in your day to day life and whoop and holler with excitement at being so high up and have that time to mess around with your children! It was brilliant!
And because you're up high in the trees surrounded by swaying leaves and can see the sky so clearly you feel relaxed and chilled at the same time, the light was gorgeous on the day we were up there, and it made for a really lovely family down-time vibe!
Needless to say we were all really sorry when it was time to go! We were there for just about two hours, which was about the right amount of time. We were all a bit hot and sweaty and although I'm sure the kids legs could handle it I was a little unsure how mine would hold up!
The kids gave it ten out of ten, apart from Joseph who scored in an eleven! Ha! And they just want to know when we can go back again! It's great physical, active activity for them too in the great outdoors!
Overall it's a brilliant place to have active, family fun, all together in the great outdoors in a new and exciting way!
treetopnets have a group rate too, which would be great for the  birthday parties – it's already on my girls' list for next year!
As you can see from the pricing it's not cheap, especially for a whole family to go, but it's comparative to other 'high nets' courses locally, if not a smidge cheaper.
There's a full Vlog on this trip over on my YouTube Channel if you want to see us all in action bouncing around like loons!
[youtube https://www.youtube.com/watch?v=R1QQMUFP43I]
For more stories like this you can follow me Harrogate Mama on Facebook, Twitter, Instagram, Pinterest and YouTube .
If you're interested in working with me you can find out more on my work with me page.
You can find out what Harrogate's new YO! Sushi restaurant is all about on my latest blog post.
All pricing details and opening times are correct as of 25th June 2016.
If you liked this post you might like my posts: Lightwater Valley Theme Park, with Younger Children – A Review, Four outdoor toys that are worth buying ,Cycling between Harrogate and Ripley with Kids – what it's really like, Six lovely things to do in Harrogate, with kids, for free (…or very cheaply)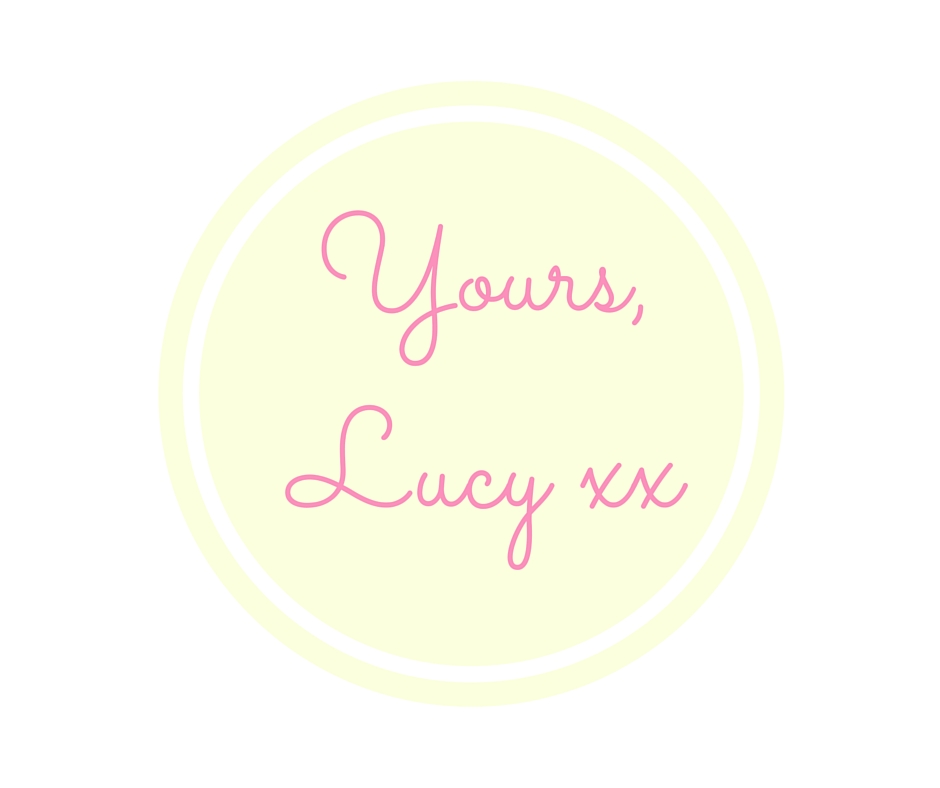 Disclaimer: treetopnets kindly invited us down to try their experience with their compliments but the opinions are all my own.