As well as summing up my own feelings about last weeks history making political news, here's the Small Boy summing up how he was feeling about listening to it on Friday's school run too!
Repeated kicks of the car seat, yells of 'turn it off' and fingers firmly in ears!
Sometimes Mummy can be so unreasonable; listening to history in the making as your country's Prime Minister resigns live during the school run, those politicians they do pick their times!!
#WickedWednesdays 29/6/16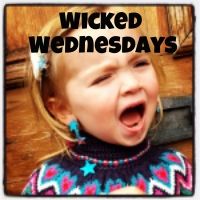 (*The lovely BrummyMummyof2 shares her favourite #wickedwednesdays picks of the week over on her blog…so if you're feeling like the only one who's dealing with this sort of shizzle, then check out the links, for you're not alone!)
Follow: Me (Harrogate Mama) on Facebook and Twitter and Instagram