One day last October I decided to record exactly what I did do all day as a SAHM to see if I could answer that age old question…
29th October 2014
Life, interrupted.
It's the last few days of October, I'm at home all day, every day with Joseph, 21 months and, since it's also half-term, my twin girls Kate and Beth, seven.
4 Something am – The day begins. The baby is still not convinced about the clocks changing and is unsettled. He unsettles himself into bed with me and my husband and shouts out randomly the few words he's learnt in a repetitive fashion 'Ready-Brek', 'pop-pops', 'Par-hum' (party), 'Conker', 'Hosp' (hospital). He lies his head on my head, pokes his bony elbow in my back and slowly edges me out of the bed. We tousle and toss till 6.30am when interrupted by Kate who is sent back to her room till 7am.
7am – James gets up with all the children and gives them breakfast. I come-round in bed till 7.25am when everyone bounds back upstairs. Joseph climbs back into bed and we cuddle and read books while the girls play till 8am.
8am – The day begins in earnest! We head back downstairs. I tidy away the breakfast chaos, sort the laundry to be washed, put toys away, vacuum downstairs, clear away colouring, put the first load of washing on, check my phone and eat my breakfast. The children watch telly, colour-in and play around me whilst I get on.
9am – The girls get dressed. I undress for the shower and have four naked interruptions before even getting wet. 'Can you tie my swimsuit?', 'Can you show me how to tie a knot?','Ah,ah,ah' translated meaning 'Can you get me my toothbrush immediately now?!', 'Can you re-tie my swimsuit because I needed a wee'. After I finally shower and dress, I dress the baby. I do the girls hair in plaits (they have a swimming lesson). The baby cries throughout since he's not happy about all this waiting around for everyone to dress, undress, ask questions and have their hair done. He's put in his cot and yells his head off!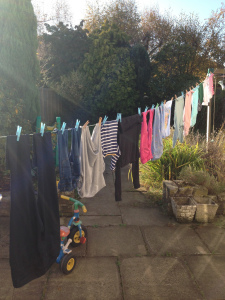 10am – First load of washing done, I try to sort it for hanging out before we have to leave for swimming, but there's no time. A lone tissue has been caught up in the wash cycle and it spews torn shreds of white mesh all over the freshly vacuumed carpet. I get the dustpan and brush out sweep it up and rush the children into the car so we can make the swimming lesson.
10.30am After a dash through town and conversations in the car as to how fireworks are made, we make it to swimming. The girls swim with their instructor for half an hour which I enjoy watching for the first three minutes until the baby can take the waiting no longer – so we kill time in the cafe with a much welcomed cup of tea (and raisins). I manage to text a friend about plans for tomorrow and arrange details with Grandad who has offered to babysit.
11.25am We call in at M&S food hall to get some bread for lunch. The self scan machine goes bonkers as it asks us five times if we are 'using your own bag?'. This is because it is not expecting two seven year olds to be scanning the items so incompetently. I smile serenely at the lady in charge of the self scan area. She smiles a knowing smile of 'another annoying parent letting her kids loose on the self scan'.
11.45am We're back home and I try to hang out the washing. It's unseasonably warm. Joseph comes to 'help'. After four times shouting at him to 'don't slurp the stagnant water from the tricycle seat' he potters off to bash two discarded plastic pots together while I finish pegging out. A quick trip into the garage to find the line prop ends in more shouting as he tries to drink more stagnant water from the rear of his Little Tykes car.
Noon – It's time for lunch. I make 'a medley' of leftover items in the fridge and the sliced-up bread from M&S. I count nine times that I ask Joseph to 'go and play because I'm making lunch' before he has a full-on melt down on the floor. Crying in despair because I do not have a free hand to carry him round in while I make lunch! Another look at the carpet allows me to realise the children have stomped chewed-up leaf crumbs all over its only just vacuumed/recently dustpan and brushed surface. I get the dustpan out again and sweep away the mess to sounds of 'Ah,ah,ah' which translated means 'that looks like fun mummy – I want a go, immediately now!' I hand over the emptied dustpan and brush over to the baby who then meticulously combs his hair with the brush! Lovely.
12.30pm – Lunch is served. The girls chat and giggle about Frozen and Kate ponders the question as to whether she would be allowed on Strictly as a celebrity because she has had proper dance lessons. I said '45 mins of ballet once a week would probably wouldn't technically make her a professional'. We talk about the importance of having a harsh judge on Strictly because they give contestants the knowledge they need to improve and everyone seemed to accept this was a good thing!
1pm – I change the baby and put him down for his much needed nap (given his early start). I clear up the lunch dishes, sort the laundry, try to remember who has the Moshi/Princess/Tatty Teddy knickers to put in the right piles, put the fourth load of washing on (swimming towels) and make a cup of tea. The girls are busy emptying their cupboards upstairs – joyous! I write this.
2.30pm – I check my phone, unload the washing machine and ready the girls for heading out this afternoon, which involves negotiations over a trip to Sainsbury's and getting them to return all the contents of their cupboards back to their rightful places! Shoes and coats on and then I wake the baby from his nap ready to go out.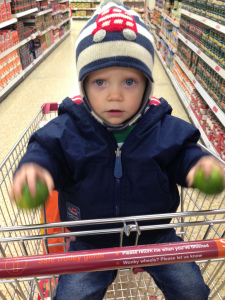 2.45pm – We head to Sainsbury's with a bleary eyed baby. We browse the Halloween paraphernalia, press buttons on animatronic zombies, whiz light-flashing toys round and round and generally annoy the other shoppers around us. Pumpkin carving kit and scary hair slides purchased we walk down to a farm shop near the supermarket and chat about Halloween face paints, the girls are excited with anticipation for the 31st.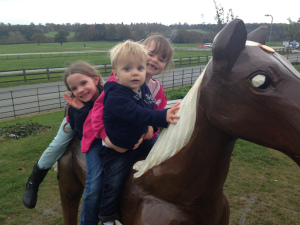 3.30pm – everyone plays happily on the wooden horses and tractors outside the farm shop. Running around the three of them play together and laugh, climb and have fun. I enjoy taking pictures of them as the autumn light fades. Marvellously, four Red Kites all appear in the sky above us and passers by and staff from the shop come out to see the spectacle. The girls and Joseph are equally impressed by the size and closeness of the birds. It's getting chilly so we head home.
4.15pm Back at home I bring the pegged washing in – it didn't dry despite the sunshine so hang it out again inside! The baby mooches about starting up demands for 'tea-time' 'ready-brek' he's getting hungry! I mess about putting scary hair clips in and out and in and out of the girls hair as they practise dressing-up!
4.45pm James texts to say he'll be later home than expected and that he's likely to be away for the rest of the week too. I'm disappointed. The baby starts opening and closing the food cupboard doors in the kitchen, on this cue I begin making tea. I chop onions and repeat around twenty three times that' I can't pick you up because I'm making tea'. I bring toys from elsewhere into the kitchen in a failed attempt to distract Joseph, the only thing that gives me five minutes meal preparation time is giving him the girls empty school water bottles to play with.
5.15pm I'm silently congratulating myself on successfully making a risotto for everyone's dinner only to realise I have managed to set my oven gloves smoking by leaving them on top of the warm hob after forcibly pushing a curious Joseph away from the open oven. I tidy round while dinner finishes off cooking and set the table.
5.30pm Tea is served. The girls giggle and make Joseph say funny things which make us all laugh 'good girl pee-pee' (good girl pizza). And we talk about going back to school. Beth said she'd keep her fingers crossed all day and all night in a hope that their teacher is back from being poorly when they go back to school.
6.00pm Dinner's finished and I clear away, load the dishwasher and tidy round.
6.30pm James arrives home and takes work calls and texts, which is unusual. The baby shouts 'DaDa' very loudly and I repeat regularly; 'shh, Daddy's on the phone!'
6.45pm James eats left over risotto and the baby wants a bite. Which frustrates me as he barely ate his own! James helps get the children to bed, changing Joseph and getting him his milk. I shout at the girls to get ready for bed and tidy Beth's room where they've tipped tiny toy rubbers everywhere. They clean their teeth and get into their pjs.
7pm I get a kiss goodnight from Joseph before he goes in his cot and James reads with Kate. I read with Beth in her bed and then kiss both the girls goodnight before heading downstairs. Fortunately they all fall asleep quite quickly.
7.15pm I check my phone, make a cup of tea and call my mum for a catch-up (and only adult conversation of the day do far!)
8pm James and I chat about our respective days and plan for the weekend ahead.
8.15pm I sit down to write this.
9pm I watch TV for an hour before tidying round, loading the last pots in the dishwasher and getting into bed. By 10.30pm I'm fast asleep waiting for it all to start all over again tomorrow.
(All photos copyright © Lucy Playford)