Eurocamping; our first time!
Marina di Venezia, (Adriatic Coast) Venice Italy
Like many people my age, I Eurocamped as a child. I'm lucky enough to hold happy memories of walking to the campsite bakery for fresh bread every day, spending endless fun-filled hours splashing in a pool with my family and arguing with my sisters over the score on the ping pong table. The freedom I was afforded playing on the campsite playground un-supervised, running off to join in the kids club and wandering over to find the wash block were formative steps in my young independence.
So, after a top-notch run of villa/apartment/hotel holidays with our own young children with supportive extended family to Menorca, France etc (holidaying with small twins and then a baby, is much more enjoyable with grandparents!) we finally felt the time was right to capture some of the European camping magic for our own family. Our girls are now eight and the small boy two and a half, perfect camping fodder!
We picked our campsite carefully, based on a friend's recommendation, settling on Marina di Venezia on the Adriatic coast of Italy a short boat ride away from Venice. Very civilised for our debut into the world of camping we decided!
We flew into Marco Polo airport with Jet2 from Leeds/Bradford in a surprising 2hrs 15mins. After a 45 minute transfer by pre-booked taxi (not cheap at £180 for both ways, but a car wasn't needed on this site) we approached Marina di Venezia, which was a bit like entering a campsite come RAF base. There were security barriers and personnel, passports surrendered and wrist bands attached. With the site being so large it was necessary to be transported by golf buggy to our home for the week.
The two bedroom, one bathroom Eurocamp 'Esprit' we'd booked, (through lack of options; a late booking on a hugely popular site) was tiny and dated but perfectly clean with everything in place and in good working order. The children's room was particularly titchy for three, but they didn't seem to mind! After the initial concerns over the accommodation, both size and style, we reminded ourselves this was not hotel/apartment/villa living – this was camping, albeit without a tent! After having a quick word with ourselves we decided it would indeed be 'fine' as we wouldn't be in it 'that' much.
Once unpacked our first stop was to hire bikes for the week from the on-site cycle shop, €130 later (four bikes, baby seat, baskets and padlocks) we were all kitted out and set to easily get around the huge site. I'm usually not a bike person, it's not really my thing, but it quickly became all of our favourite mode of transport -ever! Cruising around the site 'una famiglia' was really chilled, weaving in and out of the dappled sunshine, hearing the soft whir of the wheels turning against the warm breeze, checking out the array of tents and camper vans personalised with flower garlands and fairy lights and salivating at the smell of the nightly barbecues; it was the way to travel.
Taking in the site it reminded me of a cross between a theme park (a nice one, Disney at a push, obvs without the rides) and a 1950s holiday camp (my main/only reference for which is from watching too much Dirty Dancing ). It is vast, as campsites go, and is pretty much a resort in itself. There is direct access to kilometers of private beach, a water-park (with several pools), multiple children's activity areas (including playground, mini golf, climbing wall, etc), village centre with shops, restaurants, bars etc it even has its own church!
The grounds are beautifully kept, groundsmen work the day long. The wash blocks and all site toilets immaculately clean, at all times. The bins emptied daily, the streets and roads swept. The shops brightly light and plentiful, including a well stocked supermarket, housing the bakery, newsagents, clothes/swimwear shop, gift shop, large camping/beach-fare shop, shoe shop, daily fruit market, fish stall and even a hairdressers!
There are three main restaurants and three further snack bars dotted around the site. A take-away pizza stop and fish and chip trailer. On an evening the centre was buslting with crepe stall, pop-corn/candy floss/sweet carts and multiple gelato vendors. The beach was kitted out with numerous bar shacks, all serving drinks, snack lunches and ice cream.
Everything on site, we thought, was reasonably priced; €1.20 for an ice cream (across the site). €2 for a 'bigger than your head' candy floss. Dinner for five; pizza, pasta, drinks (inc. wine) £50. Trinkets from the gift shop at around €1.50. But best of all the Prosecco; €2.10 for a chilled litre in refillable bottles on tap from the supermarket (worth the trip alone)!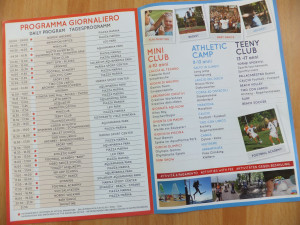 There were kids clubs and activities a plenty, none of which we chose to explore, but there was everything from football to diving, archery to rugby.
The on site entertainment was not at all what I remembered from my childhood campsite days. The Uno game and cards, sat, slightly sadly, up-opened. They couldn't compete with a mediocre production of Beauty and the Beast that enthralled the girls.
The small boy couldn't get enough of the late night (10pm start) Beach Disco. (I don't remember taking the girls to all-night discos when they were two :0). The nightly kids disco was championed from afar. We all loved 'Beach on Fire'; 12km of fireworks set along the shore, they were amazingly good! Even the small snack bars away from the centre had live music most nights. Acoustic sets and singers sending out chilled vibes as we sailed past on our bikes.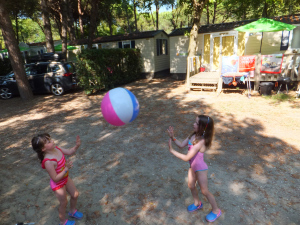 Day to day life on the campsite was chilled. Helped enormously by the consistently gorgeous weather. It was 28 degrees, clear blue skies, sunny with a dry heat and soft coastal breeze everyday (bar our arrival day which was still warm but grey after a storm). As most campsites are, this is set in pine woodland, so there's plenty of shade. No one complained of being too hot and the warm weather just made everything easier. The girls cycled to and from the beach and pool in only a swimsuit. No need for clothes or towels (other than to sit on). We dried as quickly as we got wet. All our meals including breakfast were eaten outside. Once the sun set the temperature held and we strolled around without the need for cover-ups.
We spent lazy days on the beach on sun loungers under a parasol, watching the girls wade out on the shallow shelved sea, sometimes up to two hours at a time without a return to shore! The small boy was happy in the shade with buckets of water and a spade. We even got to lie down with a book for a while; the holy grail of holidaying with young children!
We were interrupted from the beach only by lunch back at the 'Esprit'. We ate buffalo Mozzarella, ciabatta, fresh tomatoes, prosciutto and drank litres (!) of Prosecco. The children partook in the enforced 1-3pm site wide siesta (no cars, no noise and the pool and play areas shut) which meant they could stay up late at night and therefore slept in come morning.
We day tripped to Venice. It's as beautiful to behold as you imagine it to be. After a five minute bus ride from the campsite, the boat trip from Punta Sabbioni takes around half an hour to reach St Mark's Square. Tickets were €24 each to ride all forms of transport for the day. It was expectantly busy and hot. We rode the Vaporetto (water bus) up the Grand Canal and mainly saw the backs of other tourists t-shirts as they squashed against our faces!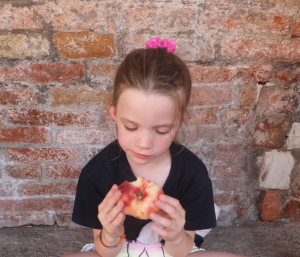 We did make it to the Rialto Market and were all agreed that we ate the best Nectarines we'd ever tasted sitting on the shady steps of a little square. We couldn't go all that way and not see Piazza Sant Marco – which was stunning, as billed.
We also, through early user-error of the Vaporetto, had a lovely light lunch at Zattere It's a much quieter spot directly overlooking the south side of the lagoon. Just around the corner from our 'lunch with a view' we were  fortunate to stumble upon some real Venice. A small workshop canal with Venetians repairing gondolas by hand. A treat amongst the over priced souvenir vendors. However, we found Venice, unsurprisingly, not really for two year olds; the grandeur of the architecture and the beauty of the bridges were lost on the small boy and to some extent also the girls. (Though I harbour some hope that they'll look back in their twenties and thank us for trailing them round).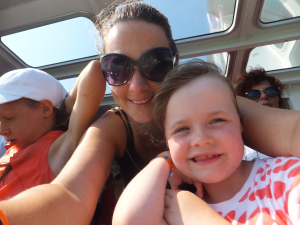 Mr P and I were so bowled over that we vowed to return without bambinos. For all its ups and downs we didn't  regret the sweaty, busy day, spent  tearing the children away from the beach. It was simply stunning to see. I feel lucky to have stood amongst its gorgeousness. On the plus side we all enjoyed the half an hour boat ride home, weary from walking, we were revitalised by standing outside on the deck, watching Venice disappear with salt spray on our lips and the sea breeze in our hair.
We visited the water park which was, like everything else on the campsite – massive!! Water slides, hot tubs, Olympic sized swimming pool, wave pool, toddler area and amazing climbing frame come splash zone. Perfect for the children, but twice as busy as we would have liked!
And there in lies the rub; with such a massive site comes the flip side to the amazing facilities. It's busy! The beach was packed, the water park heaving. The restaurants full and the supermarket chocca. It is though, a well oiled machine. We were always seated to dinner with no queueing. Only once waited over ten minutes to order. The wait in line at the supermarket bakery reached out of the door, but we waited for only a couple of minutes to be served. We avoided the mezze on the beach by paying €12 a day for sunbeds and parasol (worth every penny) and didn't stay too long at the pool.
Back at the 'Esprit' life was quite the opposite. Very peaceful and relaxed, an occasional nod from passers by as we polished off lunch and remarkable privacy from neighbouring campers. Fellow holidaymakers were 90% German, only a few British voices. They were almost all families, a few couples, no groups of young people. Everyone was respectful, friendly and polite. Well behaved children cycled and played badminton and ball in the streets. By eleven pm the site was mostly asleep, the rest were quiet – security patrolled to keep the peace on an evening and through siesta time. It felt very safe, we even woke up one morning to realise that we'd left the door unlocked all night complete with key on the outside.
The Eurocamp brochure declares the site one for 'full on fun' (I'd always thought of myself more of a 'small, authentic' girl myself) and they were certainly spot on with their description. It was about as 'full on' as 'camping' gets! While I'm not sure we were ready for 'full on fun' we did get the opportunity to dip in and out of it as we pleased, which would not have been an option on a smaller site. We also found campsite life can be as cheap or as expensive as you make it.
There was some personal disappointment however, in general it did not recreate the camping magic experienced from my own childhood. Whether it's the neurosis of modern parenting, the site being too large or the girls not being quite old enough that prevented them enjoying the freedoms I was afforded in the 80s. They ventured as far as the end of our little 'street' alone, but no further. I missed the quiet family nights around the plastic table playing cards and eating chocolate. Ping pong looked a little tame compared to the adventures of the high-rise climbing. I'm hopeful though that the experiences they will take away with them from their camping holiday will, in time, become just as memorable for them, albeit for different reasons.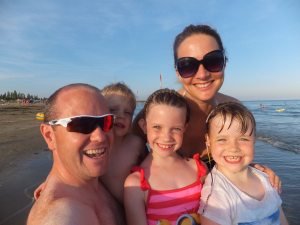 We were all agreed we'd come back again. After our initial adjustment to camping life, it just worked for our family. When others ask if I'd recommend it, I'd say definitely. Do come for the climate, the facilities, for the children, but be mindful – this is camping – it's not clean, it's not glamorous it's not luxurious – it's basic, but enormous fun. We were all sad to be heading home. When we  do return to Eurocamping, which we will, we'd book earlier and make sure we go for bigger accommodation, we're eyeing up a lodge for next time.
In Summary
Top tips:
we got baskets with our bikes to carry shopping in
we ordered bed linen and beach towels in advance
we got the £3 welcome pack
we booked air-con – it was useful
we brought lots of 'shopper' style bags and rucksacks for carrying shizzle on board our bikes!
we forgot to bring tea towels (despite a reminder from fellow Eurocamper friends!) – they prove very useful!
The good:
riding round on bikes for a whole week and feeling kings of the road
the great and plentiful campsite facilities
the beach and the sea
the late night activities (fireworks, shows for children)
seeing our happy children's faces
being impressed by Venice
the ease of access to everything; pool, beach, restaurants, shops
the family friendliness of everywhere
the value for money
the climate
letting the children stay up late
eating all our meals outside
everyone sleeping so soundly every night after the fresh air all day
that we could 'switch off' there was no news of the outside world, without Wi-Fi or British papers we were out of touch. A pleasantly rare thing in today's busyness.
the feeling of safety and security
Oh, and did I mention the Prosecco 😉
The bad:
we did washing up (though only breakfast and lunch)
we did sweep and mop daily
we did clean the bathroom
we did put the bins out
we  did 'live on top of one another' there was no getting away from anyone. This was close quarter family living. I was never on my own
there were few luxuries, no room service, no long leisurely showers or space and time getting ready
there was no 'housekeeping' changing our linen or towels or turning down our beds
we had no Wi-Fi all week, was that bad? (it is available if you choose to pay)
my hair looked dreadful all week :0 (but hey, Prosecco!)
The ugly:
everything we touched turned to sand – reminiscent of the Skittles advert!
our feet were not clean for the entire week, despite moping the floor and leaving shoes outside
we slept in sand, woke up with sand in our hair, our feet and all over our bedding – all week!
we abandoned our own shower for the much cleaner, hotter, bigger ones in the shower block!
we were all bitten by some savage mozzies! Around three or four 10p size red welts a night, despite repellent spray, they were stingy!!
Have you Eurocamped this year? what were your thoughts?
(All photos copyright © Lucy Playford)