One of my daughters is hugely into gymnastics. She puts in lots of hours training with her local club's squad and is generally never the right way up at home!
So back in March when tickets came on sale for the World Championship Gymnastics we thought the whole family would enjoy a trip to Glasgow to watch the professionals perform in person.
It was a four hour trip from ours (with half an hour for lunch – including a quick go on the playground, I thought they only had those in France?! )
With the small boy playing his favourite in car travel game of 'hide and seek', yes, 'hide and seek' in the car, whilst strapped in his car seat, the time flew by! (for those interested in the nuances of the game; one person counts while Joseph shuts his eyes in his car seat, and then we all pretend to look for him; 'is he in the boot?'…'no!'…'is he in the glove box?'…'no!', finally he's found, usually in his car seat!! I know, awesome! Luckily it plays out for quite some time and his big sisters are very patient!)
We stayed at the Hilton on William Street as it was closest to the venue, the SSE Hydro, where the World Championships were being held. Excitingly enough some of the competing teams had obviously had the same bright idea so there was a nice little buzz about the place!
After we checked in and admired the view from the window we walked five minutes to Anderston train station, paid £2.80 for a family return ticket to the next stop which was at the Exhibition Centre. We could have walked but the small boy was much more excited to be travelling by train, plus we didn't want to take the buggy.
Now, I have to admit we'd not really given that much thought to what actually watching the Women's Team Gymnastics Final would be like. We kind of imagined it would be a come and go sort of spectator thing and quite informal, with folks chatting in the aisle and all quite relaxed. Well, it wasn't! When we were allowed in we were shown to our arena style seating, right in the centre of a long row (!) and then we were there for the night!
There was lots of amazing lighting, soundtracks, pyrotechnics and a presenter warming up the audience. It was more like the start of a music concert than a sporting event. There was a flag ceremony, speeches, Louis Smith bobbed by for a quick interview, some folks from the ballet did a dance, then Radzi from Blue Peter popped up to do a Children in Need challenge (much to the girls delight)…by this point it was getting on for 7pm and the small boy was getting restless!
Sometimes we forget he's only two! I don't imagine when the girls were his age we'd have ever have even thought to take them to an arena show which didn't start till 7pm, in the dark, with bright lights and loud music and expect them to sit quietly throughout. I'm sure there's something in that 'birth order' theory!
The gymnasts were simply amazing, their skills were something magical to behold in the flesh.  The girls were enthralled and as the action all happens at once none of knew which to look first. Gymnasts were flying through the air on the bars, skilfully soaring all over the floor, daringly balancing on the beam and powering over the vault. It was incredible to see such style, skill, accuracy and determination from all the athletes. Such professional role models for my girls to see first hand. It was very inspiring.
To top it all Team GB won their first EVER World Championship medal, Bronze, we were proud witnesses to history in the making. Third to USA's Gold and China's Silver.
There was a terrific atmosphere in the arena and the crowd were all cheery on the easy trip back to the hotel. The children were all shattered after their earlier car journey and excitement of the gymnastics, so the icing on the cake was a solid nights sleep for everyone! (not always the case when there are five of you sharing a hotel room!)
The next day we enjoyed the hotel breakfast buffet alongside the Gold winning USA medallists (we were all a bit excited to see them by the orange juice dispenser!). James and I took it in turns to sit at the table by ourselves as everyone else was up and down like yo-yos giddily piling their plates with everything and anything in sight.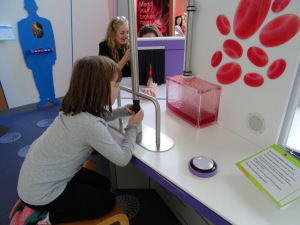 Since the forecast was pouring rain all day we decided to visit the Glasgow Science Centre. Which turned out to be an excellent choice, plus there was half price entry upon showing our gymnastics tickets from the previous night. It's just across the river from the Exhibition Centre station so it was a nice easy journey again, without the buggy. They all loved the BodyWorks floor of the Science Centre, which is a really hands on interactive learning centre with lots of buttons to press, experiments to take part in and things to try for yourself.
The My World of Work section allowed them to explore their creativity and see how things work for themselves. And there was a great section for under sevens with a huge water play area and construction area to climb in and build.
After a sort of lunch in the cafe (since breakfast was so huge no one was hungry) we went to see the Science Show Theatre. The show was all about Forces and there were plenty of demonstrations and audience participation to hold everyone's attention for the half an hour.
On the way in and out of the Centre they had organised a small area linked to the World Championships for the children to have a go at gymnastics. The girls both enjoyed letting off some steam running around and jumping on the trampoline, beam, bars and floor area. A nice idea.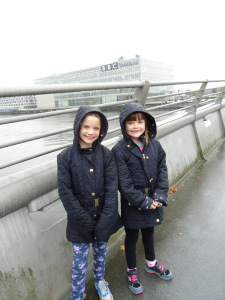 It was still pouring when we left so we decided a quick swim back at the hotel would see us through till tea time. And where to go with three small children, that's not too far away from your hotel, that you know will keep everyone happy, to order something you know everyone will eat…Pizza Express of course, where else?! And also they have wine. So all was good.
Another good night of sleep, thanks to all that walking in the rain and a spot of family late night viewing of the Men's Team Finals from the comfort of our beds. Then it was time for a full on breakfast again, much to everyone's delight! After a quick jaunt around Strathclyde Country Park, which is probably best enjoyed in the sunshine rather than the October drizzle, it was time for a little bit of car hide and seek all the way back home!
The good:
The gymnastics was amazing, definitely worth seeing first hand
The Science Centre was impressive and good hands on fun for all ages
The hotel was lovely and even more so for sharing it with the professional gymnasts
Did I mention the buffet breakfasts – always a winner?!
Pizza Express; never fails to keep everyone happy
The easy transport links
The bad:
Glasgow is a good four hour car journey
Sharing a hotel room with four other people is never ideal
The ugly:
The weather was pretty dreadful
(All photos copyright © Lucy Playford)