RHS Garden Harlow Carr, Harrogate is not only a Royal Horticultural Society Garden it is also the place that have saved my parenting life on more than a few occasions over the last eight and a half years.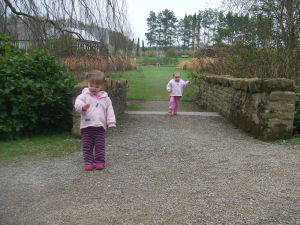 During my childhood I spent quite a lot of time hanging out at Harlow Carr (it wasn't RHS in those days) we would get lost playing hide and seek in the woods, make-up plays on the folly and eat packed-up sandwiches in the drizzle. Looking back it seemed that it saved my mum's parenting life on a few occasions too! It's seen masses of investment since the 80's and especially so since 2001 when it became a RHS garden.
The current 58 acres has seen me through the best of times and the worst of times since my girls were born  (because who goes to these places when they're in their twenties?!).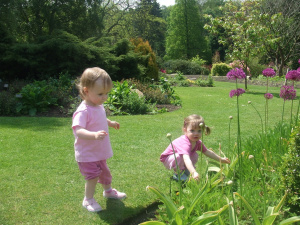 I've spent long glorious afternoons there in the late summer sunshine picnicking as a family. Quick morning jaunts in the Autumn mist happily jumping in muddy puddles with toddlers. School holidays meeting up with friends watching our children giggling as they dangle off the play equipment.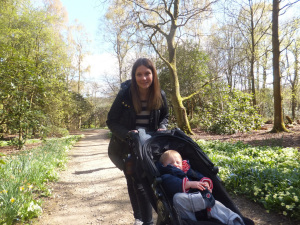 I've also spent many a morning marching the buggy round in the pouring rain just to have got out of the house. Dreary afternoons sitting on a bench with the children milling around having a quiet cry over the mundaneness of life. Quite a lot of time shouting loudly at one child or another 'flowers are only to look at, not to pick', 'you're too close to the water','that's far enough ahead, I told you to wait'. And an awful lot of time running quickly to take someone or other to the toilet.
It's perfect for pushing the pram round in the baby years, ideal for toddlers learning to step out on their own for the first time, great for younger children wanting a bit of adventure on the play-areas and wonderful for older children looking for the freedom to explore the grounds more independently. Mostly it's the perfect space for your charges to run around and let off some steam!
Best of all, it's a beautiful place to be. You are surrounded by nature at it's finest throughout all the seasons. The gardens are always stunning, lovingly looked after and perfectly kept. There are so many amazing spaces to behold. It almost makes me want to become interested in gardening.  There are loads of wide open areas for running in, paths to follow, bridges to cross, a lake to see, play equipment to have a go on and gardens designed with style, colour and gloriousness in mind.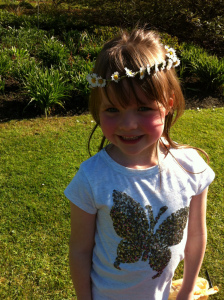 It's the place to pick up sticks and post them through drains, drop stones in streams, collect leaves for your Blue Peter picture, learn about falling over and getting up again, perfect rolling down hills, see how far-up you can climb a tree, learn how waterfalls happen, watch how vegetables grow, understand what 'bulbs emerging' means, spend time with grandparents, rampage in great numbers with friends, eat biscuits, practise handstands, take amazing photos, sit on stone lions, make daisy chains, breast feed a baby, make-up games, do a show, follow trails, blow out birthday candles, take pictures for your school Spring project, munch picnics and generally be outdoors.
During school holidays there are always a host of well planned activities and events aimed at children. For example; scarecrow making, treasure hunt trails, indoor craft activities, food markets, visiting farm animals, outdoor shows, etc, etc.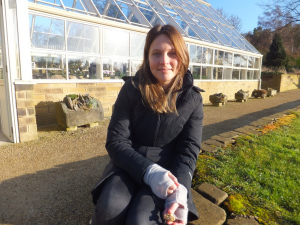 There is a Teaching Garden, Gardens Through Time and a Winter Walk, also the Alpine House and the Learning Centre to see/shelter in. A Playground, Tree-House and Log-Ness Monster to climb all over. The shop is also worth a look for that difficult to buy for gift/mooch at the books if it's raining.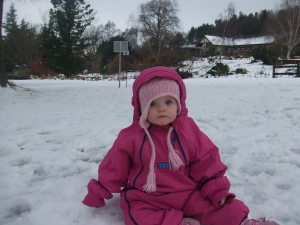 Even better than all of that…Betty's Cafe Tea Rooms is there (including take-out and a tea-house in the gardens)! So whether you're trough-ing in one of your worst parenting ebbs or sailing through your day and  looking to create happy memories, Harlow Carr will be waiting for you. Offering you it's vast space to let your children run a-mock, to let you pick up a hot chocolate and a Fat Rascal to pick-you-up and to provide you a safe meeting place to chat to friends away from the confines of your living room adventuring in the real outdoors!
It is of course a lovely place for people who are not parents too 😉
The Good:
It's a gorgeously beautiful place to be in
There's lots of wide open space for children to be children in
The play areas are great (all wooden bespoke structures designed well)
Betty's (this needs no further explanation)
It suits all ages
They are constantly reinvesting in the place
The Bad:
They could do with more toilets, they always seem a long way away when you're making that post potty training dash!
I don't think I've ever knowingly been too warm at Harlow Carr, mainly because half of the gardens (including the play areas) are in their woodland, and it's cold in the shade what ever the weather.
It's not as cheap as it was, (£25 for a family of four) but still better value than similar National Trust properties.
The Ugly:
During school holidays it's started getting really busy, (the price you pay for a well loved place) they have opened a new car park as parking was becoming a problem, but the play areas can sometimes get a little over run.
Do you have a place like this near you? Where is it? What's it like? Has it saved your parenting life on a few occasions too?
(All photos copyright © Lucy Playford)