I'm a little bit in love with The Ivy, Harrogate. It's been one of my favourite spots for coffee, brunch and light lunch since it opened almost one year ago.
The Ivy, Harrogate
The Ivy, Harrogate is a little bit of luxury. Great service, quality food and you always feel like you've had a lovely treat whenever you go in. Some of their tiny touches make you feel like you've been really looked after, simple things like a complimentary tea or coffee after your first. Nice.
The Ivy, Harrogate for Dinner
Despite all this we'd still not tried The Ivy, Harrogate for dinner, so we set that to rights over Halloween when we were invited in to try their special Halloweek menu. It didn't disappoint.
Harrogate Papa and I enjoyed a perfect Spiced Apple Martini – made with Calvados, cinnamon syrup and apple juice on arrival, which was perfectly refreshing and the most welcoming of drinks to enjoy as I headed off to explore the GORGEOUS outdoor courtyard.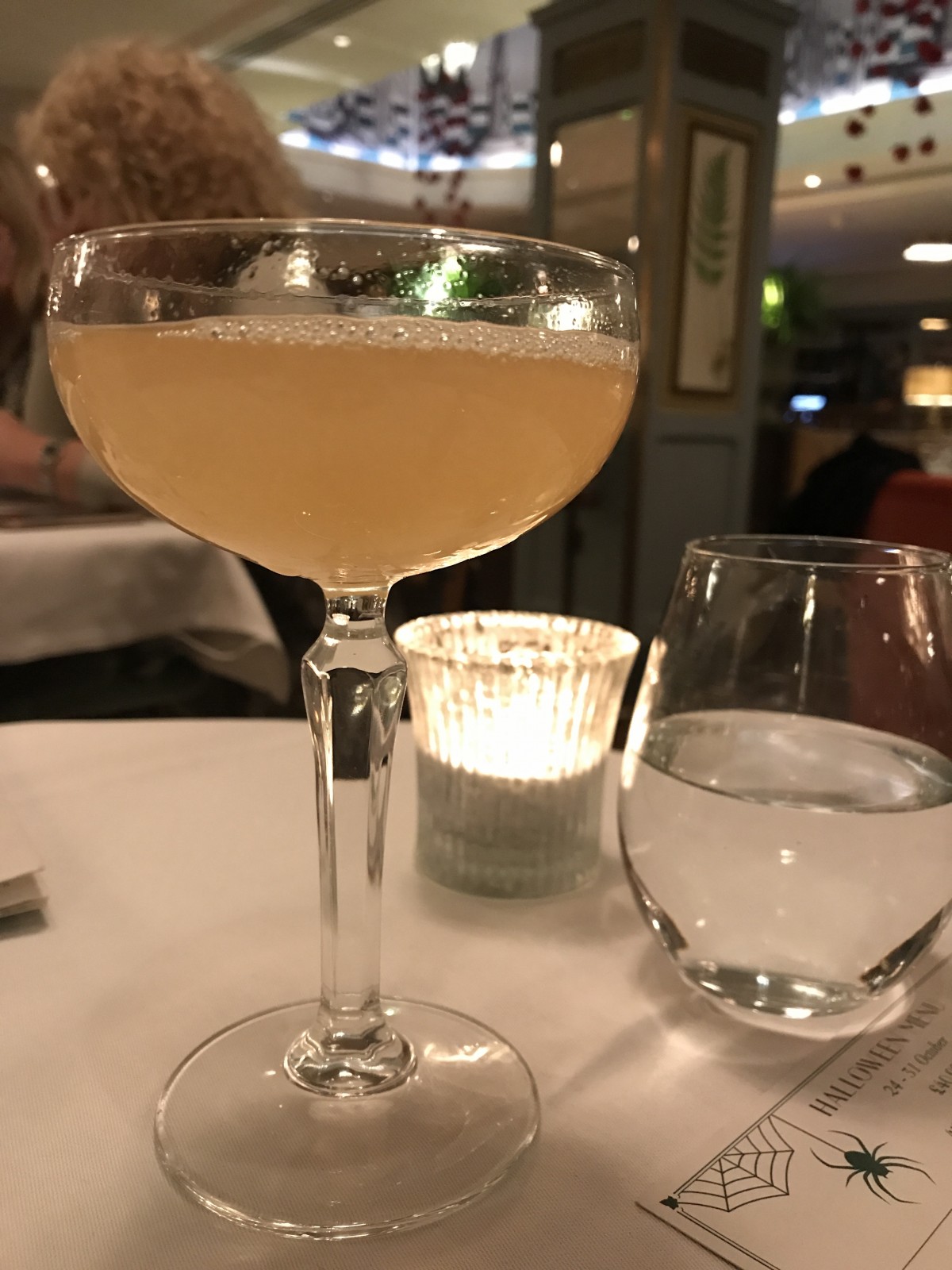 Outdoor Courtyard of Loveliness
The Ivy, Harrogate's outdoor courtyard was all decked out for the Halloween season with pumpkins galore, it's so pretty out there.
There's a roaring outdoor fire, which is toasty warm, blankets to snuggle under and heaters making it an ideal spot for sipping a pre-dinner cocktail or a post dinner coffee.
I LOVE how much effort they put into that outside space, it's like nowhere else in Harrogate! And who doesn't love an outdoor mirror?!
The Ivy, Harrogate – Halloween Menu
After my photo taking session, it was back inside to the art-deco elegance and a warming  Vampire Soup – creamed roast garlic soup, which was quite possibly the most delicious soup I've ever had.
It was light and rich and not too garlicky at all. It left Harrogate Papa and I wondering whether The Ivy, Harrogate could offer it on a take out – it would make the perfect Sunday night supper?!
Main Event
Then on to the main event. I went for the Steak Through the Heart – seared rare tuna steak, crispy artichoke heart, black garlic sauce, pomegranate and smoked aubergine. As a Pescatarian, I really love Tuna, which is unusual, given everyone tells me how meaty it is! This Tuna was cooked to perfection, lightly seared and then just melt in the mouth amazing. The whole dish came together amazingly and I loved every mouthful.
Harrogate Papa went for the aptly named Skull and Crossbones, a fillet steak with roasted marrow bones, blood sauce  – the Small Boy would have adored the presentation. It was accompanied by perfectly cooked chips and spinach. He again devoured his and we declared the Halloween menu a total success all round even before puddings!
Desserts A Go Go
Finally it was on to dessert, now Harrogate Papa is not usually a dessert kind of a guy, so he surprised me by choosing the Chocolate Skull  – a salted caramel chocolate pudding, golden popping candy and honeycomb and vanilla ice cream.
While I went for a further Martini – because, you know, date night!  It was the Pumpkin Spice Martini – Monin pumpkin spice syrup, Absolut vanilla vodka, Bailey's Irish Cream, shaken and strained and topped with whipped cream and ground nutmeg!
Both dessert options were a total hit – and actually went perfectly together, so ideal for sharing. The chocolate skull will stay with me for a long time and the Pumpkin Spice Martini was filled with all my favourites, so what's not to love!
Impressively Put Together Menu
All in all an impressively well put together menu that tasted as good as it sounds. Harrogate Papa and I have vowed to go back again for date night soon, and we'll certainly be keeping an eye out for any more 'special' menu's The Ivy, Harrogate has coming up in the future!
The Ivy, Harrogate invited us into review their Halloweek menu with their compliments, the views as always, are my own.