I had an absolute blast when I visited Snooty Frox in Harrogate last week to check out their casual range. It was a revelation to me that they had so many gorgeous pieces to choose from that were stylish AND affordable.
Casual Loveliness at Snooty Frox Harrogate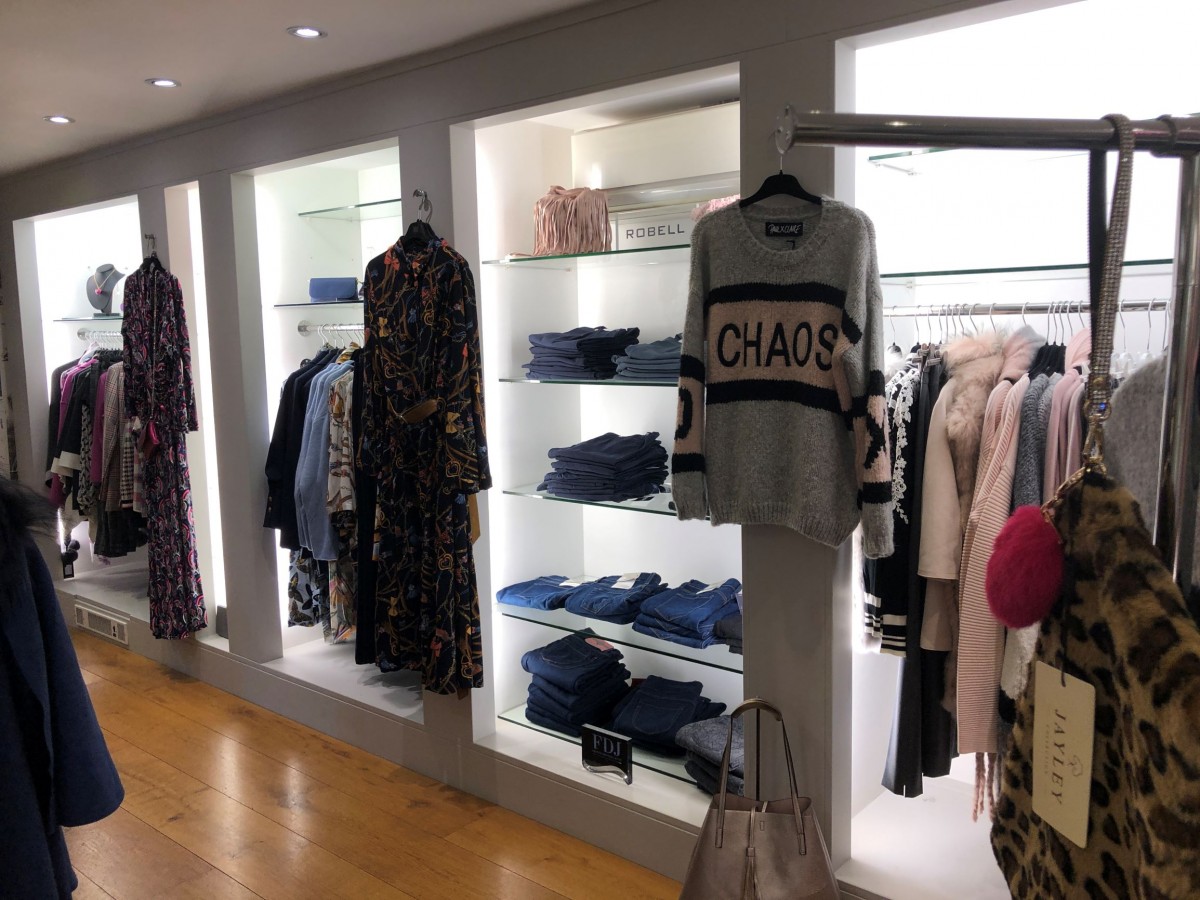 Their casual range sits alongside their more well known occasion wear items. I was treated to a full stylist experience, which is available to everyone.
Stylist Session at Snooty Frox
The really lovely Camille took some time out of her day to select some pieces for me to try and styled them up for me with such flare I felt like a celeb!
These are some of the looks Camille picked out for me, I loved them all. It's so nice to have someone select clothes for you that you wouldn't normally try to discover that they suit you down to a tee and you look and feel great in!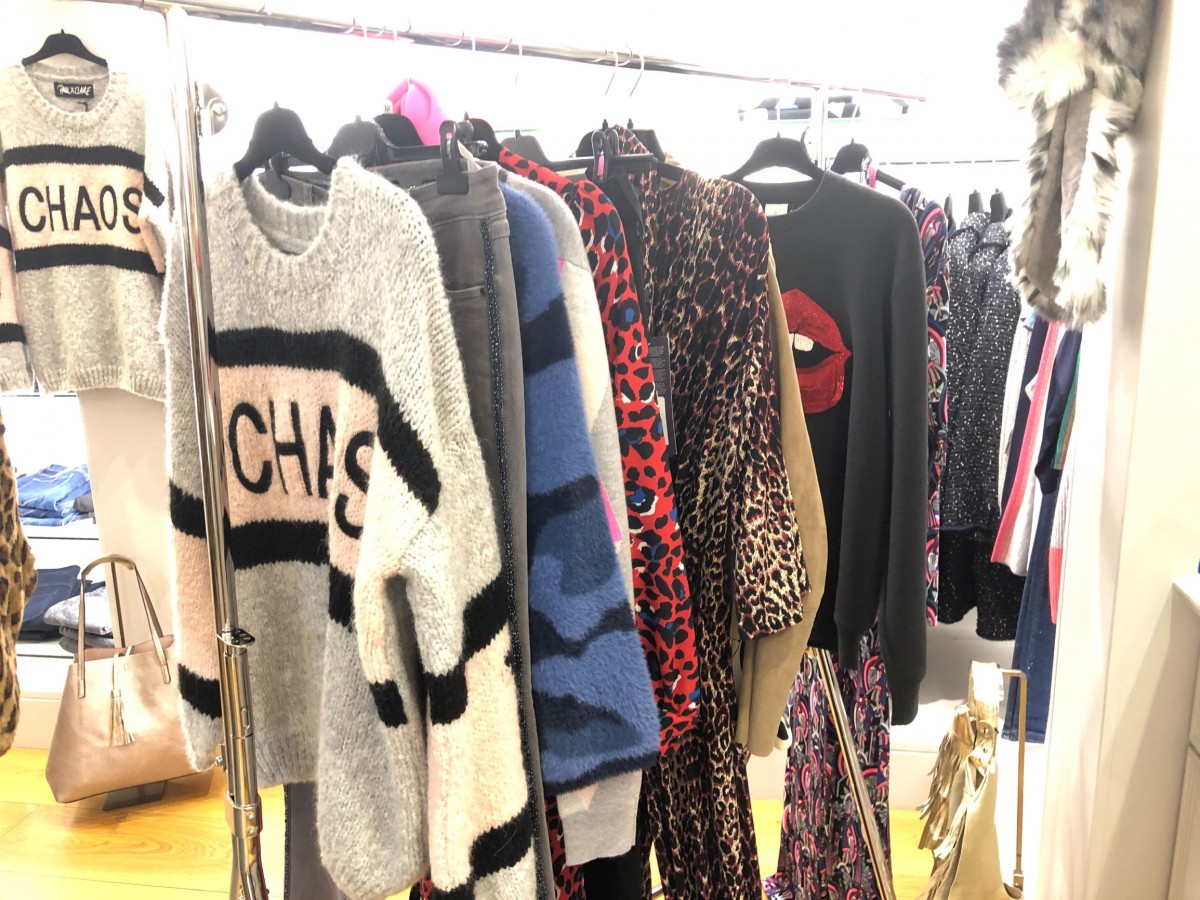 Which is your favourite look?
School Run Mama in Chaos!
Pretty indicative of life generally as a Mama with three Smalls. FELL IN LOVE with this jumper and really wanted to take it home, but it was one of the pricier items, so I'm saving my pennies for that! It was so cosy too.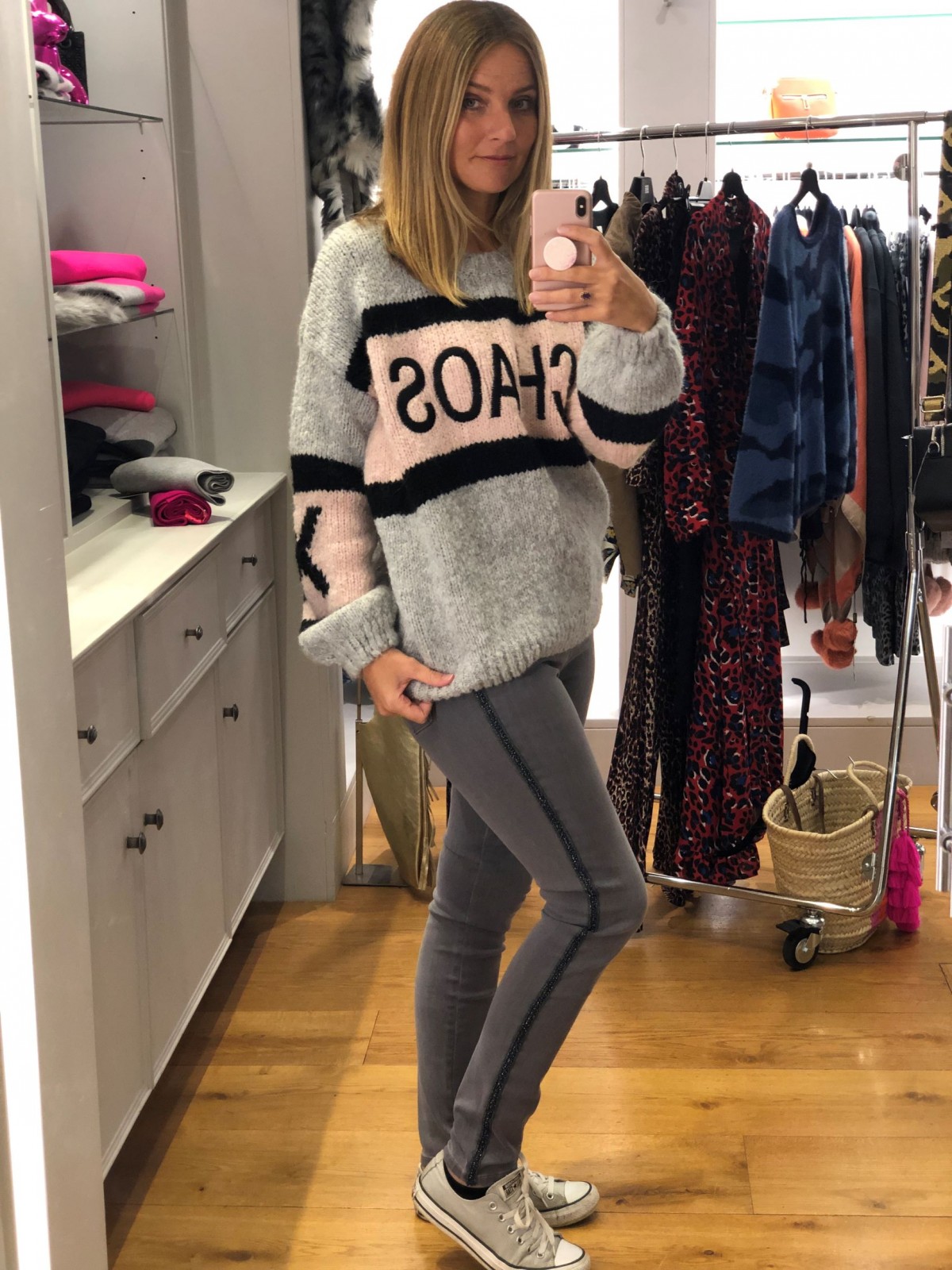 Camille styled it out with this incredible wrap/scarf/throw, which I would feel like a total diva wearing on the school run, but if I was out to impress I reckon it could be pulled off 😉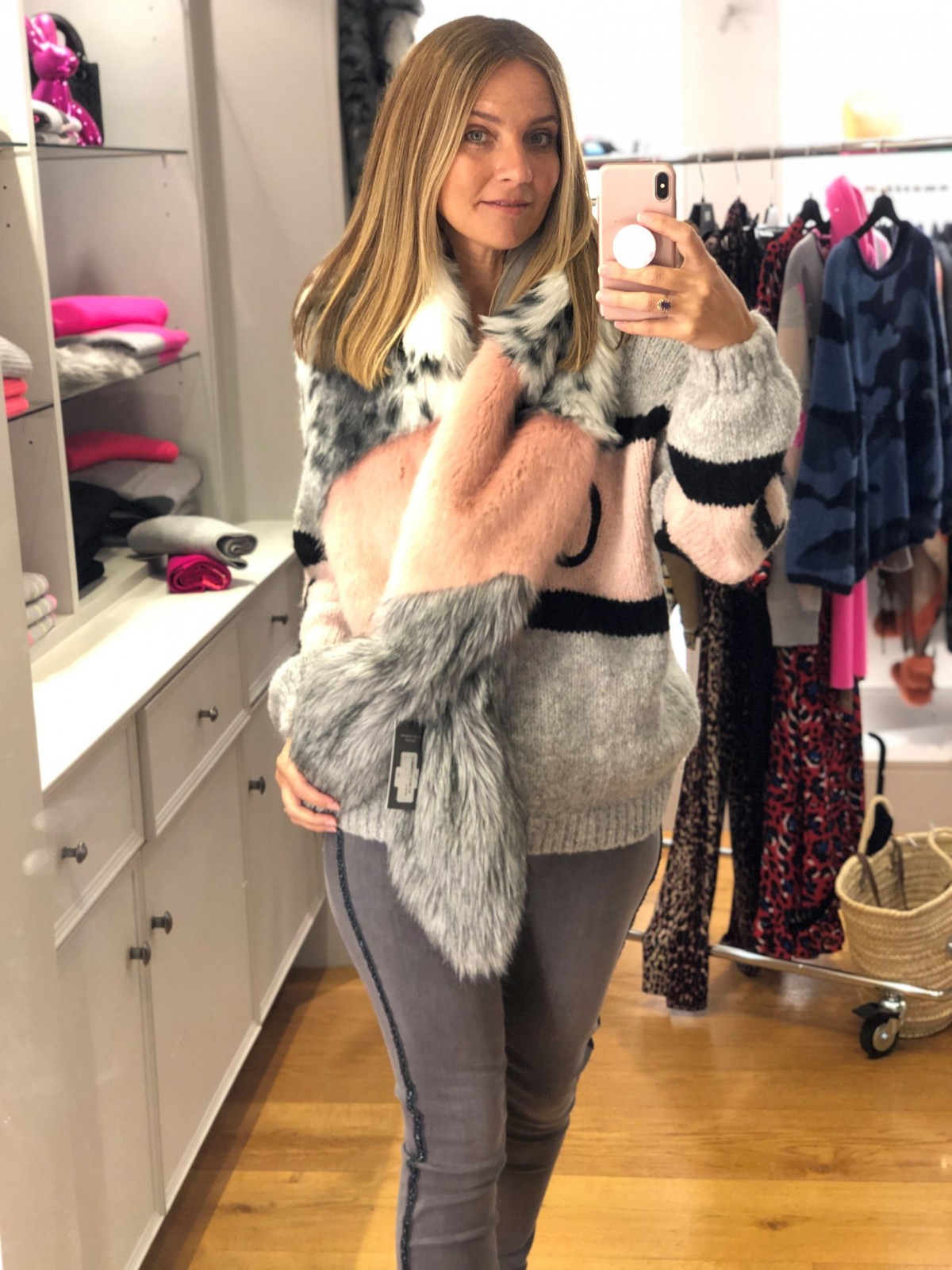 Weekend Brunch Mama
I loved this look for the pop of pink, Cocoa Cashmere is always so gorgeous, buy as investment piece and look after it you'll wear it forever! Ironic that this makes a great brunch look, as when you visit Snooty Frox Harrogate, remember to bob upstairs to Wild Plum for all the brunch tasty!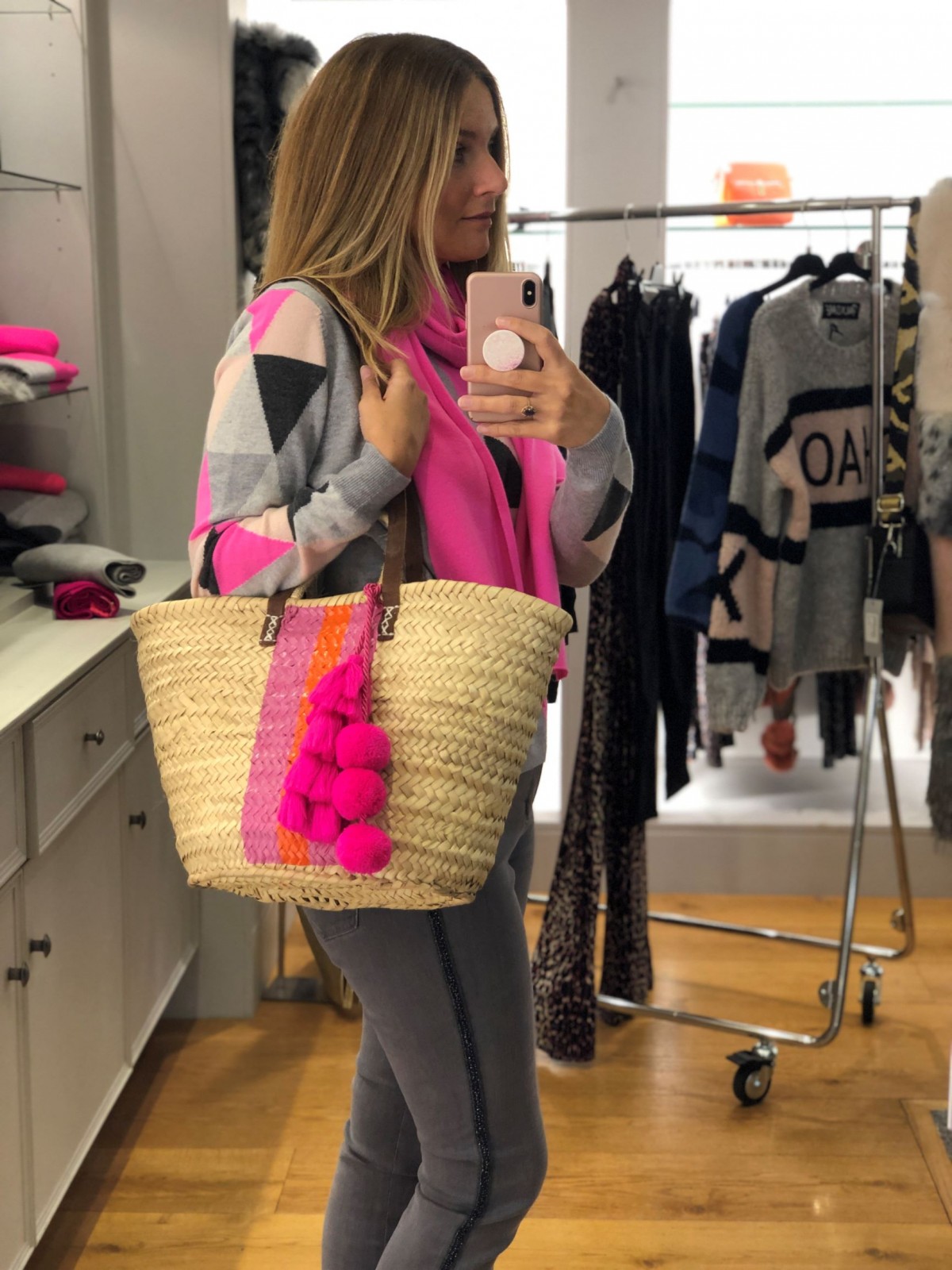 This bag is part of Snooty Frox new accessories range too – love it's 'pop to the shops' vibe.
Day at the Races
This fancy dress is a great take on leopard print, so nice to mix it up with bright colour and Camille picked out this amazing electric blue shoe to pair it with! Fabulous!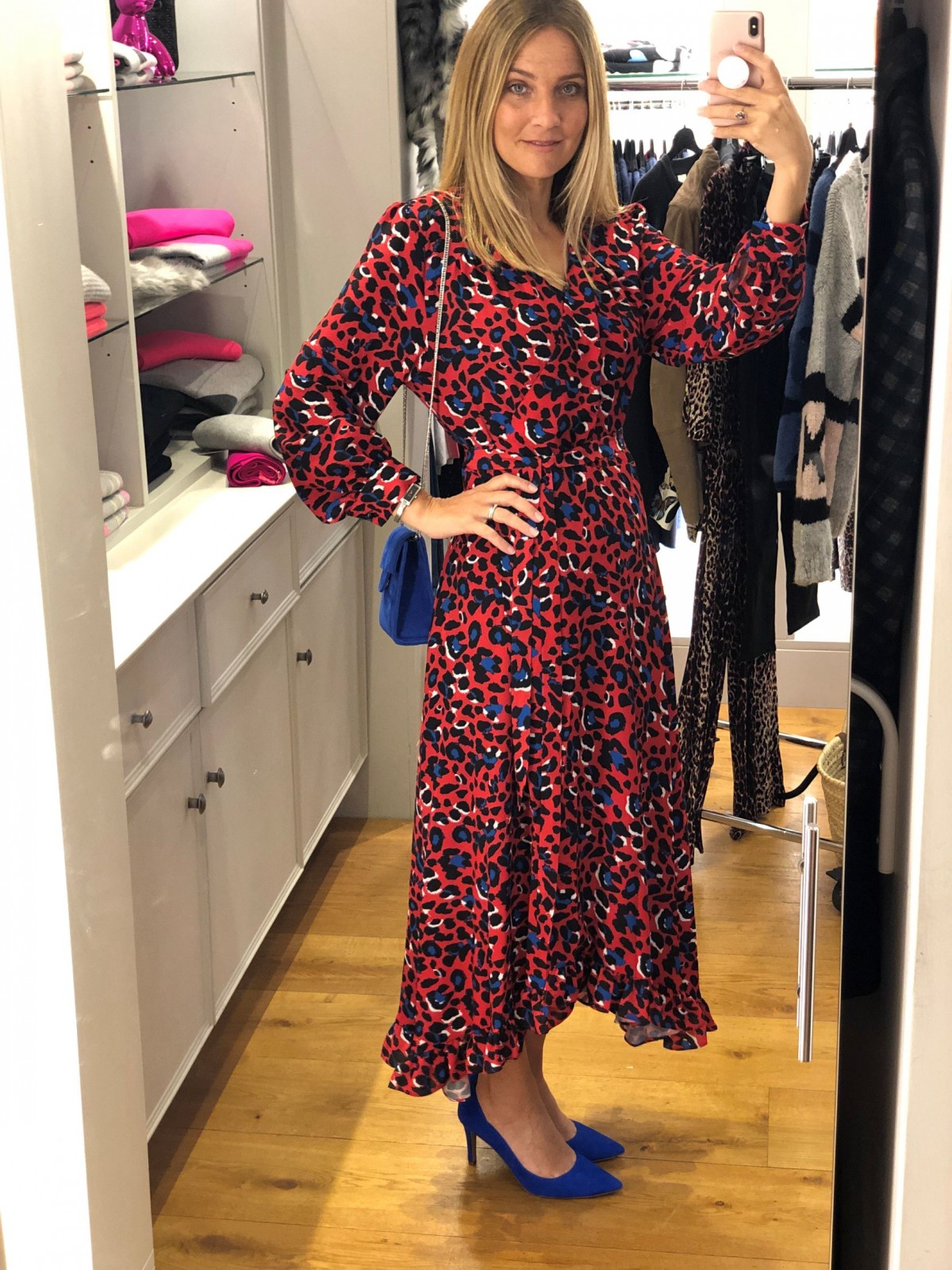 Office Casual – Snooty Frox Harrogate
I'm not usually a blazer wearer, but I could be persuaded for this navy number. Loved the big gold buttons and the swing back to the jacket and paired with blue denim it's not too OTT.
This silk shirt was so light and easy to wear with it.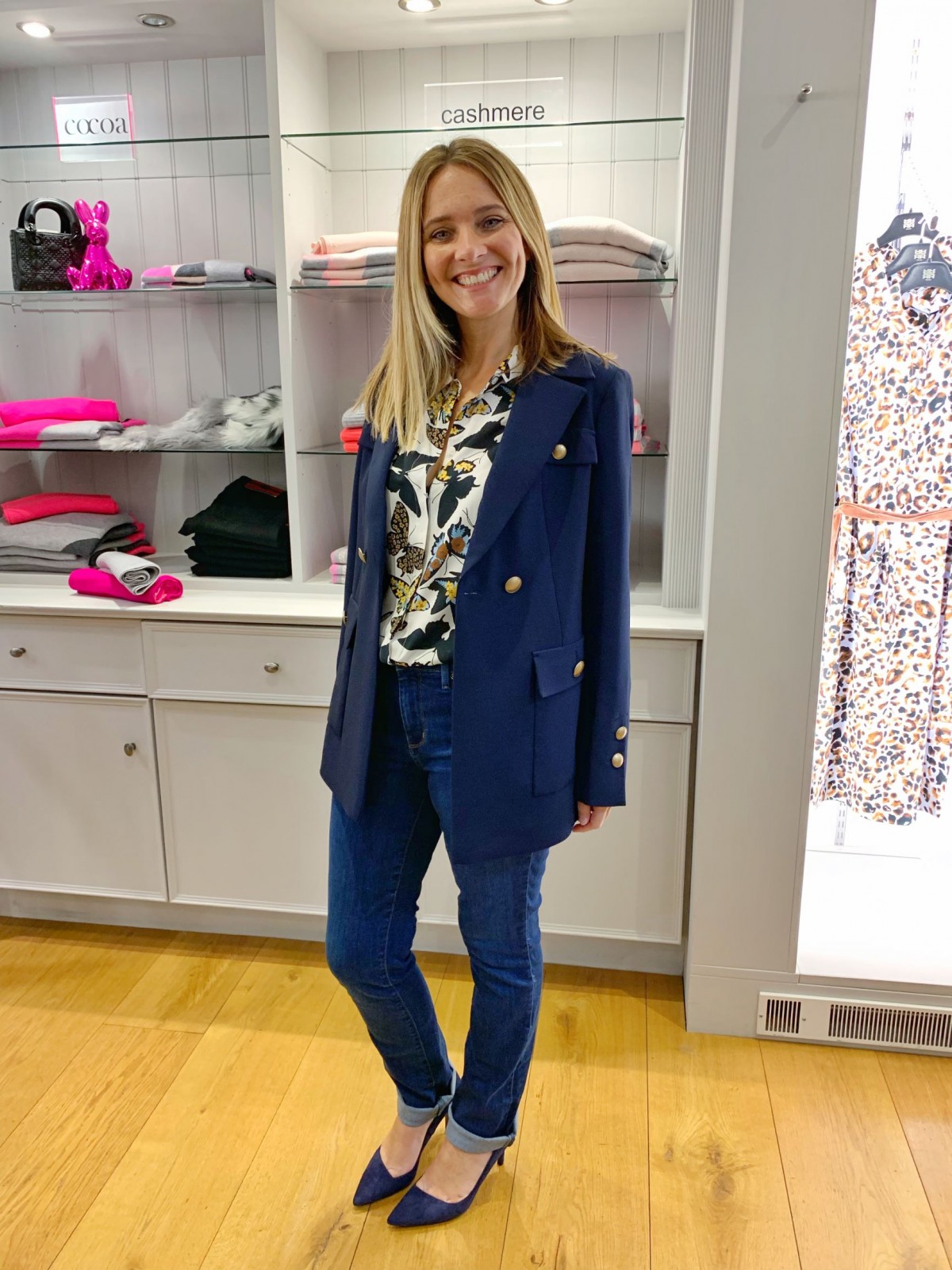 And this scarf was like wearing air and you've got to love a statement gold bag haven't you?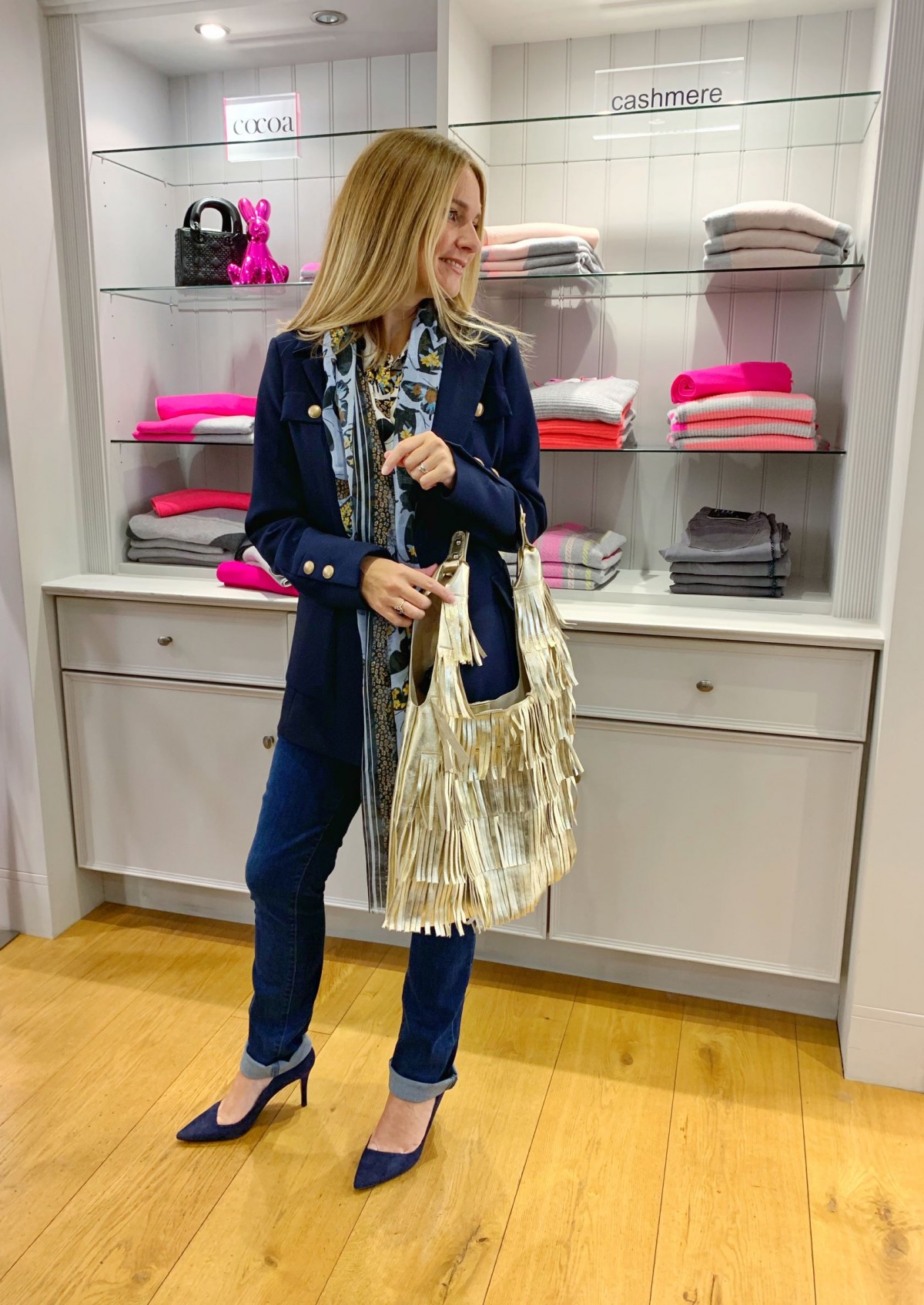 Quick Trip to Town
This lips jumper, along with the Chaos jumper was my favourite! It's a bargain at just £49 too – it was cosy and warm and lined with a soft brushed interior. The sequinned print is so bold, it's brilliant and it's really got a Moschino vibe, at a snip of the price!
School Governors Meeting
Check is so in season at the moment and it was fab in this pastel pink, loved it accessorised with this check scarf too. I felt very grown up in it!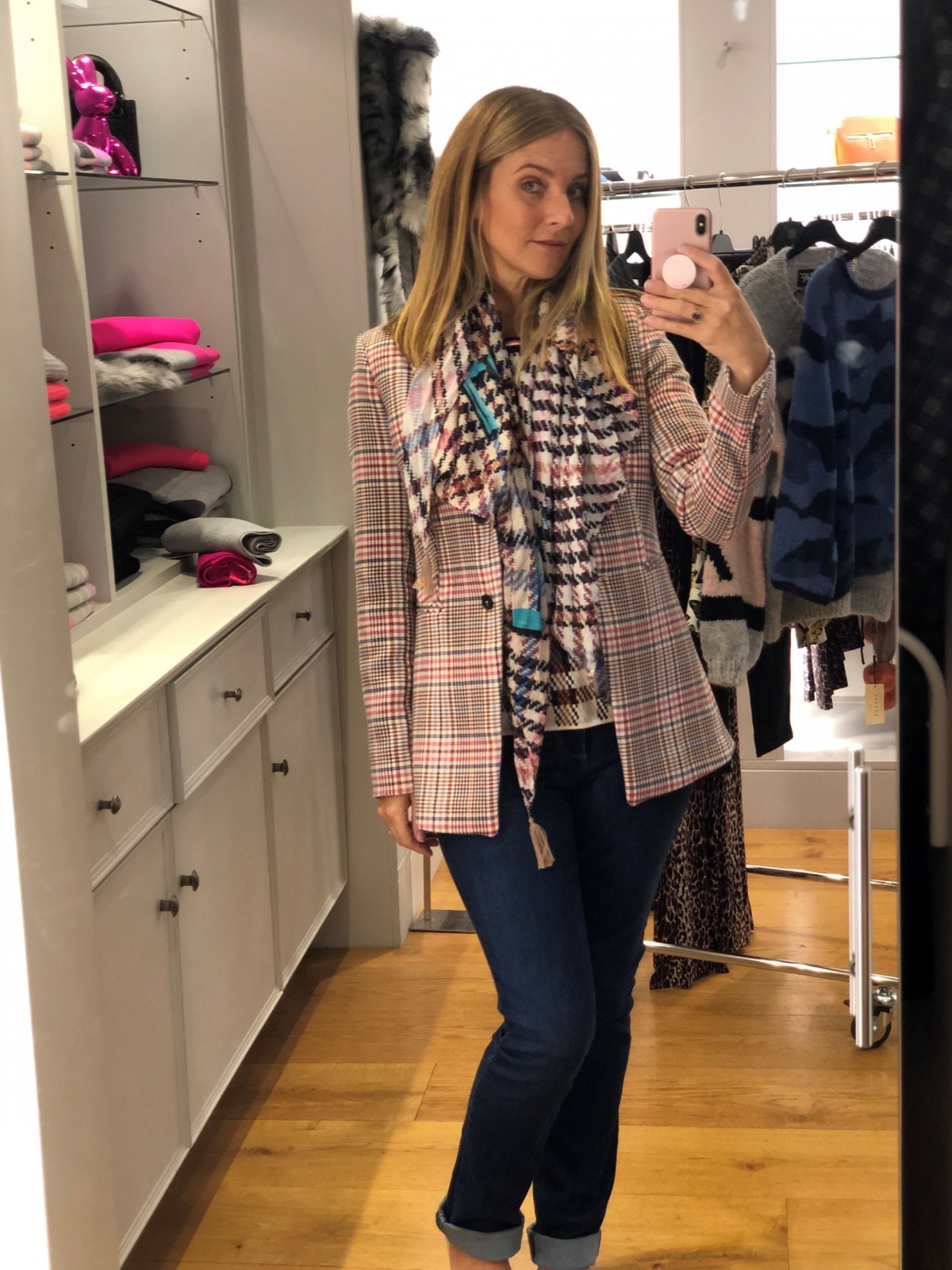 Weekend Vibes
This bright blue camo jumper was ah-mazing! It was warm and the texture soft and fluffy. It's something I would wear everyday if I could! Camille had the foresight to pair it with this beautiful green bag and rainbow strap – which I adored!
The bag is just £49.99 and comes in a few different colours. The best thing about the bag is that it comes with a choice of straps, which are all interchangeable. Some smarter than others, making it day to night time too. The straps are only £12.99 each. Loved this gold camo one too!
Date Night Jumpsuits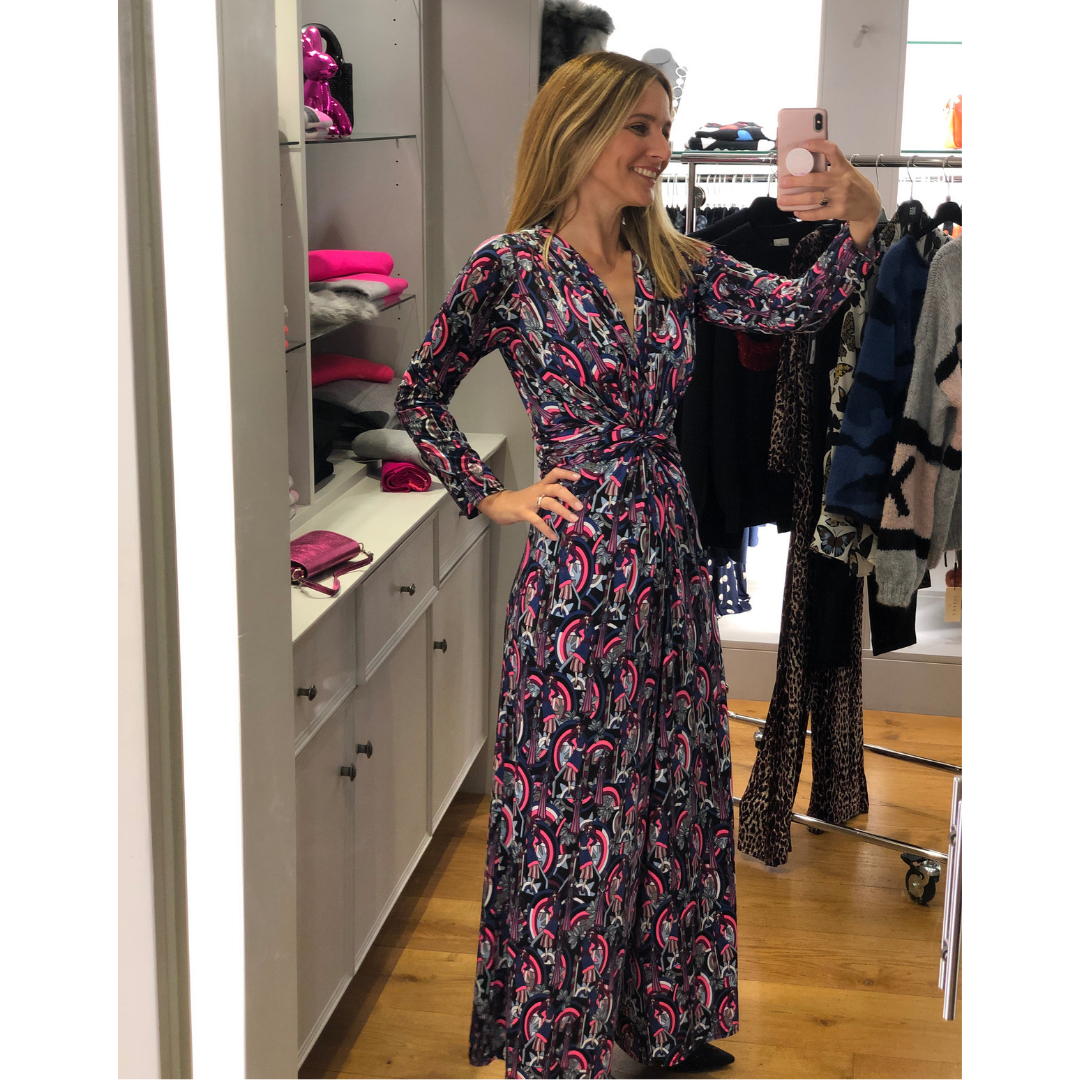 This 70's inspired jumpsuit has been a huge hit over on my Instagram. There's been a lot of love for it. The crazy pattern is so not what I'd normally wear, but it just seems to work for me! It was a steal at £125 too – which is cheaper than similar things in a lot of high street stores! It was making me feel all Margot Robbie in Once Upon A Time in Hollywood.
This jumpsuit was a classic too – it could totally work for date night or a day at the office! Again it was only £125 and so easy and comfy to wear. Loved it!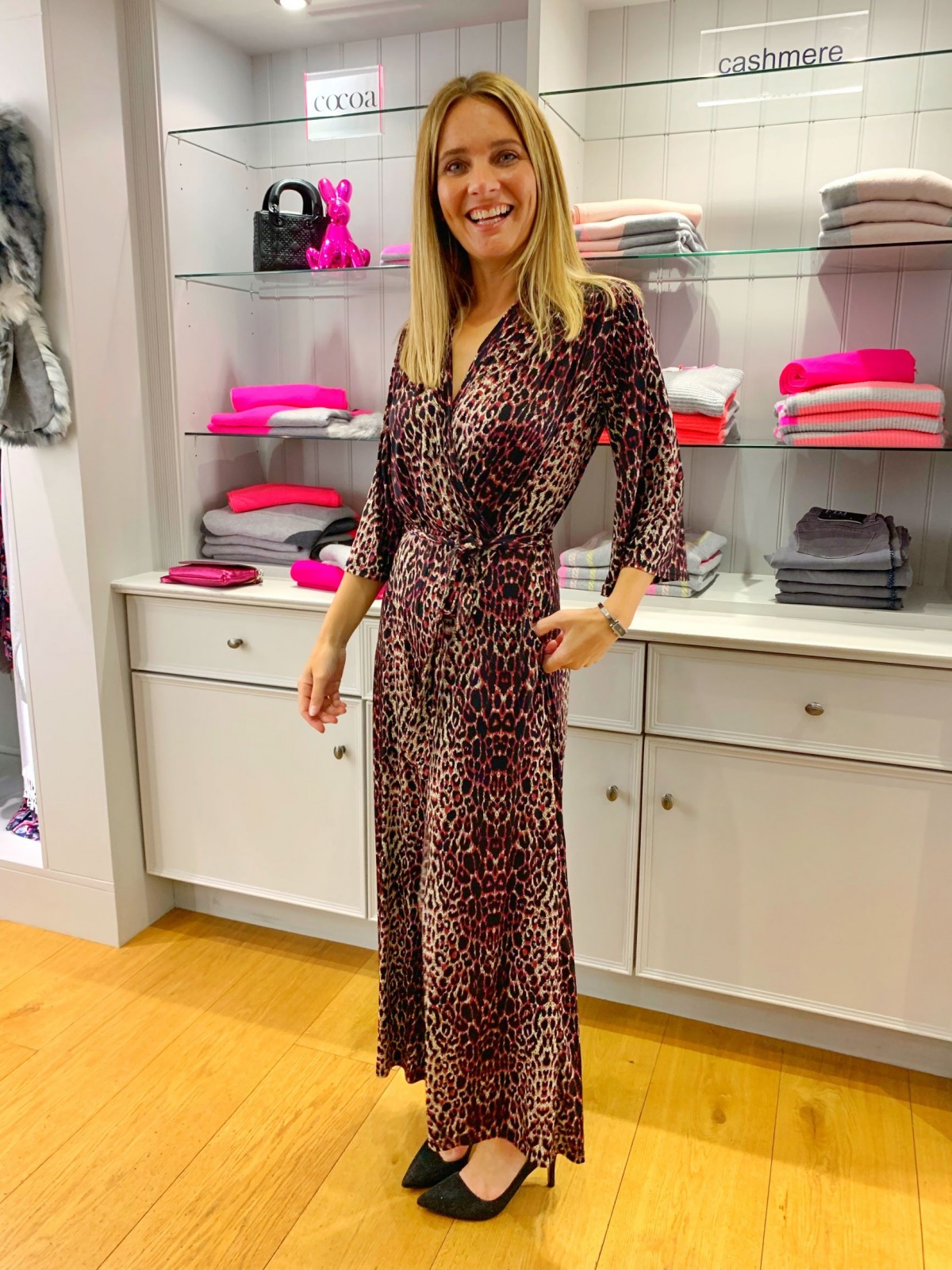 The looks were all so different it's hard to pick a favourite for me. I did LOVE the 70s style jumpsuit, but all three casual jumpers were my thing too. What do you think?
I'm just going to have to go back for all of them! Ha!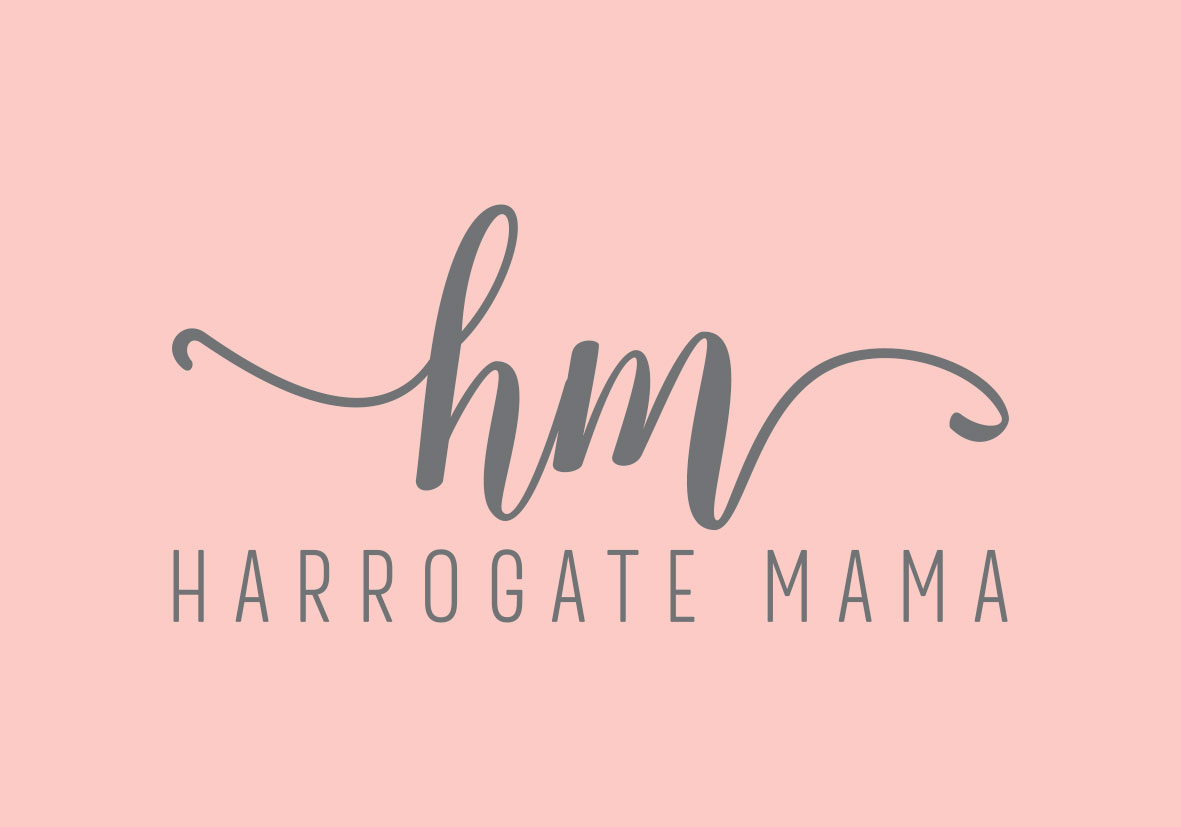 This blog post was sponsored by Snooty Frox, as always the views are my own.