Since starting my health kick in January I've been trying to exercise more and eat better. It's not really a 'rocket science' way to loose weight, but it works!
Here are three things that have helped me on way;
1.) Cooking Family Meals From Scratch
Cooking new family meals is always a pain in the arse! Invariably the small people aren't interested in something that 'looks funny', 'might have vegetables in' or 'smells disgusting'. That paired with the effort it takes to shop for new store cupboard ingredients and the time it takes to learn and prepare a new recipe are sometimes quite frankly not worth the bother!
However, since it was January and the season for new ventures (and I was on a health kick) I decided to give it a go! Here are three family recipes that went down a storm with the kids, first, second and third time around!
1.) Jools Tuna Pasta Bake from Jamie Oliver's 'Super Food Family Classics' recipe book
I wasn't sure about going to the effort of cleaning leeks and chopping fennel for a tuna pasta bake I could usually knock up in ten minutes, but this one was worth the effort. It has plenty of 'hidden veg' in it, it's lower in calories than a normal cheese laden one and even Mr P enjoyed it!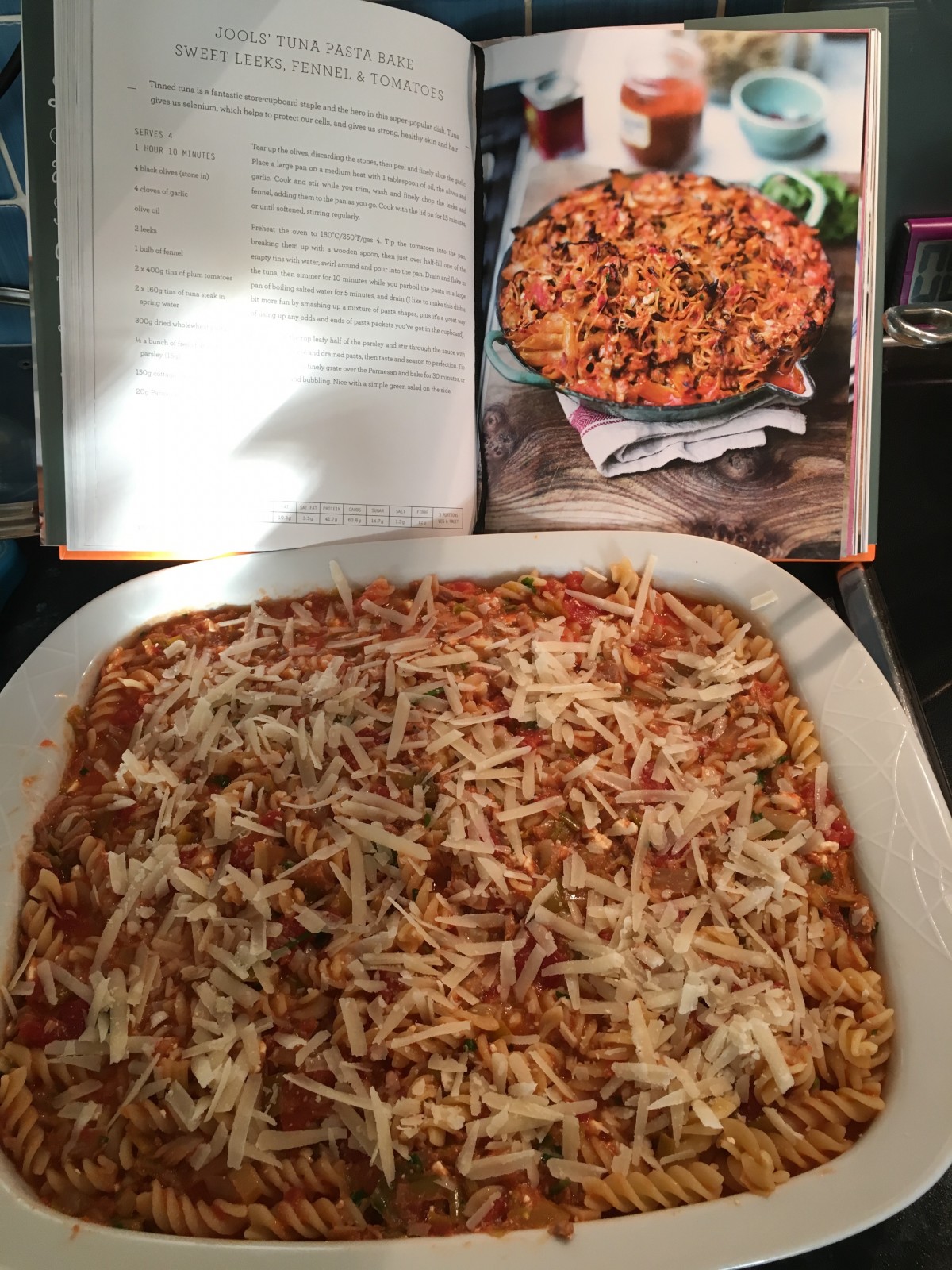 2.) Chicken Curry from 'Tom's Daily Plan' recipe book by Tom Daley
This is an easy to prepare curry that tastes fab! I serve the grown ups and then add a small carton of natural yoghurt to the kids before dishing theirs up to cool it down a touch! They have even asked for seconds. Note: this recipes need doubling up on quantities as it's written to only serve two people.
3.) Salmon Parcels from 'Tom's Daily Plan' recipe book by Tom Daley
The kids love this dish as they each get a parcel on their plate to open! What's more is that there's lots of veg in it but it's bright, tasty and not over cooked. The sweetcorn and sweet potato mean it's obviously sweeter in taste which suits their pallet more and the salmon is really easy for them to eat! Family winner!
2.) Looking the Part
Exercising is never really a glamorous pass time (if you're doing it properly anyway) but I found it helped me to have the right gear. So much so I spent some Christmas money on a new pair of Asics pink trainers, which make me smile when I look at them and still desperately don't want to get dirty! Proving harder as the weeks go by!
This fab Nike top from the JD Williams Sportswear site has also been a winner, it's great to have a warmer pull on as an outer layer when getting to the gym. It made me feel less self conscious when entering the gym and helped maintain my core temperature before I'd warmed up properly. It meant I could feel relaxed and comfortable whilst still looking and feeling gym ready! Plus the pockets mean you can keep your hands warm getting to and from places in it too!
For more of their sport range you can check out their full range online. It has also been the perfect (pre and post workout) school run cover-up, and looked the part for a pre-session coffee catch up with friends to boot! I love it!
I love the big hood on it, which makes it really warm if I'm heading out for a run, or, to be honest, for throwing on if I'm catching up on a bit of blogging while the heating's off!
3.) Going for a run
As I mentioned in my Personal Trainer post, going to the gym has never really been my thing! Neither, to be honest, has running!
But on and off over the last couple of years I have tried to get out and head out for a bit of a run! I started with the couch to 5k programme on my phone and now I just try 'run a minute, walk a minute' for a longer distance. It's gradually increasing to 'run two minutes, walk a minute' so it must be working a little bit!
It's great to get out of the house and into the fresh air, even when it's cold, and if you can go with a friend it's even better as chatting your way around makes the distance seem much shorter! I always come home feeling good about myself and wondering why I don't do it more often!
So, if you can bear it – pull your trainers on and have a quick walk/jog/run around the block – however far or near you go you're lapping everyone on the sofa!
Disclaimer: This post was written in collaboration with JD Williams.