Last week we had an amazingly busy half term! It was all loads of fun and all the better for the fact that we were able to do most of our travelling in the gorgeous Lexus NX 300 F Sport (a hybrid) on loan from Vantage Motor Group.
Now, obviously, I'm no car expert. I'm just a Mama who happens to drive, a lot. One day last week I clocked up 16 separate car journeys in one day! It's easily done when you're  Mum on the run with car trips to and from school, nursery, Brownies, dentists, supermarket and physio appointments! That equates to around six plus hours in the car – in one day! I'm in my car more often than I'm in my living room!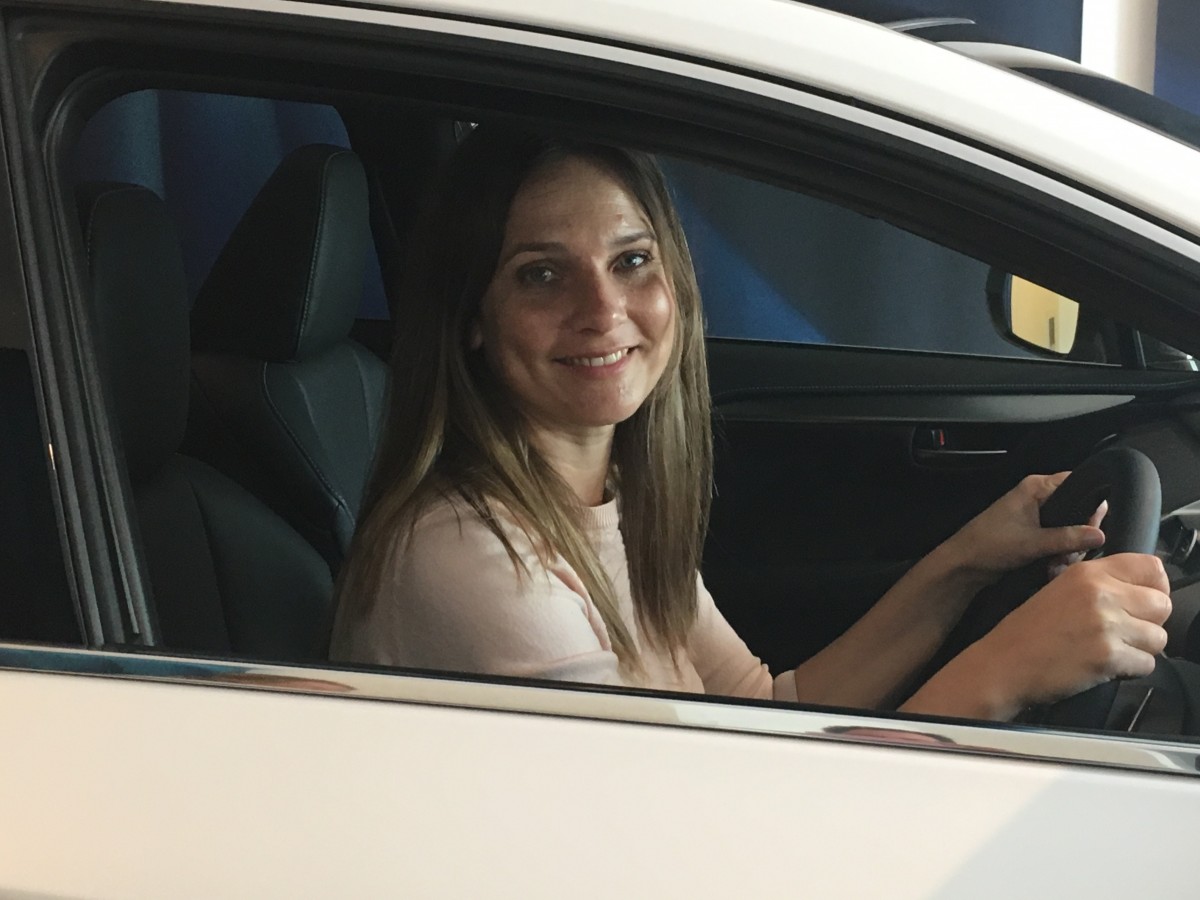 So what I'm getting at is that you spend A LOT of time in your car. It needs to get you to and from A to B safely, reliably and comfortably. It's almost like an extra room to your home!
Vantage Motor Group
So when the lovely people at Lexus Leeds from Vantage Motor Group got in touch to ask if I'd like to borrow the Lexus NX 300 F Sport (hybrid) for a week, I jumped at the chance! I collected it from their showroom, which is just one of their 25 dealerships across the UK. Vantage Motor Group started out as a dealership just down the road in Knaresborough, and now they are all over the UK!
The lovely Emma Higgins from Vantage Motor Group met me on arrival at the Lexus dealership in Leeds, she was lovely, friendly and helpful. The showroom didn't feel at all 'salesy' it was all very professional, relaxed and welcoming. Emma helped me fill in a little paperwork before taking me to see the car in their 'hand-over' bay.
Meeting the Lexus NX 300 F Sport
I almost fell over myself when Emma showed the 2.5 lt car to me, I couldn't actually believe that the car she was showing me was to be mine for a whole week! It looked magnificent! I later learned that Will.i.am fronted the marketing campaign for the NX and you can tell why!
The Lexus NX 300 F Sport is super shiny, swish and a little bit bling! The front headlights have LEDS which look a little like 'Bowie-esk' eyeliner. The car is a 4×4 so it sits high off the road, it has a great road presence and glorious 18inch two tone alloys. The rear lights scream high cheek bones to me, as they jutt out at angles, making the tailgate of the car tuck nicely around them! The front grill has been designed with an edgy hexagonal detail, making it more on trend than a regular lined one. All in all it really is a beautiful car to look at.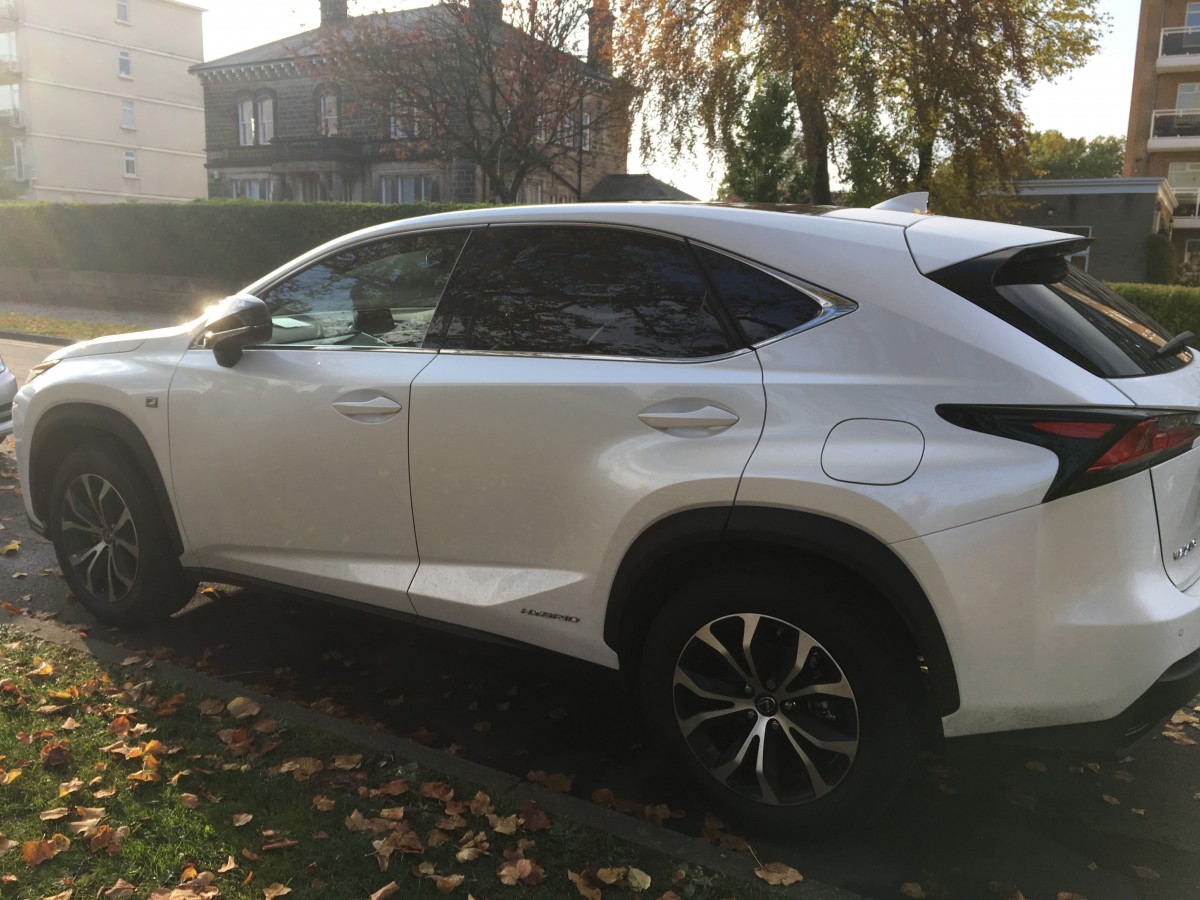 Lexus NX 300 F Sport Features
Emma chatted me through all the amazing features from the toasty heated front seats to the panoramic glass roof. She showed me how to connect my phone to safely use on the go, set the speed warning indicators and switch on and off the car (no ignition key required!). Once I'd had a quick refresher on driving an automatic we set off on a test drive, I immediately LOVED the car.
The first thing I noticed when climbing aboard was how quiet the car was, the sound proofing is amazing and you can hardly hear the road noise which is such a bonus when you're used to so much noise from inside the car alone when the whole family is in it!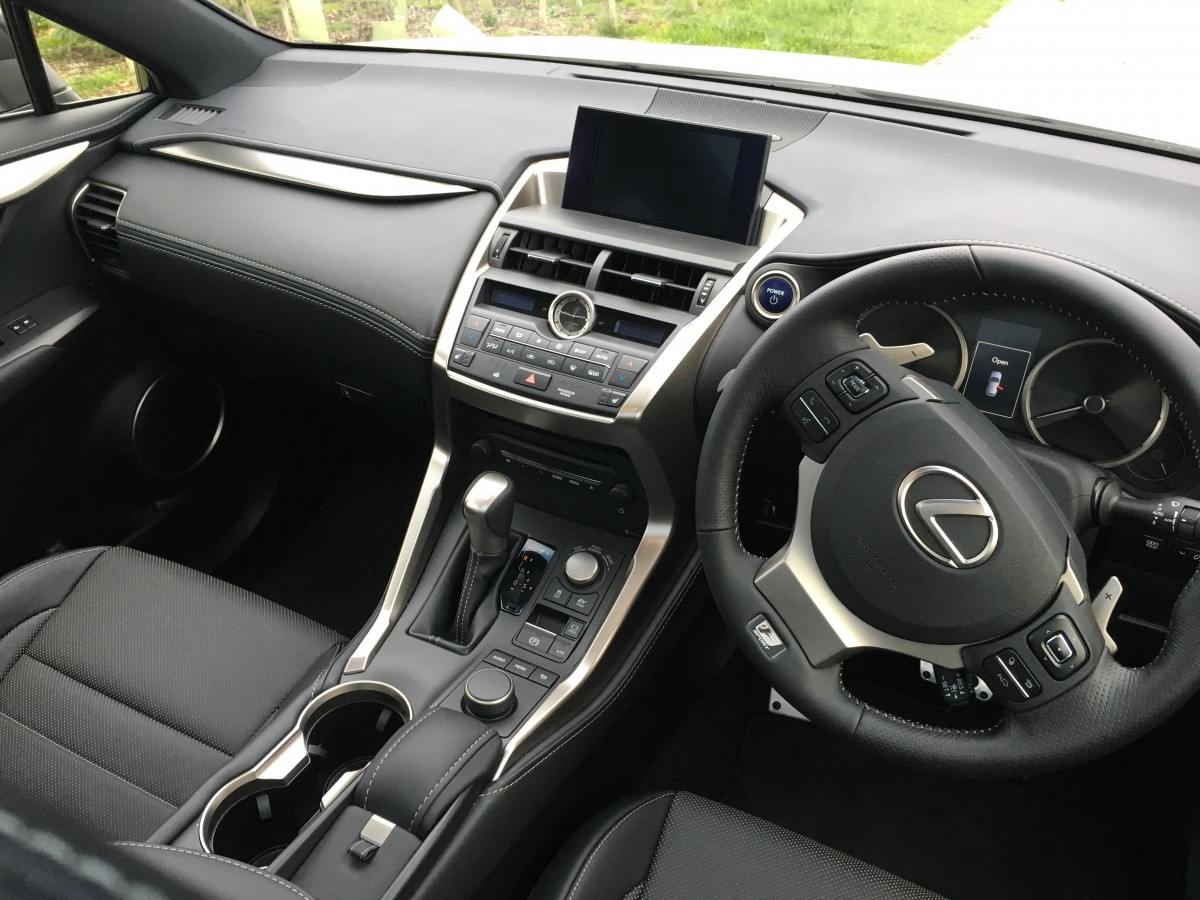 The Lexus NX 300 F Sport is also a Hybrid, which means it runs off its own electric motor for some of the time. You don't need to charge it like some hybrids, so you don't need to remember to do anything extra, it does it all itself! The car uses the kinetic energy stored in the wheels when breaking to power the on-board battery, then at points in your journey,  the car uses the battery to power itself, at other times it uses the engine like regular cars. When it runs off the battery it is astonishingly quiet!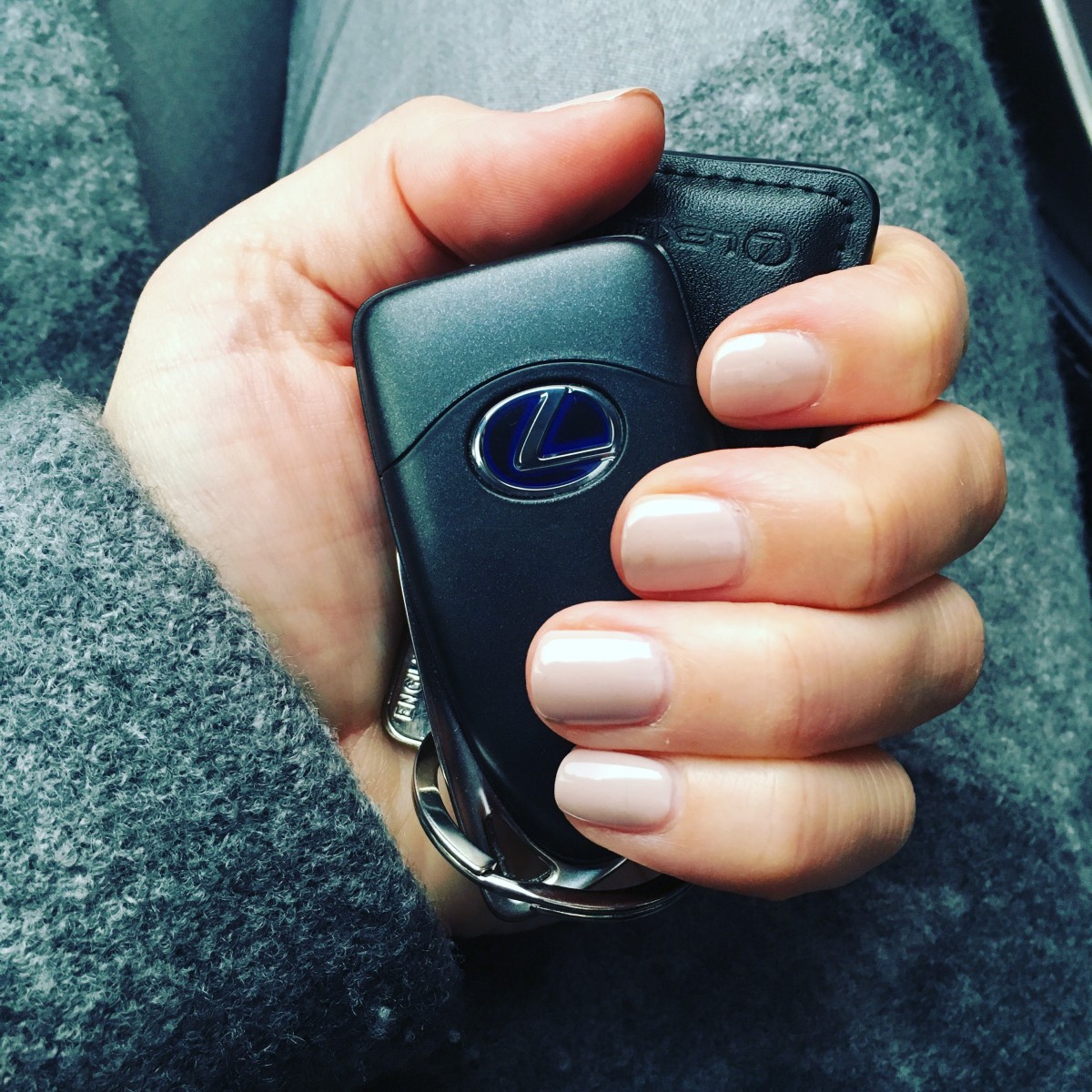 Before I knew it I was gleefully waving goodbye to Emma and setting off on my road trip strapped in to my gorgeous new shiny car!
School Run Mum Style
The Lexus NX and I happily did the school pick-up, where the kids marvelled at the panoramic glass roof and gasped at the comfortable, spacious seats in the rear as all three of them strapped into their car seats in the back. The Small Boy announced he didn't ever want his old car back, ever!
The Lexus felt incredible solid and secure and I could see loads of airbag signs on the interior instantly making me feel I was keeping my family safe. It was great to be so high off the road too – the kids loved being able to see out and I loved being able to see what was happening on the road much further ahead too.
Parking was a doddle as the car has a fabulous on board camera and fully equipped parking sensors. The camera and sensors mean you don't even have to look behind you to park as you can see behind you through the camera on the dashboard area (you do have to check all around just to make sure of your periphery of course too!) There are even guide lines marked up on the video display to help you glide into a space, meaning you park like a boss every time! When you're parking up to sixteen times in one day, with a car full of kids for most times, parking is right at the top of my list of things that a car has to be able to do well! This ticked all those boxes!
Glamping Road Trip
Then it was time to load up the boot to get the Lexus  NX 300 F Sport ready for its first long road trip. We were heading glamping up to Northumbria, which meant a three and a half hour journey on a Friday night!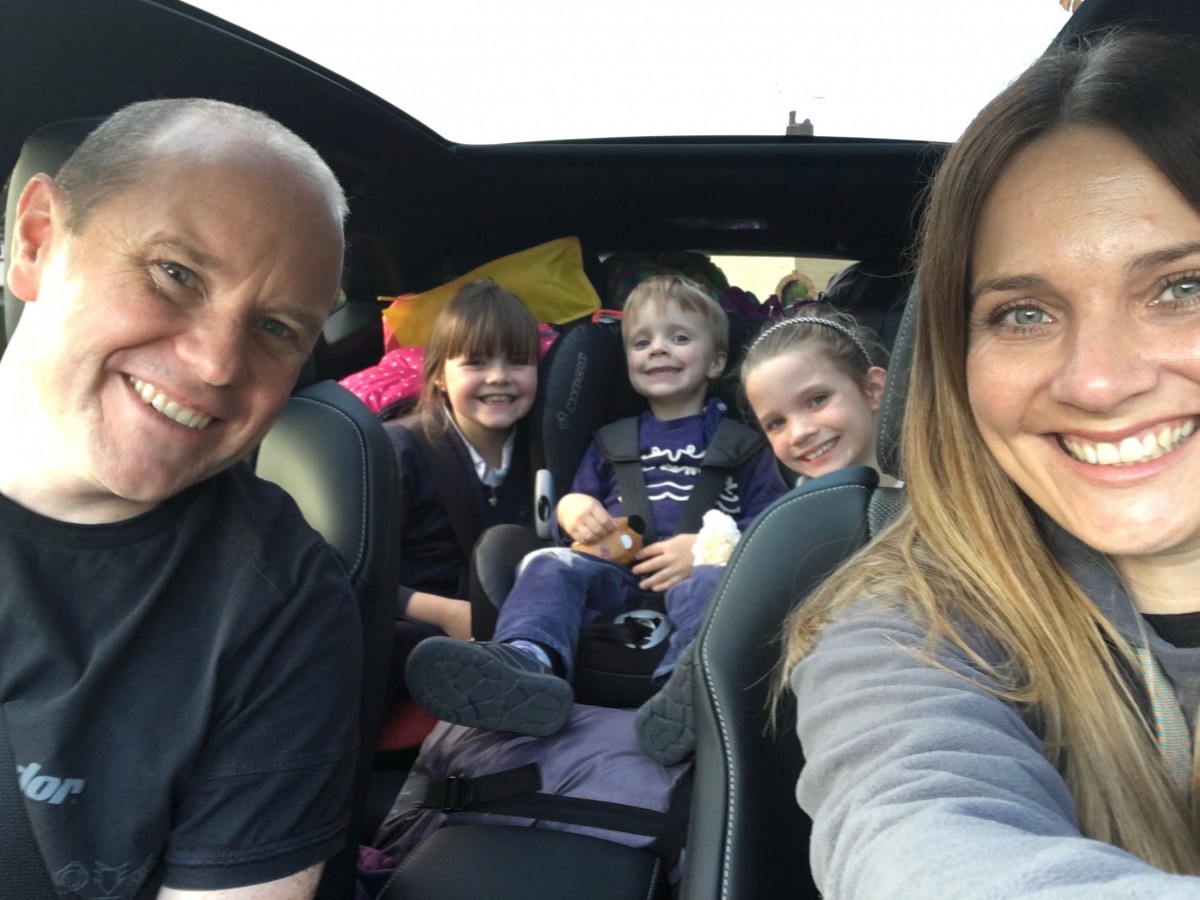 The Lexus stood up well to its first challenge, packing the car for two nights camping for a family of five! There was all sorts of shizzle on board and we managed to pack it all in. The boot is a great size and you can lift off the parcel shelf and stow it easily by the wheel under the main boot space.
The tailgate also opens automatically with the press of a button and shuts the same way too. That means you don't get your hands dirty when you close the boot and you can walk away from it before it's fully shut to chase your toddler into their car seat! Bonus!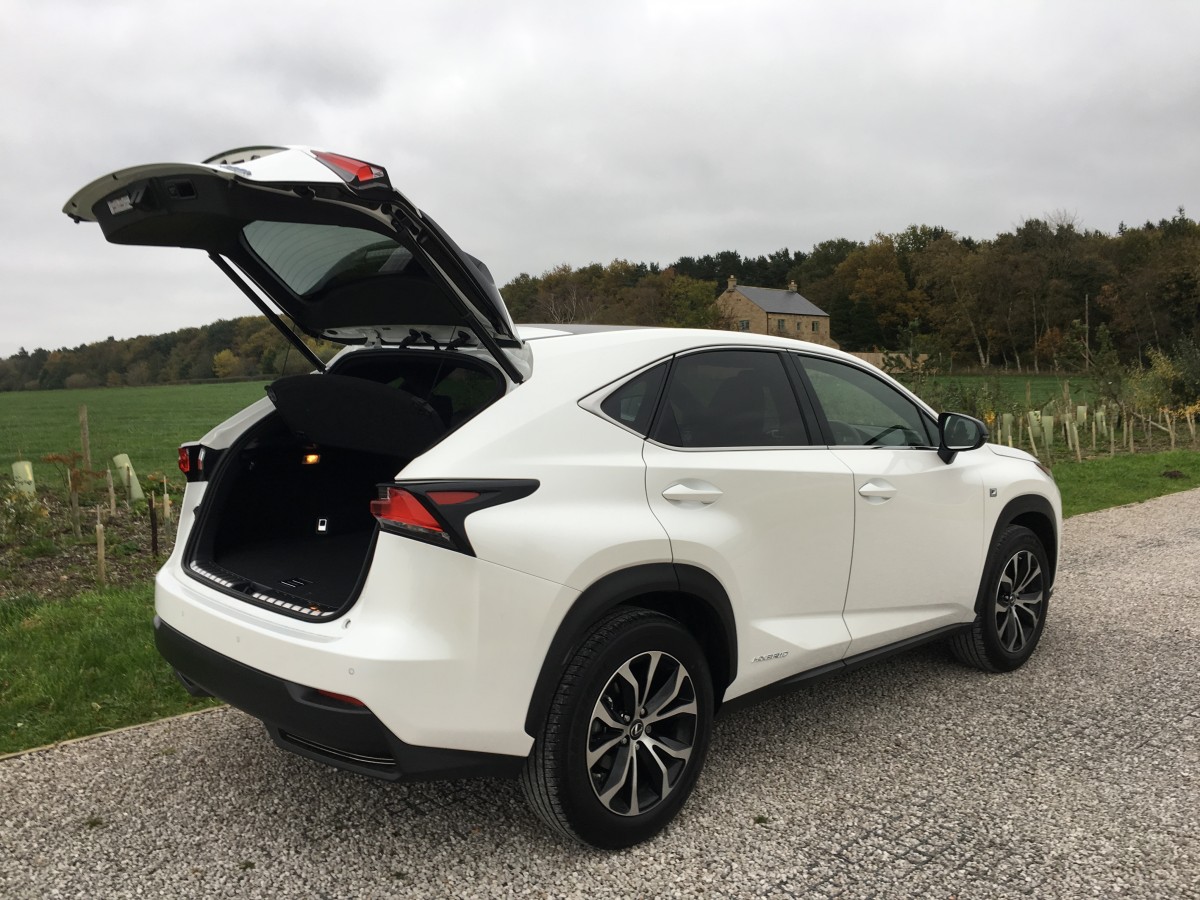 The long journey in the Lexus was a wonder! The kids all had ample space in the back and  I had loads of space as the passenger. The car is cleverly designed so that the glove box doesn't go right to the floor meaning you can stretch your legs fully out and have them totally straight, which is such a luxury in a car as a passenger on a long journey!
Mr P however was in his element as the driver! The whole car is so very easy to drive, almost everything in it is automatic. The headlights come on and off as required, the wipers the same. Due to the fact the car is an automatic it means it also practically drives itself too! You press a button to turn it on, the steering wheel automatically moves itself into the required pre-requist position, you put the car in drive, press the accelerator and you're away. All you need to do is break, accelerate and steer.
Intelligent Driving
Motorway driving was best of all though, as the car has an intelligent cruise control feature, which means you set your top speed limit yourself and then the car won't go over that. Even better than that it works on a radar off the car infront of you, so if the car infront brakes, the Lexus breaks at the same pace for you. Always keeping you at a safe breaking distance from the car ahead. If the car speeds up, your Lexus accelerates for you. All you literally have to do is steer! You can of course override it at anytime by breaking yourself. You can see how driverless cars are not too far into the future!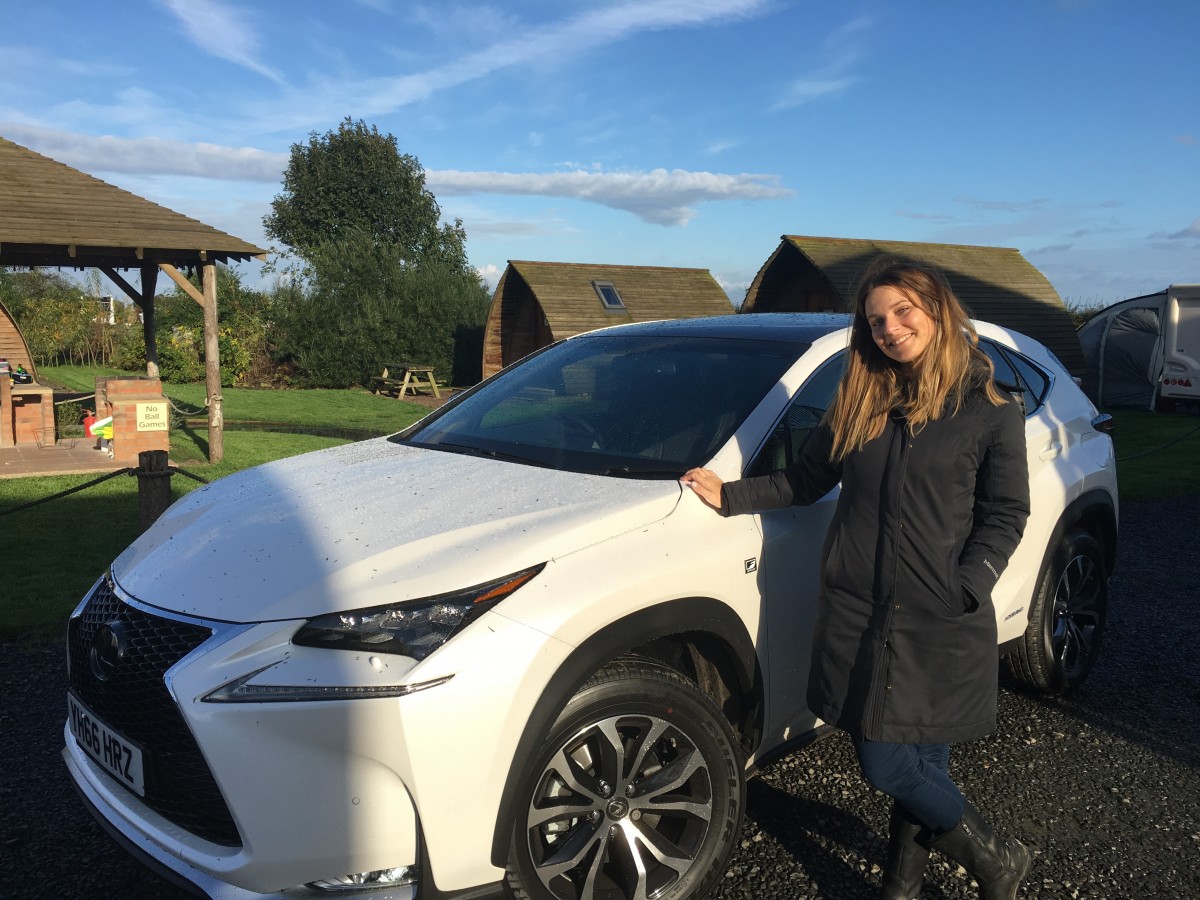 The trip to Bamburgh flew by, and we all arrived much more relaxed and comfortably that I thought was possible thanks to the luxury of the car! We had a glorious time glamping, the campsite was perfect and the weather was great too, despite being a bit chilly, we headed to the beach and the kids had a blast!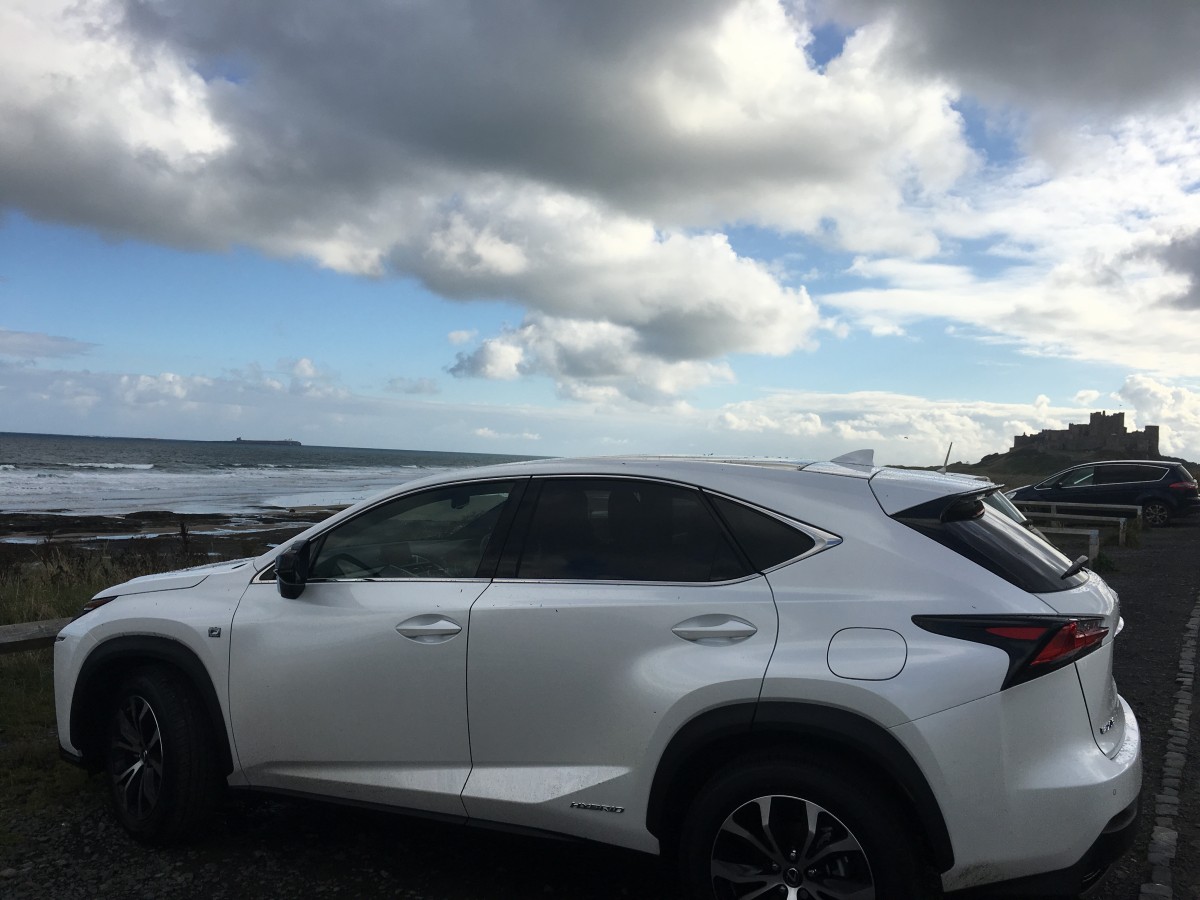 The Lexus was easily packed up for the trip home, less the consumables (there may have been gin drunk!) and we made it home as easily and safely as we'd arrived!
London Bound
The next test for the car was a long trip South, this time to the Big Smoke! I'd been invited to Kidtropolis with the Guniess World Records to cover the event for the blog, so we decided to make a trip of it with an overnight stay and the chance to see a few sights while we were there!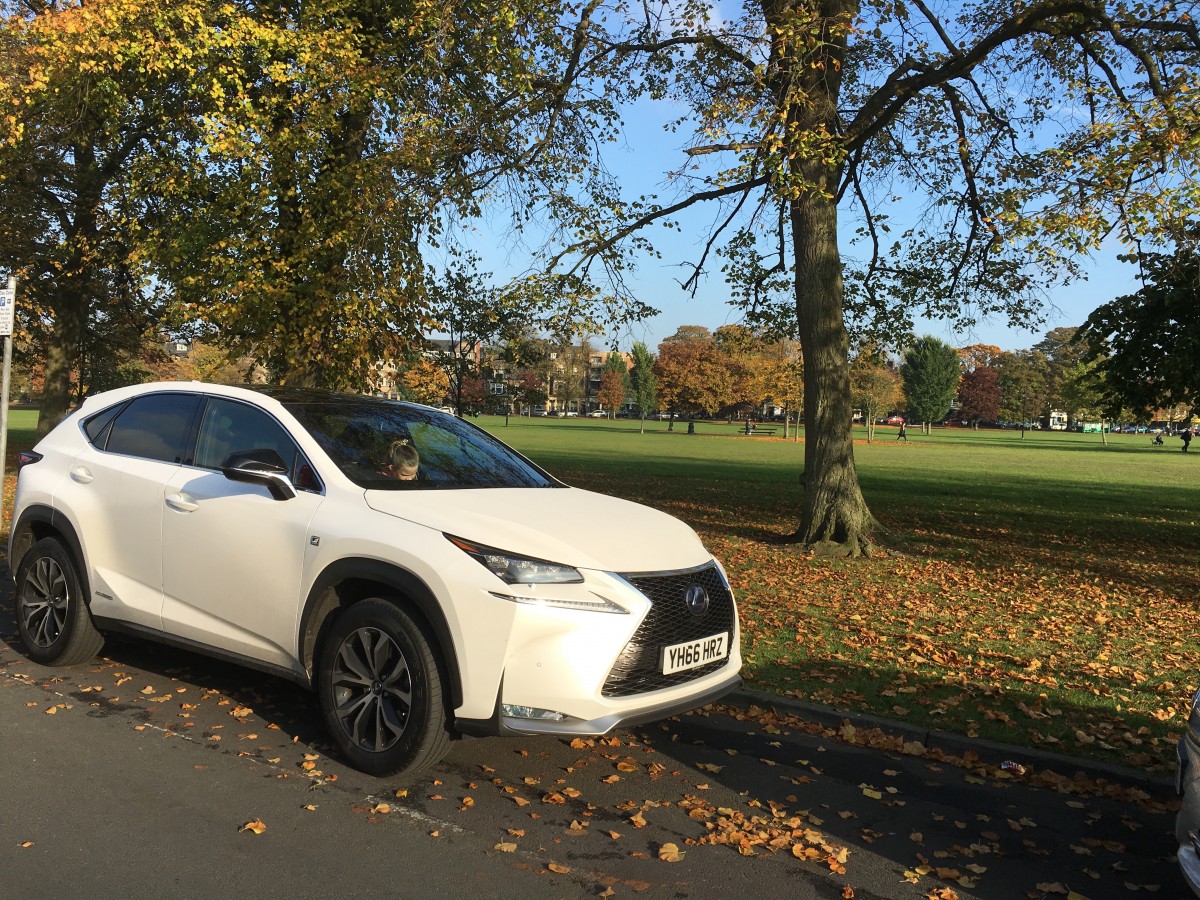 The car was packed up much more quickly this time, less gin and sleeping bags, more city jackets and Oyster cards! Once again the Lexus NX coped admirably with the journey! We filled up the  car with petrol for £50 when we departed and it got us all the way to central London and almost home again to Yorkshire on that, which is pretty outstanding for a 4×4, because it's a Hybrid it's loads more fuel efficient!
We were in and out of a few service stations given the four hour plus journey time and the kids needing breaks. This is where the automatic locking system really came into its own.
Useful Family Features
You can keep your car keys in your pocket and lock and unlock the car. I can't tell you how useful that is when you literally have your hands full with your toddler, your handbag and various children's coats! It saves so much time and it makes it feel a lot safer as you can keep hold of your little ones hand instead of rooting around for your keys! The electric wing mirrors also tuck in automatically on locking too – which is one less thing to think about and also gives you a visual check that the car is actually locked! I loved it!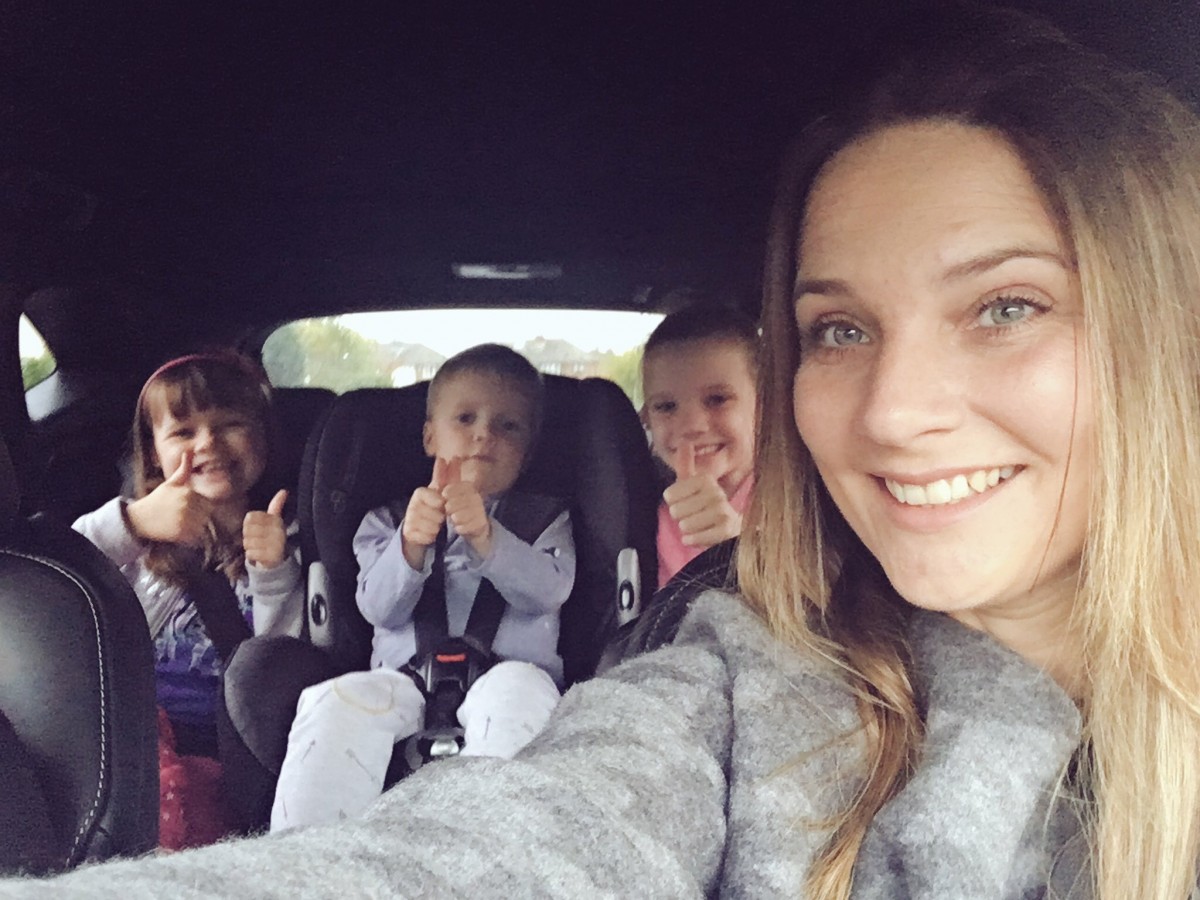 You can also operate the child locks from inside the car too – which means you can keep your kids safe while you're travelling but if they're old enough to hop out themselves, like my nine year olds, then you can press a button and they can let themselves out, also great if you've got adult passengers in the back.
Sight Seeing in the City
We made it to London in style, safety and comfort and were ready for our couple of days of exploring the Big Smoke. We stayed near Canary Wharf and the kids were amazed by the tall towering buildings and we rode the cable cars over to ExCel and the event we were attending there (more to come on that on the blog soon!).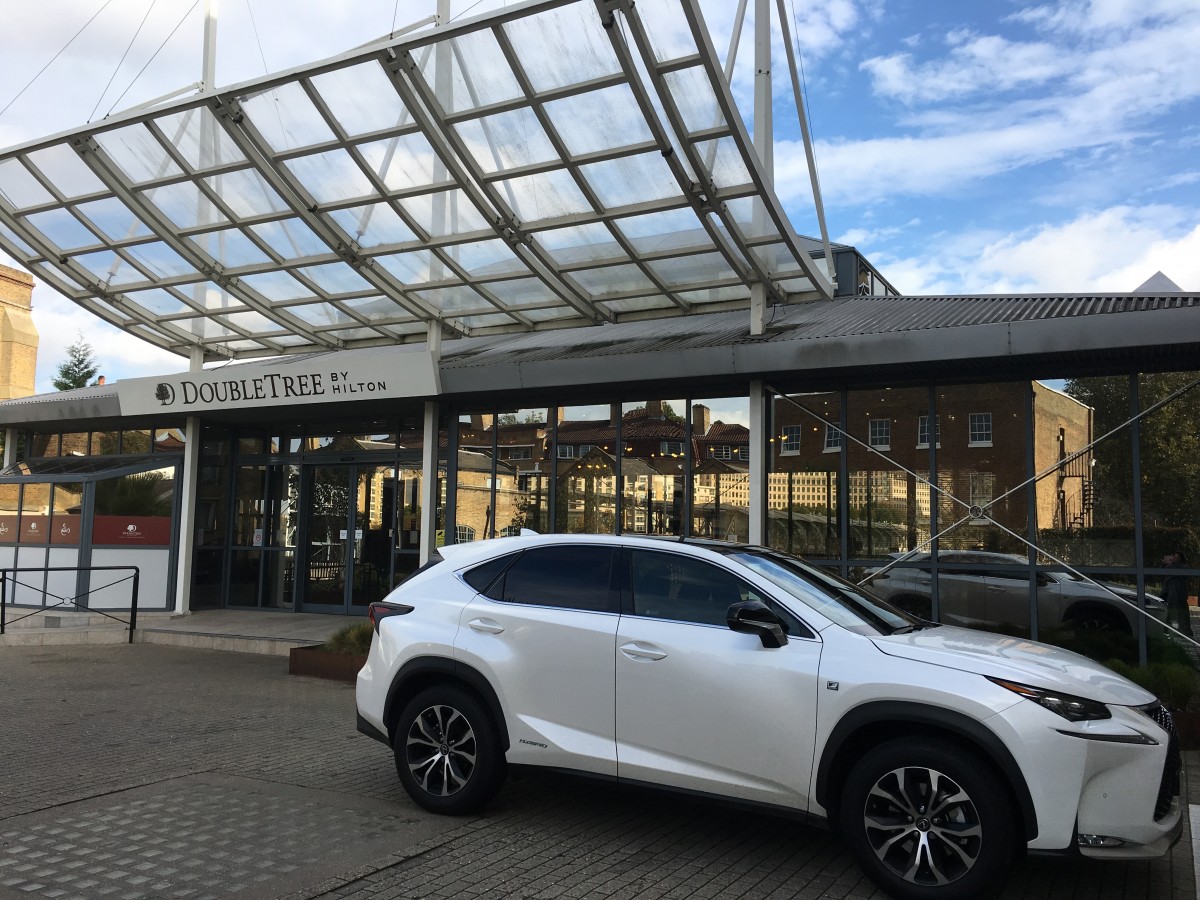 We navigated the tube back into central London and saw all the sights, much to the kids enjoyment as they pointed out city skyline landmarks that they recognised from books and TV. We had a lovely break and Mr P and I really enjoyed sharing the joys of our capital city with the Small People.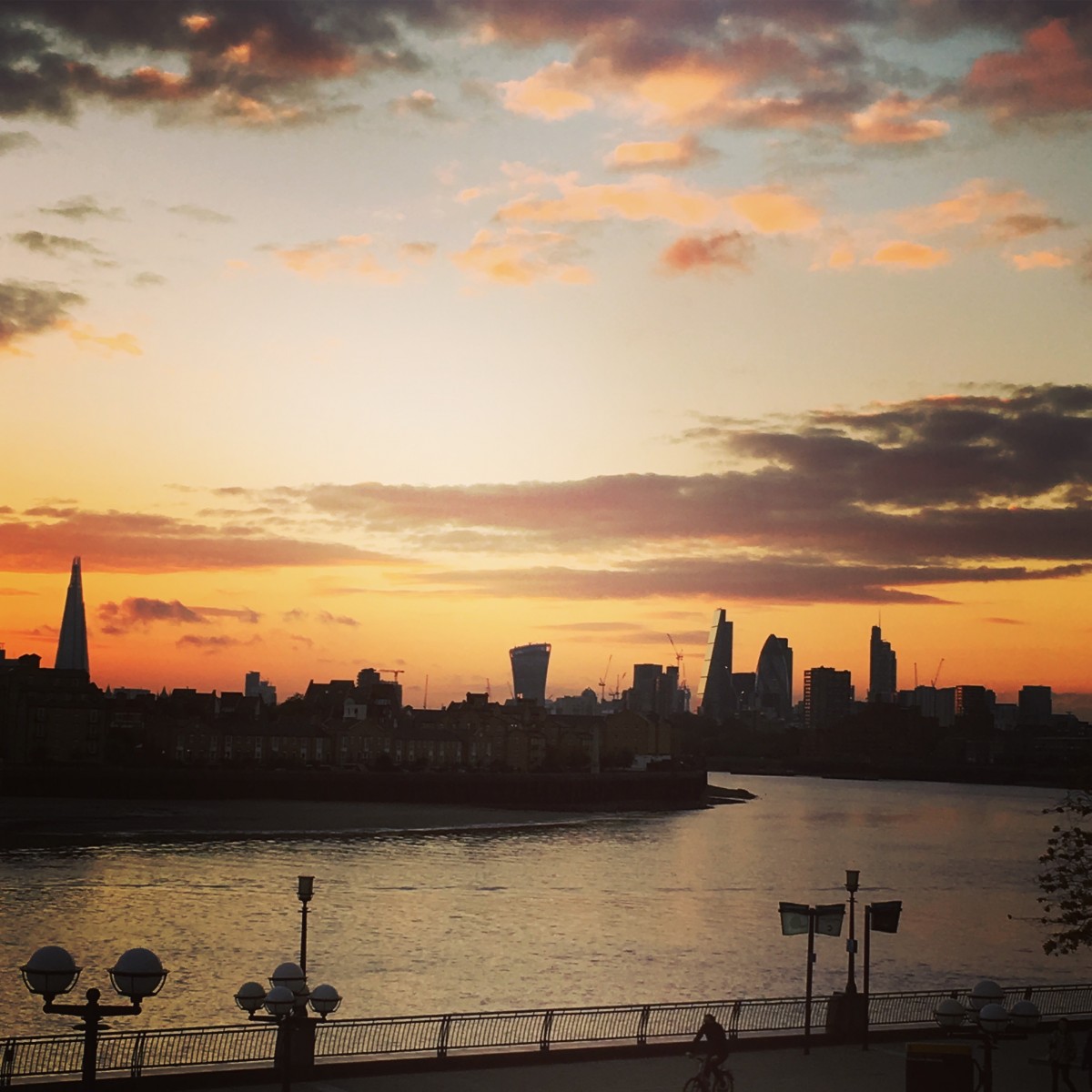 Sat Nav with a difference
Before long it was time to head back North, the on board Sat Nav came in really useful around London. We usually just use our phones for Sat Nav these days but the in car computer and display were much easier to use and see without trying to balance your phone somewhere. The knowledge of the on board computer sat nav was second to none too. We loved that it counted down to the next service station for you, invaluable when you're travelling with young children. It was also brilliant that the display changes to show you which lane you need to be in at motorway intersections rather than the usual 'take the left lane' – having a visual display made it really clear!
It was a much longer journey home given we'd left the City in rush hour and Tower Bridge is closed meaning huge queues through the Blackwall Tunnel! Still, the ride back was so comfortable that the kids all fell asleep in the back and Mr P and I had a leisurely trip home, chatting quietly as the car was pretty much driving itself with its intuitive cruise control!
Wedding Belles
All refreshed a couple of days later it was time to get glammed up for a family wedding we were heading to, in Leeds. Mr P and the Small Boy enjoyed giving the car a little wash to make sure it was looking its best for the big day.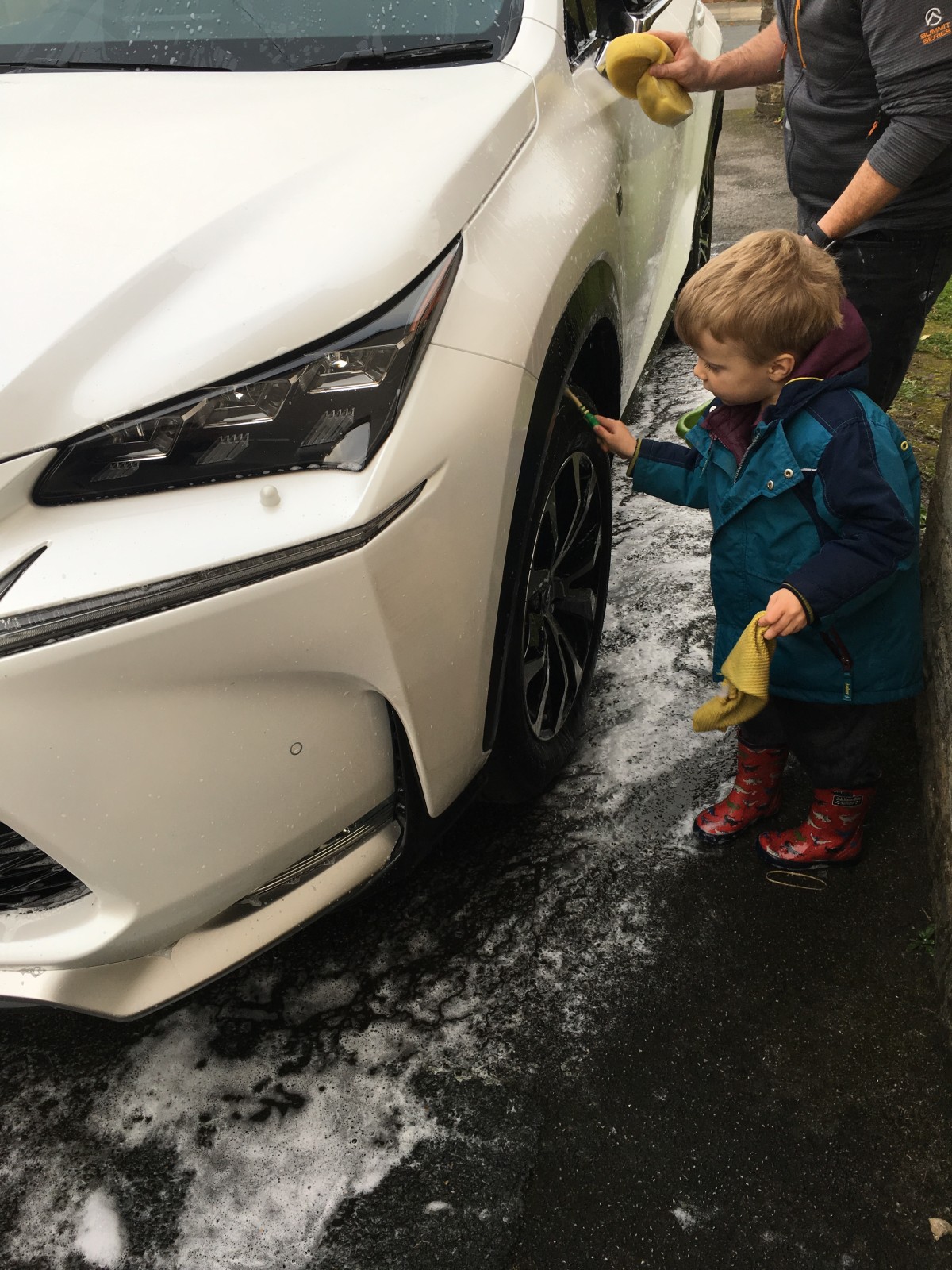 City driving round Leeds meant that Mr P was able to indulge the car's sportier side by knocking the car into Sport Mode with a cheeky side knock of the gear stick. He said it made the Lexus NX enormous fun to drive! Sport Mode meant the car just shifted itself up a gear in terms off speed of the mark,  nippiness when breaking and accelerating and manoeuvrability around the city. I think Mr P would have driven it in Sport Mode everywhere he went if he could! He loved it!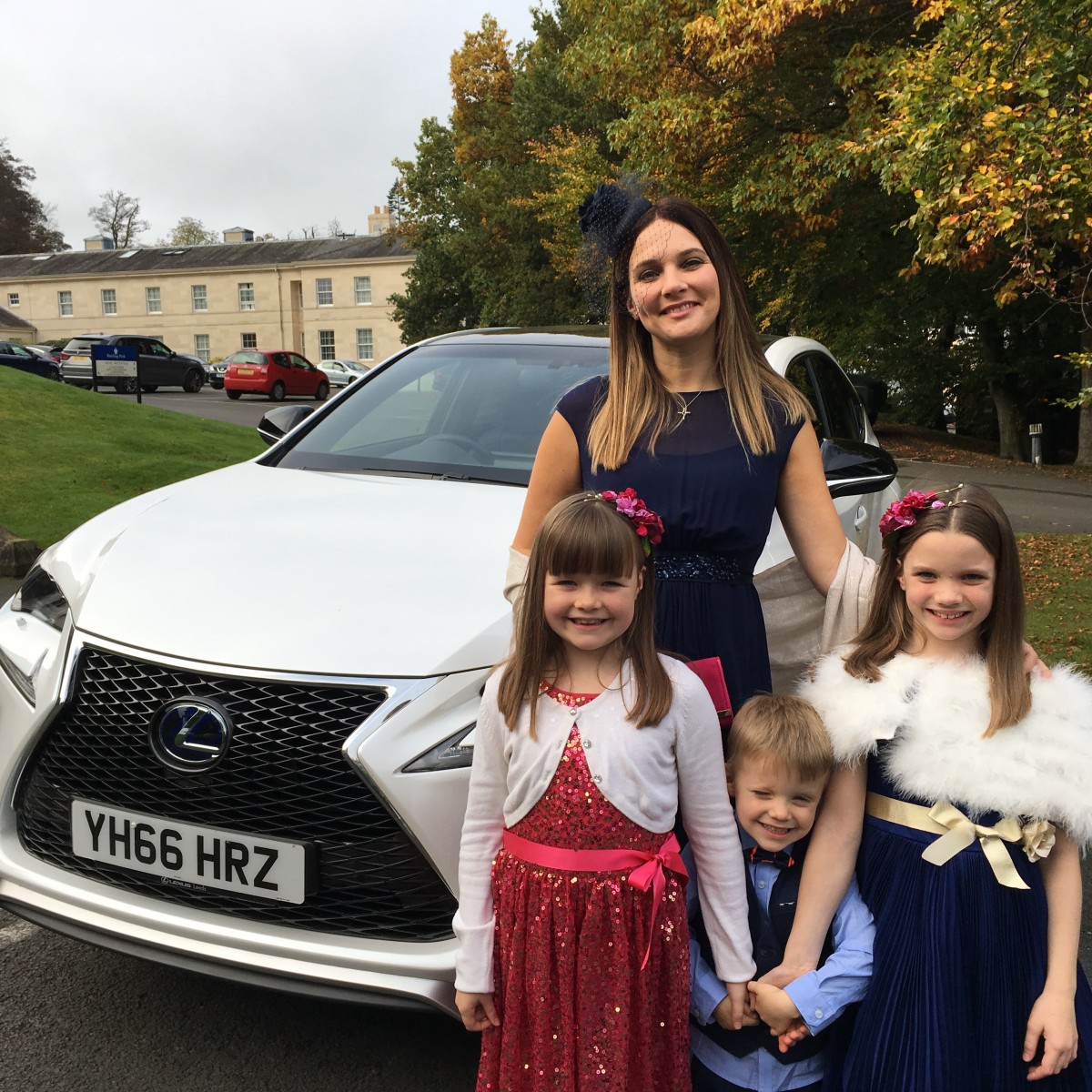 We took a few family selfies in the Autumn sunshine in our finery and the car had really begun to feel like part of the family. I was starting to panic about handing it back! The car did us proud at the wedding and all the family wanted to have a look around and in it and agreed it was a very fine looking car indeed!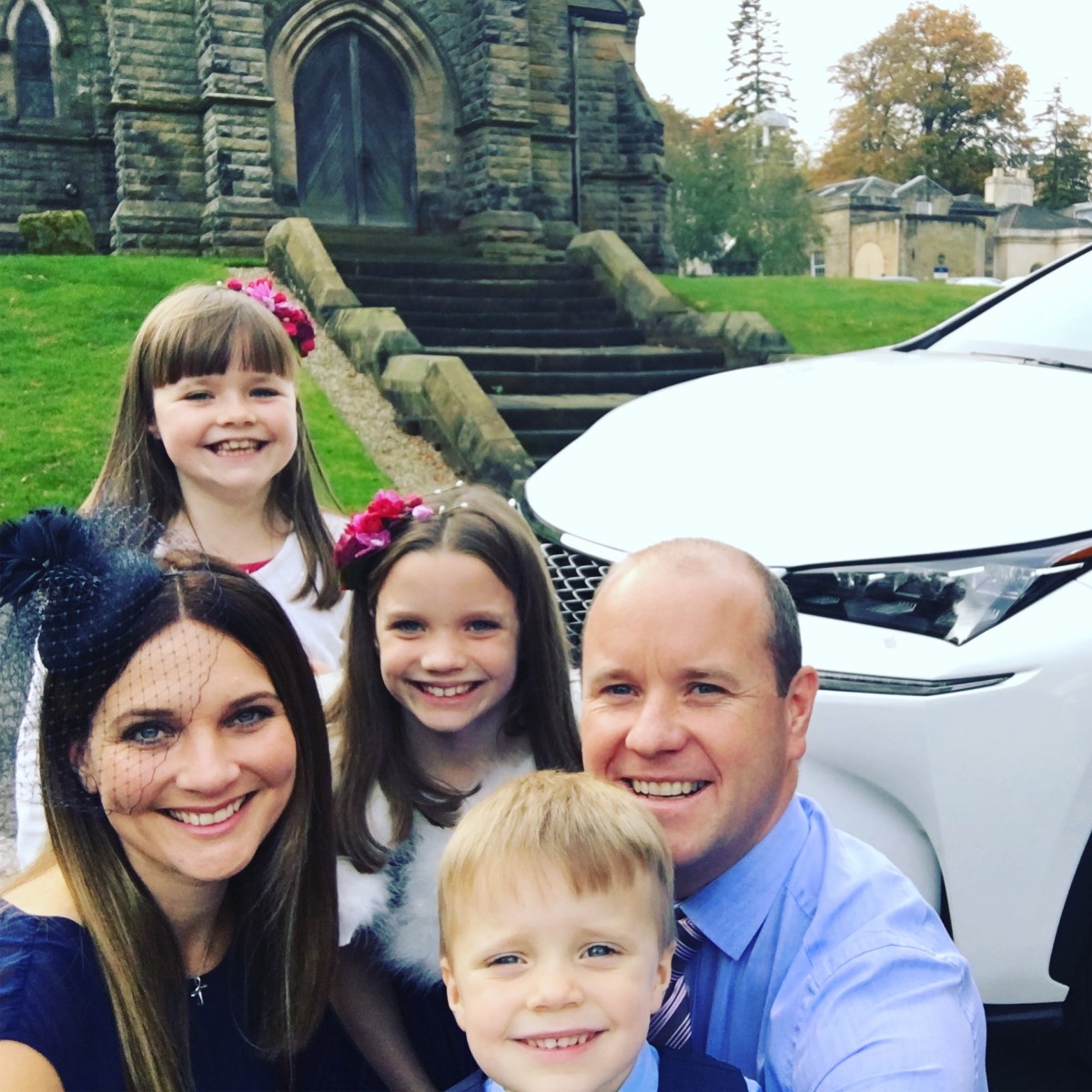 We had loads of fun at the wedding, the kids stayed up till 11pm and we danced the night away, it was, as it always is, great to catch up with family and celebrate such a special   occasion!
Saying Goodbye
Then the day drew close to return the Lexus back to Vantage Motor Group, I headed off to make a few videos and take a couple more photos, just me and the car! We had a lovely time (that may be mainly because I had spent so much time with my family over the past week! Ha!). The video will be coming shortly to the blog, so you can see for yourself some of the gorgeous features the Lexus NX 300 F Sport has to offer!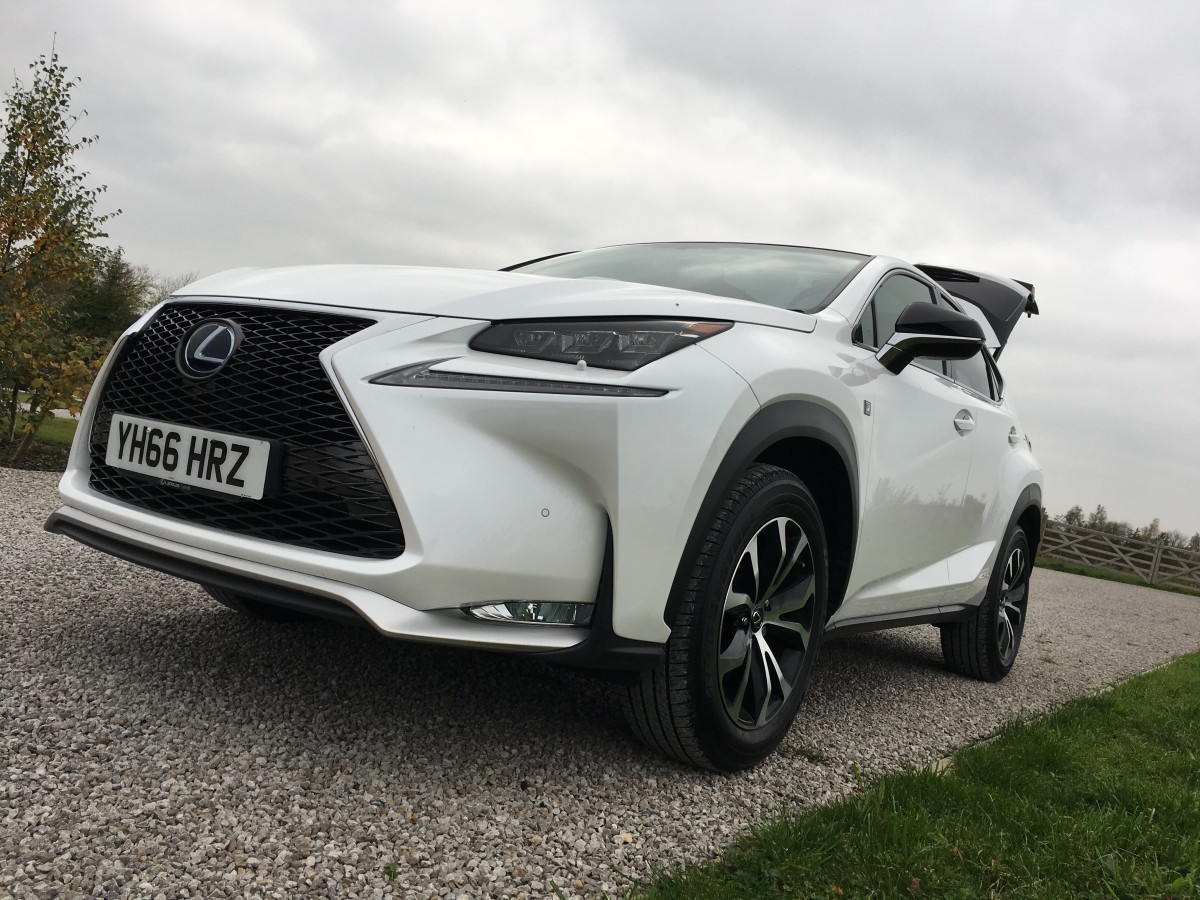 The lovely folks at Vantage Motor Group were a delight to be around, they were all so welcoming and friendly and I felt comfortable and relaxed around them all. The dealership at Lexus Leeds was a great place to be, they're even having a Facelift there next year, which looks set to make their showroom an even nicer place to be.
Lexus Leeds go the extra mile in customer service in all sorts of ways, from providing courtesy cars while yours is being serviced through to a shuttle service to the city centre. The shuttle service allows all existing customers to be driven to and from Leeds city centre if they fancy a bit of shopping on ANY weekday (you don't have to be getting your car serviced) which saves the need to find a parking space or pay for parking. Fab idea!
Lexus NX 300 F Sport Overview
It was with a heavy heart I returned the car to the dealership. I honestly couldn't fault it. It is, in my opinion, the perfect family car. It has loads of space for all the family to sit comfortably, great boot space for all our gear and the road presence was brilliant. Most of all it was comfortable, quiet, the sound proofing was awesome, and felt amazing to be in. I thought it was brilliant that it was a hybrid, which made me feel like I was doing my bit for the environment. I loved the way the car looked, the way it drove so effortlessly, how easy it was to park and how convenient all its features were to use.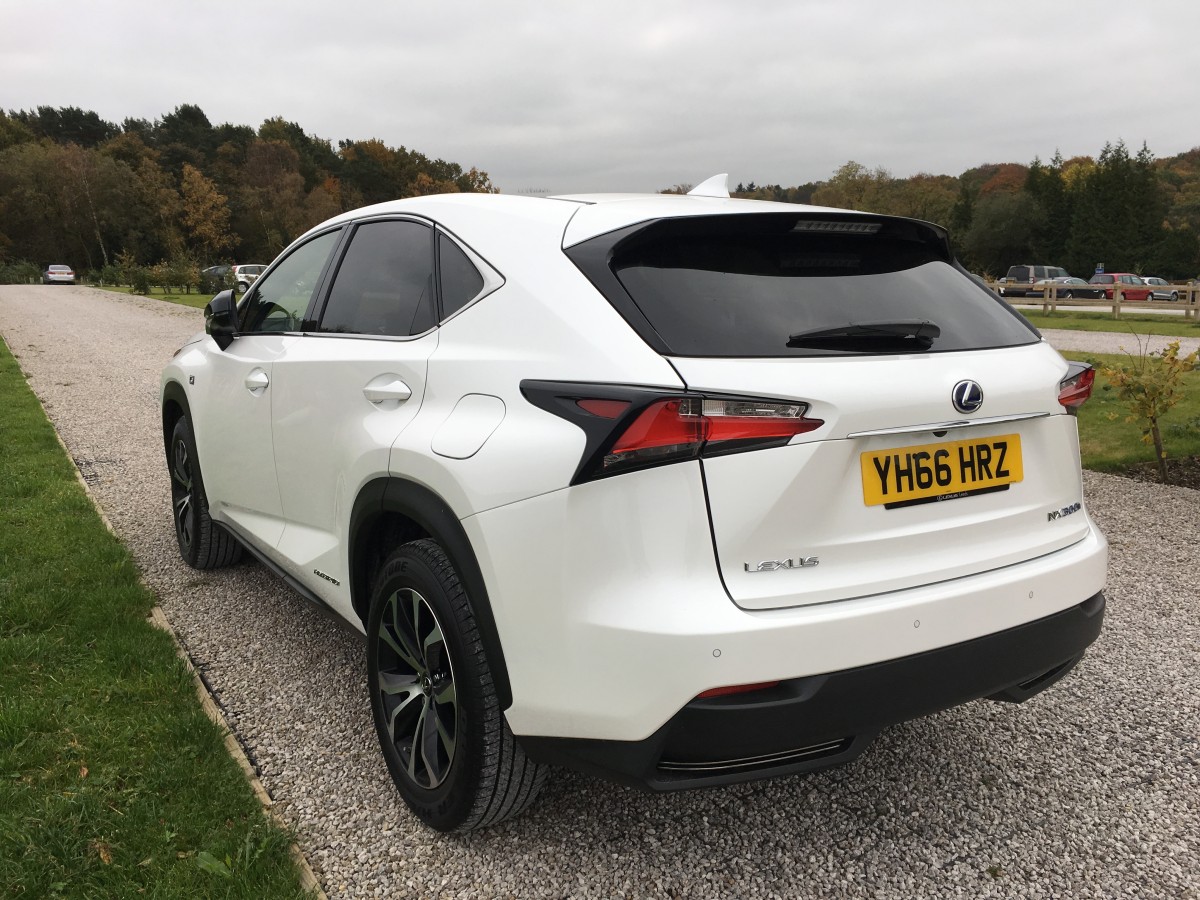 A car really is an extension of yourself in so many ways, I spend a lot of time in my car, usually with three other people in it with me so it matters to me that it's a nice space to be in. Being in the Lexus NX made everyone just a little bit happier for all the reasons I mentioned above, which in turn made making all our journeys so much more enjoyable!
I'd hands down recommend a Lexus NX 300 F Sport from Vantage Motor Group, Lexus Leeds to anyone, I thought it was spot on! It was the epitome of luxury, comfort, ease and style all in one go!
This very Lexus NX 300 F Sport 2.5 lt Petrol Hybrid  is currently priced at £40,885 and they are selling it for £38,990 currently which is a saving of £1,895. Prices for Lexus NX 300 in general from Vantage Motor Group start from £30,995 and go up to £44,245.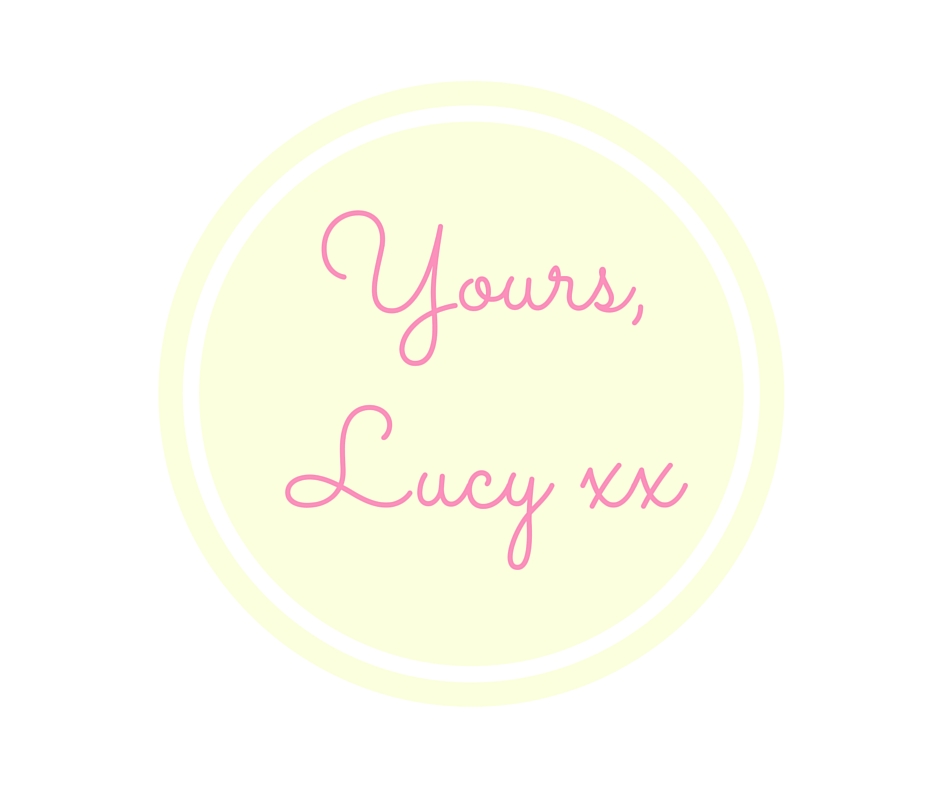 Disclaimer: Vantage Motor Group Lexus Leeds kindly loaded me the Lexus NX 300 F Sport for the week so that I could review it. The opinions are my own.