I had the absolute pleasure and honour of being invited Bettys to be a part of their new Afternoon Tea photoshoot last week.
The new menu launches today, Wednesday 12th September, so here's a little behind the scenes peek at how the photoshoot went down and a preview of some of the delights we were lucky enough to enjoy first hand!
I was lucky enough to be shooting with fellow blogger Saf, from Inbetween the Food.  Saf was my 'model friend' for the day and considering we'd only really met once In Real Life – our Instagram friendship meant the whole experience was really enjoyable for both of us! I think the photos capture our natural chemistry really well. Nothing like bonding over cake!
All these photos were taken by the very professional yet very calm Olivia Brabbs, who set up the shots making us feel relaxed and capturing the mood instantly.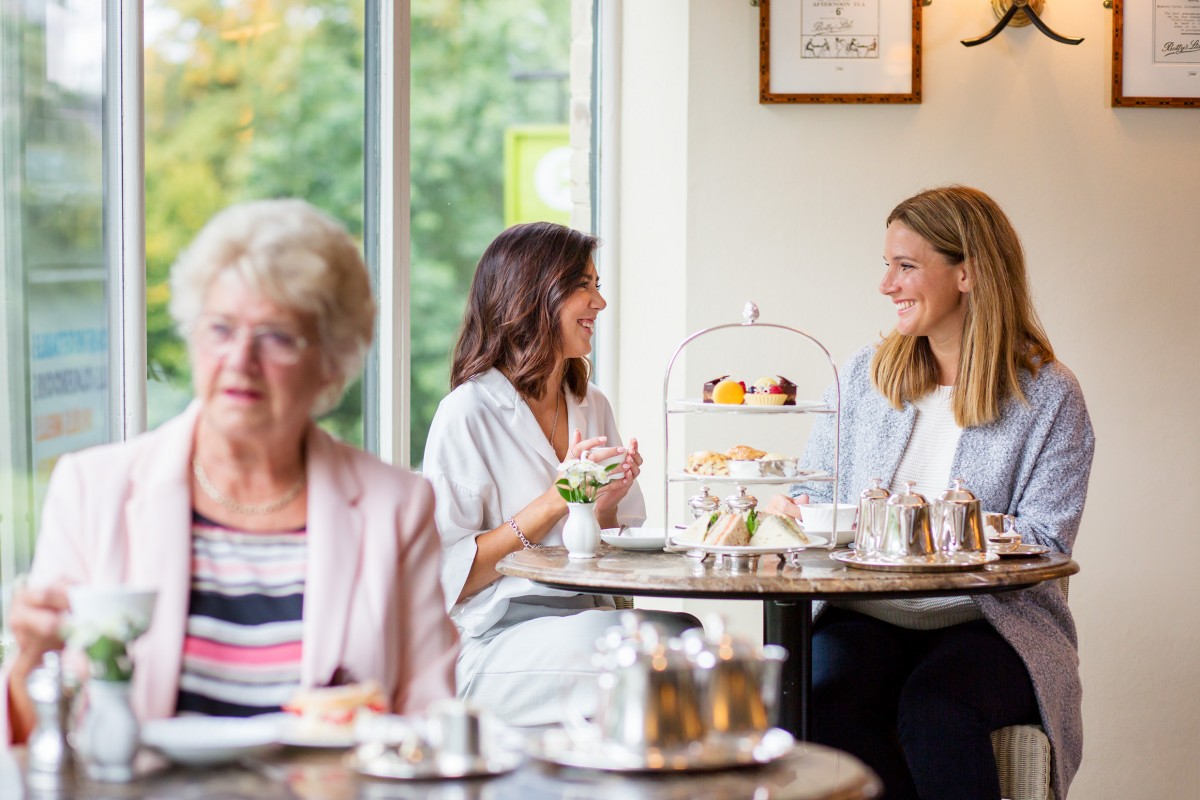 Our make-up was expertly applied by Jancey from A Spa Retreat – who was charming and friendly, she also shared some details of her parties for teens and tweens which include make-up and skincare lessons, which I'm keen to hear and share more about too!
The food was presented expertly by the in-house team at Bettys, namely Robyn Cox, who styled the shoot perfectly and the food stylist Joan Ransley. Joan was masterful to watch as she carefully placed Macaroons on their end and poured tea for us, so as not to make a mark on the teapots! Very meticulous attention to detail – which makes for incredible food photography I think you'll agree!
Saf and I were asked to smile and 'chat', point and look longingly at the cakes – all of which was very easily achieved when faced with an array of such treats!
The new afternoon tea treats did look amazing, new sandwiches including; Cucumber, dill and cream cheese, Coronation chicken, Ham and wholegrain mustard and Scottish smoked salmon.
Then the sweet treats include; a sultana scone with strawberry preserve and clotted cream, served alongside the following miniature cake selection: chocolate and hazelnut pave, lemon and orange macaroon and fresh fruit tart.
Not forgetting the all important teapot of Tea Room Blend tea to enjoy it with too! All for £19.95 per person.
Next it was onto the shop to get some photos of further tasty treats, I mean – look at those cakes and pastries! That look on my face is not my finest method acting, I am genuinely trying to decide which I would choose as they were all so tempting!
In a few short hours the shoot was a wrap and Bettys kindly gifted us some delicious treats to take home and enjoy away from a camera lens!
All in all a gorgeous morning, working with an iconic brand and meeting some really lovely people in the process.
The new Bettys Afternoon Tea menu launches on Wednesday 12th September and is available at all their cafe tea rooms. For more details you can check out their website at https://www.bettys.co.uk/cafe-tea-rooms/afternoon-tea-at-bettys where you may spot some more of these images taken during the shoot!
All photos: Olivia Brabbs Photography