We all know someone we'd like to do this to, right?! All 'selfie'obsessed and self absorbed in their phone all the time! Turns out the Small Boy sometimes feel like that about me! Fair do's I say!
For the record I think it looks worse than it was and I'm also not convinced he was aiming for the left hook fully, his face isn't in it enough! That's what I'm telling myself anyway! ??? Also let the record state I was trying to get a selfie of the both of us, honest!
#WickedWednesday 7th September 2016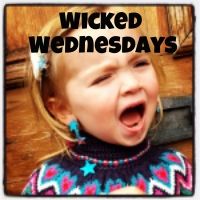 (*The lovely BrummyMummyof2 shares her favourite #wickedwednesdays picks of the week over on her blog…so if you're feeling like the only one who's dealing with this sort of shizzle, then check out the links, for you're not alone!)
Follow: Me (Harrogate Mama) on Facebook and Twitter and Instagram and YouTube too!