Before I went away on holiday I was lucky enough to enjoy the delights of Afternoon Tea at Bettys! I know, pretty fabulous hey?! But it gets even better than that, it was not just their regular afternoon tea, which is pretty amazing in itself but it was their super special Lady Betty Afternoon Tea! Ta Dah!
Betty's Lady Betty Afternoon Tea is the ultimate afternoon tea in my opinion. I love an afternoon tea, it's actually my favourite meal of all time, if it can be classed as a meal! The Lady Betty Afternoon Tea is perfect for special occasions so I thought it would be lovely to share it with my Mum.
Mummy and Daughter Time
My Mum and I have a very close relationship, we get on really well and I feel truly fortunate to be able to see her so often. She lives in Harrogate too and we occasionally get to enjoy the delights of Bettys together for a catch up and a treat! There's nothing nicer than spending one to one time chatting and sharing news with no interruptions!
We had such a lovely time when we went, and Bettys did what they do best; looked after us beautifully and made us feel super special all whilst allowing us to enjoy some of the tastiest treats we'd had for ages!
The great thing about the Lady Betty Afternoon Tea is that you can book a table (which you can't in their cafe tea rooms). You also benefit from enjoying the experience in the Imperial Room in Harrogate with beautiful linen clothed tables, pianist tinkling away and stunning views over Montpellier Gardens.
It's ideal for a special occasion, there was a chic hen party dining, a couple of birthday celebrations and lots of couples and families making the most of a relaxed, refined atmosphere, all basking in the care taken by Bettys.
Tea for Two
When you enjoy the Betty's Lady Betty Afternoon Tea you are able to sample as many of the teas on their menu as you wish, which is a perfect way to try out new teas. My Mum and I really loved the Yo Luo which is a white tea that is very light and mellow, something that we wouldn't have normally tried. We also found new favourites in the China Rose Petal and Ceylon Blue Sapphire teas too. It's really fascinating to tantalise your tastebuds with new flavours.
The Lady Betty Afternoon Tea dining menu is set, but dietary requirements can be accommodated as you order.
Savoury Selection
To begin with we were treated to a beautifully presented prawn cocktail appetiser before moving on to our savoury selection.
The savoury selection included; Smoked Salmon, Cream Cheese and dill roulade and Miniature Pork & Apple Pie followed by sandwiches of Roast Yorkshire ham and tomato Pâté, Coronation Chicken and egg mayonnaise. All perfect portion sizes and more than a mouthful but still dainty.
We chose to enjoy a glass of champagne with our meal to make it extra special, I had a delicious Rhubarb Champagne Cocktail and my Mum chose the classic Premier Cru Champagne.
Scones and Cake Selection
Then is was on to scones, I love a good scone and these did not disappoint! There were two each to enjoy a lemon with a hint of zest and a rose scone, delicately flavoured with rose petals served with clotted cream and preserve. I polished off both of them, they were divine!
We were beginning to feel a little full, but space enough for the piece de resistance the cake selection!  These were a feast for the eyes as much as the tummy! They included;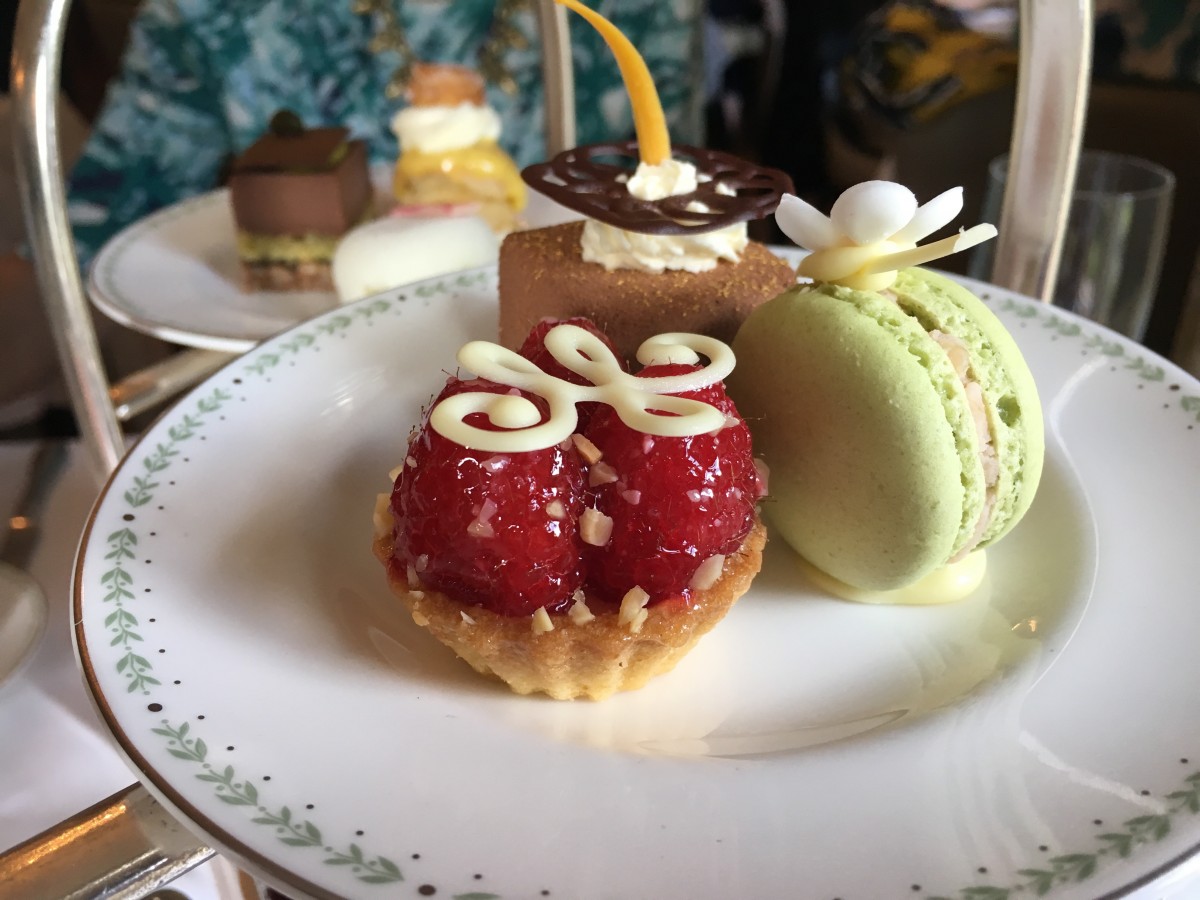 A Chocolate & Passionfruit Cube which was a rich, dark Grand Cru chocolate mousse with a passion fruit caramel centre. I loved this enormously, very moreish!
A Gooseberry macaroon; A dainty macaroon hand-decorated with an exquisite sugar blossom, sandwiched with gooseberry ganache and confit gooseberry. I can't wait to go back and eat this again very soon, it was as perfect as a macaroon can get.
Pistachio & Chocolate Dacquoise Slice; Layers of pistachio dacquoise, chocolate crémeux, and crunchy praline base, topped with a pistachio Chantilly and a delicate chocolate decoration. Sadly, I'm not a nut fan, neither is my Mum and we probably should have mentioned that, it looked amazing though and had my Dad have been with us it would have been his favourite, hands down!
Raspberry tartlet; Petit tart shell filled with custard and topped with fresh raspberries, finished with a white chocolate lattice. This is a classic and will always top my favourite list at any bakery, especially Bettys.
Rhubarb Cloud; A delicate rhubarb mousse dusted with white chocolate on a crisp biscuit base. This was a unique taste sensation, so easy to eat and meltingly delicious!
Lemon Religieuse; Choux pastry buns filled with a lemon Crème Diplomat on a crisp sable biscuit and glazed with lemon fondant. This too was a delight, I want one in my mouth right now!
All in all it was a total triumph and we loved every morsel of it (bar the nuts!) it was a complete treat and a happy memory of a wonderful afternoon with my Mum to enjoy for a long time to come!
Lady Betty Afternoon Tea Luxury on all Levels
The Lady Betty Afternoon Tea feels such a British delight. It was so relaxing dining at our leisure, taking in the softly moving carousel of the service around us whilst sipping champagne. It felt incredible luxurious whilst still being comfortable, a balance not easily met in fine dining settings.
If you were looking for a lovely treat to take your parents or grandparents to, or a super special dining experience with Mama friends the Lady Betty Afternoon Tea would be the perfect spot! Betty's is always my benchmark for afternoon tea at other venues and now the Lady Betty Afternoon Tea has arrived, I think it will take some beating!
You can see more of our gorgeous experience on my Lady Betty Afternoon Tea video below.
Lady Betty Afternoon Tea is available at Bettys Imperial Room in Harrogate and Belmont Room in York from Thursday to Sunday, to book a table you can visit Bettys booking website.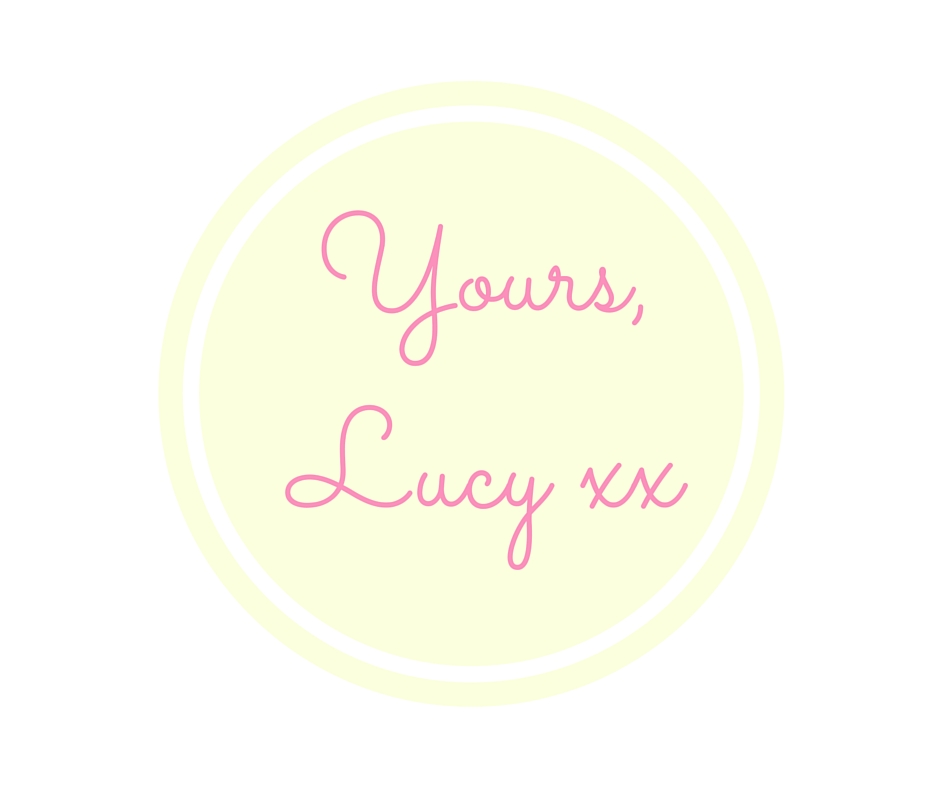 Disclaimer: Bettys kindly invited us to enjoy the Lady Betty Afternoon Tea with their compliments but the opinions are my own.