If you're looking for an alternative morning out with your kids locally then you should consider going to the Castle Gardens at Ripley Castle.
Ripley Castle currently open up their grounds for free on weekdays (excluding Bank Holidays) so it's a great place to take pre-schoolers whilst the bigger ones are at schools or somewhere different to head during the school holidays if you're looking for somewhere new to explore. The Small Boy and I went for a little wander around one morning last week and we had a brilliant time discovering some new open spaces to roam around in.
The Small Boy was excited to see a real Castle with a flag flying full mast. We enjoyed the beautiful views over the lake and we headed down to where it flows into a spectacular waterfall and the Small Boy marvelled at is as we stood right on top of it from the wrought iron bridge, it was very noisy but quite mesmerising with the Castle as its backdrop.
From there we followed the lake-side path towards the walled garden, where the vast lawns appealed but not as much as the boars head fountain! We headed on through into the kitchen garden area and he loved running around the herb bedded areas 'like a maze'.
Via the 'hot house' and after some admiring of the cactus' we headed into the woodlands, which are really huge, some beautiful redwood cedar type trees (which I failed to photograph, as I was distracted by the Small Boy's need for the toilet and lack of visible facilities). We followed the woodland through, which was quite spectacular in parts as some of the trees are so tall.
We stumbled upon a beautiful pillared structure, which I couldn't help feel all romantic about and spent sometime pondering who had sat in it in times gone by and pined over a long lost love a la a Jane Austin novel.
After a little further jaunt we came across the children's play area which has a few wooden rope bridges and planks to climb over in a mini assault course fashion, which kept the Small Boy happily amused for quite some time.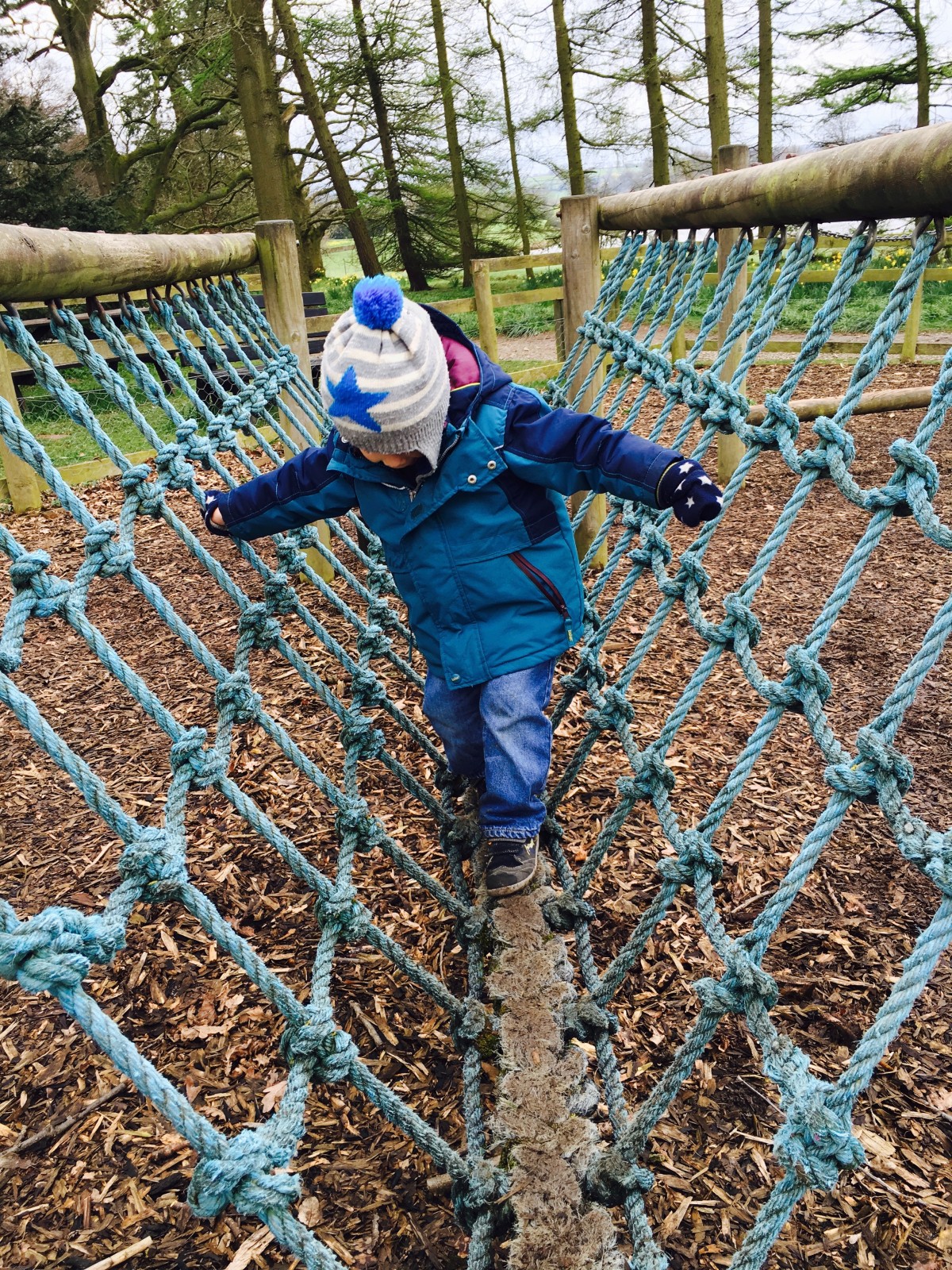 All that was left after that was a quick game of hide and seek on the way back to the Castle where we finished the morning off with a spot of lunch at the Ripley Tea Rooms. A perfect morning out, even if it was a bit chilly!
The shop is also perfect for a bit of gift shopping and the kids always love the little toy bits and pieces to spend their pocket money on.
I have been in the past with just my older girls and walked around the lake through the deer park, which is another great little walk – but a bit too far for the Small Boy at the moment. I will head back again and blog it properly before too long.
If you liked this post you may like to read about the Ripley/Harrogate cycle path with kids and what it's really like.
You can follow me on Facebook, Twitter and Instagram and check out my pages on Pinterest too.