I'm so lucky to have such a great relationship with both my parents. They live locally which means I get to see them all the time and often head of for coffee with my Mum and we catch up most weeks. I see my Dad all the time too – though we end up with less one to one time for no reason other than it's either me and Mum or the three of us, or the whole family or with my sisters and their families too.
One to One Time with my Dad
So it was really lovely that I had the chance to head out for lunch together, just my Dad and I and spent a good couple of hours just catching up. I'd really recommend trying to set some time aside with your Dad if you're able too – just one to one. It's something I don't do nearly enough and (I think!) we both love it when we do, I know I do!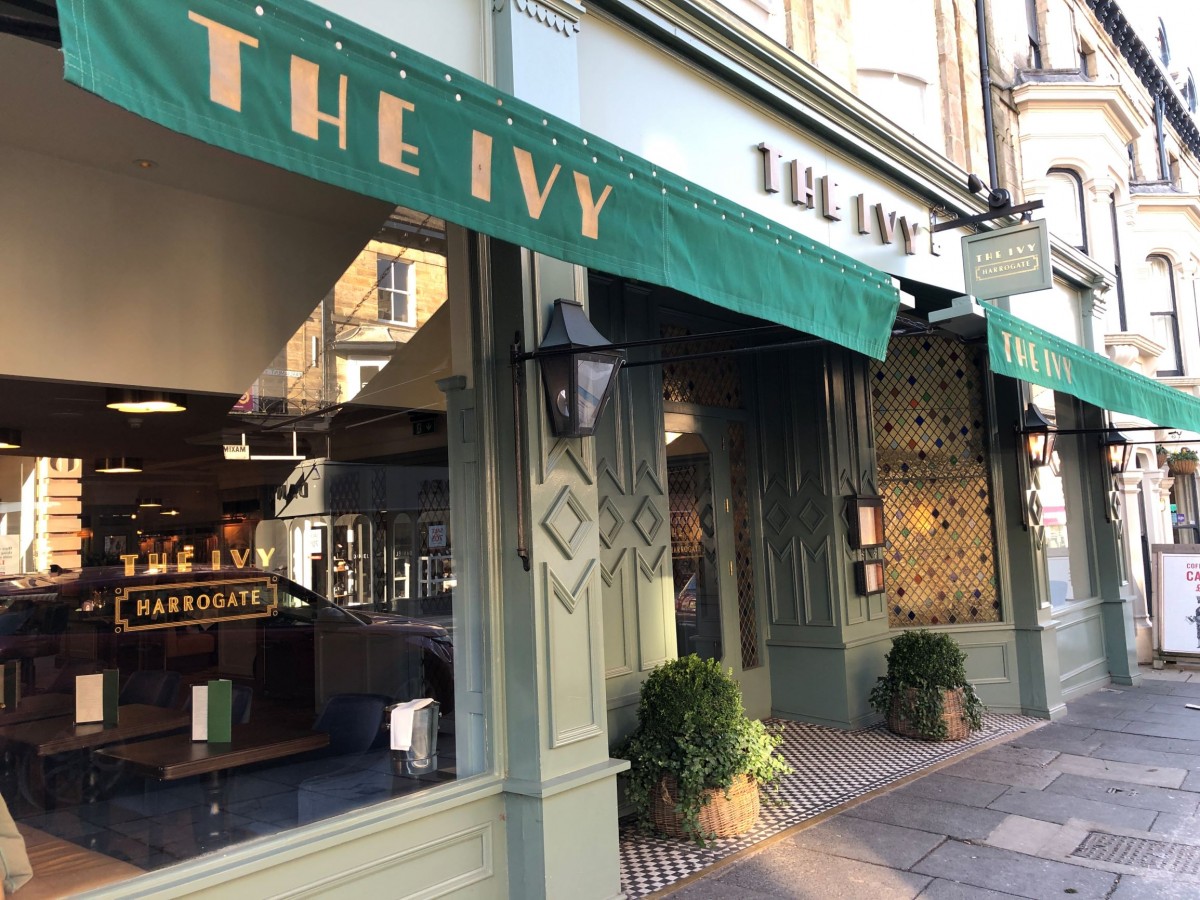 The Ivy, Harrogate
For our lunch date we headed to The Ivy, Harrogate – which is one of my favourite spots for breakfast, but neither of us had been for lunch – so it was great to try it out!
Champagne O'Clock
We started with a glass of The Ivy, House champagne; because life is for living, and whilst not always possible, it is what life's all about! My Dad loves his wine and knows a thing or two about it all, so I trust him when he tells me their House Champagne is really very good!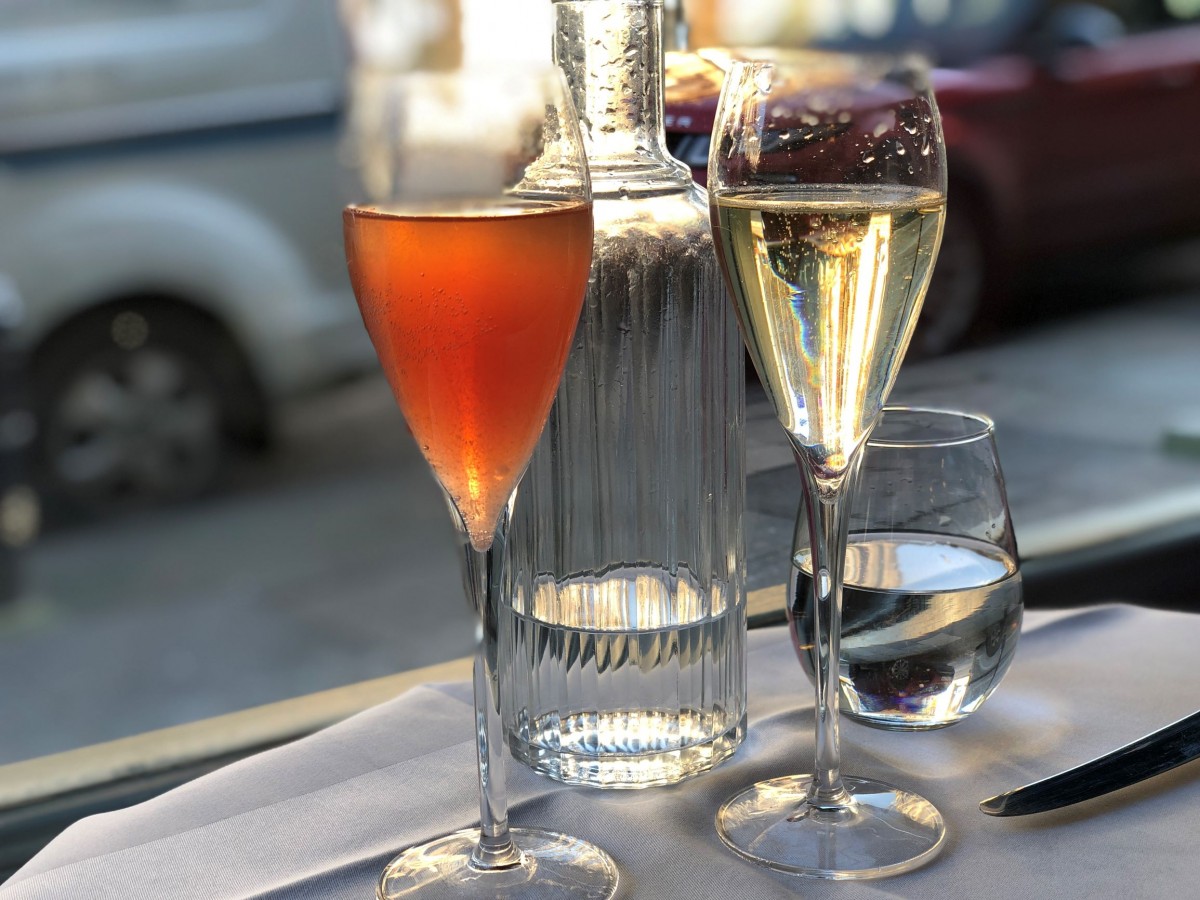 We both really enjoyed it – mine their signature Kir Royale served with with Briottet rose liqueur, Plymouth sloe gin & hibiscus, topped with Champagne. Pretty perfect in every way!
Starters Orders
Menu choosing at The Ivy  is always difficult as there are so many great choices to weigh up! In the end for starters I selected  the Marinated Yellow Fin Tuna. Which was served with a citrus ponzu dressing and wasabi mayonnaise with chilli and coriander, it was melt in the mouth good and the little tiny crisps on top add just the counter balance in texture and made the dish even more enjoyable!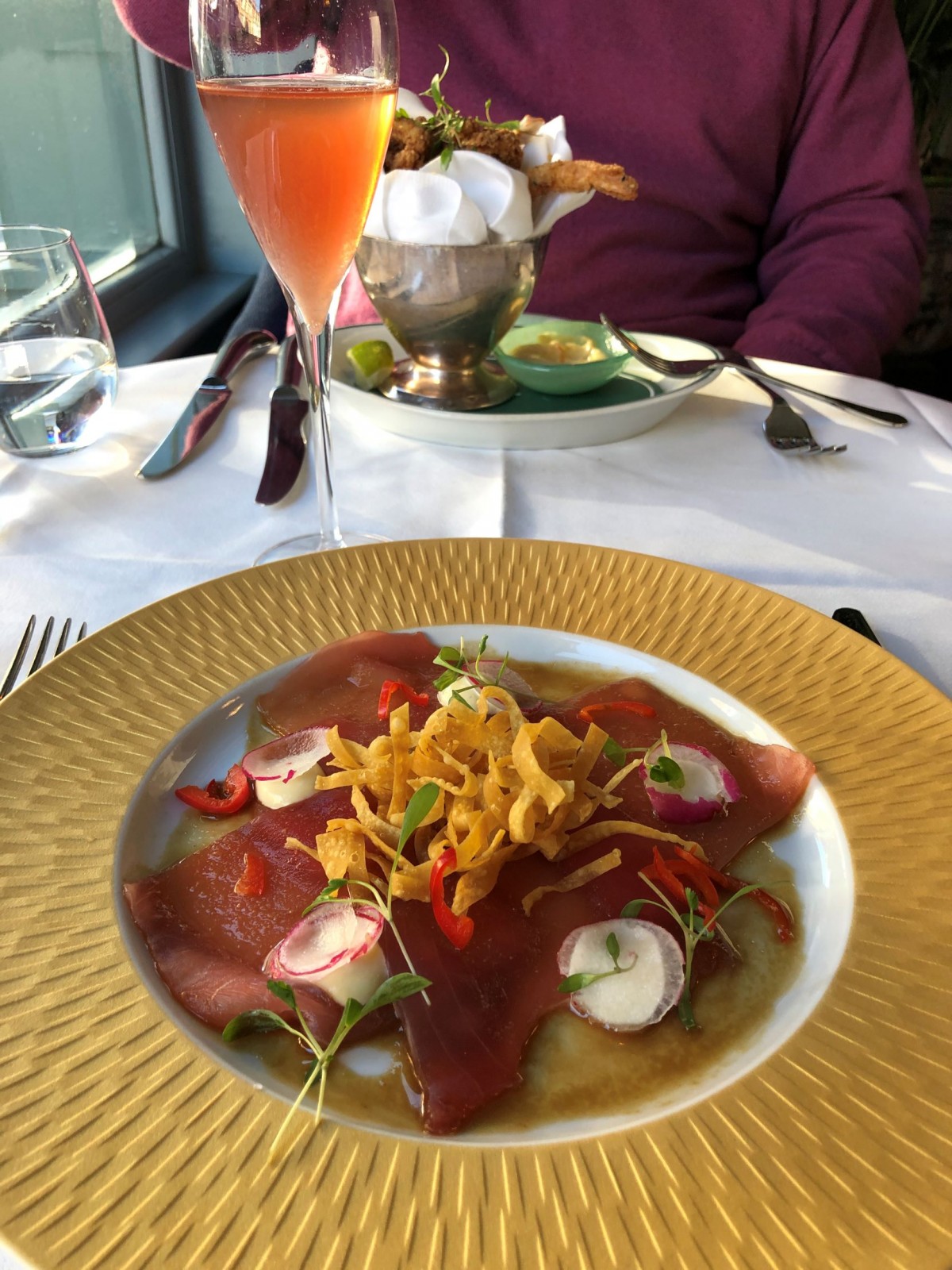 My Dad went for the Tempura Prawns with Salt and Pepper Squid, also served with wasabi miso sauce and Sriacha. He was keen to share how tasty the tempura batter was and said he'd order it again in a flash!
A Glass of Lunchtime Wine
After switching to a glass of white wine each, chosen again by my Dad, and really enjoyed we were on to our main courses! It was the Soave Classico, Suavia that he selected – which was light, refreshing and easy to drink. The perfect accompaniment to our fish main courses!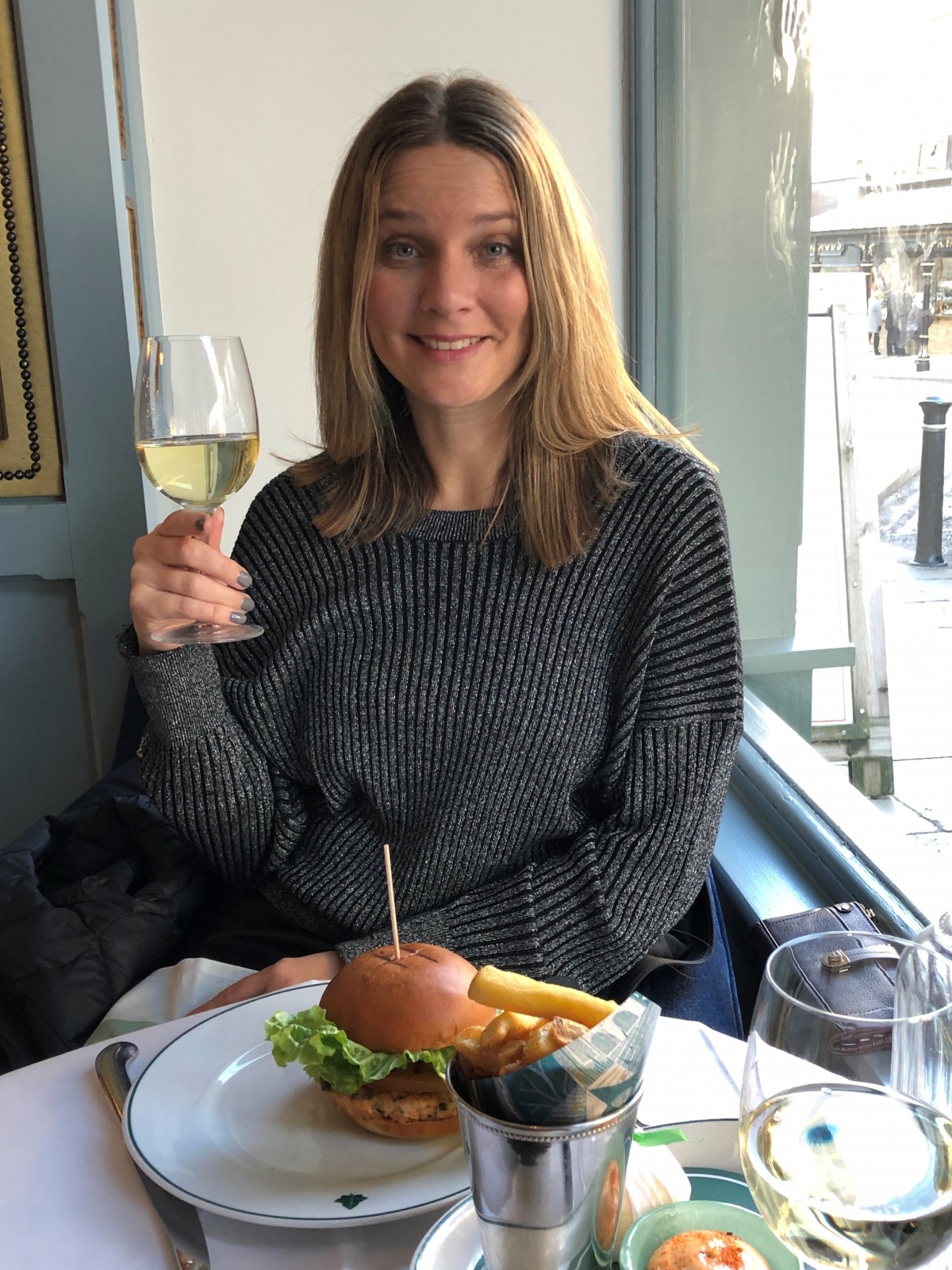 Time for Mains
I chose the Shrimp and Avocado burger, which was delicious. It came served in a brioche bun, with lettuce, tomato, rocoto chilli mayonnaise and a side of thick cut chips!
The prawns are made into a sort of pattie and (I think) fried or grilled and then the avocado is added to the brioche bun afterwards, so it gives that classic flavour combo a whole new way to be enjoyed! The chips were also cooked perfectly. I do love a good chip!
It's a great choice for a pescatarian – meaning you can get all the benefits of a burger, without the meat!
Blackened Cod Fillet, baked in a banana leaf was the order of the day for my Dad. The Cod was served with a soy and sesame marinade, citrus-picked fennel, grilled broccoli, chilli and yuzu mayonnaise   – he really enjoyed all the flavour combinations!
Dessert O'Clock
Finally it was time for dessert! I really must try some other items on The Ivy's dessert menu, but because I love the Apple Tart Fine so much I simply can't not order it!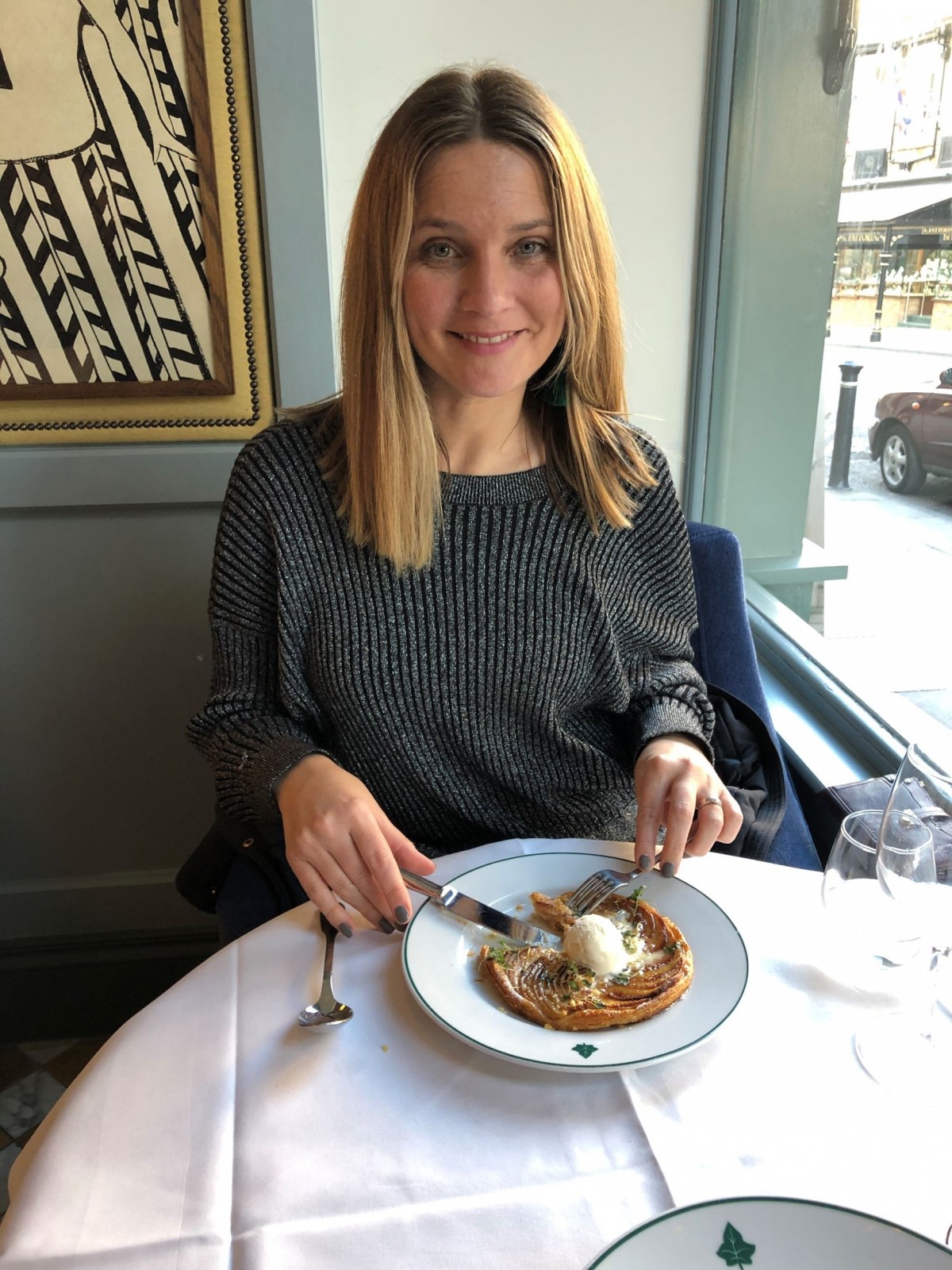 It's baked to order, so you need to allow extra time (14 minutes to be exact) and it's served flambeed with Calvados – which makes it taste just even better – and served with vanilla ice cream; classic!
It's the lightest most buttery pastry decorated with the thinnest cut apples and the whole thing just tastes sublime when you pop it in your mouth! It's not filling at all, just perfectly delicious!
My Dad was slightly more reserved and opted for the frozen berries, which come served with a warm white chocolate sauce and yoghurt sorbet! Which looked amazing and works as a great dessert if you're looking for a lighter option.
Perfect January Lunch Time
So all in all it was quite the perfect way to spend a Thursday in January! The setting was as beautiful as ever, we had a window table and the sunshine was shining out across Harrogate – a perfect spot for people watching!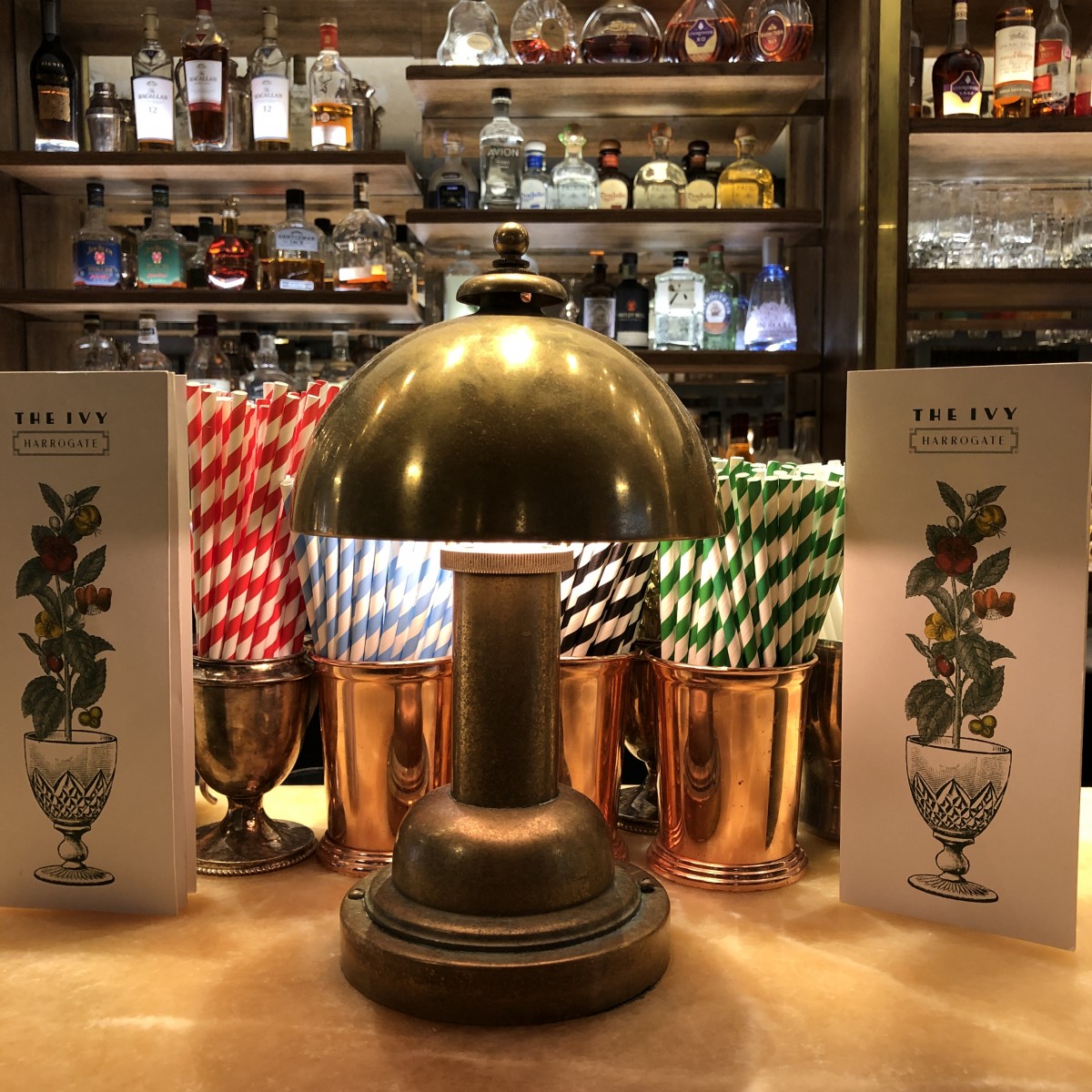 We had great service, with just the right amount of attention, not too much, but not too little and our waitresses were all really knowledgeable and friendly.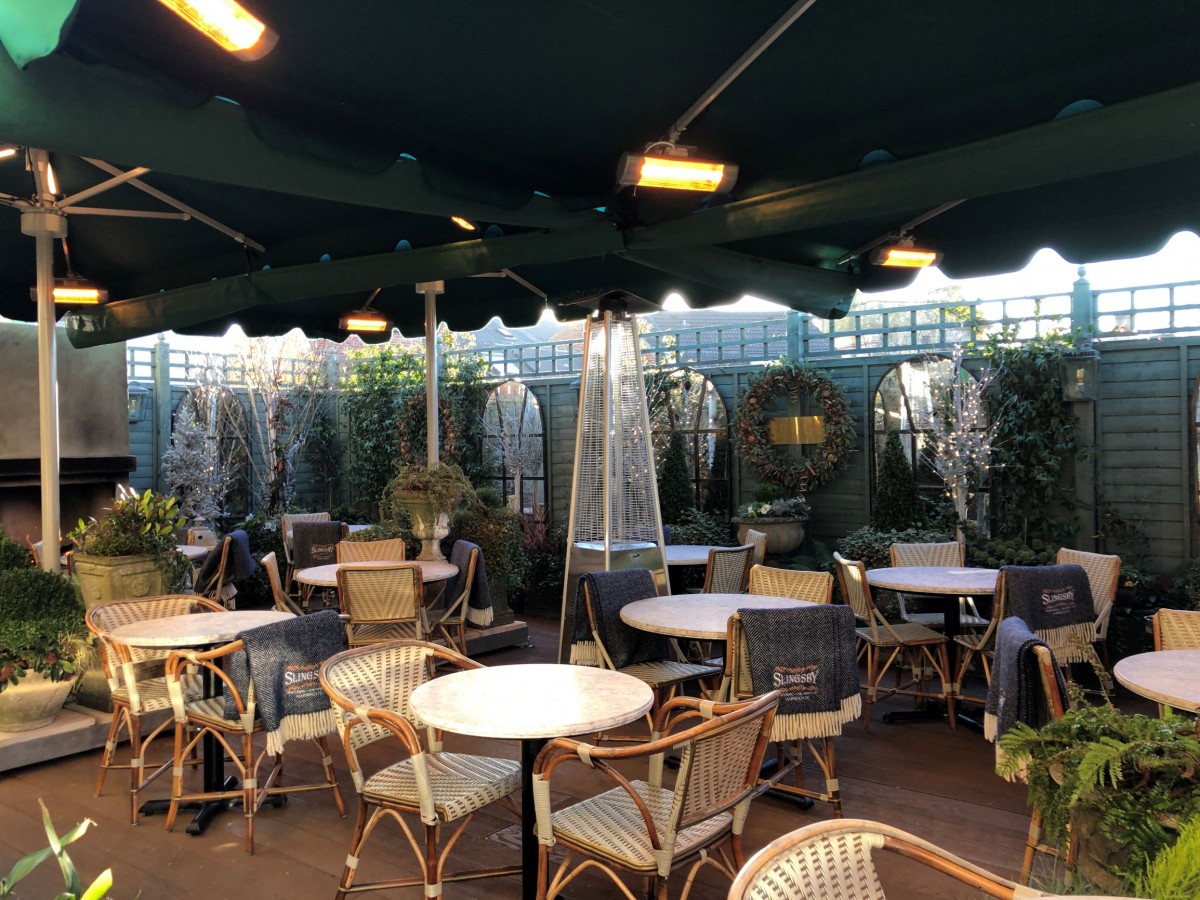 As we were leaving we popped out to visit The Ivy's beautiful courtyard! It's so very pretty and decorated with a winter garden them at the moment. Plus you can sit out by the warmth of the fire with blankets and get all cosy!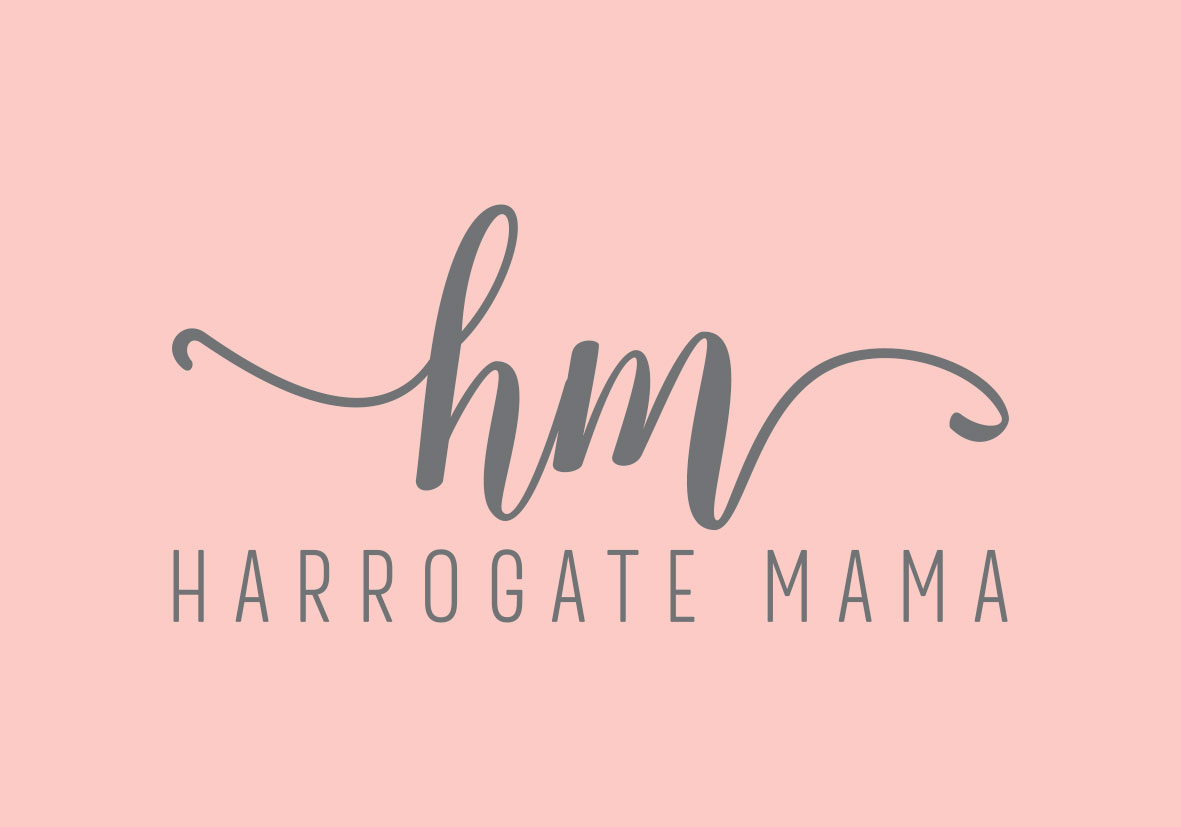 This post was written in collaboration with The Ivy, Harrogate. The views, as always, are my own.