Isabel Conneely is a Harrogate jewellery expert, she's a super talented Mama, marketeer and brand ambassador all in one. Starting out as a free spirited independent shop owner she's switched up and built her business to fit around her family and loves the independence it gives her.
In the third of my Amazing Mama's series Isabel tells me what it's like to run a business with many different hats on and the importance she places on her family life balance.
Tell me a bit about your background:
I grew up in Yorkshire and after always having a passion for retail decided that I wanted to focus my career in that area. After working for other people for a while I decided that I really wanted to branch out on my own so I set up and owned and managed my own shop, selling gifts and homewares in Leeds.
When my daughter was born, after taking her in to the shop with me most days until she was six months old, I realised that I wanted to get my life/work balance back in order. So I sold the shop and moved the business online so I could still be in the workplace but fit it around the children more easily.
Why did you choose to live in Harrogate?
I've grown- up with family ties to the area, as one of my grandparents lives here, and have always loved the town. I think it's a fairly safe environment to raise children and most people I've met and known all seem to have such a positive outlook on life and appreciate our stunning surroundings. We moved here just over a year ago I've really noticed the  great entrepreneurial spirit that's present here and love the amount of independent businesses around which all helps to create that positive vibe.
Tell me about Jewellery-works.com: 
My website Jewellery-works.com started out as an extension of the shop I had. One of the jewellery brands I stock is Danon, an Israeli family jewellery company who design and hand makes all their jewellery themselves. I also stock Belle & Flo and Rodgers and Rodgers too along with some other independent brands. I love all the brands I stock but Danon has a special place in my business as I also work closely with the Israeli brand directly.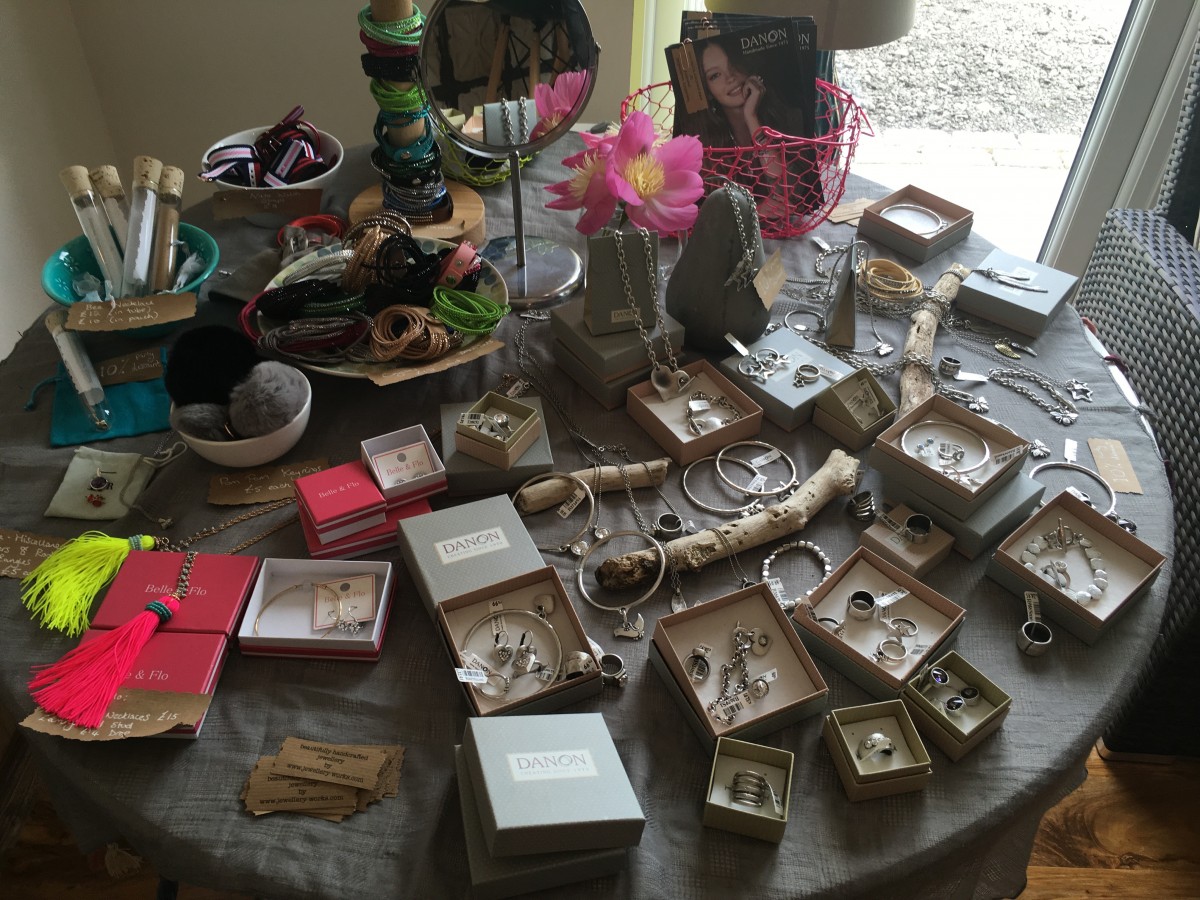 Can you tell me a bit more about Danon?
When my business was just starting out I worked alongside the UK distributor for the Danon brand. I built up a great relationship with this inspiring positive woman and I love her outlook on life. She has a really interesting background, after being brought up on a Kibutz in Israel she moved to the UK but kept her ties with the Israeli family who design and hand-make the Danon jewellery. This UK distributor really believes in the brand and helps the Israeli family work on designs and trends that would be a good fit the UK too.
I love the fact that Danon is still a family company and a brand that is independent at its core. They are based in Tel Aviv which from what I have heard and seen is a really cool city and definitely on my bucket list of travels. The quality is amazing and unique, the materials they use are mainly silver or gold platings, they use real gem stones and crystals too. It's now stocked by around 450 suppliers in the UK alone and it's one of my most popular brands in retail on my Jewellery-works.com site.
As well as your online jewellery business what else do you do?
As well as selling Danon via my online shop I also manage the social media platforms for the brand. I have created their Twitter, Facebook and Instagram feeds. It's a really creative part of my job and I love the interaction I get from suppliers and customers with the feeds. I'm always planning ahead for content and scheduling tweets and posts to make the most of my online time.
Some of this marketing takes my work off line too with hard copy prints of UK material, creating stock images, some customer relationship marketing with UK suppliers and admin too. It's a great variety and I love designing the mood boards and coming up with creative themes and tie-ins to current events.
I've recently worked with the brand on copywriting descriptions for their website and am also working towards the launch of their UK website. We are attending the London Fashion Week this year which will be a really good source of inspiration and a great experience for us to grow the recognition of the brand too.
Occasionally the Danon family come over to the UK to see what the market is like over here and  that's when I really feel like part of the team, I feel I have some influence and can show them what the market is moving towards in the UK. I really enjoy working with such like minded people and love to see the potential of the brand and watch it growing, bringing ideas and being a part of the process of success.
What are some of your most popular jewellery pieces?
The grey, crystal swarovski charm is popular and very versatile. I also love the wrap ring and the bangles are always great sellers.
People like to build them up and buy a few over time, they do look great all worn together. Most of the range are classic pieces that I keep coming back to time and again.
The recognisable pieces are the signature hearts and we have a really big following for the collections. Our new bees are proving popular and we have some very exciting new designs coming out in the Autumn time…watch this space!
The grey, crystal, Swarovski charm
What do you love most about your job?
I love that I have lots of different areas to focus on and that no one day is the same for me in a typical day. Sometimes it's creating graphic boards for a social feed, other times it's dealing with the suppliers or speaking to the UK distributor about new ideas.
I get great job satisfaction out of seeing the retailers succeed; they are all independent businesses and mostly women and I find it really inspiring to see women helping each other achieve as it's all so cross promotional. We're also all linked to this over arching independent family business which makes you feel part of a much bigger team.
All of my job is an  extension of my own online store – which gives me a unique perspective, I know the product, I know the brand, I know what it's like to be a supplier and I know what it's like to be a distributor all that makes me uniquely placed and passionate to help the brand grow even further in the UK.
Do you work with any other brands?
Yes, I offer a freelance service for other companies too, whereby I can manage their social media accounts for them – or kick start their campaigns if they need a helping hand in that area. I also offer the skills to set up a retail/e-commerce website. All with a tiered level of working which can be bespoke to suit any client. I'm currently working with a couple of other businesses on creating some ideas to fit their briefs as well as redesigning my own website.
What does an average day look like for you?
I'm up and ready at 7.30am checking my emails for orders or responses I need to action first thing, after I take the kids to school in the morning I come home, quickly do the usual household chores, make a strong fresh coffee and then sit down at the Mac to get started for the day. I write my to do lists to prioritise the day, a lot of my day can be taken up with the social feeds, scheduling and posting and planning, but as no two days are the same it's hard to be clear on the routine for this!
I pick the kids up from school and ferry them around to after school activities and then usually I get an hour in catching up on some work before bed. Twice a week I take time out for myself to go to Pilates and Hiit classes, I meet my friends for a quick catch up (I think it's important to fit in this adult time to chat). I often walk into town to clear my head and get some fresh air. I really love the variety and that I can be around so much for the kids whilst fitting in my work around them and managing a busy household.
What other local independent businesses do you champion?
I love Hoxton North Coffee, they're always friendly in there and they do good strong real coffee. I can't wait for them to move into their new premises on the Crown Roundabout. I love the shop Owl which is brilliant for Men's clothing and they do a really stylish range for ladies too, they stock unique Italian designers and independents, I think their range is really cool and understated at mid range prices.
The shop Bijouled in Harrogate is lovely too – they stock Danon as well as other gorgeous jewellery brands. They have this little secret room at the back which is definitely worth a peek next time you're in!
Rudding Park is excellent for quality and service, a great venue for the book club meetings I go to, their Spa is excellent for back massages. I think they do the best Sunday lunches and I was recently there for a baby shower too – which was a perfect venue!
What advice would you give to anyone who wanted to start up a business for the first time?
Make sure you've got the time and energy to put into it to do the job properly. It's really important to make sure there are aspects of your business you're passionate about and you really enjoy and to keep focussing on them. Treat people fairly, customer service and promptness is so important in every aspect, you will always be remembered for this – it is KEY!
What's your favourite thing to do locally with the kids?
We love being able to walk to town across the stray and going out for lunch or heading down to the Valley Gardens. The kids love Crepes and Creams or lunch at Cafe Marconi the pizza is the best and all homemade, it is so reasonable and child friendly, I love the fact they do the free drink deal with the pizza…a nice glass of wine for me! It is great that Harrogate is getting all the new restaurants, mostly they are really decent chains but it is so important that we still support our hardworking independent places, these ar the places that have originally made Harrogate so special.
Cycling is another popular choice at the weekend we all enjoy riding on our bikes to Fodder for a sandwich (and cake) or heading off to Ripley if we fancy a longer trip. If it's raining the kids love the roladisco at Harrogate High School too.
I think the beauty of living in Harrogate is that everything is on your doorstep and there is always a choice of activities. Harrogate gives us the space and freedom to enjoy being outdoors and that's something we appreciate enormously.
Where do you see yourself in five years time?
One of my other passions in life along with jewellery and brand building, is Spain. When I was younger I spent quite a lot of time in Ibiza and I think that way of life (away from the clubbing side of the island) with a relaxed bohemian feel really fits me. I think that's why I think I feel such an affinity with Danon, the style of jewellery lends itself to a more informal, relaxed pace of life.
With that in mind I study Spanish and would love to become fully fluent in the language and one day return to Spain and own a property over there. I'm currently recruiting for a sales team in Ibiza with hopes for the future to be working out there more often.
Mostly, like everyone, I hope for a happy, healthy future for me and my family. I'd love to travel to more destinations,as this creates inspiration for me, and continue to enjoy working in an area I'm truly passionate about.
–
Isabel's Jewellery-works.com business is offering Harrogate Mama's a 10% discount on all orders placed and free delivery! All you need to do is enter the code HARROGATEMAMA at the checkout!
You can check out some of the Danon pieces and Jewellery-Works.com pieces featured on my blog post A Harrogate Jewellery edit perfect for a Summer's Day – with Discount Code