Not my usual cheery post, but a really upsetting one.
I can't use the word Hac*k*d on this post as the poor unfortunate souls – who are these people, just spam me – as another way to attempt to extort money. So bear with me while I try and write about being *you know what* without mentioning the word!
Last Friday night I was distracted, and in my haste I was phished on Instagram. I gave my account details to a F*cke* (my other word for these people!) after being scammed into thinking they were Meta (Instagram's parent company who also own Facebook).
On Saturday I woke up to the WhatsApp message – detailed below, these people had my phone number and my Instagram account and I was being held to ransom for it – blackmailed.
For the record, it's a hideous feeling being blackmailed directly in to your phone. I screenshot this, didn't engage, blocked and reported the number.
Lost Account
After trying all the Instagram helpdesk options to me to recover the account I've now discovered that the account is beyond my reach. The HarrogateMama name has been changed, the email address linked to the account has been changed, the email recover process will no longer work and the last hope; the selfie verification process is constantly producing an error message.
They deleted my phone number associated with the account and setup two factor authentication to their devices. I am powerless and I can no longer access my account.
Instagram offer no other help options beyond the online helpdesk this means that there are no email addresses and the number you can call when all this fails is a 'bot' (not a real person) . I can't even report the account as I don't even know the 'new' name of the account.
During my extensive research in trying to retrieve my account I've discovered I am not alone in this process. It would seem, this is a usual route the **ckers take and many, many accounts have fallen at their keyboards, yet Instagram haven't even manged to fix their selfie verification process yet, let alone put any other precautions in place.
All I can say is that the immense disappointment of losing what you built is beyond words and it's doubled with the extreme frustration of not being able to do anything about it.
I'm not talking about my cancer diagnosis on here, but I will share that the blog and Instagram has been one of the things that's brought me a lot of joy in recent months, in what has otherwise been a really dark time – despite appearances.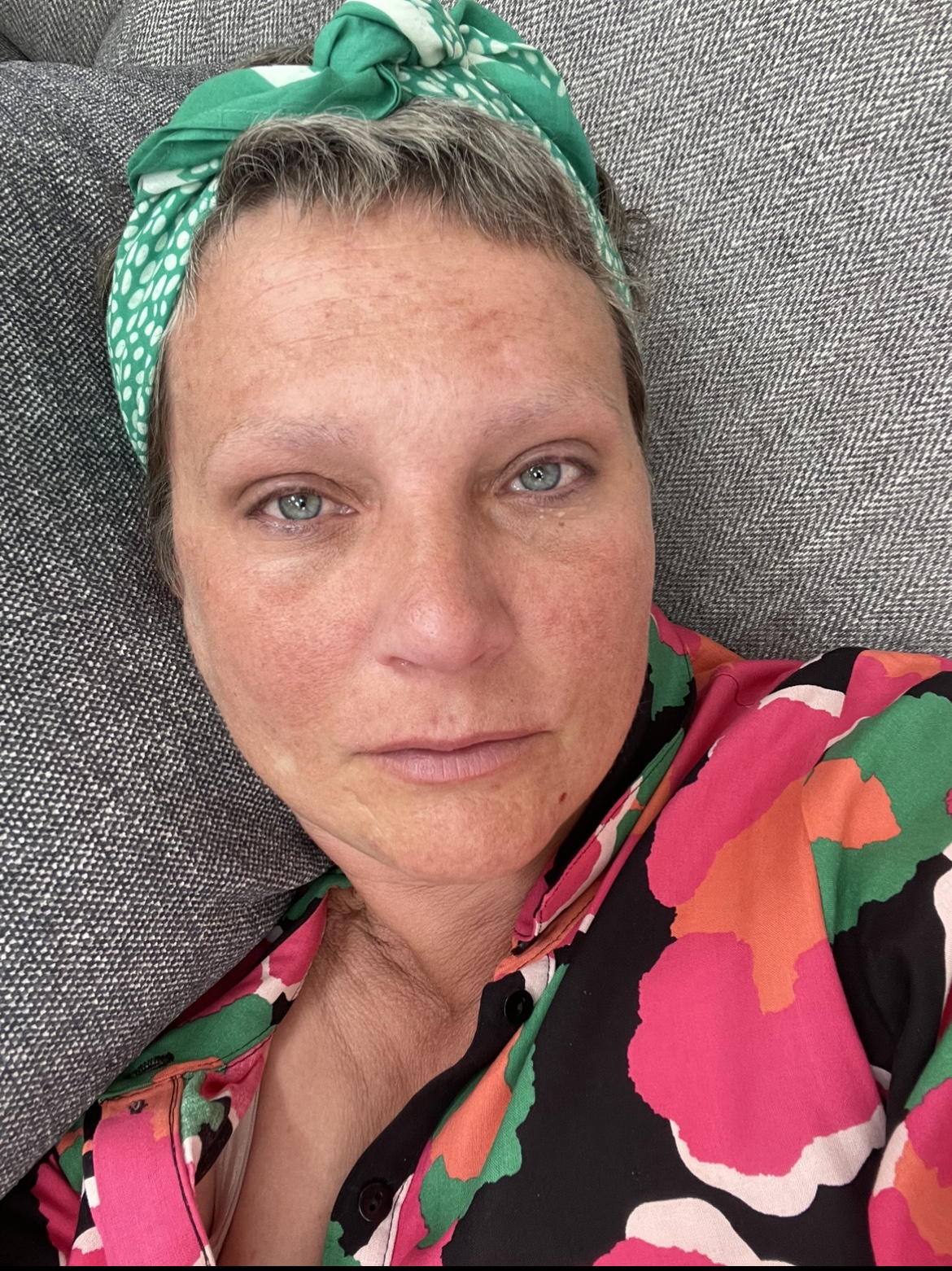 Lost Memories
Many people will say, it's just an Instagram account – it doesn't matter. But to me it does. I set up my account six years ago and have grown a small, 6k, but loyal following. Sharing my life and what's going on in Harrogate with like-minded people has been a joy to me and to others. I've built a brand around it and it really has been a serious amount of work.
Building the account over six years means big brands want to work with me. It's brought me a minimal income. It also has brought so many lovely opportunities for me and my family.  I'm really devastated. I spent most of Saturday crying and a good chunk of Sunday too.
For me it's memories lost, a loss of personal connections, a loss of years of work, a loss of the chance to work with brands again.
The really sad news is there's not much hope of getting it back. I reached out to a couple of people who might know someone at Instagram – which seems to be the only avenue in to such help. I have contacted the police, from a blackmail point of view (just an online form) and have a crime reference number. Not that that will stop the **ckers!
How you can help?
In the meantime I'm going to start over – which pretty much kills me to say, as six years work doesn't come back in a hurry. I'm so sad about it.
Three things you can do to help me;
If you know ANY way or anyone to help me contact Instagram please get in touch
Follow me on my new account – HarrogateMamaLucy (I can't change it to HarrogateMama – this account was formally my HarrogateMamBabyClub account)
Tell people you know to follow me on my new account – HarrrogateMamaLucy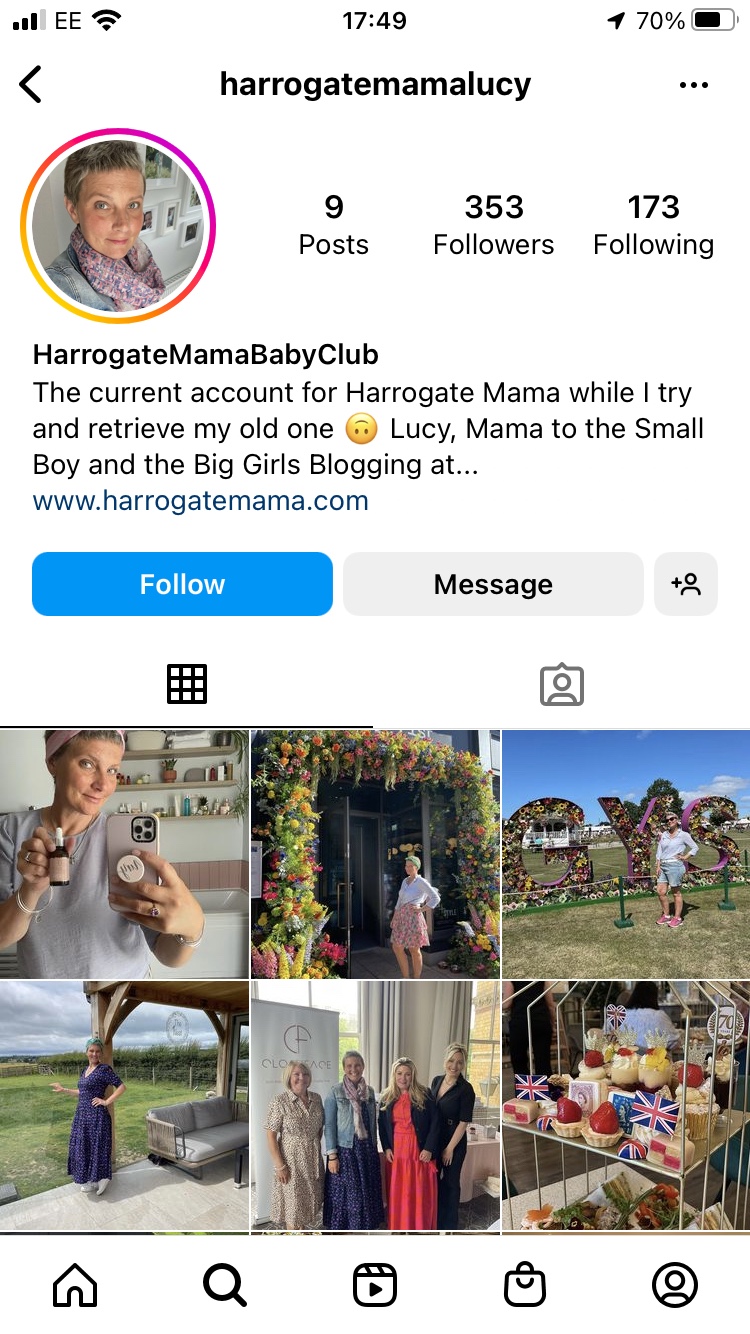 This is where I'm at, it feels like a long way to go 😥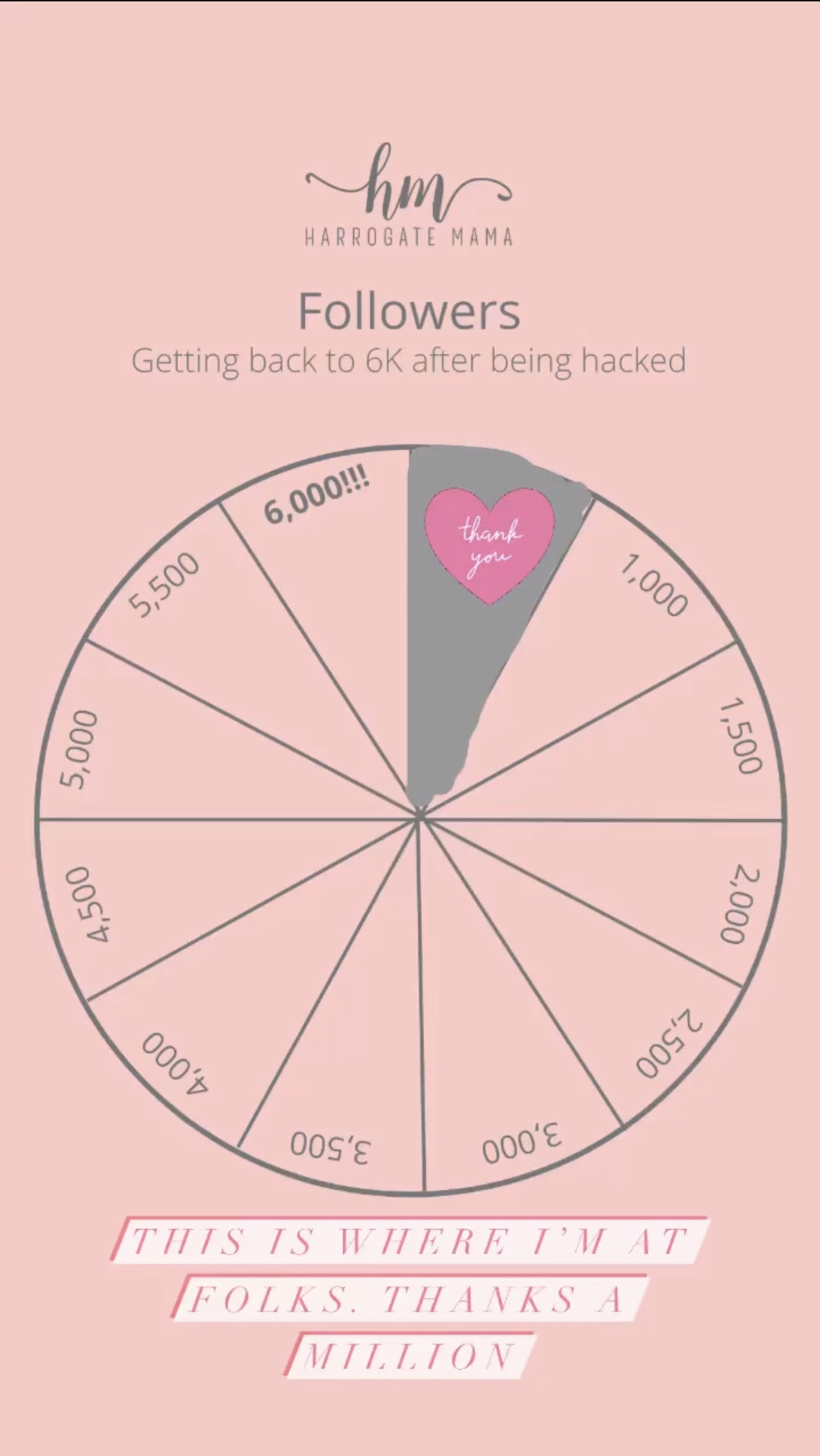 Thank you 🙏 I know you lovelies are amazing and I really value all your support. ❤