When we were invited in to find out more about 63rd+1st, in Harrogate I wasn't entirely sure what to expect; so we were totally thrilled to discover fantastic food, superb service and delightful decor!
I simply don't know why more people aren't talking about this new-ish addition to Harrogate's restaurant scene! It's really exceptional!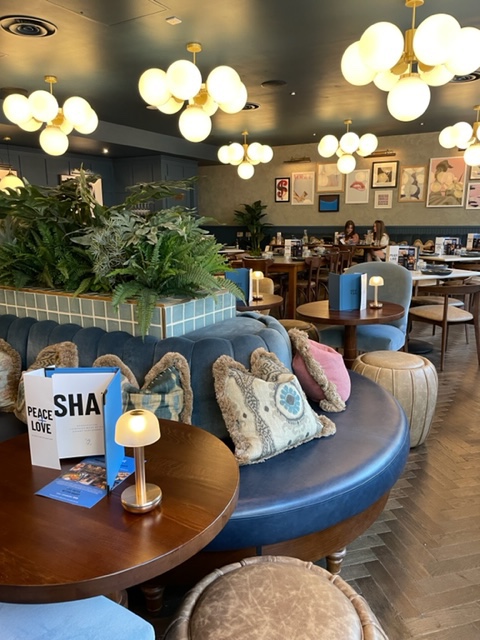 It's one of only four restaurants in the group, it's led by a small team of hospitality and leisure industry experts (the other restaurants are in Edinburgh, Glasgow and Surrey). Each restaurant has its own individually tailored menu!
Five things you need to know about 63rd+1st in Harrogate…
1 – Firstly the Food
The food at 63rd +1st is honestly some of the best I've had in Harrogate for a long time! It's a combination of fresh, tasty flavours that make your mouth pop, which were all amazing! It's American inspired with Manhattan at its heart.
From the menu we started with a few sharing plates; Jammy Chicken Lollipops + Chilli Jam (£7.50) which the family assured me were delicious, if a trifle spicy for the Small Boy.
The Hummus + Squash + Pomegranate+ Pumpkin Pesto + Flatbread (£7.00) was a HUGE hit, so much so we ordered it again for the Small Boy's main meal, a highlight of the meal for me too!
The 63rd+1st Pretzel + Cheese Dip £(5.00) was quite honestly THE BEST pretzel any of us had ever had – so naturally we ordered two!
For mains we enjoyed the 63rd+1st Burger; 100% Prime Beef Steak Patty + Lettuce + Tomato + Swiss Cheese + Crispy Onions+ Chipotle Mayo + Seeded Bun  (£12).
The Buttermilk Chicken Skewer Grilled Tortilla Wrap + Soft Herb Salad + Chimichurri + Crème Fraiche (£10.50) went down a storm and were wolfed down!
I enjoyed the Haddock Finger Taco +Pea Guacamole + Spicy Tartare Sauce (£9.00). The soft salad and crispy haddock served in a tortilla were delicious and such a fab taste sensation, I'm definitely going back for this soon!
We ordered a couple of sides of fries to go with our mains, and these were voted hands down the BEST fries we've had in Harrogate! Loaded fries + Chipotle Mayo + Crispy Onions (£4) and Loaded Fries + Candied Bacon + Garlic Mayo  (£5).
We save just enough room for desert the NYC Baked Cheesecake Blueberry + Aviation Gin Compote (£7) was as tasty as it was pretty.
I almost over reached with the 'as good as it sounds' Banana Taco Salted Candied Pecans + Caramel + Vanilla Ice Cream (£6) – I don't think I need to say any more!! It was sensational!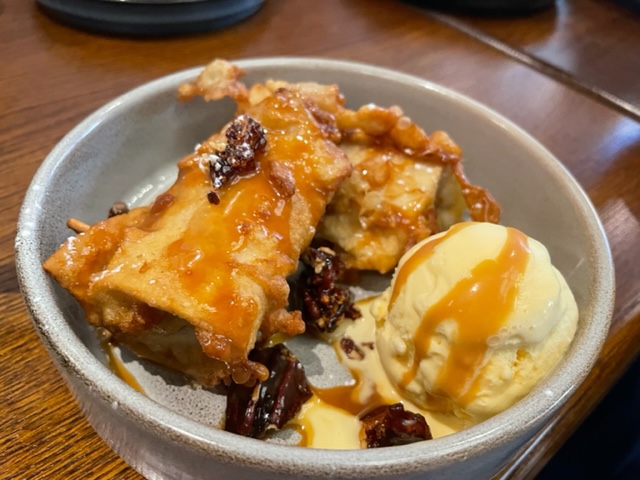 By far and away the most popular pudding was the ice cream flight! The kids adored being able to create their own combination of ice cream, sauces and toppings. The choices were endless, they had as much fun choosing, as eating them! A huge success!
I can't speak highly enough of the food, it was ALL really, really good, making 63rd+1st top of our list of restaurants to visit in Harrogate.
2 – The Decor
When we visited the amazing local florist Helen James had installed a floral entrance archways, which is BEAUTIFUL. I hear rumours that there is even more to come on that front, which would be incredible.
Inside is a Manhattan vibe, with some booth seating, long tables with comfy benches and cushions, which all make for the perfect social space for sharing plates!
3 – The Cocktails
63rd + 1st have an astonishing number of cocktails on their drinks menu. Even better there are food and cocktail pairing suggestions. The bar looked well stocked and beautiful too!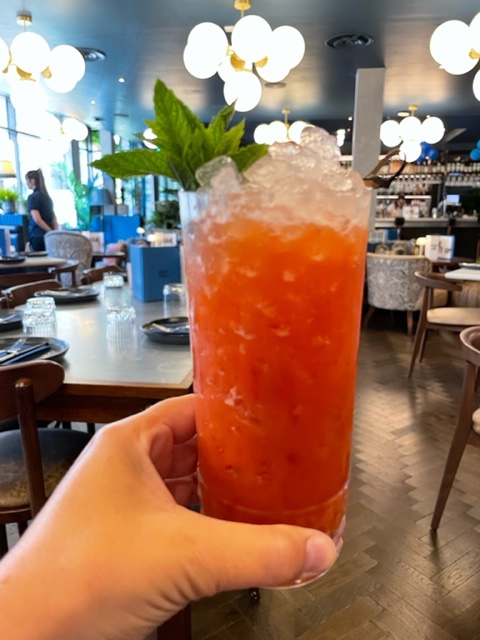 We enjoyed a couple of cocktails from their No + Low menu the Sweet by Choice; Passion fruit, raspberries, apple, lime (£6) was a real crowd pleaser and as easy to drink as it sounds.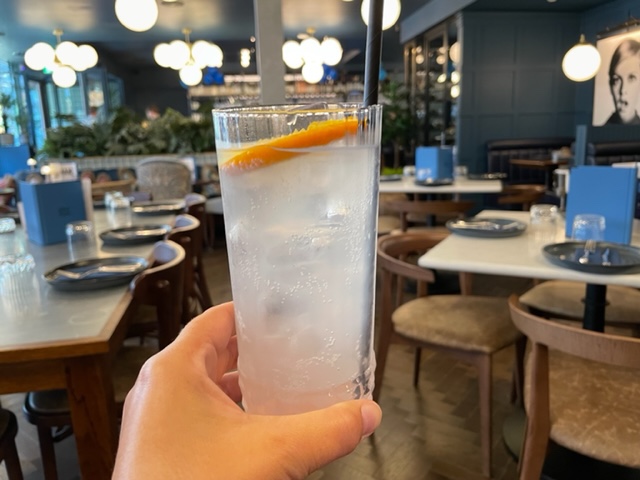 I tried the Grapefruit Seltzer, Pamplemousse Rose liqueur, Ting grapefruit soda (£6) it was really refreshing and it was really great to have a few low-alcohol options to choose from.
You can also get sharing jugs for larger groups – which looked a great option!
4 – Value for Money and Great for Families
We found the menu to be reasonably priced, my Tacos at just £9 were a great price point and the sharing starters at around £7 each were all good value.
Plus because there are a combination of sharing plates and individual meals it makes mix and match options really easy, pleasing all ages.
5 – There's LOADS more of Offer from 63rd + 1st
If lunch or dinner aren't your bag, and I don't know why they wouldn't be 😂 then there are a host more ways to enjoy 63rd+1st including; Bottomless Brunch, Sunday Roast and their Grazing Menu to name but a few. Plus there's also a Lunch Club where they offer their favourite dishes for £4 when you order two or more!
And 63rd +1st also have a 2 for 1 cocktail Happy Hour Sunday – Thursday noon – 7pm!
I'm honestly delighted with this latest addition to Harrogate and one I'll be visiting again a LOT in the future and highly recommend that you give it a go too!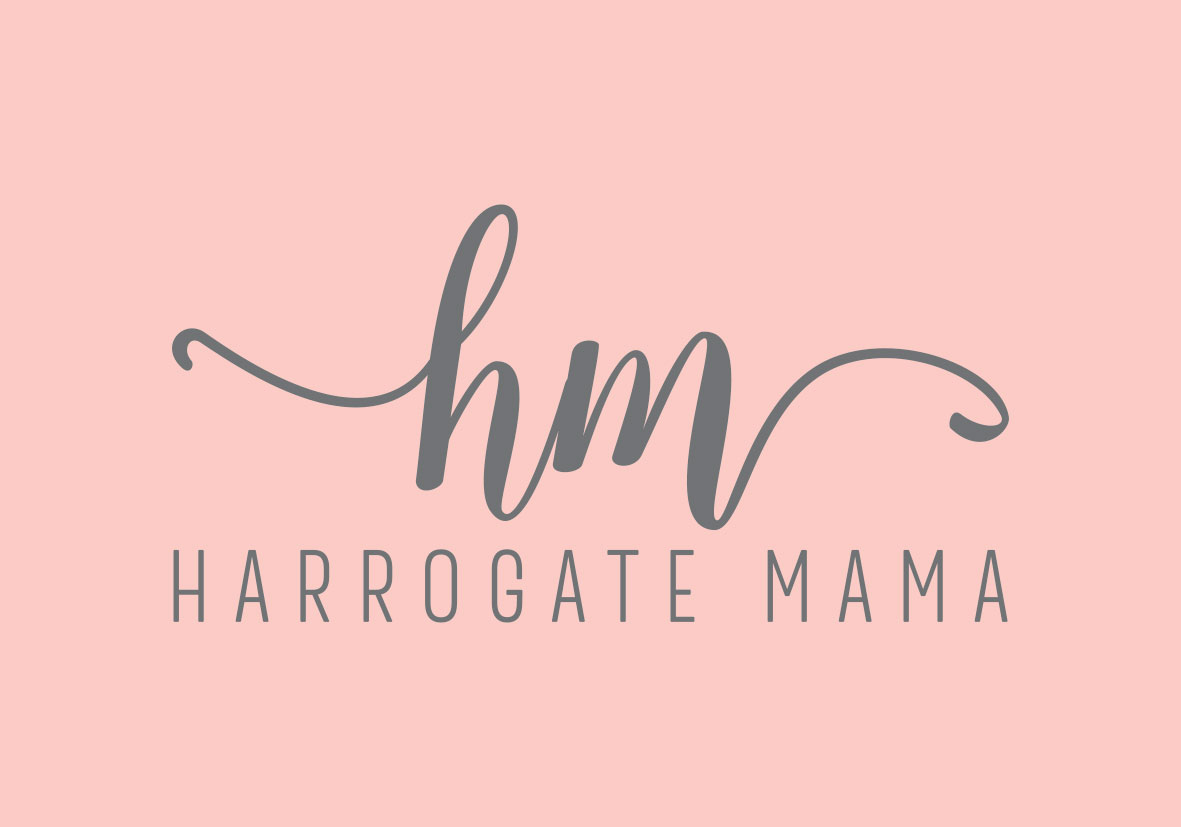 63rd+1st invited us to dine with their compliments, the review as always is my own.