Sunday's were made for families and roasts in my opinion, so naturally Sunday lunch is the best way to enjoy both, and all the tastier when someone else cooks it for you! Hurrah!
The Punch Bowl Inn
Last Sunday we were invited to The Punch Bowl Inn at Marton cum Grafton for a classic Sunday roast with all the trimmings in the gorgeous surrounds of the traditional Inn.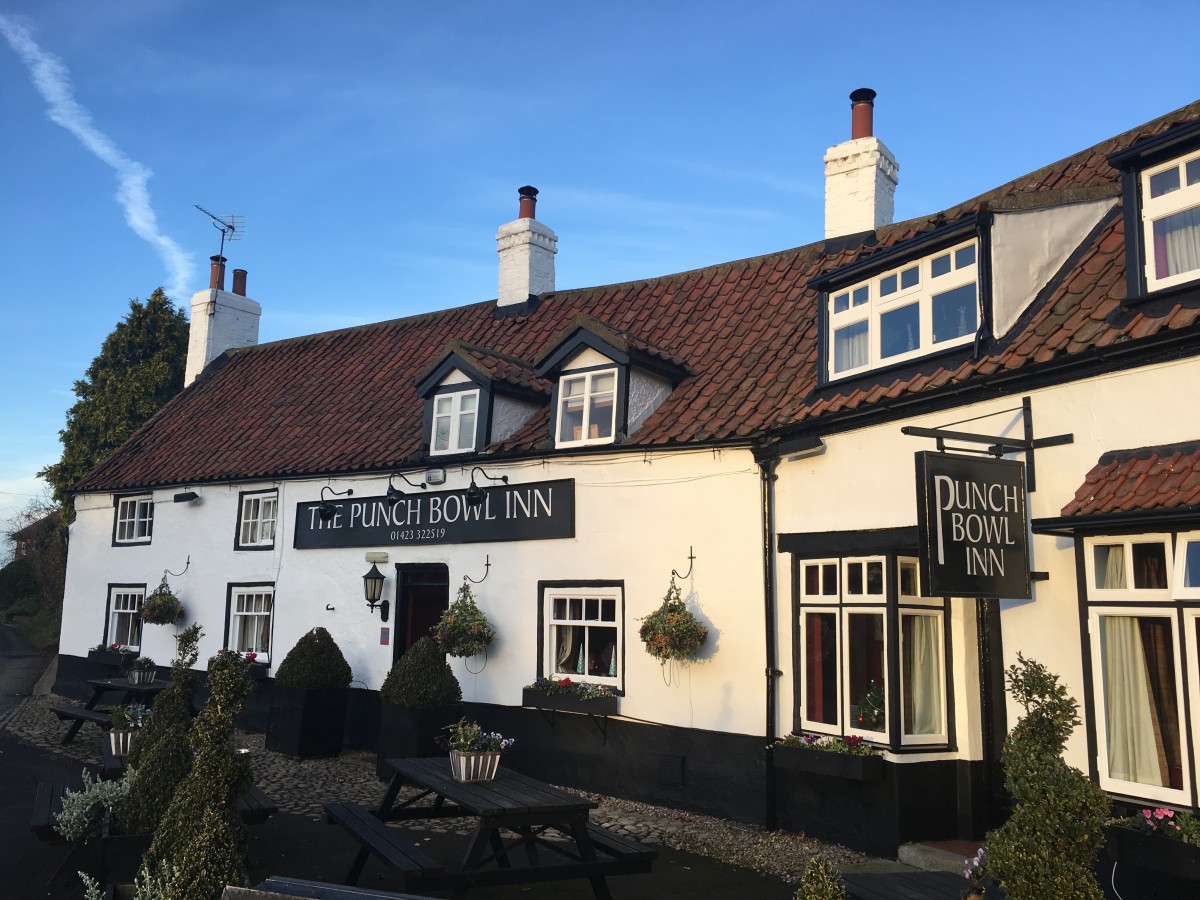 The Punch Bowl Inn couldn't be any more quintessentially English if it tried, it's set in a postcard pretty village north of Harrogate, just off the A1, towards Boroughbridge – so it only took us about 20 minutes to get there.
Warm Welcome
The Inn is as gorgeous on the inside as it looks from the outside and is a sister Inn to the West Park Hotel in Harrogate. Upon entering you're greeted by a host of cosy snugs, wooden tables, roaring log fires and a warm welcome. The Smalls were made to feel as at home as the grown ups with colouring and Christmas crackers.
We were welcomed with drinks at the bar, lemonade for the Smalls and festive mulled wine for the Mamas in the house, then we were seated at a round table, very important when you're a family of five, and we set to ordering.
Sunday Lunch
The menu is extensive for Sunday lunch, with starters ranging from classic prawn cocktail to roast pumpkin risotto and the traditional Sunday Roasts included; sirloin of Beef, loin of Pork and traditional Christmas Turkey. There were an additional five non-roast choices too ranging from beer battered Fish to Game Pie.
Complimentary Wine
Two courses are £19.95 and include a free bottle of house wine when two people order two course each; great value! The prices for the Smalls were even more reasonable, with kids starters and puddings just £1.95 and main courses between £3.95 and £5.95 each!
Great Value for the Smalls
I don't know about yours but mine LOVE a Sunday dinner – it's one of their favourite meals, so it was roast Turkey with all the trimmings for them.
They're also suckers for a tomato soup so they each decided to start with that – despite my suggestion that it might fill them up! However one of the Big Girls declared it was the tastiest tomato soup she'd ever had and finished the lot!
Tasty Traditional Roasts
Not one to go against the grain Harrogate Papa joined in on the soup starter too, white onion and cider for him – again, it was rated top  notch and I went for a more Mama friendly poached pears with Harrogate blue cheese salad and candid pecans – it was really good!
Despite being a (not very good) vegetarian I do love a Sunday dinner myself too – without the meat obviously! So The Punch Bowl Inn kindly accommodated my request for grilled fillet of Salmon (which was cooked to perfection) alongside roast potatoes, winter vegetables, cauliflower cheese and a Yorkshire Pudding as big as my head!
Harrogate Papa, being a traditionalist, plumbed for the Christmas Turkey too and loved every mouthful, a particular highlight being the Yorkshire Pudding!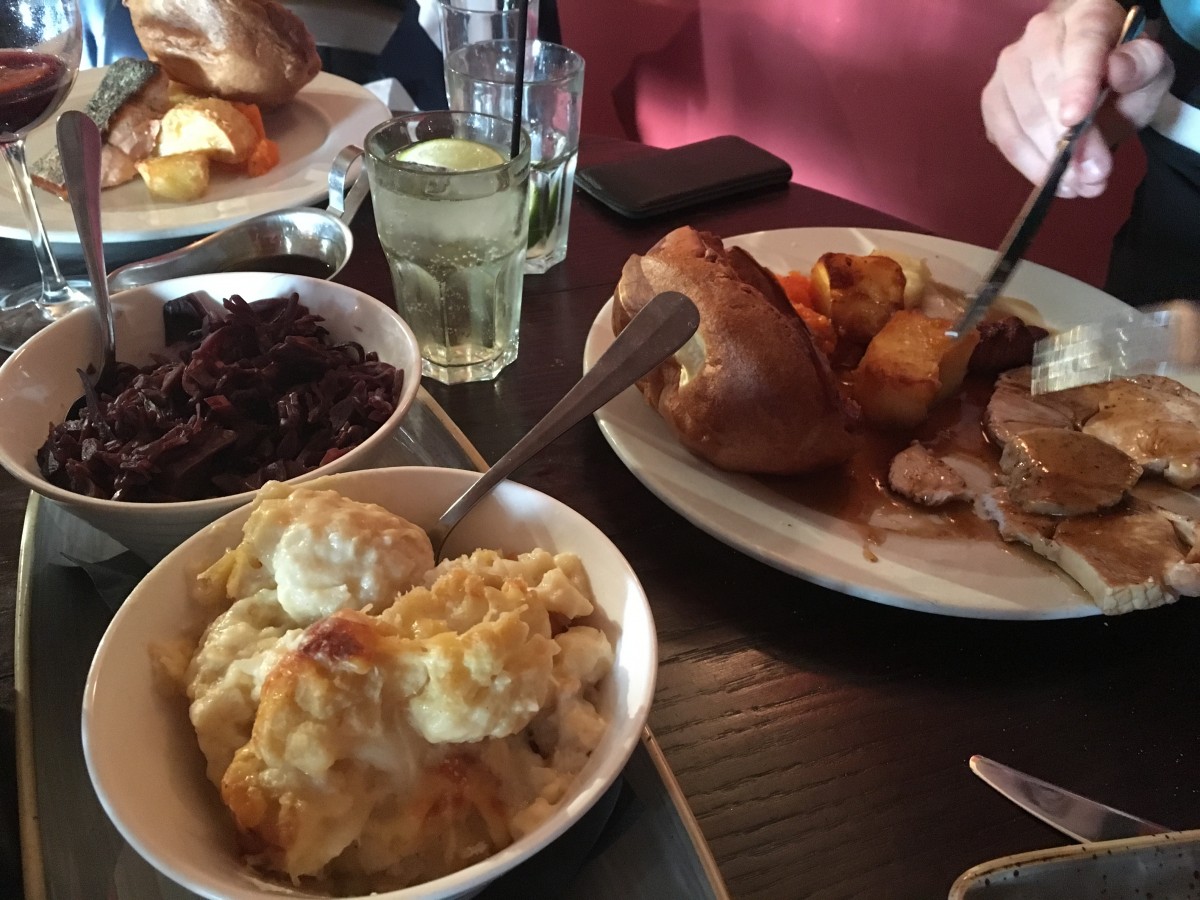 Top Notch Puddings
Talking of puddings we had no room for dessert but obviously decided 't we couldn't do without. All the dessert choices were perfectly what you'd expect post traditional roast dinner; pear and blackberry crumble, chocolate torte, ice creams and sorbets and a selection of cheeses.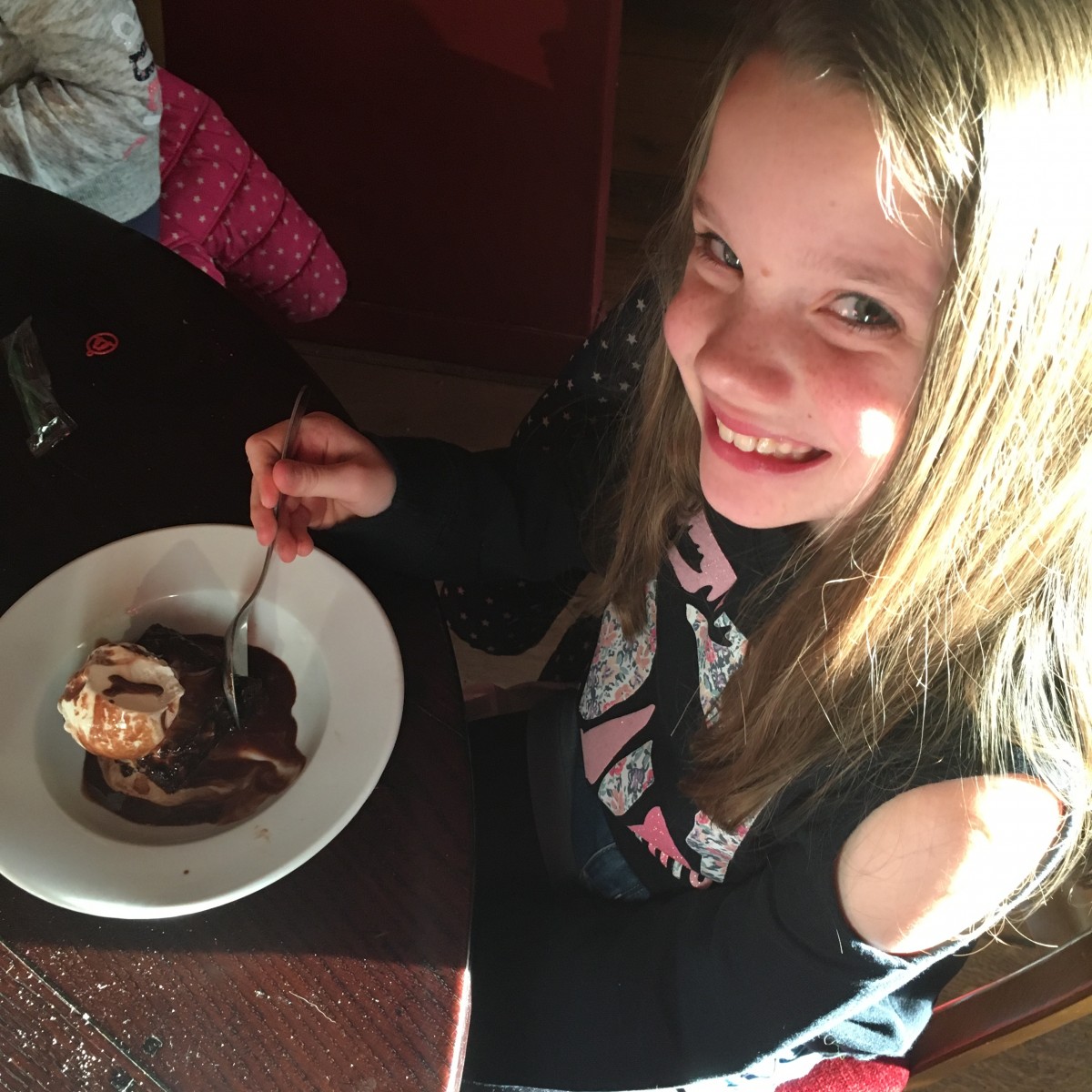 The Smalls went crazy for the Chocolate Brownie with ice cream and couldn't help themselves at the mention of Provenance Sweets and Treats, which included ice cream, hot chocolate sauce, marshmallows and chocolate popping candy – what's not to love about that when you're four?!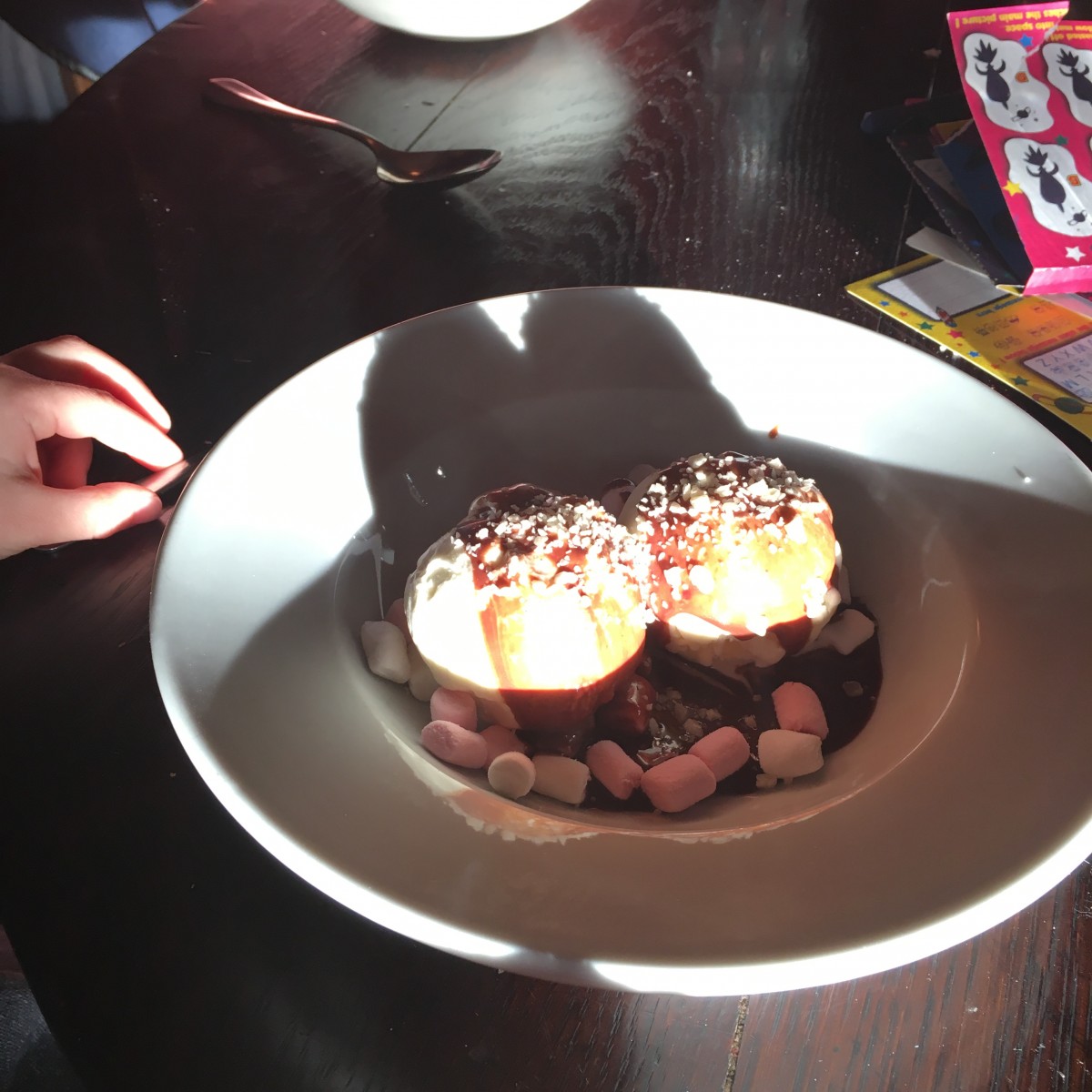 I'm a pudding girl through and through, so there was no other choice than the Sticky Toffee Pudding for me, served with lashings of butterscotch sauce and and cinder toffee ice cream. It was amazing! Needless to say I didn't need an evening meal that night!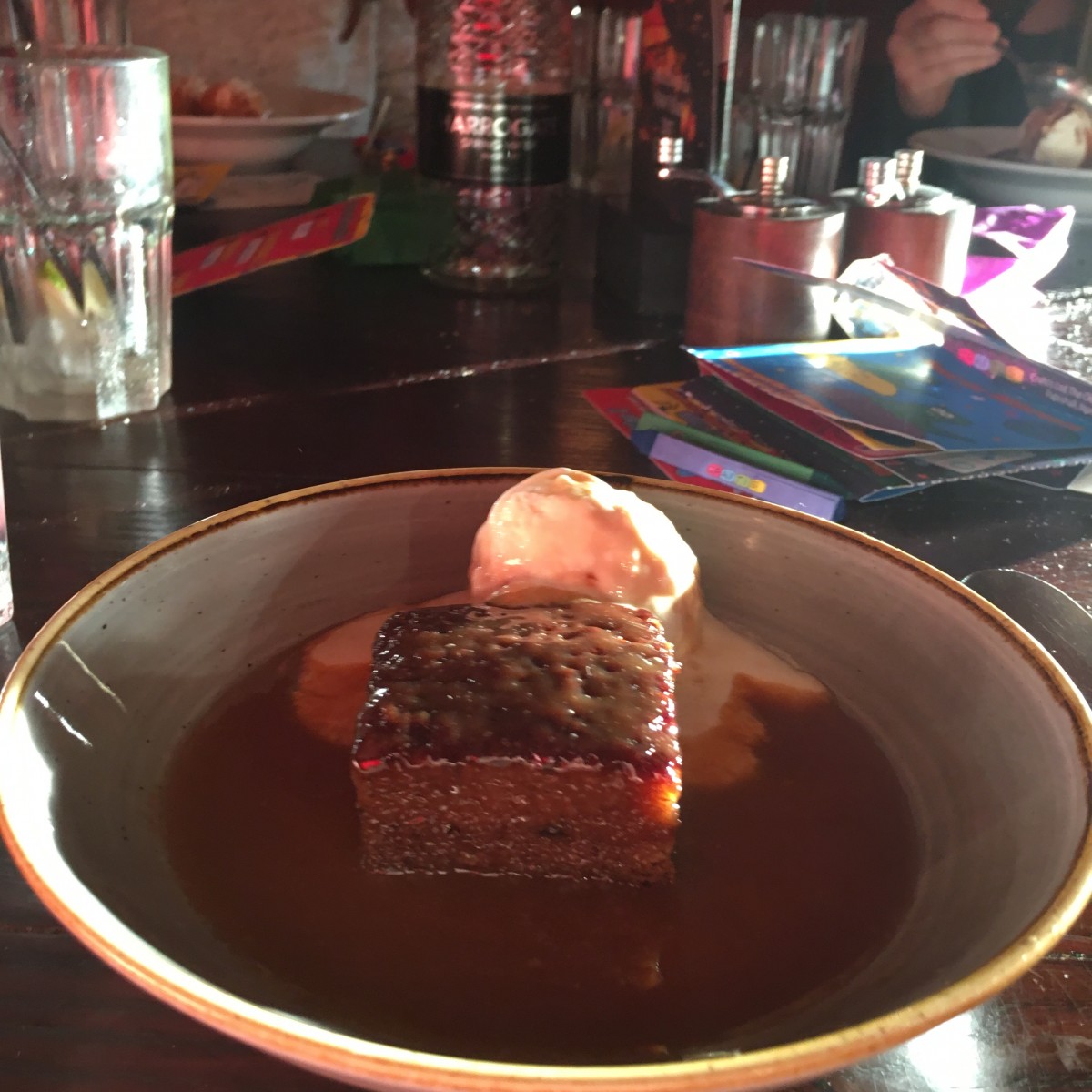 Private Dining
The Punch Bowl Inn also has a private dining suite upstairs, which seats up to 14 and it comes with a brilliant private lounge area and separate toilets, making it a perfect space for holding a family gathering, celebration or Christmas party.
It'd be great for larger families especially if you're looking for some space for the kids post meal time to hang out or play games etc while the grown ups continue to chat.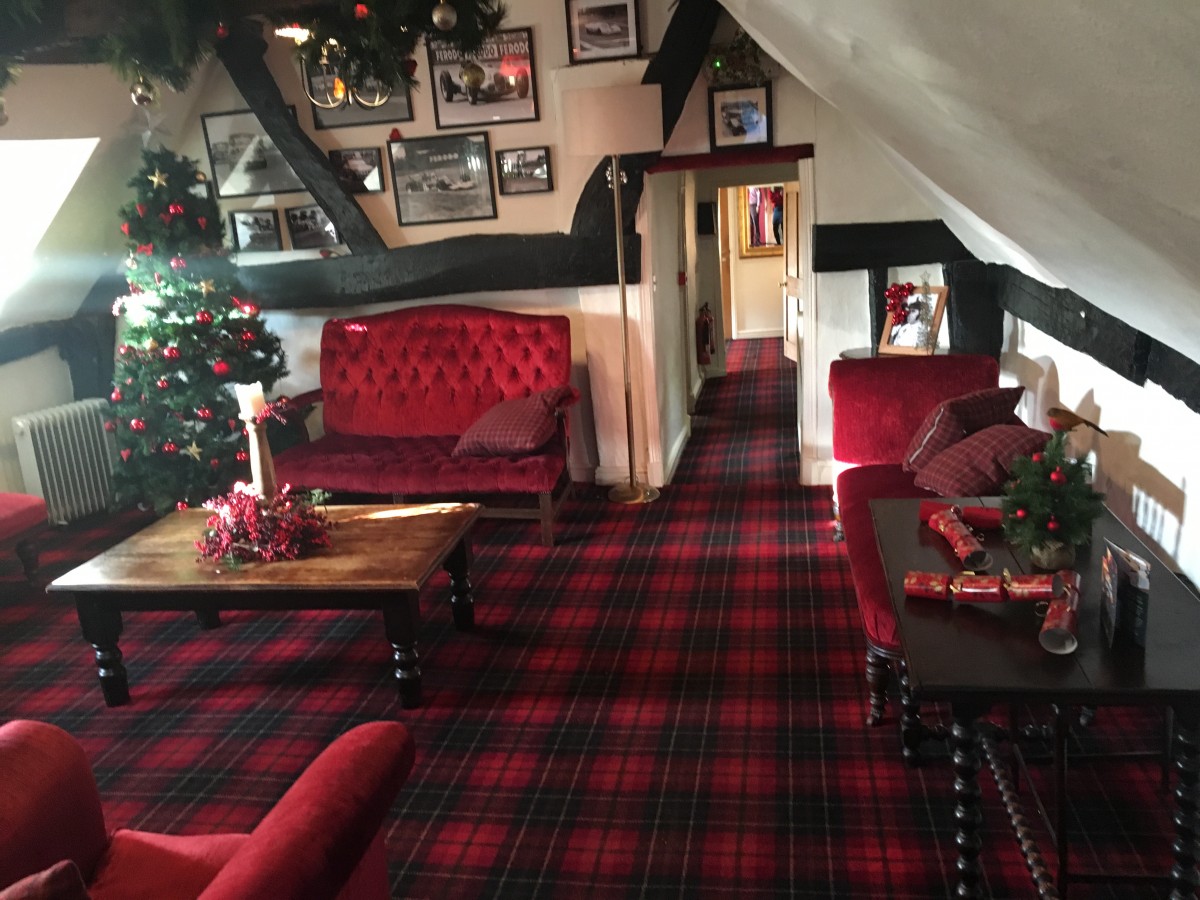 Great Atmosphere
We loved all the food we ate and the atmosphere of the Punch Bowl Inn, it's as traditional as Sunday roasts get in Yorkshire. The service was spot on, all the staff were really attentive and thoughtful, clearing away carefully as they went. Dogs were welcomed and all the guests seemed rosy cheeked and to be enjoying their relaxed Sundays!
Spot on Food
The food was spot on, everything was cooked just how it should be, the roast potatoes crispy on the outside and fluffy on the inside, the carrot and swede puree sweet and tasty, the gravy had great flavour and the Yorkshire Puddings were the tear-apart consistency you only get with good ones! The Smalls all wolfed down theirs and the puddings were all a triumph! We especially loved that the provenance of all the meats were also clearly shown on the menu and it was all sourced from local farms.
So if you're looking for a tasty traditional Sunday lunch for the whole family to enjoy I think the Punch Bowl Inn ticks all the boxes perfectly. It's a relaxed atmosphere, great food and a lovely setting.
Outdoor area for the Summer
They also have a lovely outdoor space for the summer (with an extra private hire space that could be used for summer events or more formal meetings too).
Up and Coming Events
Over the next few months they have some Christmas activities including;
Christmas Quiz Sunday 17th December from 7.30pm with mulled wine and mince pies
Christmas Carols Tuesday 19th December from 7pm with mulled wine and mince pies
Music and Tapas Friday 19th January from 7pm with Spanish Tapas and live music
Friendship Lunches at noon on the second Monday of every month – a large sharing table
The Punch Bowl Inn
To find out more about The Punch Bowl Inn you can visit their Facebook or website pages, their Sunday Lunch menu is served from noon to 8pm every Sunday.
Disclaimer: The Punch Bowl Inn invited us to review with their compliments, the opinions are my own.