With 2020 being what it's been and knowing the start to 2021 is set to be GAH! I want to do something that is in my control, and the only thing left is exercise! So, I've decided that I need to start 2021 with a bang!
In October I downloaded Couch to 5k – for the third time in my life and, like the twice before I never thought I'd complete it. Now I'm two runs away from finishing something in this awful year. It's felt nice to be in control of something so I'm taking that into 2021. So anyone who's feeling remotely GAH, about this year or the next, really think about getting involved. It's made me feel a tiny bit better and I know it can do the same for you!
My plan is to undertake Move for Mind throughout the whole of January.
Move for Mind – January
Move for Mind means I will be getting active every day in January. It's an exercise and fundraising challenge to raise money for better mental health. It's 30 days, your way – whether it's daily virtual workouts, running 30 miles or cycling 300k over 30 days. You can choose how you'll get active to fundraise for everyone experiencing a mental health problem.
Now this is a challenge for me; like most of you, I'm a busy Mama with three kids, an almost full time job, a house to run and a blog on the side! Finding time to be active is a struggle at the best of times. Throw in winter and the dark and it's almost impossible! Almost!
But this is the very reason why I've decided to do Move for Mind. I want a goal for what's set to be a tough month, and a tough rest of winter on the back of a tough year. I, like a lot of us need a reason right now! Plus I want to commit to being more active. It's good for our physical health and our mental wellbeing.
Who's Joining Me to Move for Mind?
Exercise doesn't come easily to me, I'm not known for my fitness so this will be a challenge for me, but I want it to be achievable. From a walk round the block at lunchtime, a short jog on an evening, a home workout or PT session, a cycle into town a long walk with the kids at the weekend – whatever it is – it needs to fit in to work out! I'm committing to doing something everyday. And I'd love for you to come along for the ride!
That's why I want to make it achievable for anyone to join in. Elite athletes we are not, but it's open to anyone and everyone who wants to have a focus to their January and to start 2021 with a bang!
My Why is Katie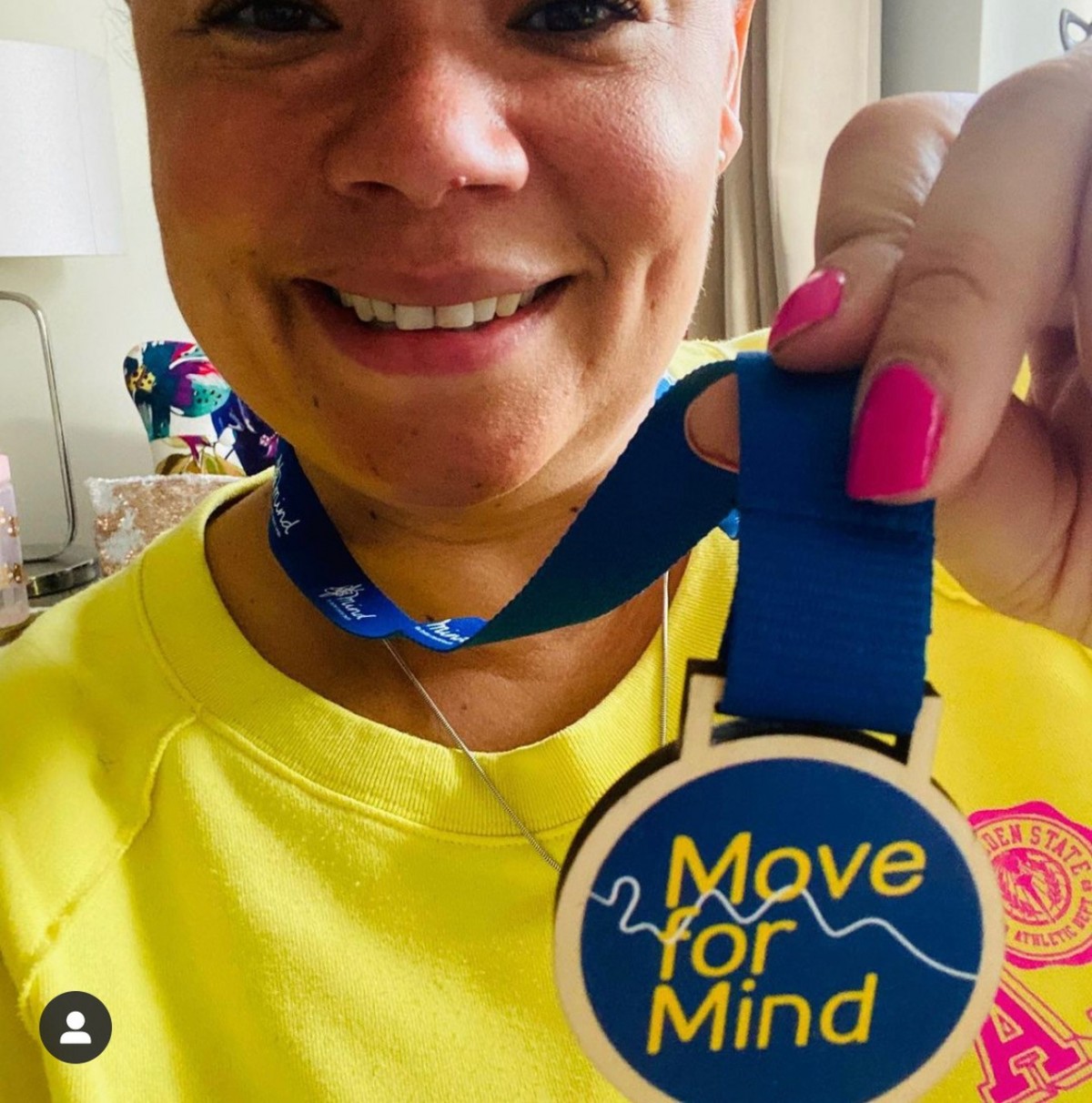 One of the key reasons I'm taking part in Move for Mind this January is for one of my best friends, Katie!
Katie was the very first person I met when I started university in Liverpool when I was 19 and we've been in each others lives ever since, celebrating all the milestones along the way in the way you do when friends become friends for life.
It is Katie who has inspired me to take on Move for Mind, as in September 2020 she took part in Move for Mind herself! Katie was active every day for 40 days! Which is a huge achievement for anyone, but if you know Katie it's a huge deal for her!
Katie's Challenge
Katie has been living with Bipolar since her early twenties and it is a condition she has to manage every day since. It's a serious mental health condition and it has come with huge highs and massive lows for Katie, her family and friends.
I only know a fraction of Katie's story, but the parts I do know make her one of the most inspiring people I know. The diagnoses Katie received has challenged her – with many stays in and out of hospital, therapy centers and some very seriously scary situations.
With enormous support from her family and friends she has ploughed on. She's now a proud Mama to two gorgeous children and runs her own coaching business. While Katie's mental health continues to challenge her, she can now talk more openly about her Bipolar and has used her story for positive change, talking on radio shows, giving interviews in magazines and newspapers and raising loads of money for charities like Mind.
Fundraising for Mind
So this brings me to the final part of my Move for Mind story. I'd like to dedicate my challenge to Katie and show her what admiration I have for her every day, for just keeping on keeping on! She's my inspiration! So I'm pledging to raise £150 for Mind to help support other people like Katie in their journey to better mental health.
How You Can Get Involved with Move for Mind
1. Take Part in the Challenge
If you'd like to be part of my #MamasMoveforMind squad (all non-Mamas welcome too!) then get involved! You don't have to be local to join in! It will give us all a focus for January and together we can help each other and support one another. If you'd like to take part in Move for Mind you can sign up online here and let me know you're on board!
2. Get Social
Take part in any Move for Mind activity this January and tag me in any of your social posts when you're out and about getting active using the hashtag #MamasMoveforMind and tag @HarrogateMama and @MindCharity. I'll share as many as I can so we can be part of this journey together!
3. Champion the Harrogate community fitness industry
If you're a local fitness provider – in any guise – PT, workout instructor, cycle club, climbing wall, rowing club, yoga instructor and would like to team up at some point and get involved with my Move for Mind challenge please get in touch!
4. Donate to Mind
Finally if you'd like to donate to Mind you can find my Move for Mind page here.