Finally Harrogate has seen the opening of All Bar One, it seems everywhere else got them about twenty years ago, and now at last Harrogate has caught up! ? And as the saying goes, good things come to those who wait and the good news is that it's been worth the wait!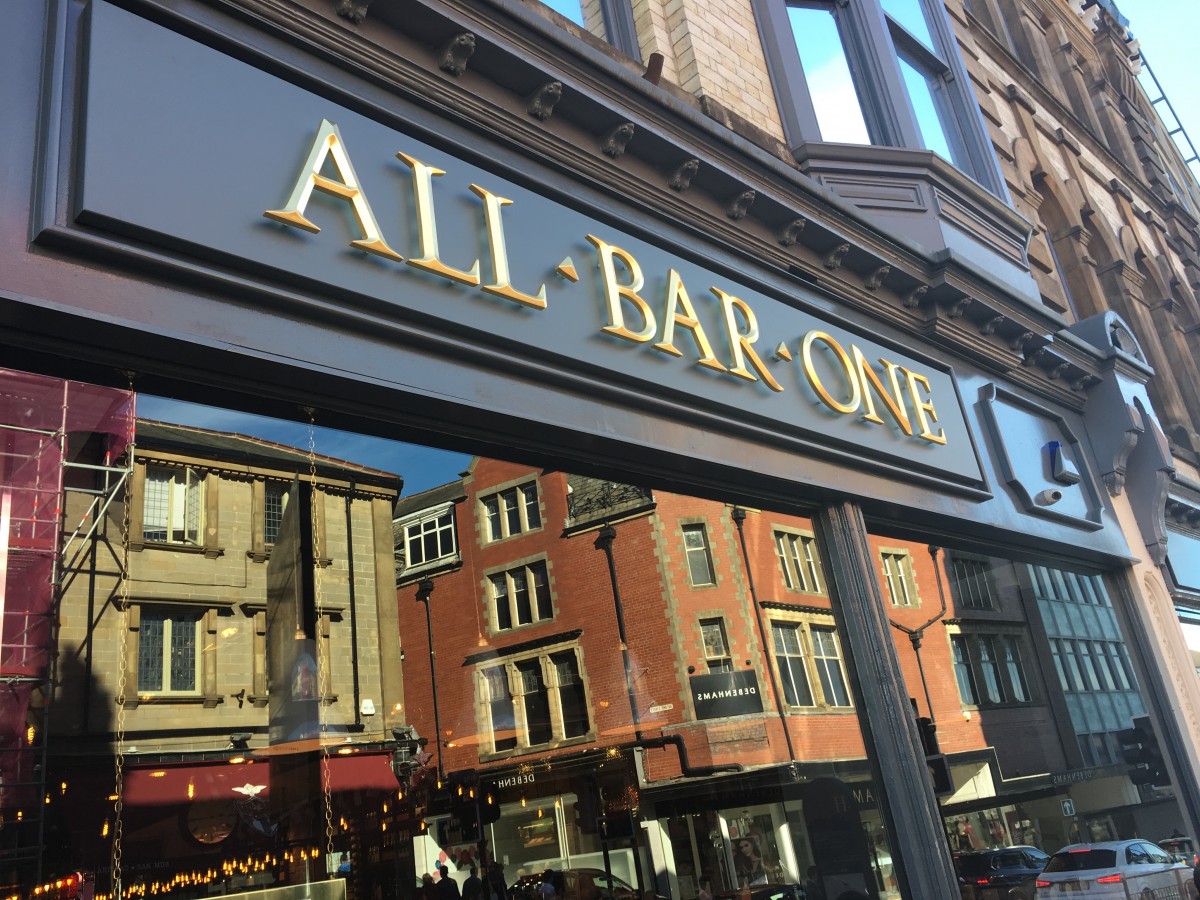 I was lucky enough to head to the opening of the new bar for cocktails and then popped back more recently for a bite to eat with the famalam to check out their lunchtime offerings!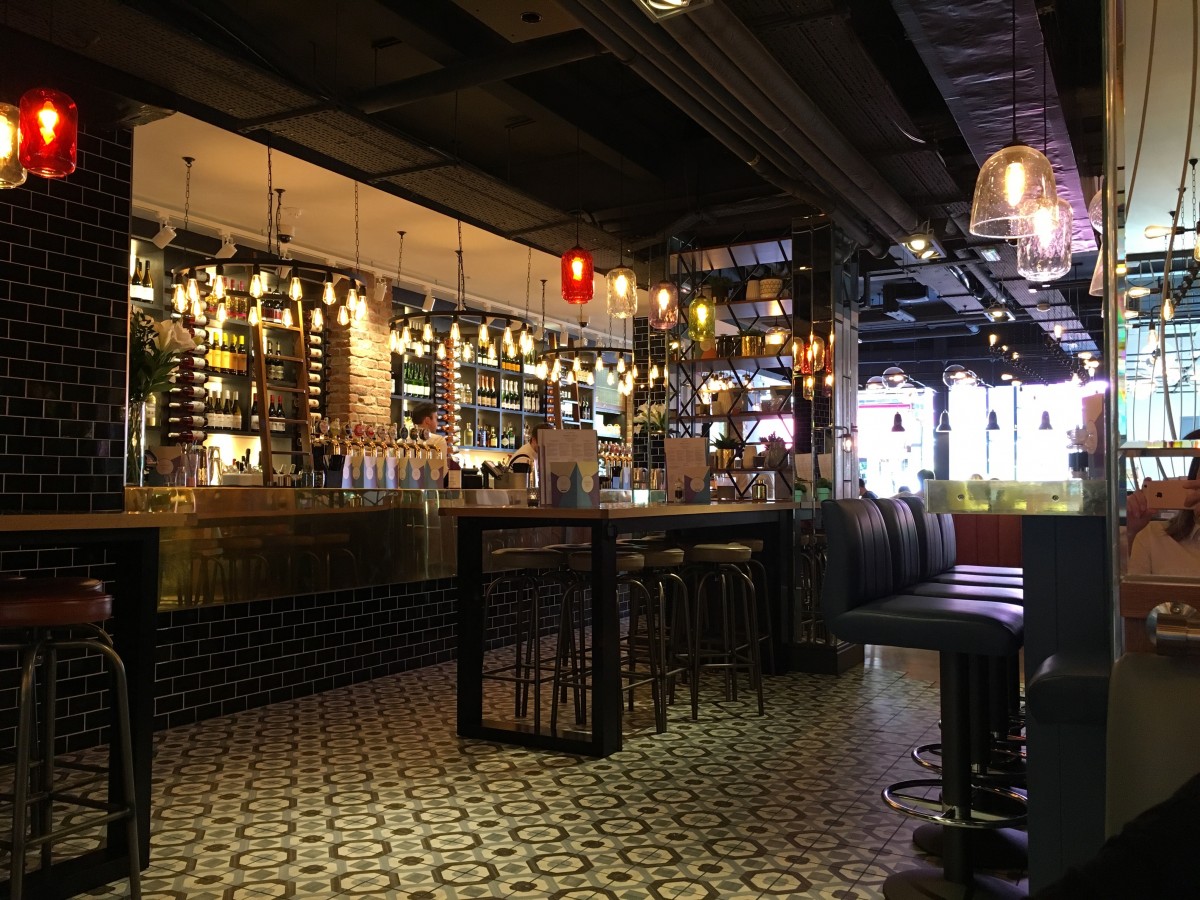 The bar is very sleek and polished and shiny and new! It's as you'd expect, very en pointe with it's styling, mosaic tiled surfaced table tops, padded cushioned booth style seating areas and a fancy outdoor terrace area, which is a real sun trap!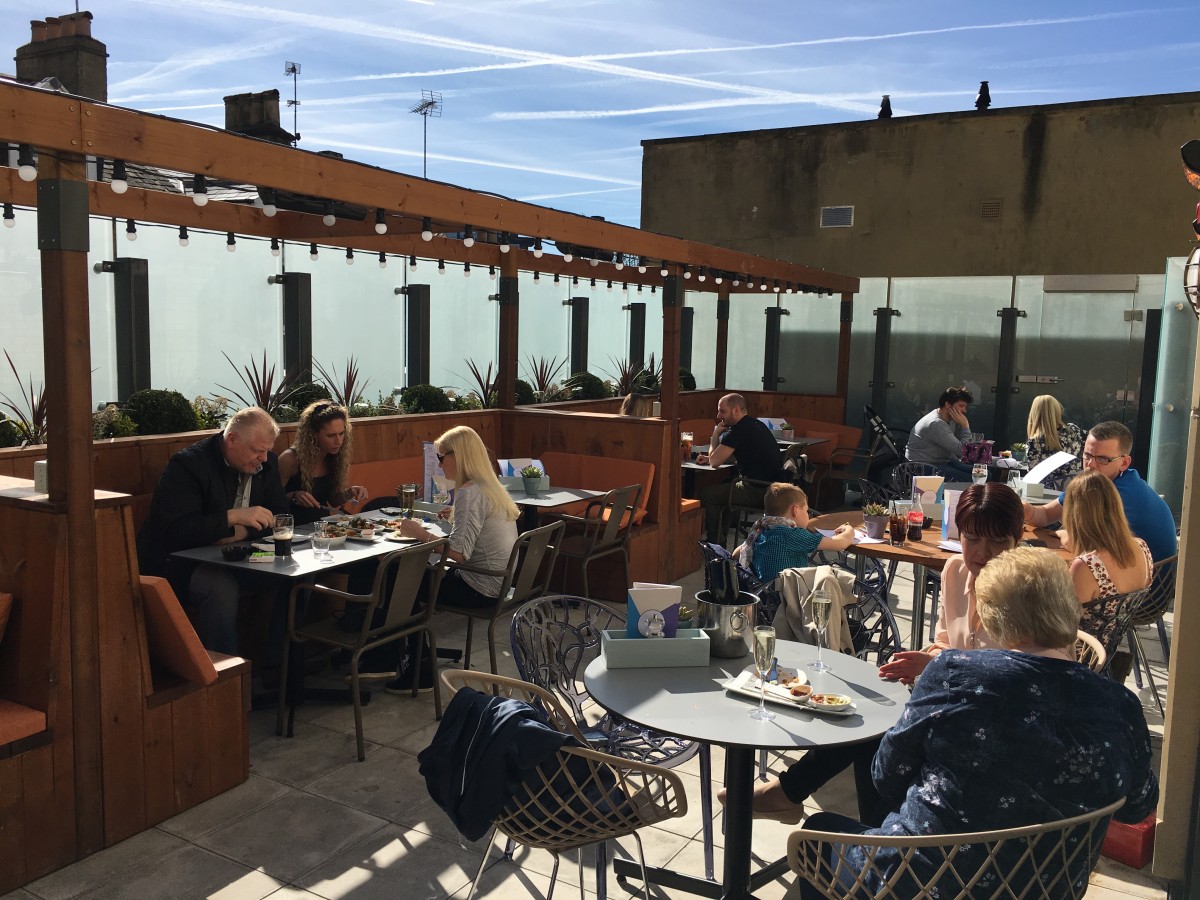 It's a perfect bar for cocktails with the Mamas, which is exactly how I enjoyed it on their opening night!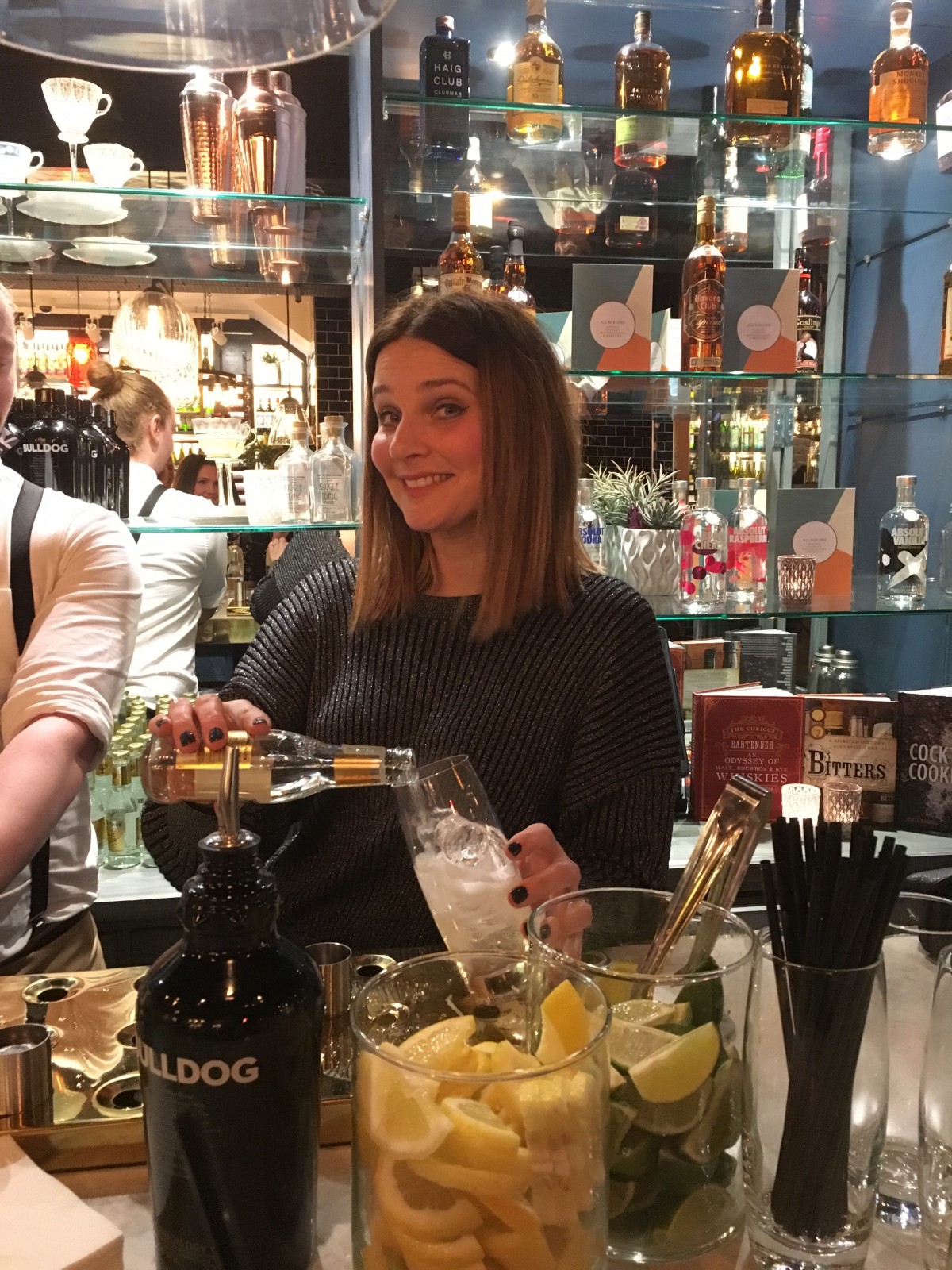 The cocktail menu is fab, we loved the classic porn star martinis and their new take on a G&T with a coconut water, a delight to be enjoyed again soon I feel! Harrogate's All Bar One is certainly in with the in-crowd at the moment and so nice to have a proper 'bar' in town to go to and enjoy drinks in a fancy setting!
The dining menu is extensive too and I LOVED the look of their breakfast and brunch menu, which is handily available until noon, and 1pm on a weekend. The Heuvos  Rancheros and the Smashed Avocado with crumbled Feta sounded perfect. On a weekday you can choose any breakfast and a hot drink for just £6.50 so I'll be heading back soon to enjoy that! They open at 8am on weekdays, so it'll make a nice Mamas morning meet-up too!
For lunch I wasn't sure how well the Smalls would be received, given it's obviously a bar! But they were more than welcomed with kids colouring and crayons and a perfect children's menu too! They say that they welcome children until 7pm – which seems perfectly reasonable to me, when I'm out with the grown ups I don't want to be out with the Small People too! ?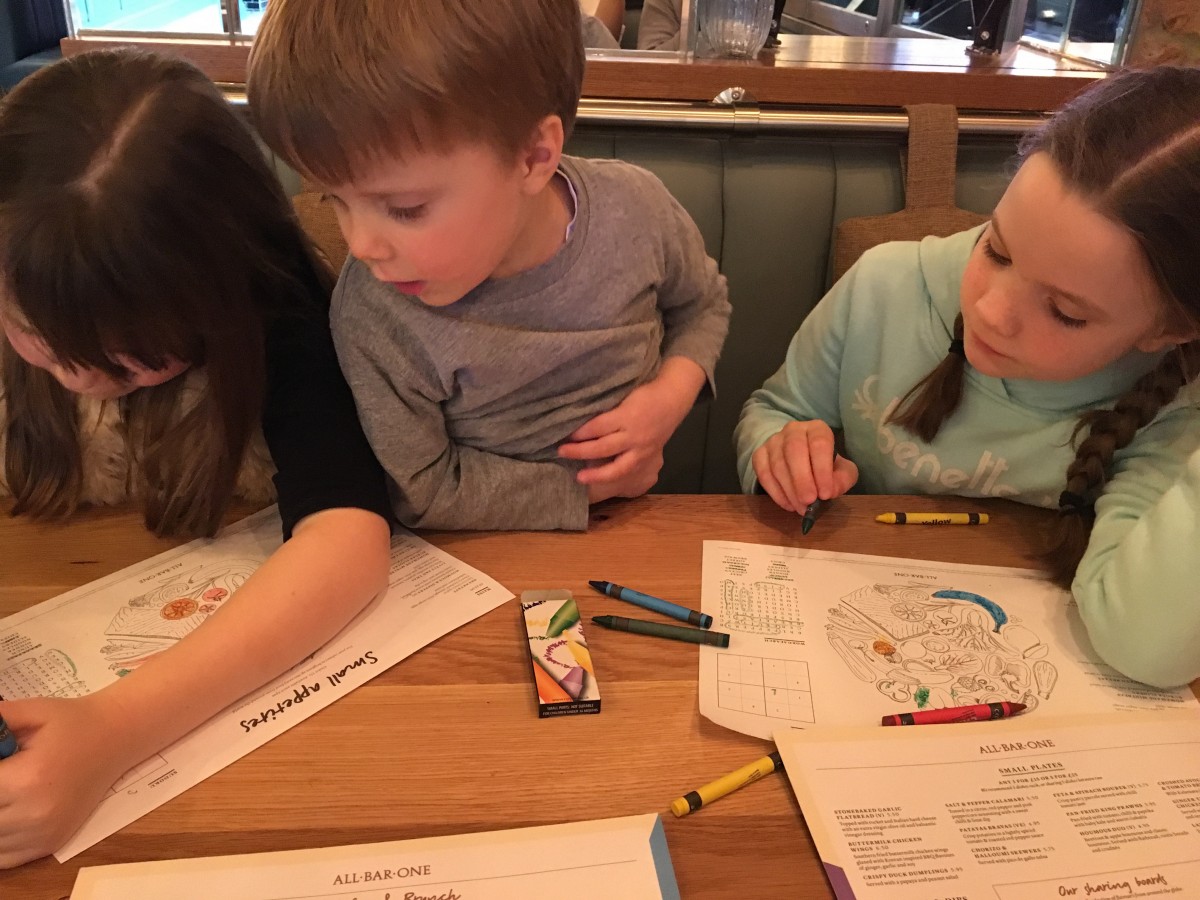 We sat in a little booth where we could admire the sleekness of the bar and the plentiful bottles of wine stacked ornamentally behind it! I may have ordered a couple of glasses for myself! ?
Mr P and I went for burgers, mine was a veggie patty of sun-dried tomato, beetroot and mozzarella and Mr P a classic grilled chicken breast with bacon. The burgers are all served with additional extra's how you'd like, and mine came with avocado, which was heavenly!
The kids enjoyed cod goujons, grilled chicken breast and homemade mini beef-burger sliders each served with salad a fries. The price point was perfect too – all the kids meals were £4 each and our burgers around a tenner.
The food was all totally spot on! The kids all loved my sweet potato chips and the Small Boy wolfed down his fish, like I've never seen before, so it must have been good! High praise indeed from him! ?
Pudding was ordered for the Smalls, amazing value at £1.95, a most delicious chocolate brownie and ice-cream each, which was adored and spoken highly about in retrospect too!
Dining was busy at it was a Saturday lunchtime but they coped well given they'd not long been opened. It was a lovely warm sunny day so the outdoor courtyard area was pretty full and it looked amazing! Just the spot to sink a few cocktails with the grown-ups on a summer's evening! Can't wait!
All Bar One also offer an evening fixed price menu which is brilliant value at two course for £10, it's available Sunday to Thursday evenings from 5pm.
All in all, it's a great place for drinks with the grown ups, a lovely lunch spot with the family and it looks like it would be absolutely perfect for mid-week brunch with the Mamas! Have you been yet? What did you think?
Disclaimer: All Bar One invited me to review the food, the views are my own.