I'm not sure this one really needs any words ?
We go out for a nice family meal and this. Just mine? Anyone else?
#wickedwednesdays 01.6.16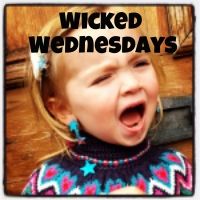 (*The lovely BrummyMummyof2 shares her favourite #wickedwednesdays picks of the week over on her blog…so if you're feeling like the only one who's dealing with this sort of shizzle, then check out the links, for you're not alone!)
Here are a few previous Wicked Wednesdays for your perusal; Wicked Wednesday – Under My Umbrella…, Wicked Wednesdays – At the Car Wash, Wicked Wednesdays – the foam Hopscotch, Wicked Wednesdays – Lego Dog takes a Swim, Wicked Wednesdays – Walking with Watering Cans.
Follow: Me (Harrogate Mama) on Facebook and Twitter and Instagram