Before I was a fully fledged Mama I used to hear the expression 'pick your battles' a lot and be totally bemused as to what that really meant.
On the day when you're running late to collect your daughter from gym, the car is at the garage being fixed,  it's freezing, it's raining and you have two children to walk 10 minutes to make the pick up, you choose your battles as to whether the purple watering can is coming along for the ride…
Three Year Old one, mummy nil. This was a battle I chose not to pick!
#wickedwednesdays 27.4.16
(*The lovely BrummyMummyof2 shares her favourite #wickedwednesdays picks of the week over on her blog…so if you're feeling like the only one who's dealing with this sort of shizzle, then check out the links, for you're not alone!)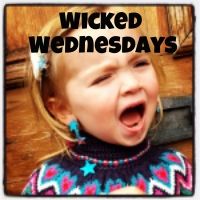 Here are a few previous Wicked Wednesdays of my own!
Follow: Me (Harrogate Mama) on Facebook and Twitter and Instagram
(All photos copyright © Lucy Playford)