With the marvellous Jamie Oliver doing all he can for promoting healthy hot school lunches for kids, lunch boxes are getting a little over looked. With the return to school I thought I'd cover the topic of Packed Lunches!
Hot Diners vs Packed Lunch
My Smalls have a mix of hot dinners and packed lunches as they are slightly fussy about their menu choices/like to assert their independent tastes! Bearing in mind you never really get to see what goes in other packed lunch boxes I thought I'd share mine. I have no idea if I've been getting them right for all these years or not?!
I like to think I make them nutritionally balanced as I know how important getting the right balance of nutrients and vitamins are but getting them to eat those vital things is sometimes easier said than done!
It's miles easier for me if they have school meals as there is no thinking, shopping, planning, preparing and remembering involved in the whole process and I know they're nutritional balanced. However, when they do have packed lunches I try my best to make them to a reasonable standard but catering to their tastes is always tricky!
Multivitamins
I've only recently learned that it's recommended by the Department of Health that children age 6 months to 5 years take vitamins A, C and D daily. So to make sure the Small Boy is eating a healthy lunch and also getting his essential vitamins I've been giving him Halib orange multi-vitamin softies once a day.
Hailborange
They come in a soft,  bite-sized, round orange, chewy form and he totally loves them so they must be great tasting. It's the Halib orange Softies Omega3 and multi-vitamins for kids age 3-7  that he's been trying. He's so taken with them he now asks everyday, 'can I have my orange thingy now Mummy?'  I'm so pleased he enjoys them and I know they're really benefiting him too. Win, win!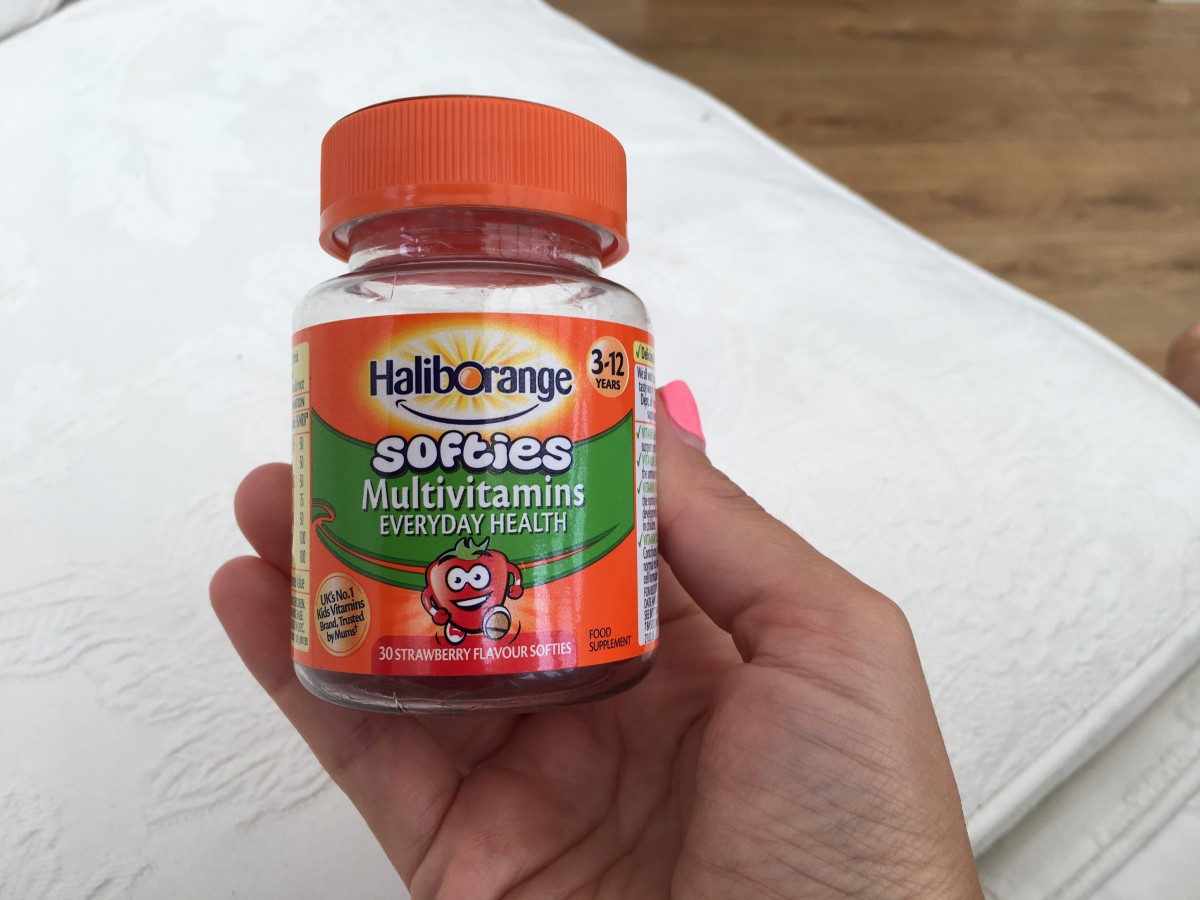 The Big Girls have cottoned on that they must taste great if he's asking for them, so have started taking the Haliborange Softies Multivitamins Everyday Health for age 3-12 years too – they're strawberry shaped and flavoured and are also proving a huge daily hit!
You can see why they're the UK's number one supplements brand – they even have a 'great taste' guarantee which entitles you to your money back if your child doesn't like the taste!
Carrot and Courgette Savoury Flapjack
Finding food they all love to go in their packed lunches is a challenge! One thing they do all love is this carrot and courgette savoury flapjack from the baby led weaning cookbook. It's really simple to make and it freezes too – so I batch it up and just pop it in from the freezer the night before and it's defrosted in time for them to enjoy it at lunchtime.
What goes in the Smalls packed lunch boxes?
The Big Girls have also downloaded this cute little App that lets them animate their plasticine models (that's a whole other post) into a short film and I've been dying to have a go myself! So the packed lunch box filling seemed perfect for this. This short clip shows what goes into their packed lunches on a usual day.
My camera work is a little sketchy, but hopefully you can see what's in their boxes easily!
[wpvideo cCNUhHgW]
In case the technology fails you – here is a closer look what's inside…
raspberries
a no added sugar Fruit Shoot drink or Innocent Kids Fruit Smoothie
carrot, corgette and cheese flapjack (homemade from the Baby Led Weaning cookbook)
One of the Big Girls has pine nut and spinach ribbon pasta
sugar snap peas
The other Big Girl and the Small Boy have egg mayo sandwiches on Warburtons White Thins (they're great as they have no crusts and they come pre-cut, the holy grail of packed lunch making IMO!)
Babybel cheese
McVities Club biscuit
and the Small Boy has a fruit pot
What goes in yours? Share your top packed lunch tips and ideas below, I'd love to hear them!
You can follow me on Facebook, Twitter, Instagram and follow my Pinterest boards if you want to keep up to date with everything going on at Harrogate Mama HQ.