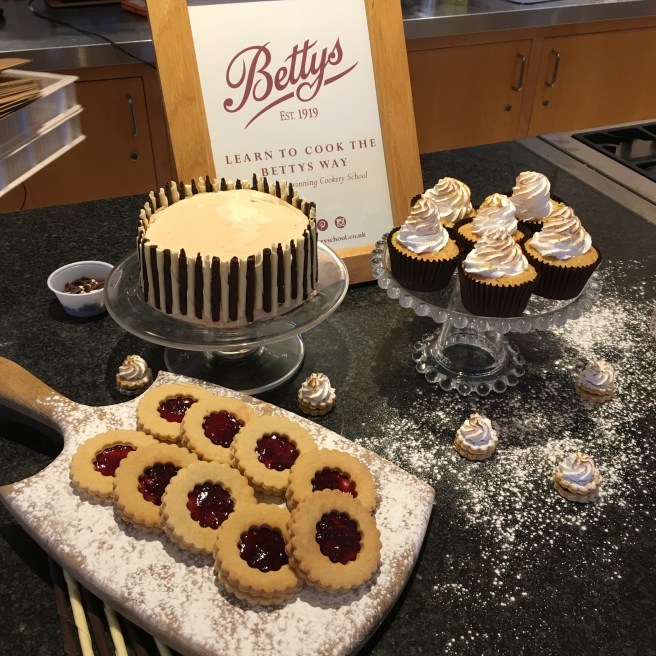 Anyone who know me knows I love to bake, and I also LOVE Betty's! So for my fortieth birthday I was treated, by my family, to a day of baking at Betty's Cookery School! Heaven!
It was everything I hoped it would be, it was so brilliant to just bake without the constant worry of watching the clock or being interrupted by something or other in the household breaking my stride! It was such a luxury!
On arrival the seventeen other guests, on the course, and I, were were treated to a Betty's croissant and a welcome drink. Then it was form filling in for health and safety etc and then straight on to learning about what we would be making!
Course Demonstrations and Instructors
The course instructors were really welcoming and friendly and you felt like you were being well looked after and not judged at all. They were SO patient and happy to answer any questions and most importantly impart their skills and experience expertly on to all of us! I felt like I was in good, calm hands all day!
There were regular demonstrations throughout the day on how to do create what we were going to be making next, with full instructions and recipe notes. The demonstration area also had camera and wall mounted TV screens so everyone could see very easily.
Work Stations
The work stations for the participants were set up so we were three to a kitchen space, each with two ovens and two sinks but enough space for all of us to bake comfortably.
As you would imagine, all the people on the course were really nice, Betty's going people who obviously loved to bake too and had been gifted the course or were treating themselves!
Our Three Signature Bakes
We baked three different bakes, all with additional elements and we came back and forth between the finished dishes over the course of the day.
The chocolate mocha cake was the recipe that got us started, learning tips and tricks about making the perfect cake and learning how to 'drum line' a baking ring for a clean finish.
Then we set about making the lime curd filled sponges and shortbread biscuit dough which we left to chill over lunchtime.
Betty's Lunch
Lunch was a Betty's mushroom quiche served with new potatoes and carrots – which was so delicious! We even go to enjoy it with a  glass of wine! Desert was a to die for blackberry cheesecake which tasted as good as it looked!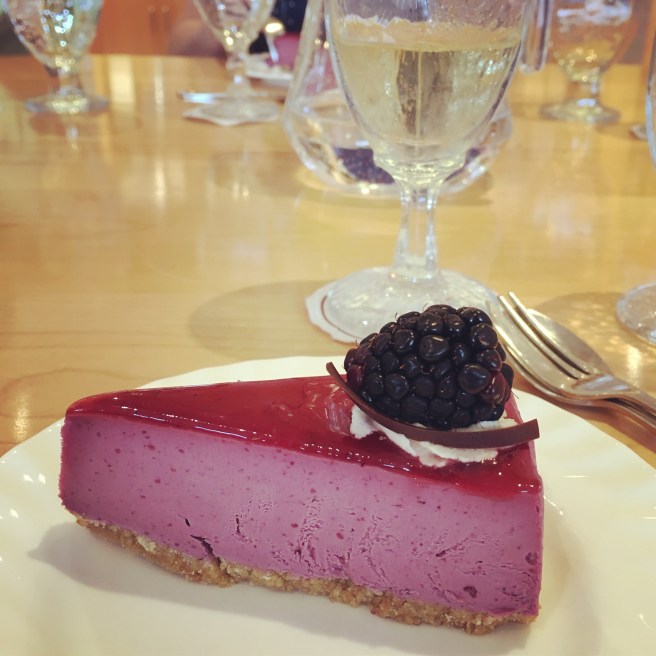 Italian Meringue Making
After lunch we set to making Italian meringue to top the lime curd filled sponges and baking the biscuits. I loved learning to make the meringue as I normally just bake a standard pavlova in the oven, but learning this new skill has given me the courage to try it again at home. Basically you cook the sugar and water solution to reach 120 degrees and then slowly pour it into your whipped egg whites, all the while whipping the mixture. Adding the boiling liquid to the eggs cooks them and leaves them softly smooth, like marshmallows.
Assembling the Finished Bakes
After another break for coffee and biscuits, it was all about assembling the finished bakes! We filled the sponges with the lime curd, topped them with the meringue and used a blow torch to finish them off. Then we sandwiched the shortbread biscuits with Betty's raspberry Jam before dusting with icing sugar. Finally we sliced and iced the chocolate mocha cake with a mascarpone and Tia Maria covering and decorated it with Betty's chocolate cigarillos.
The finished results were all pretty impressive! The kids went crazy when they saw them and throughly enjoyed eating everything! The biscuits being a particular favourite! The great thing is that you get to bring all the recipes home with you, so I can recreate the Betty's magic all over again and earn myself some more serious brownie points with the kids!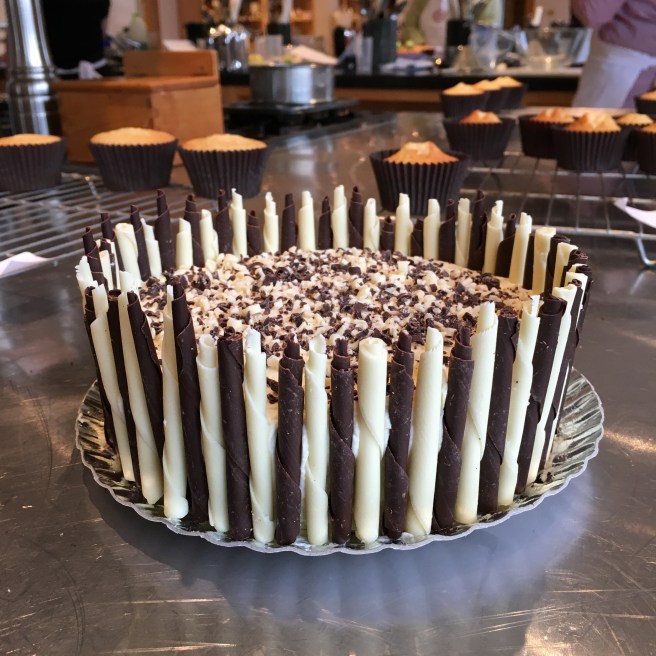 I absolutely loved my experience at Betty's Cookery School and would love to do it all over again! It was very relaxed, yet I felt like I was learning something at the same time and it's brilliant that you get to take your bakes home. The course is so well designed that all your bakes even fit nicely into Betty's boxes so getting them home is easy too!
I loved that all the ingredients are all laid out for you and the kitchen equipment is all perfect for the tasks at hand, making small things like grating a lime so much simpler and quicker than they are ay home. You do have to do some washing up, but it's very laid back and in my group we all helped each other out and if there are items left to clean at the end someone from the Cookery School comes in to finish it off for you. You get your own apron to keep and take home as a souvenir too!
Taking the time for yourself to indulge in a passion is a real treat and something I wish I could do more. It's lovely to be able to spend time doing something you really love. I'm so grateful to my husband for the thoughtful gift and for taking the day off work to be 'me' for the day so I could have time off from being 'Mama' and just relax doing something I love to do!
It would be amazing to do another course; one on 'family meals' would be a brilliant one to take part in, I'm always looking for new meal inspiration, and surely the kids would eat the dish if it was a Betty's recipe!  Alternatively a course where I could take my older twin girls and we could all bake together for some Mother/Daughter time would be lovely too! Just sharing my ideas Betty's
If you've toyed with a Betty's Cookery Course before I would highly recommend it. You don't need to be an expert at all before you go and the course leaders are so helpful and friendly it really is a very relaxed, fun experience and you come away feeling like you've achieved new skills too! I can't wait to go back!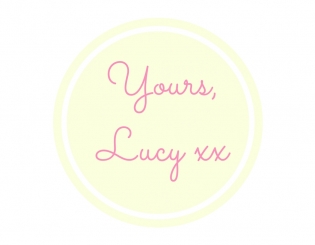 I was lucky enough to be gifted the Betty's Cookery School course as a birthday present. Courses are around £180 and I took part in a 'baking' day.