The Small Boy, his sisters, Mr P and I are going to a family wedding at the end of the month! Everyone is very excited as the Small Boy hasn't been to a wedding since he was five months old so we can't wait to see how he'll enjoy it!
We've ? I've been looking for an outfit for him to wear, pretty dresses I'm used to for the girls, not so smart outfits for small boys! Turns out he's not so enamoured with wearing Small Boy smart clothes either, as getting him to try them on has been some feat!
Finally I've found something that fits, not after quite a lot of biscuit bribery and lying around like this had gone on!
#Thankthelordforonlineshopping #imaginethisinanactualshop #howdidourparentssurvive?
#WickedWednesday 19th October 2016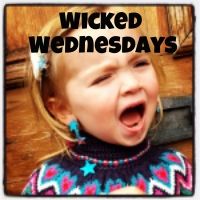 (*The lovely BrummyMummyof2 shares her favourite #wickedwednesdays picks of the week over on her blog…so if you're feeling like the only one who's dealing with this sort of shizzle, then check out the links, for you're not alone!)
Follow: Me (Harrogate Mama) on Facebook and Twitter and Instagram