So, you might have noticed it's May. The weather is pretty mild. It's not really rained for a while. This doesn't stop the Small Boy, oh no, he wants the umbrella out all.the.time. Here he is inside with it at the weekend…
…and here he is refusing to leave the car as I wouldn't let him bring it on the dry, windy school run this morning.
Arghh! Hurry up and rain so he can be happy!!
#wickedwednesdays 25.5.16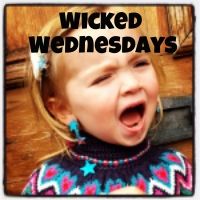 (*The lovely BrummyMummyof2 shares her favourite #wickedwednesdays picks of the week over on her blog…so if you're feeling like the only one who's dealing with this sort of shizzle, then check out the links, for you're not alone!)
Follow: Me (Harrogate Mama) on Facebook and Twitter and Instagram