Ahead of visiting Ogden of Harrogate, the jewellers kindly invited a friend and I to enjoy in the delights of the new Jubilee Afternoon Tea at Mama Doreen's.
I can't wait to share the incredible story and wonderful sights of Ogden of Harrogate with you, stay tuned; there will be diamonds, but first Tea…
Mama Doreen's Jubilee Afternoon Tea
Afternoon Tea at Mama Doreen's is a legend in it's own right in Harrogate. Visitors from far and wide indulge in the delights. From mini-breaking couples to bride-to-be celebrations it's well known for its plentiful deliciousness!
However, the arrival of the Jubilee Afternoon Tea has just taken things to a whole.new.level! It's available from 20th May till 6th June and is not to be missed!
Jubilee Afternoon Tea
The Jubilee Afternoon Tea  is presented in a gilded cage, complete with a mini-crown, and is something to behold, don't you agree? This is a serving for two people! Insane!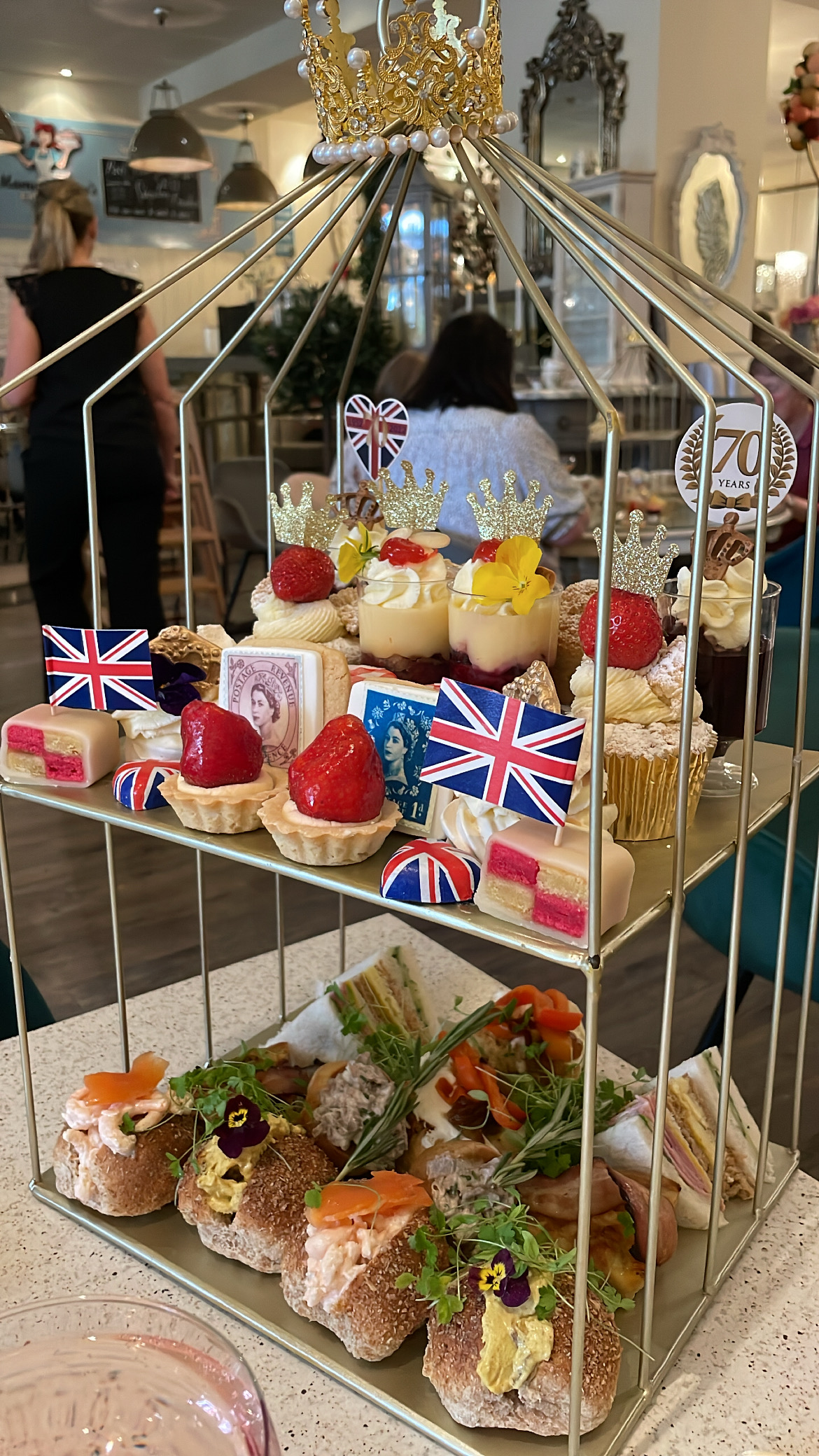 The display was laden with cakes, biscuits, trifle pots and fancies, not to mention the sandwiches, tarts and savoury delicacies. It was a sight not easily forgotten!
1950's Styling
I adored the theming of the 1950's inspiration; the First Class Shortbread – which depicted the Queen on a stamp was so clever. The union jack flags, golden crowns and 70 years decorations were all tastefully displayed, giving the whole plate a regal feel!
There were too many taste sensations to mention, all glorious, so I'll share some of my highlights!
Savoury Sensations
On the savouries platter  alone there were eight different delights included! The sundried tomato and cheese scone with apple and ale chutney and roasted peppers was one of my favourites. My friend said the mini Yorkshire pudding with Roast Beef and horseradish was also very delicious.
Sweet Treats
On the selection of sweet treats, of which there were also eight, the Union Jack Battenburg was perfection! The Rhubarb Eton Mess was an inspired combination and the English trifle was cleverly created in a mini-pot, with all the layers complete!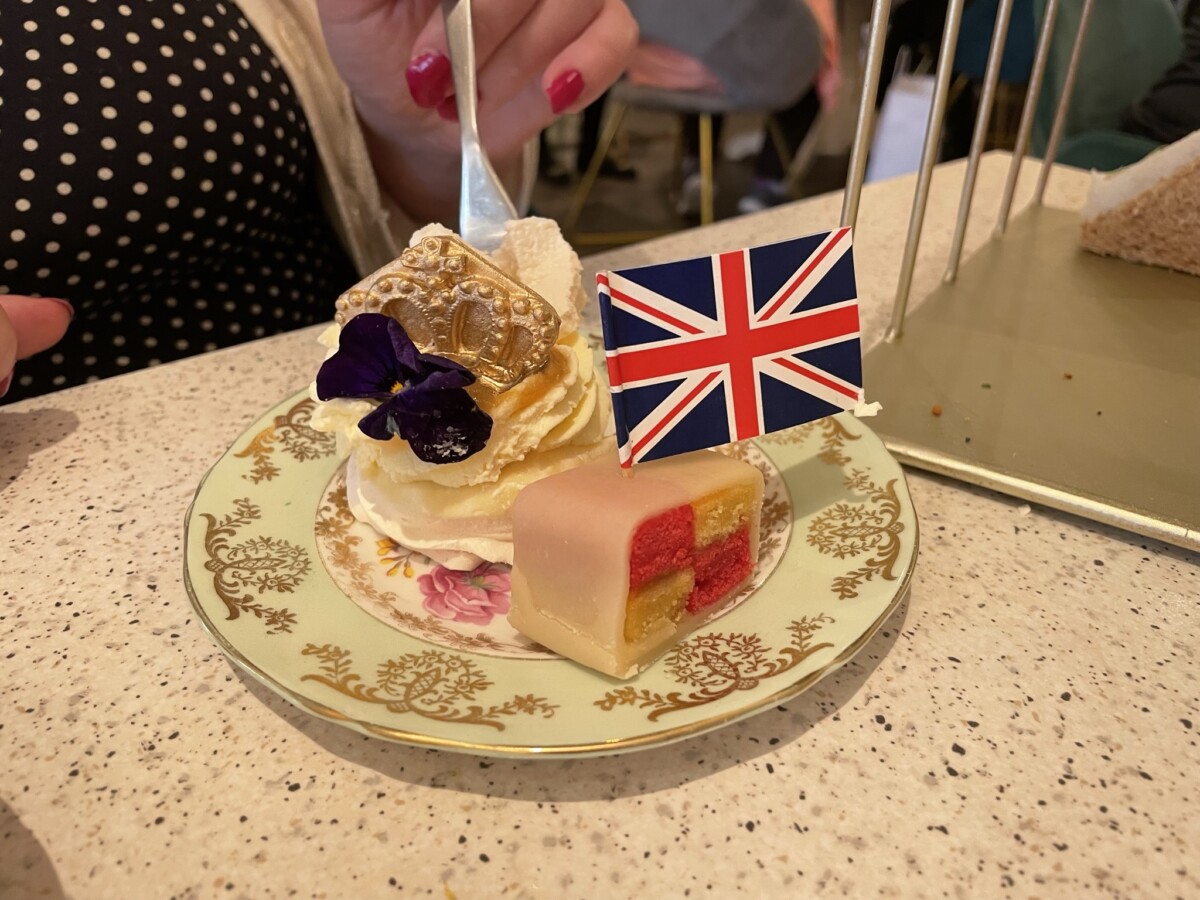 The classic Victoria Sponge, in cupcake form was elevated with buttercream swirls and glitter covered fresh strawberries! It was all too tempting and too tasty not to try everything!
I'd be rushing back tomorrow if I wasn't still so full, as the portions are really very generous and we even took a few treats home!
If you have visitors coming for the elongated weekend or just looking for something special to do with the family I'd really recommend booking a table, before they're gone!
And if you're celebrating the Jubilee at home you might want to treat yourself with a takeout Jubilee Afternoon Tea (book this in advance), perfect for garden or street parties or tucking in on West Park Stray amongst the events!
How to book at the Emporium
Book your table within the Emporium and celebrate the historic Jubilee event in true Yorkshire style. To book call 01423 504 615 or online.
£29.95 per adult, £20 senior citizen or £15 for children 12 and under.
Jubilee Afternoon Tea Takeaway
If you're partaking in the bank holiday festivities at West Park Stray, the Valley Gardens, or just celebrating in style at home, you can also get the Jubilee Afternoon Tea to Takeaway!
Takeaway price is just £18.50 per adult or £9.50 per child.
Book online or call 01423 504615.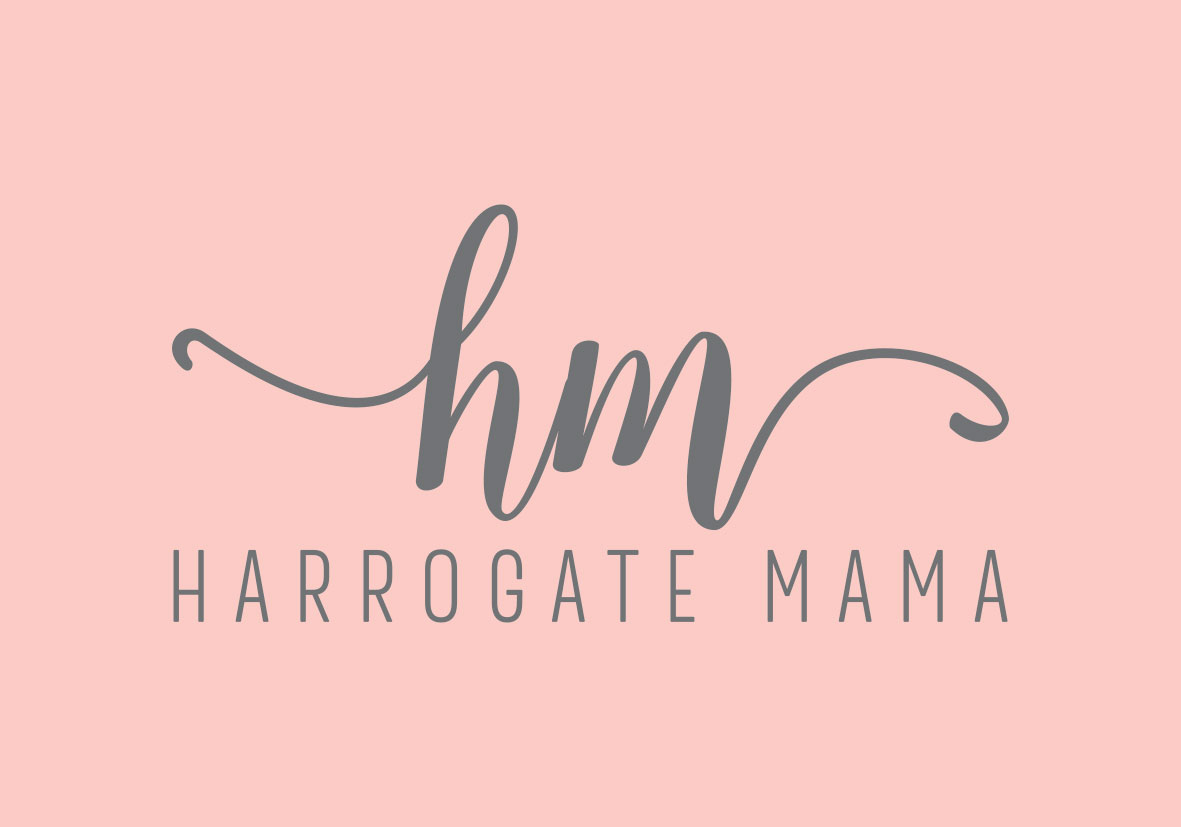 Ogden of Harrogate invited us to enjoy the Jubilee Afternoon Tea with their compliments, the review is my own.