So, I may have been drinking tea and checking my Instasham feed, and the Small Boy might not have been impressed, and there may have been some 'care seeking behaviour' going on. It may have looked like this!
Sometimes you you just need to pop yourself into a small cube stool and put the lid on it, it's a great way to check your Mama is paying attention to you. I feel a little like this myself some days! ?
Happy Wednesday folks, half way to le weekend!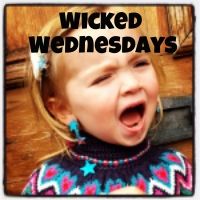 (*The lovely BrummyMummyof2 shares her favourite #wickedwednesdays picks of the week over on her blog…so if you're feeling like the only one who's dealing with this sort of shizzle, then check out the links, for you're not alone!)
Follow: Me (Harrogate Mama) on Facebook and Twitter and Instagram
Here are some more of my wicked Wednesday parenting fails; Wicked Wednesday – The Small Boy responds to EU Referendum, Wicked Wednesdays – Rollin' with ma Homies,