Clearly there are lots of ways to play with your foam hopscotch, one is by adding the appropriate numbers in the right slot and playing actual hopscotch on it. The other is by putting your head through the number holes and covering one eye with another part of it.
General shizzle ensued after this photo was taken, when the Small Boy learnt he couldn't leave the foam number around his neck whilst he ate his tea!
#wickedwednesdays 11.5.16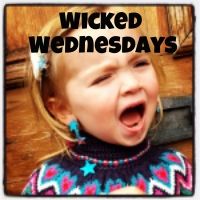 (*The lovely BrummyMummyof2 shares her favourite #wickedwednesdays picks of the week over on her blog…so if you're feeling like the only one who's dealing with this sort of shizzle, then check out the links, for you're not alone!)
Here are a few previous Wicked Wednesdays of my own!
(All photos copyright © Lucy Playford)