Last week I had a photo shoot in and around the sights of Harrogate for the blog! It was so exciting and I can't wait to share all the pictures of how gorgeous our home town looks with you! We're so lucky to live here!
Since I was to be in some of the photos too! Eek! I contacted an amazing professional make-up artist so I could look my best for the pictures!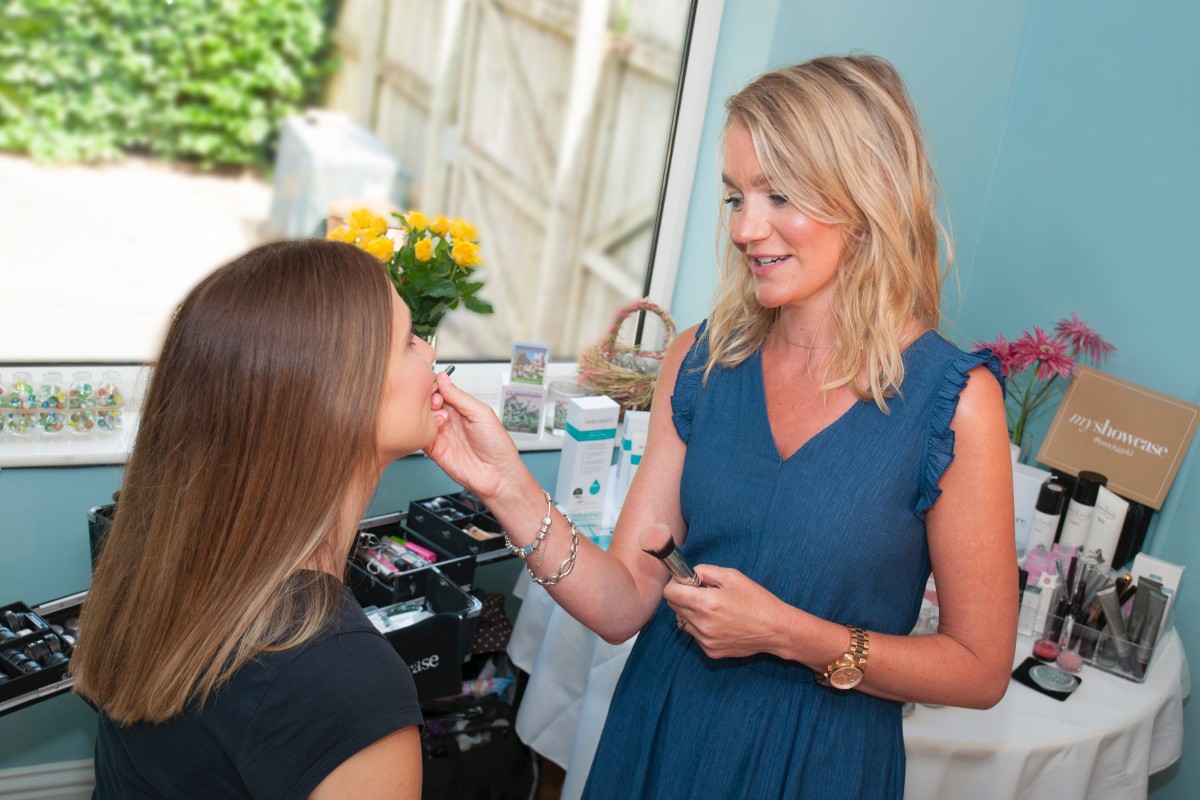 Harrogate local Louise Lunn, who I have worked with in a previous life on photo shoot sets and weddings, is a consummate professional make-up artist and really knows her field like no one else. She started out working for MAC make-up and over the last fifteen years has built her own independent make-up artist portfolio which you can check out over on her website. It's pretty impressive! She's booked up sometimes years in advance for weddings. She really is very talented and I couldn't recommend her highly enough.
While I was in the safe hands of such an expert, not once did I worry how my finished look would be, I took the opportunity to chat to Louise about what Mama's can do to help themselves to improve their make-up look. She was also able to talk through her range of beauty and make-up products in her MyShowcase collection and luckily for us she was even happy to share some of her insider secrets!
I started off by asking her what Mama's can do quickly and easily to improve their day to day make up look.
One of the first things I tell all my clients is that although make-up is always going to help, the most important thing they can do is to look after their skin!
If you're spending all that time and money in expensive make-up products, then often you're better off making sure you look after your skin properly first. Your skin is yours for life and it's really worth looking after and investing in it.
I asked her what products she would recommend for my face and what she used herself, I always love to know what the professionals really use!
Twice a day on my skin I use Antonia Burrell Natural Glow Cleansing Oil. It's a 100% natural product, created by a leading facialist, which emulsifies with water to create a cleansing milk. It's a natural solution to problem skin which is really rare to find these days in a market of more pharmaceutical products and doesn't change the pH of your skin.
When I use the product I always use it in conjunction with a cleansing brush, which is a little like a larger version of an electric toothbrush for the skin. It helps wash away all your impurities an acts as an exfoliator. It also improves circulation which improves the regeneration of collagen, which means it's really anti-ageing in a natural way. I love the Magnitone cleansing brush, it has a 60 second timer so you know when you're done and you can use it in the shower too.
It's also worth using good body products too. I use the Ameliorate  range and find their body lotion is one of the best I've ever used. It' a skin smoothing lotion designed to improve the appearance of Keratosis Pilaris ('chicken skin') and dry skin. It always leaves my skin feeling super soft and looking lovely.
Do you have any quick fixes for Mama's that they can do easily at home?
Often clients come to me with troubles over breakouts on their skin and wonder why. While there can be lots of reasons one of the main ones can be that they don't look after their own make-up brushes properly.
Make-up brushes are a breeding ground for bacteria, and if everyday you're putting your brushes back on to your face you're just repeating the cycle. I wash my brushes daily in a solution of mild shampoo, you can buy solutions in chemists, but shampoo is as good as anything. I also use a goats milk brush cleanser and an antibacterial spray on alternate days too.
During our chat Louise mentioned her teenage daughter, so I took the opportunity to ask what insider tips she passes on to her while she's at a notoriously difficult age skin-wise.
She does wear make-up but it's always natural looking and played down, she always looks lovely. Through watching me though she's learnt the secret to looking your best is looking after your skin. So she uses a cleansing brush every other day (it's better for younger skin to use it every other day) her friends are always complimenting her on her skin.
There are so many skincare products for teenagers but I believe that the best ones are natural. She uses the brand Elizabeth's Daughter which is pioneered for young skin, it's natural, kind skincare, unlike a lot of store bought brands which are really heavy on the alcohol content. My son who's 12 also uses the Elizabeth's Daughter facial gel cleanser and moisturiser too.
We both use a 'greener and cleaner' natural, herbal, deodorant by the brand Madara made from a high quality plant based formula. I wouldn't use anything else since discovering it.
And as a family we only use Vita Liberata which is a more natural sunscreen with anti ageing benefits, which is free from potentially irritating chemicals. It goes up to SPF 50. I love their Passionflower and Argan Dry Oil Spray, it's really non-greasy and easy to apply.
It was so lovely having my make-up professionally done. I learned lots of top tips and wondered if other Mama's could benefit from the same experience?
I think sometimes it's hard for Mums, sometimes you're out of the loop for a while when you're at home looking after a young family and its hard to find the time to shop for make-up for yourself. Your skin can change post children too and the make-up that suited you before doesn't always suit you a few years down the line. That's one of the reasons I offer my make-up 'Shakeup' sessions.
The 'Shakeup' works by getting a group of around six to eight friends together over a morning coffee so that you can try and experience a selection of new make-up ranges for yourself. I come to your house and use my professional skills to apply make-up to one of the guests (or the host) while the others watch and learn, and can try the products for themselves. It means I can demonstrate how to use the latest seasons colours and styles and everyone gets to benefit from learning about applying make-up, updating their look and trying what new products are out there too.
The host receives a 20% discount on her order, plus a £40 gift voucher to spend if five or more guests place an order and an additional £10 gift voucher if eight or more guests place an order. There are more details on my 'Shakeup' webpage.I offer the same service for a skincare 'Shakeup' too. It's a great way to update your make-up look and learn what really suits you.
If someone is wanting an even more personalised service I also offer one to one make-up lessons. And of course I'm available as your dedicated make-up artist if you've got a wedding, party or big event coming up that you want to look your best for.
Which make-up products have you used on me today?
I've used a lot of T. LeClerc, a French cosmetic brand, on you it's a hard working and long lasting product range and one that I use on myself every day.
I've used the limited edition 'palette of elegance' eyeshadow, which has a range of natural tones. And their colour corrective CC Creme, which is lighter than a foundation. T. LeClerc bronzer is a great product for you too. It's a natural bronzer which comes with it's own dusting brush, I love it as it has no shimmer to it.
I've also used one of their lipstick in the shade 'Rose Devine' and to set your face I used one of their pressed powder compacts in the shade 'Translucide', it give a gorgeous fine matte finish to the skin. It's an amazing powder as it's made from rice flour so it's really lightweight but does its job perfectly.
The mascara is their Multiplicateur Mascara which is my all-time favourite for lengthening and thickening without going clumpy.
I've also used some of the range Wild About Beauty which has been created by Lousie Redknapp and her best friend who is a make up artist Kim Jacob. It's a really easy to use range and it's very natural. It's very, very sheer, and the brand is often described as 'mums on the run' – it's great to just quickly put some on. The ultra sheer powder blush is one I use myself every day and I've used it on you. Their lipsticks are lovely and sheer and not heavy at all and the lip glosses are very natural. It's also a great natural, light range to take on holiday.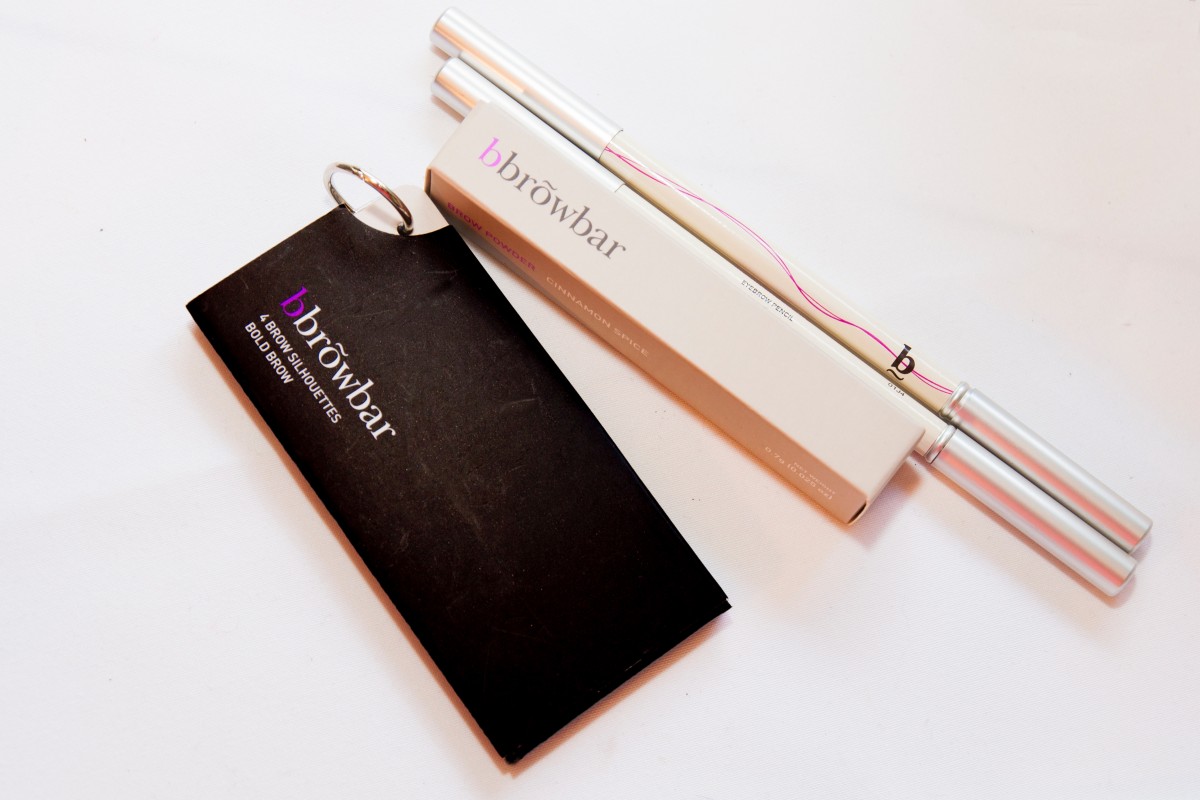 With the eyebrow trend being what it is now, I didn't want to go too heavy, so I've used the brand BBrowBar Brow Grooming Gel on your eyebrows and also their eyebrow pencil, just to fleck it a little bit too.
What are your top make-up tips and tricks you would pass on to Mamas?
I always use a nice flat round brush to apply cream blush, not your fingers, it goes on much more evenly and naturally. You should always use a powder to set your face and stop you looking shiny, but the trick is to make sure your powder is super light. You don't want to be bulking up your make-up. Pinky, earthy tones always work well as eyeshadows if (like you (me!)) you've got green eyes and don't use chocolatey browns. And finally always powder your lips before you apply your lipstick and then your lipstick then has something to stick to and it lasts so much longer!
Louise also let me try her perfume which is Kukui Eau De Parfum by Connock London and has the gorgeous scent of Hawaiian flowers as its signature. I totally loved it and it's now  going straight to the top of my Christmas list. It's beautiful!
If you want to find out any more about Louise's 'MyShowcase' range of products for skin care and beauty including prices you can contact her directly for more information or check out her MyShowcase webpage.
She's more than happy to drop off some samples anywhere in the local area for you to try at home too, just get in touch.
If you want to book Louise for a make-up lesson or make an appointment for her to do your make-up for a special occasion you can find out more about her prices online. I can't recommend her highly enough! I wish my make-up looked like this everyday, so natural and just like a nicer  version of myself!!
The photos for this post were taken by the skilfully talented Catherine Gibbin you can check out her website over at www.catherinegibbinphotography.com
More of the official photos from the Harrogate photo shoot will be coming to the blog very soon. I can't wait to share them with you!
Keep your eyes peeled for a giveaway coming to the blog soon from Louise Lunn too! It's a lovely one! 🙂
Disclaimer: Louise did my make-up free of charge for the photo shoot in exchange for my time writing this piece but all the opinions are my own.