I love going to The Beauty Suite within Dangerfield and Keane's hair and beauty salon on Cold Bath Road in Harrogate. I've been going there pretty much regularly since it opened eight years ago. Whether it's for a massage, waxing, tanning, eyebrows or nails it's always been a brilliant service. I've always felt really well taken care of, their customer service is spot on and the treatments are always professionally carried out and I'm always thrilled with the results.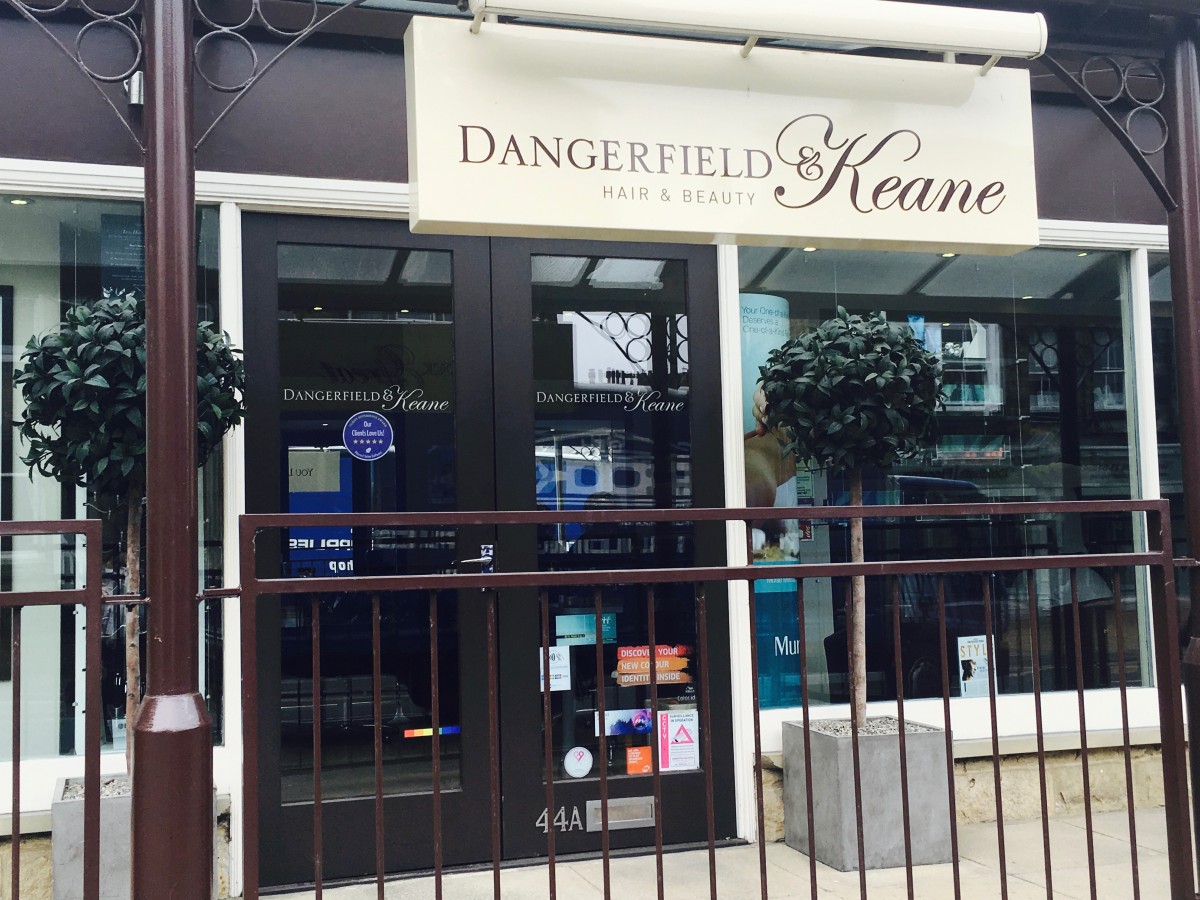 Vikki who runs The Beauty Suite with her team of talented, experienced therapists is a calming presence to be around. She always makes you feel like you're the most important person there and you know you're in safe hands as she's such a professional. One of the treatments I hadn't experienced at the salon before was a facial. So Vikki invited me in to try one of their most popular facials in the pioneering brand Murad, a brand she uses every day herself.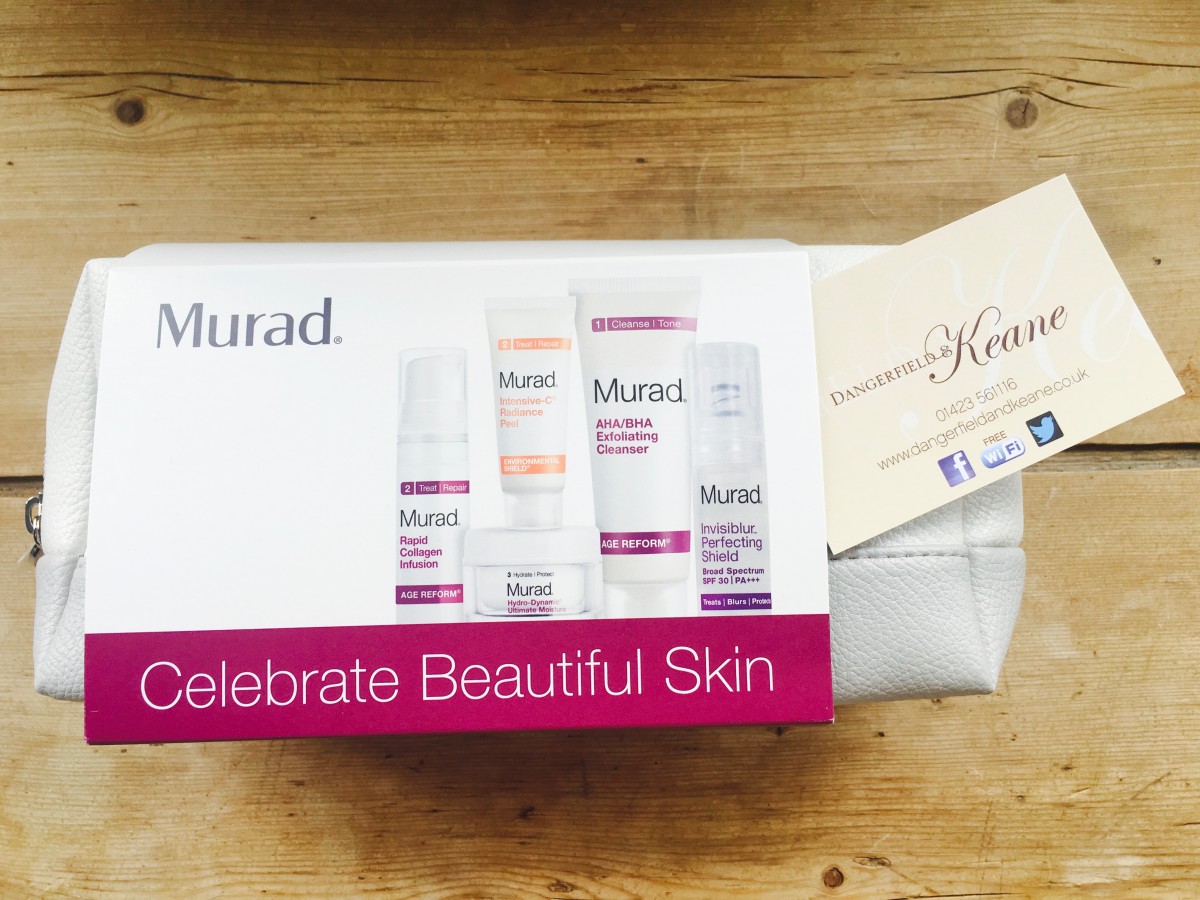 Murad has been developed by Dr Murad who is a certified dermatologist, trained pharmacist and clinical professor of medicine at the university of California, LA.
It's a brand often described as a cosmeceutical brand (a cosmetic that has or is claimed to have medicinal properties). Murad products claim to travel deeper into your skin and contain pharmaceutical grade ingredients which aim to permanently change the behaviour of your skin.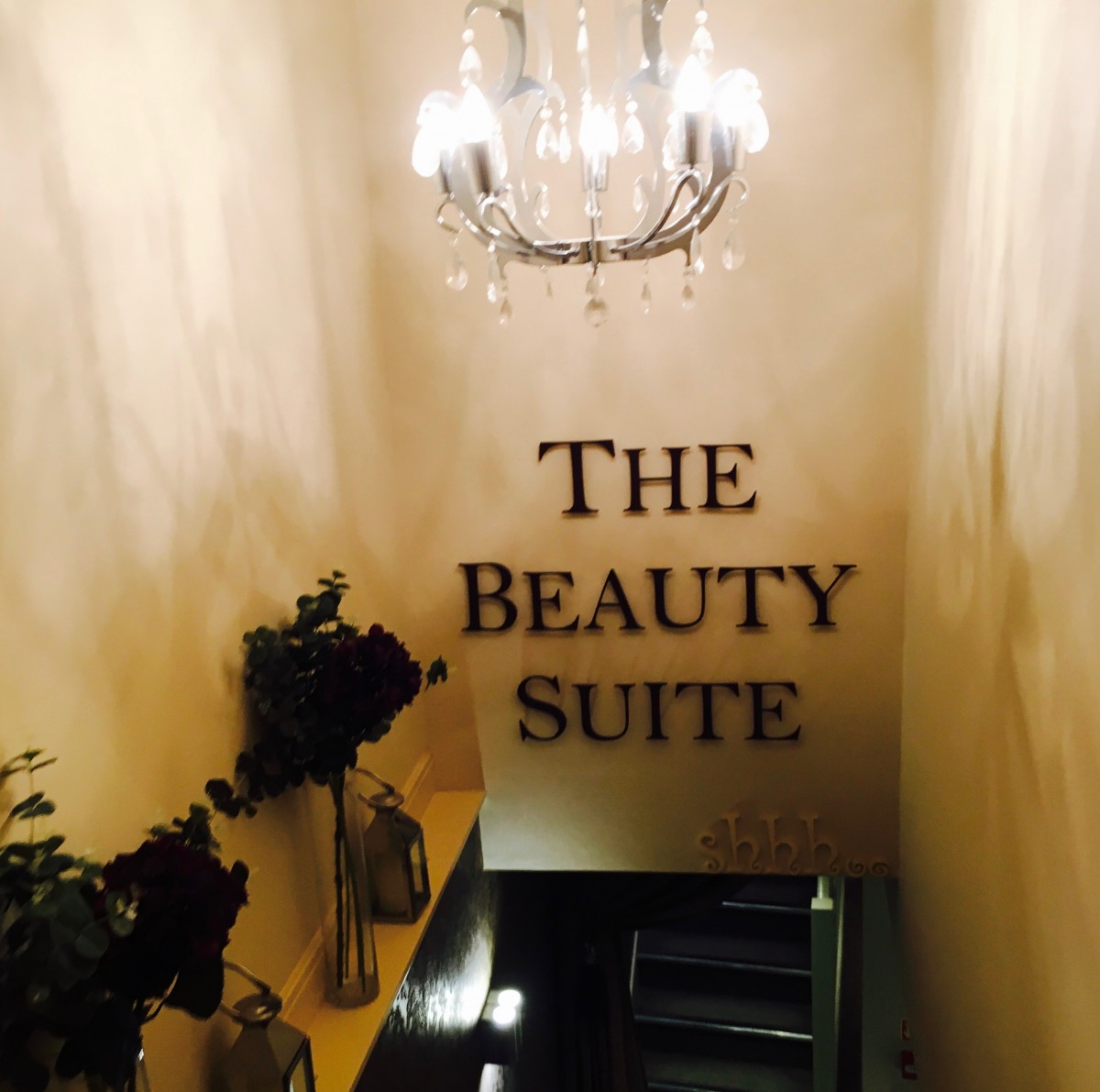 The brand is designed to be a holistic one too, with Dr Murad acknowledging the importance of good diet and a healthy lifestyle.
My therapist for the Murad Method Facial, The Beauty Suite's Naomi, said that Murad state that topical products benefit your skin by 20% and it's diet and lifestyle that contribute the other 80%.
I started my facial by receiving a personalised skin scanner – which photographed my face which could then in turn highlight areas of blemishes, sun damage and ageing that can not been seen as easily with the naked eye.
Apart from the image being slightly scary to see – although Naomi reassured me that everything was not too bad – it's important for the therapist to get a full oversight of how your skin looks at that layer one deeper than at surface level.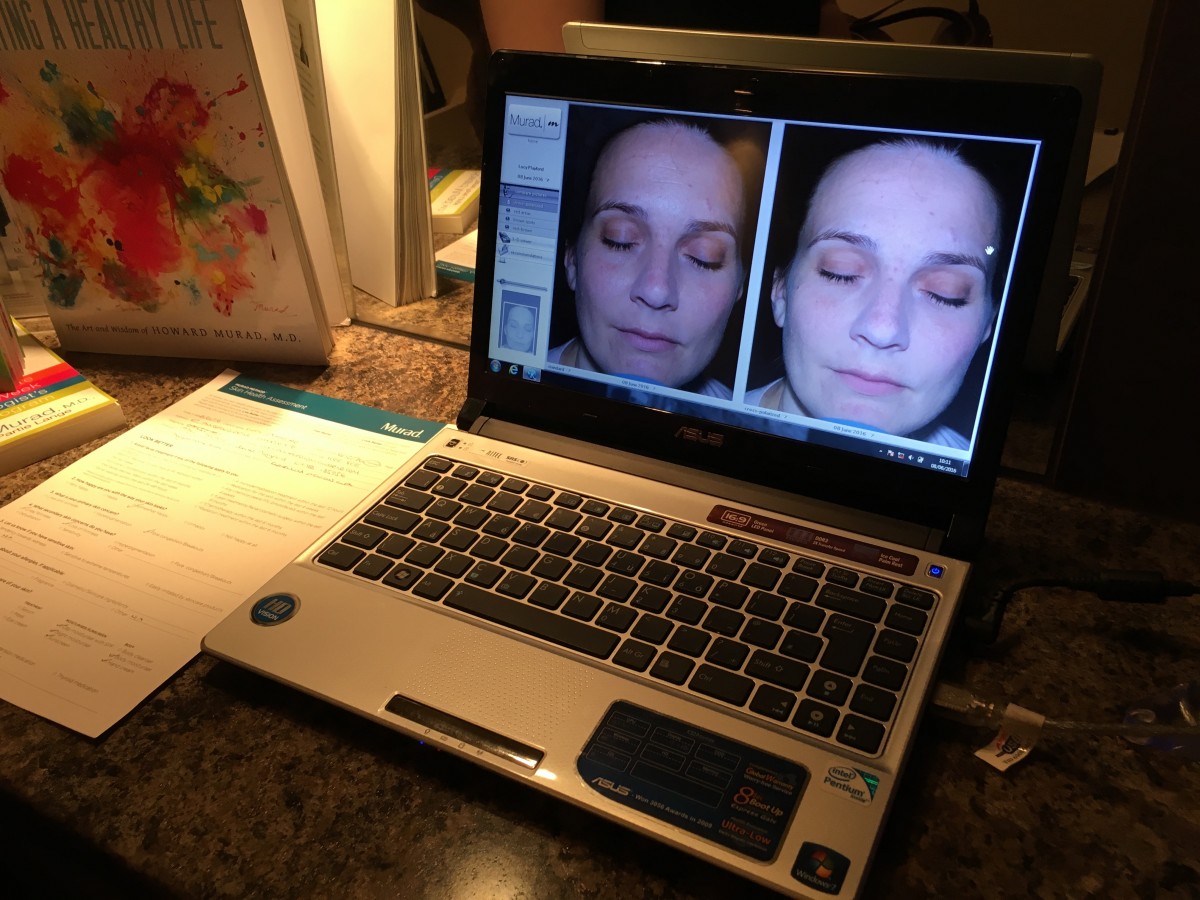 Having your skin scanned in this way, followed by a detailed consultation with your therapist and in conjunction with a pre-treatment questionnaire, all means that the Murad facial you receive is specifically tailored to your skin's unique requirements. Whether it's blemishes, acne, ageing or sun damage, there's a Murad treatment designed to help target the problem.
The Murad system is designed on a three tiered system;
1.) Cleanse and Tone  (Cleanser)
2.) Treat and Repair (Serum)
3.) Hydrate and Protect (Moisturiser)
Which all makes pretty good sense to me. I must admit I'm a cleanser and a moisturiser but the treat and repair element was new to me! Naomi informed me that actually the treat and repair element (step two) is probably the most important part of your skincare routine, as this is when you can repair any ongoing damage to your skin.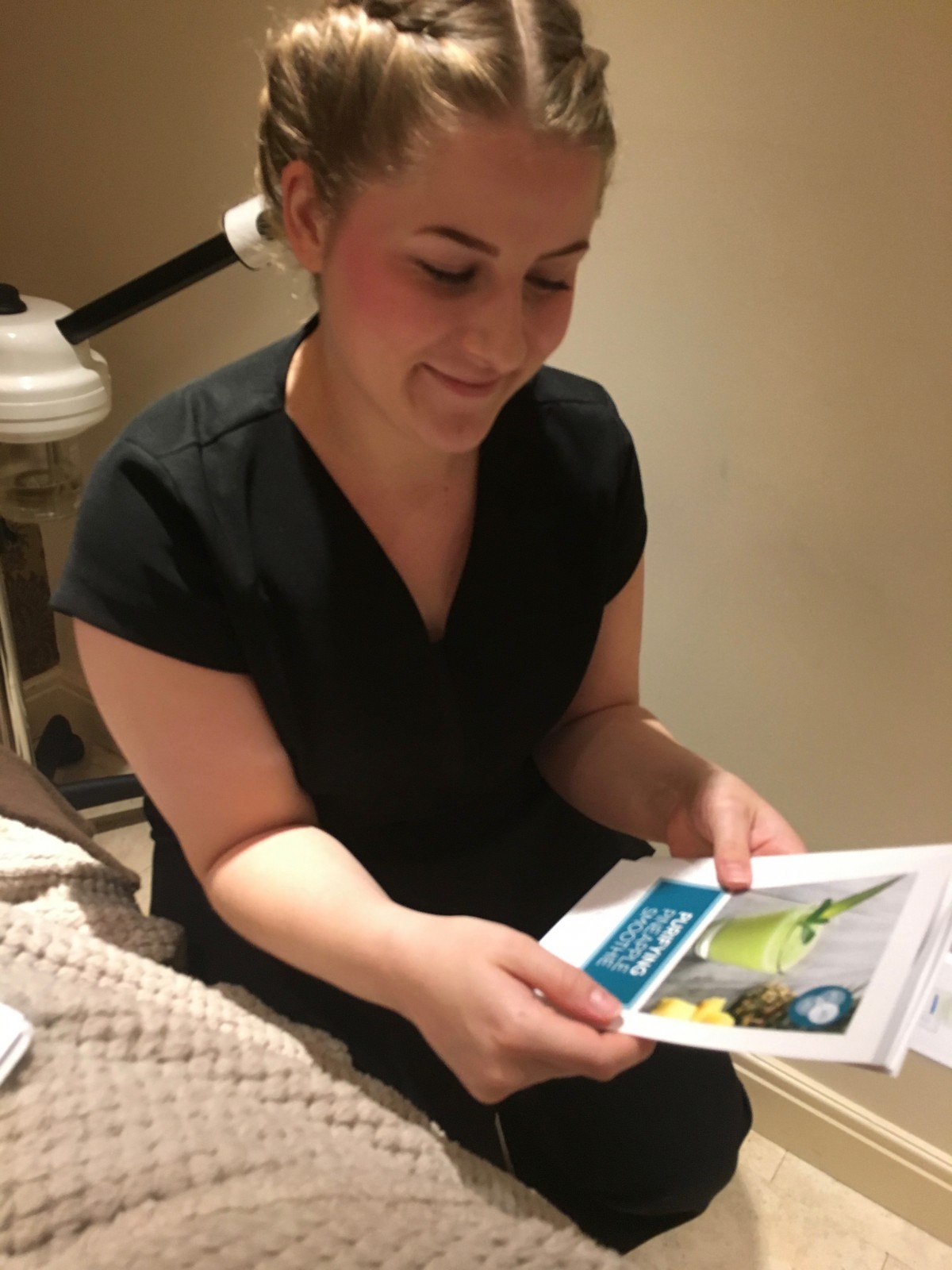 On collating all of my skincare information Naomi and I agreed to create a method facial that would help target blemishes and wrinkle reduction on my skin and prescribed the appropriate products accordingly.
The Beauty Suite are really well versed in Murad having carried out facials in the brand for the last seven years. So once all the talking and research had been done it was time to sit back, relax and enjoy the treatment.
I have to say the facial was one of the most relaxing facials I have ever had! I think I almost fell asleep during it! It lasted around 50 minutes from start to finish and I had no less than twenty products applied to my face over that time! I had hand and arm massages while products soaked in, a neck and shoulder massage and so much relaxing facial therapy too. It was heavenly!
Needless to say once the treatment was over my skin felt amazing, so relaxed and rejuvenated, I really didn't feel like I needed any make-up on my skin because it looked great aux natural – which it never normally does!
Naomi recommended some products to me that would help continue to improve my skin which I was really keen to hear about. I decided o the Advance Blemish and Wrinkle Reducer Serum as that seemed to hit the nail on the head for me treatment wise.
Naomi also advised me of some recipe cards as part of my Skin Health Plan which are given out after each Murad treatment, designed to include ingredients which can specifically target your problem skin areas. Mine was a Purifying Pineapple Smoothie, which does sound good, but I have to admit to having not yet given it a go!
Some clients have a Murad facial as a series of six treatments over the course of a few months to help them specifically target problem areas or skin issues, such as adult acne or  skin damage. This is where the skin scanner comes into its own as the results are tangible if you compare how your skin was before the first treatment and again after the sixth one.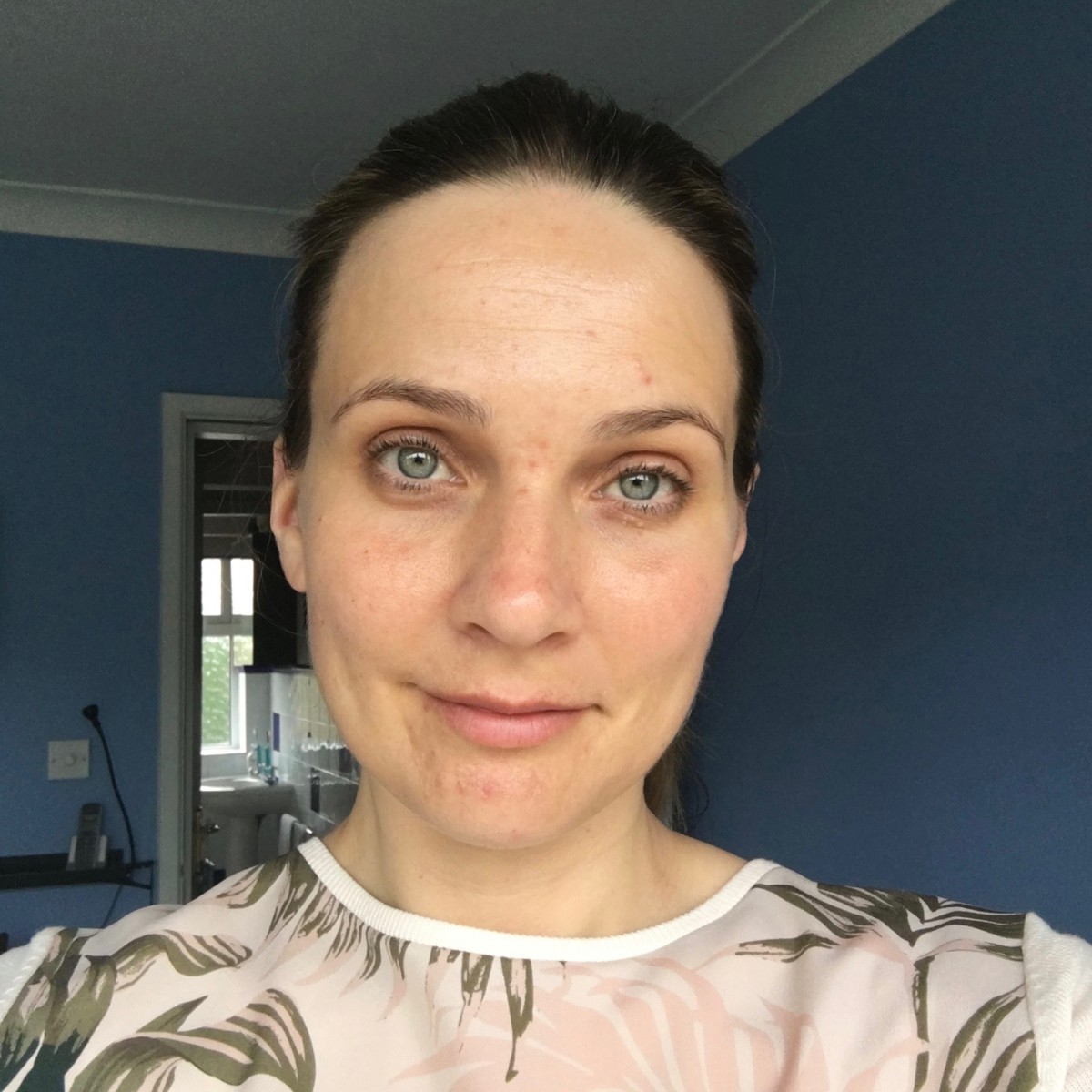 The results spoke for themselves for me the day I went to The Beauty Suite as I came out happy in my own skin, without make-up in the first time in forever. I also felt lighter and more relaxed for having laid down in the middle of the day for almost an hour and seriously benefited from all the relaxing massages! Awesomeness!
I would definitely recommend the Murad method facial to anyone. It's £65 but justifiable as you would probably spend that on a new top that you'd wear once in a while and you wear your skin everyday. As I'm getting older I realise more and more that your skin is yours for life and you need to invest in it, like you do your body and your mind, if you want it to keep looking after you.
A Murad facial is definitely a good brand to choose too, as the skin diagnosis part of the treatment is really valuable and you can consider the elements of your skin that you're really hoping to improve and find exactly the right products to help target them. Plus you get the added bonus of the relaxation element and pampering that as a Mama you don't get anywhere else. It's so lovely to have someone else look after you for a change!
I can't rate the Advance Blemish and Wrinkle Reducer Serum that I bought highly enough either. I've used it every night for a week now and I can really notice the difference. My skin is smoother, the lines on my forehead are less noticeable and an added bonus appears to be that my lips are looking fuller! Who knew a serum could do that?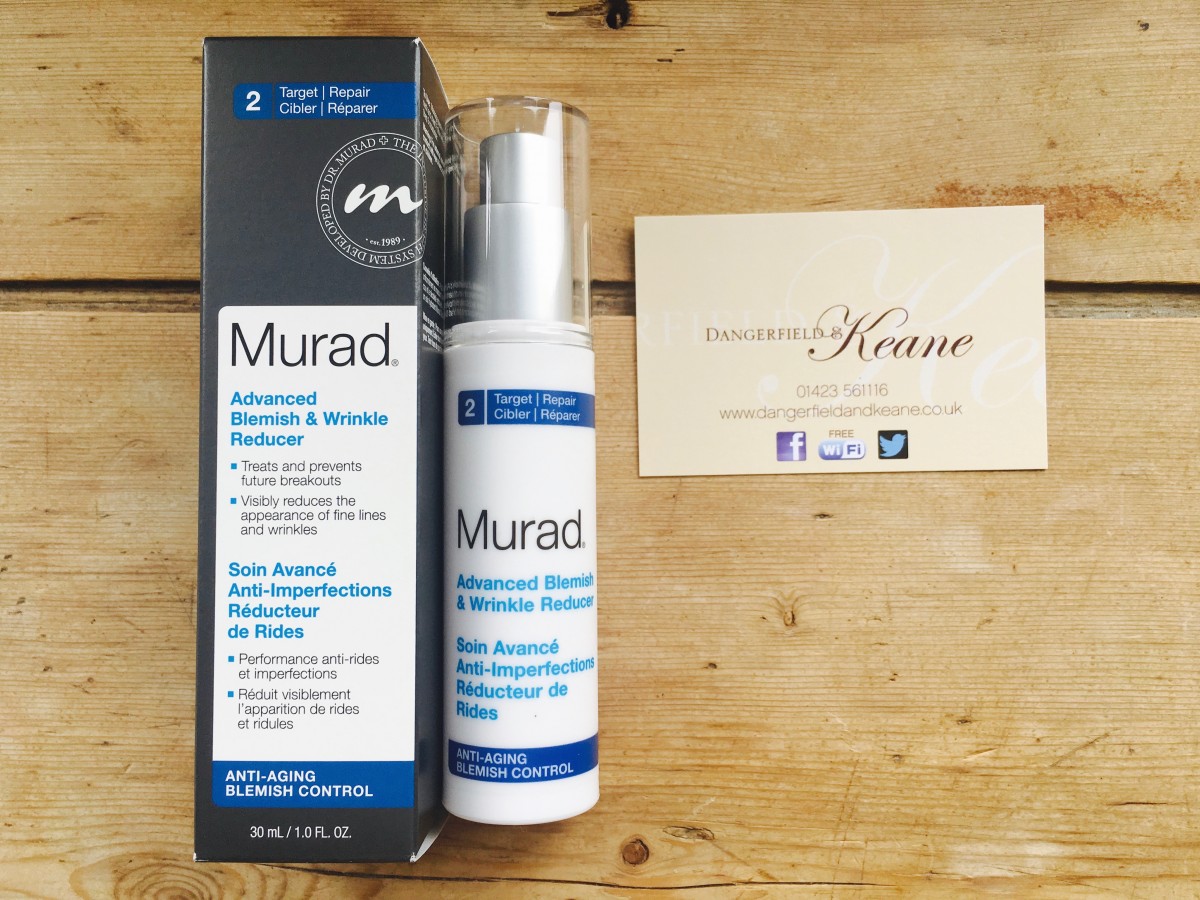 Vikki kindly gave me a trial sized bag of goodies to try at home too. Murad's Rapid Collage Infusion is one of their best selling products, it imitates the skin's natural collagen to produce more and fills out the wrinkles.
The Invisiblur Perfecting Shield is another popular product. Its a sunscreen with SPF 30 and it's SO light on your skin, not greasy and heavy like a normal suncream can be. You can also mix it with your make-up to give a lovely lighter coverage. It's brilliant.
The Beauty Suite within Dangerfield and Keane hair and beauty salon remains one of my favourite places to have beauty treatments, I always leave with a smile on my face and some part of my body and mind feel all the better for going.
I'm a great believer in investing time in yourself to make yourself a better person and a better parent. A pamper with tangible results where you can see and feel the benefits once in a while is the perfect way to achieve that in my opinion.
Watch out for an exciting giveaway from The Beauty Suite within Dangerfield and Keane's hair and beauty salon coming to the blog very soon! Can't wait to reveal it!
Disclaimer: The Beauty Suite within Dangerfield and Keane hair and beauty salon invited me for this Murad Method Facial with their compliments and gifted me the trial sized products, but the opinions are my own. I bought the Murad Advance Blemish and Wrinkle Reducer myself.