We had the nicest time when we went for a family Sunday lunch at The Durham Ox in Crayke, which is just nestled on the edge of the North Yorkshire Moors.
It's in a gorgeous little village, north of York and only takes about 40 minutes to get to from Harrogate.
The Durham Ox
The Durham Ox is set in the gorgeous picture postcard village of Crayke and is run by the ever so lovely husband and wife team, Sasha and Micheal Ibbotson.
Sunday Lunch
We had the warmest welcome in the cosiest of pub settings and some of the best Sunday lunch we'd had in a while. The Smalls all ADORE a Sunday dinner, it's one of their all time favourites so always goes down well.
Sunday Roasts All Round
It all started off with a chilled glass of white wine and just improved from there! Harrogate Papa and Harrogate Grandma (who came along too) both chose the roast leg of lamb, served with duck fat roast potatoes and classic Yorkshire pudding, which they thought was all cooked to perfection!
The Smalls went for the roast chicken – which Harrogate Papa had to sample it looked so good and he wasn't disappointed!
The mains were all served with seasonal vegetables of broccoli and green beans, carrot and swede mash (one of my all time faves) and cauliflower cheese! There was all the gravy you could ask for and there were clean plates all round come the end of the meal. I don't think anyone came up for air it was all so tasty!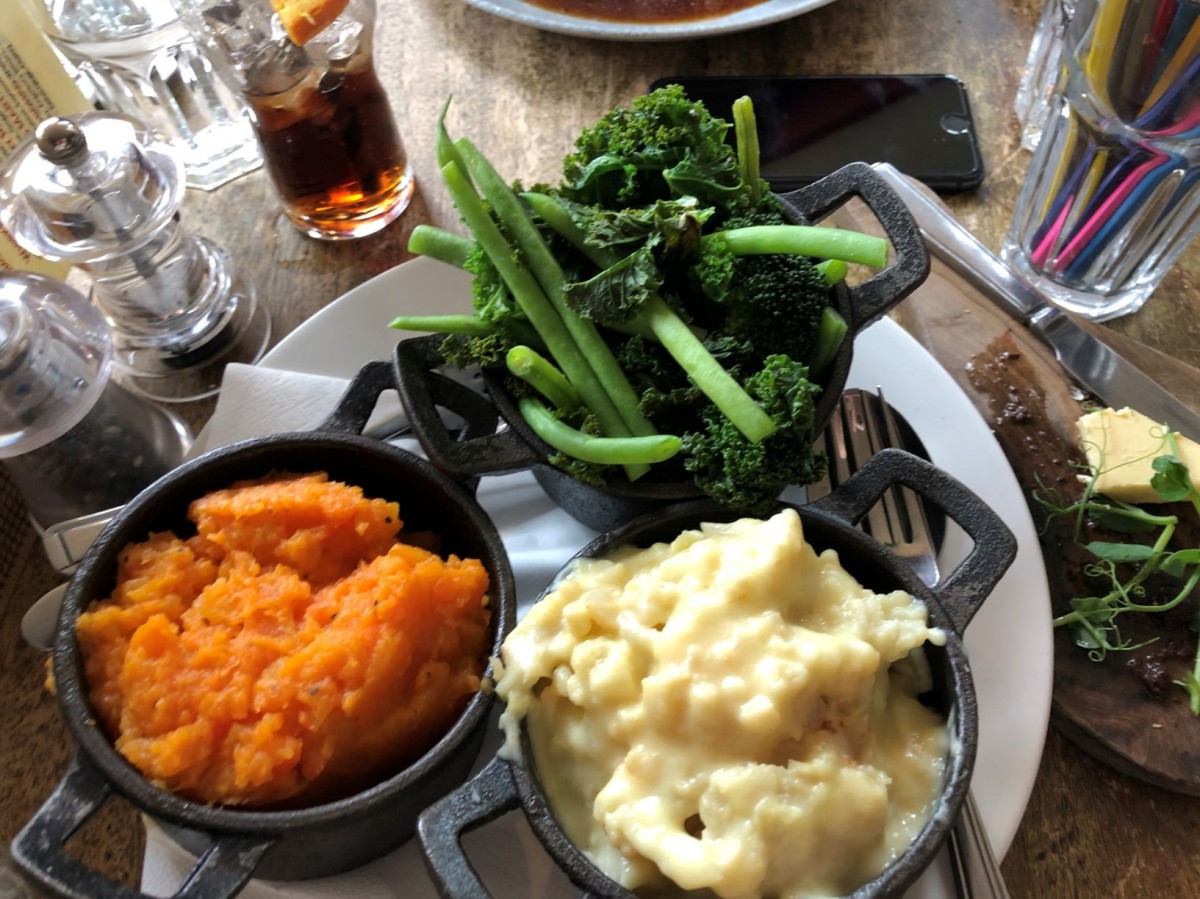 Salmon Nicoise
I decided to go for the Pan Seared Fillet of Salmon Nicoise – which was served warm on a bed of new potatoes, green beans, capers, olives and sun dried tomatoes. I totally loved it and it was the perfect Sunday lunch for me!
Dessert O'Clock
After a little break it was on to desserts, the choices were plentiful which made choosing hard! Sticky toffee pudding is always a firm favourite and when it's served with cinder toffee ice cream it turns out it can't be turned down!
Chocolate brownie served with chocolate sauce was also high on the selection list, with one of the Big Girls unable to refuse.
The Small Boy decided on a chocolate ice cream sundae, which made his day and Harrogate Papa decided to go for a selection of cheeses!
I chose the baked apple and pear tart tatin, cooked to order, served with ice cream and toffee sauce – which was spot on!
Family Sundays
All in all we had such a lovely family Sunday lunch in a gorgeous setting. The kids menu prices started at £8 and £4 for a dessert and the grown-ups from £15 for a roast dinner and the salmon was £18.
Private Dining at The Durham Ox
We've been to The Durham Ox before, for a family birthday in their private hire room upstairs, which is fab! It works brilliantly if, like us, you have a large family and would like somewhere with a little more space to yourselves as it comes complete with it's own living room and bathroom too! Perfect for the Smalls to have some space away from the table and for the grown ups to chat!
Overnight Stays at The Durham Ox
The Durham Ox also offers some gorgeous accommodation in the form of cosy cottages which are perfect for bed and breakfast and they do also have some great two and three nights deals and mid-week dinner, bed and breakfast rates too.
We spotted this gorgeous outside space too – which will be perfect when the summer months swing by! Who doesn't love a beer garden I ask you?!
The Durham Ox invited us in to review with their compliments, the views as always are my own.