Having almost reached the ripe old age of forty I can't really believe I have not eaten Sushi before, well, not one that's not packaged up by Marks and Spencer's anyway! So I have to admit to feeling a little apprehensive when I visited Harrogate's new YO! Sushi, one of the new restaurants opening up at the site of the new Everyman Theatre in Harrogate.
I wasn't sure what the dining experience would be like, if I would enjoy the food or whether it was really my thing at all! Turns out I couldn't have been more wrong! I totally loved everything about it! Here's why…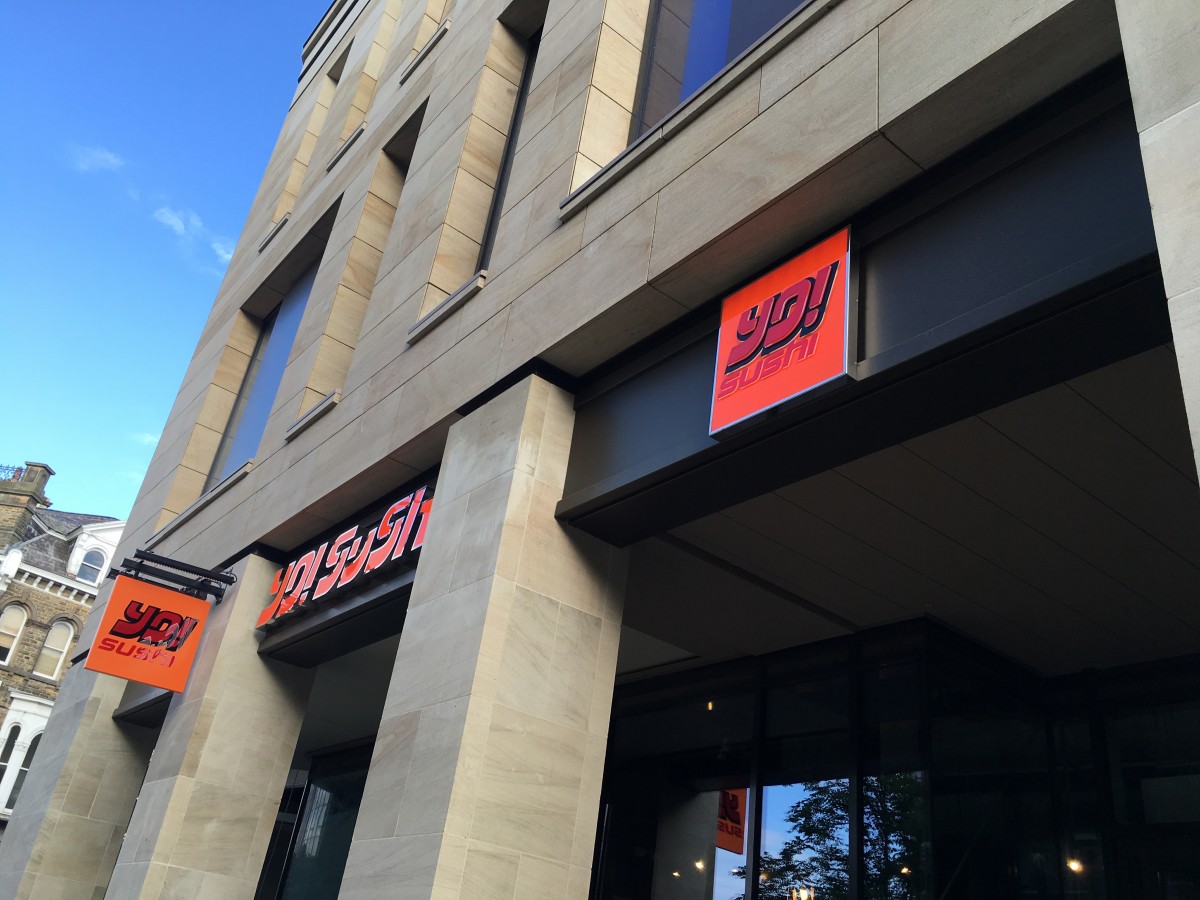 I visited the Japanese eatery with my Dad, he knows a thing or two about Sushi having enjoyed it in 'real cities' like New York (can you tell I'm a Harrogate Princess!) I love going out to eat with my Dad, it's really rare that just the two of us go out together, so it was lovely to spend some quality one-to-one time and he was able to share his Sushi experiences with me!
The restaurant design is as you'd image it to be, quite stark and minimalist, highly styled in a modern Japanese fashion, with loads of bright LEDs and clean lines and all sparkly and new!
The kitchen is in the centre of the restaurant, with seating on high stools all around at bar level, so you can watch the theatre while you eat! And there is of course, the trade mark conveyor belt of domed plates, silently making their way around the restaurant!
After being seated at our table, a friendly waitress explained how everything worked. It's a little different from a traditional restaurant given the whopping long conveyor belt carrying food! Which means waiting to be served is a thing of the past!
Basically you can help yourself to any of these cold dishes as they sail past you on the conveyor belt. They are priced according to the colour of their plates from £2.00 to £6.00. The bill is made up from counting the stacked plates you've eaten at the end. You can double check what it is you're selecting from the belt by referencing it off the extensive six page menu. But it doesn't end there.
If you want to attract the attention of the waiting staff to order additional items you simply press a call button. Then your table's personal LED blue, bubble lava lamp changes to red and hey presto your waitress/waiter arrives! No waiting patiently to catch someone's eye here, how very un-british!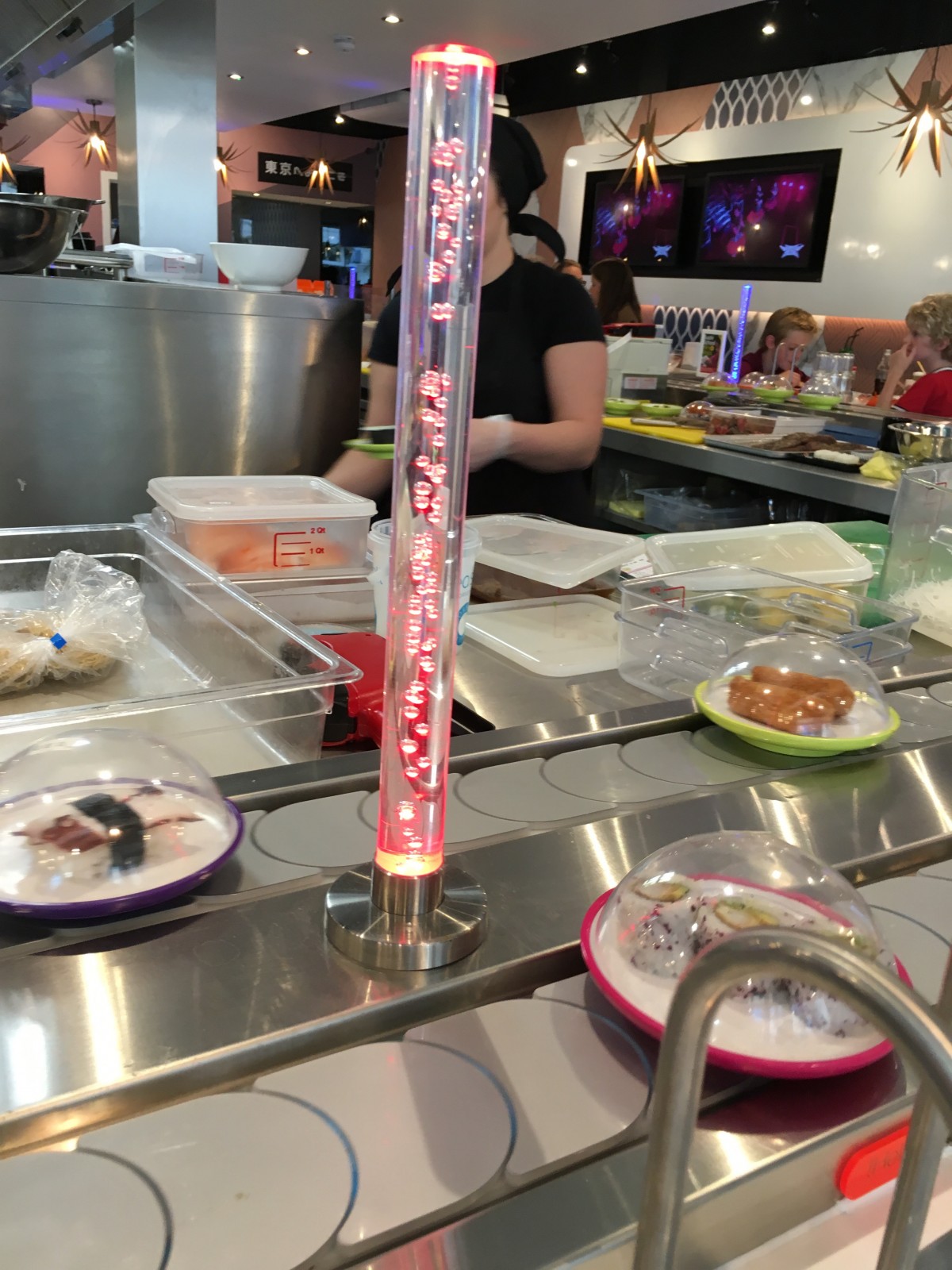 From your waiter or waitress you can order items from the menu that you don't see on the conveyor belt, all hot food (yes they serve hot food too!) and drinks.
Water is available from your own individaul tap on your table, as part of the organisation's 'zero waste' policy saving millions of water bottles hitting the bin every year.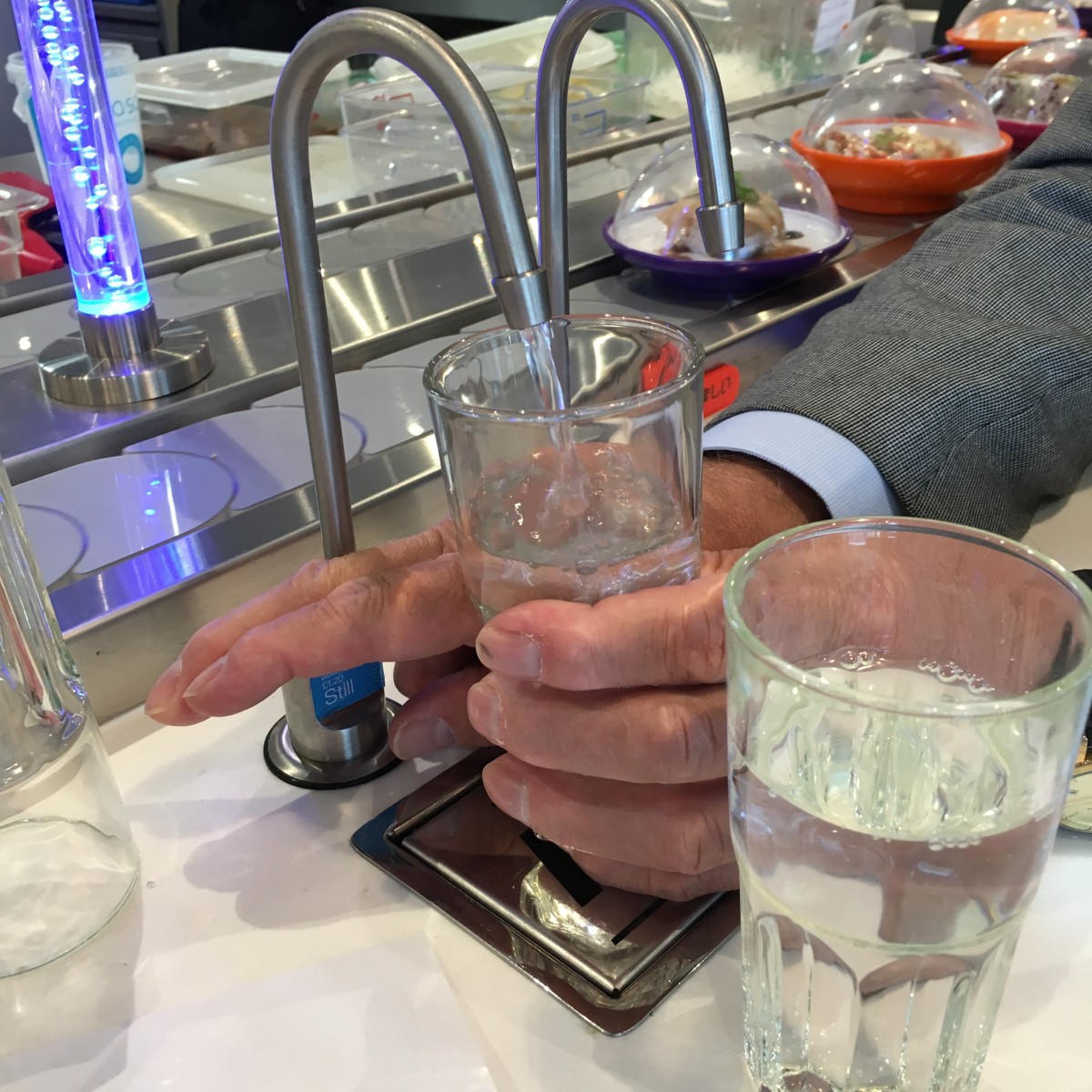 Since I'd had an horrendous afternoon which involved post-school swimming lessons and a tantruming three year old, we quickly opted for the alcohol!
I was really keen to try the Sake (the infamous Japanese Rice wine – which mainly makes me think of Tom Cruise in The Last Samurai movie). It's a drink to be sipped, not shotted, a little like a wine. We chose it warm on my Dad's recommendation which is apparently because you are eating mostly cold food, so then the warm Sake complements it!
It's priced at £5.50, which I think is great value for 250ml and since you drink it in tiny beakers, you feel like you get more than enough. One between two was plenty for us as it's almost 15% proof! It tasted to me like a cross between warm water, really, really mild Soy Sauce and weak Sherry. I really enjoyed it as a totally different drink sensation!
Alongside the Sake we also ordered some hot food from our helpful waitress. Mostly in the £5 – £6.00 plate colours. We ate everything with our chopsticks.
The Spicy Pepper Squid was recommended to us, and was one of the nicest squid dishes I've ever tried, it was not rubbery at all.
The Popcorn Shrimp was by far and away my favourite hot dish of the night, can't wait to go back and order this again! Scrumptiousness! Want to eat this again immediately !
My Dad tried the Katsu Selection, which is Chicken, Kabocha and Ebi Fry drizzled with tonkatsu sauce!
The post school run feeling was proving hard to shake so we ordered a couple of Japanese beers to see us through into the cold dishes, we may have ordered the wrong way around, but it seems there is no 'wrong way' to enjoy your food or drink at YO! Sushi at all! Which is quite reassuring for someone like me who would veer away from choosing a restaurant like this in case 'I looked a dufus'!
I thought the beer was really light tasting, but it was still 5% vol. and at £3.95 for restaurant prices, pretty reasonable too! 'Normal' wines are on offer too, if you prefer to stick to a Sauvingnon Blanc or Prosecco, all the usual soft drinks are on the menu too!
We ordered our Sushi from the waitress – my Dad said it would be made to order that way, and it's useful if you can't see the dish you want straight away on the conveyor belt.
The chefs were constantly making up new dishes in the kitchen in front of you and it was really interesting to watch and learn. They were also a friendly, happy bunch, clearly enjoying their work and able to offer advice to us about what to order while still maintaining a professional approach to their work.
When the Sushi arrived we weren't disappointed! If anyone would have told me I'd have been this excited to semi-eat raw fish I think I'd have thought they were bonkers!
We tried the Ami Ebi, which is poached and butterflied sweet prawn with wasabi kick.  I loved this, it was really sweet, but with the wasabi kick it added an extra bite that took it to another level.
We also had the Albacore Tuna, which is quick seared albacore tuna, spring onion and cress with truffle ponzu.  This was my favourite Sushi dish I ate, I do really enjoy tuna anyway and this just melted in your mouth, zero chewing involved! Can't wait to enjoy this again soon! It was amazing!
The Ama Ebi was another sweet raw shrimp dish with traditional wasabi and nori. This also melted in your mouth.
We'd enjoyed our three Sushi dishes so much we chose to order some more, they were really delicious, so we plumbed for the Assorted Sushi and Maki, which was Salmon, Tuna and Ebi sushi, Avocado and Kappa Maki. Again, they were all faultless!
My Dad showed me the way he enjoys Sushi most, and that's to peel back the top layer of fish, dab a tiny amount of wasabi paste on top of the rice and then replace the fish. The wasabi is already on your table when you arrive and it will blow your head off, so you really only need a dab!
Once wasabi'd up he likes to dip the sushi into the Soy Sauce and let it soak up a little of the flavour into the rice. Then you pop the whole thing in your mouth all in one go! Being careful to not eat the tails of the shrimps!
I agreed with him that eating the sushi that way made for a real taste explosion in your mouth. The wasabi heats up the taste buds in your mouth just under your nose, and the sweet fish tantalises your tongue. It's all over in a moment, but such a tasty moment! I was pretty chuffed with myself that my pristine white top stayed spill free! It can be a balancing act with those chopsticks! On your table you'll also find some pickled ginger, which you can use as a pallet cleanser in-between each dish.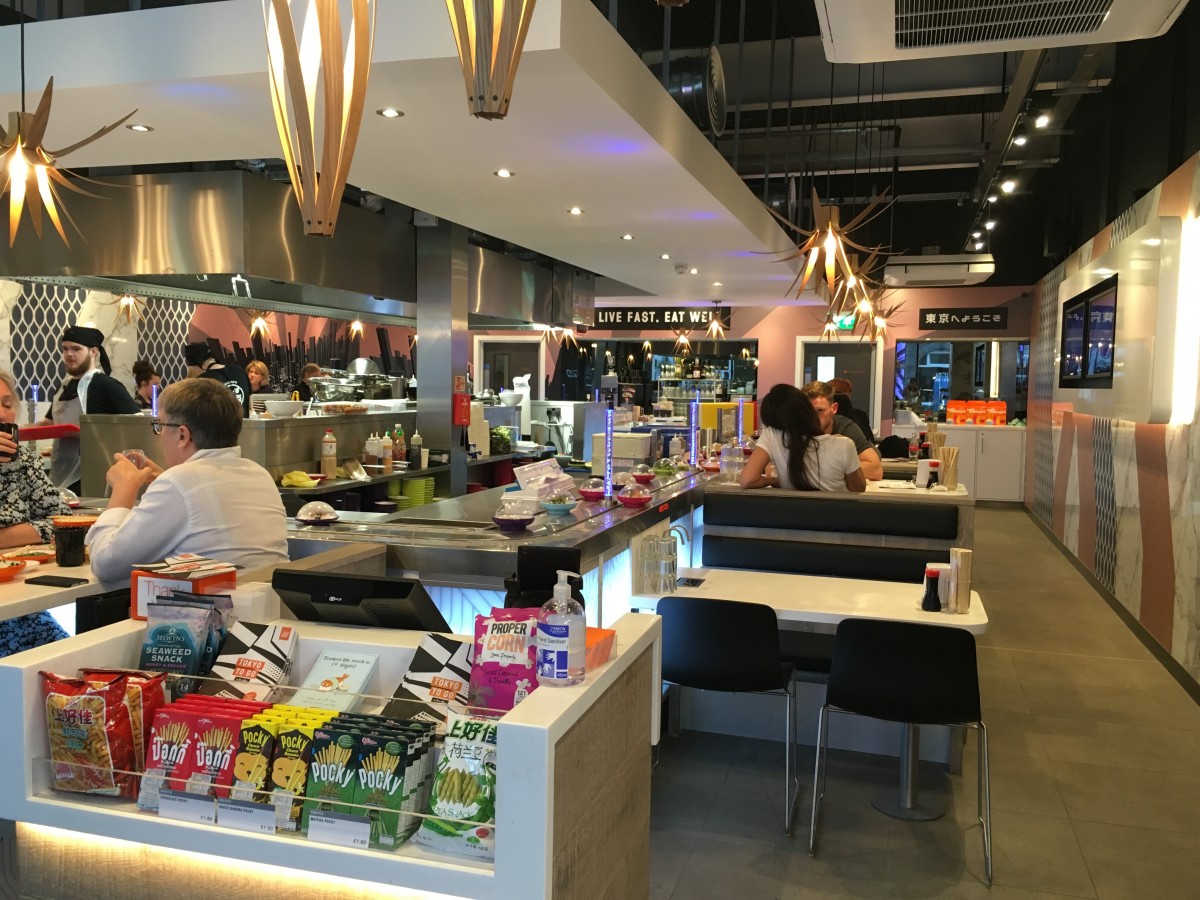 The other great thing about the Sushi is that it's seriously low in calories, the albacore tuna is just 91kcals and the Ami Ebi just 137kcals. You can see why it's a favourite with Victoria Beckham! It's also very filling, as it's mainly just protein! So you don't need loads to fill you up!
There were a mixed bag of diners when we were in, a table of twenty something girls, chatting about gap years. A few couples of various ages on date night. A chap and his primary school age daughter. The manager said that it really vary and there's always a wide spectrum of age groups that come in.
I personally can't wait to go back, it would be perfect for a Mama night out. I think one of my Little Miss's would really love it too, taking her for a one on one treat would be great! I also think my whole family would enjoy the spectacle of the restaurant and the idea of the conveyor belt, water tap and pressing the help button – but I'm not sure the Small Boy would embrace the food just yet. Although there were plenty of high chairs available so the family market is clearly on their agenda too!
Deserts are also on offer, but we were way too stuffed to try any, they looked tasty though and I would probably have gone for the Chocolate Moshi, which is a glutinous soft rice outer edge, with a rich chocolate ganache centre. Next time!
I spied Deliveroo collecting a delivery when we were there, which seems like a great idea for at home dining, especially when the food is already designed for easy packaging for the conveyor belt!
On Monday's the restaurant offer their 'Blue Monday' deal which sees their top 36 dishes all on sale at their blue plate price of £2.60!
Personally I can't wait to go back, I loved the food and the ambiance of the restaurant, it was relaxed and not pretentious at all. If you're someone like me, who's not sure about Sushi or thinks that eating from a conveyor belt is a little bit crazy, then I would say, just give it a go. I think, like me you might just be a convert and become a life long lover of sushi!
The Harrogate YO! Sushi is open from Monday – Sunday: 11:30 – 22:00
*Times and prices correct at time and date of first publishing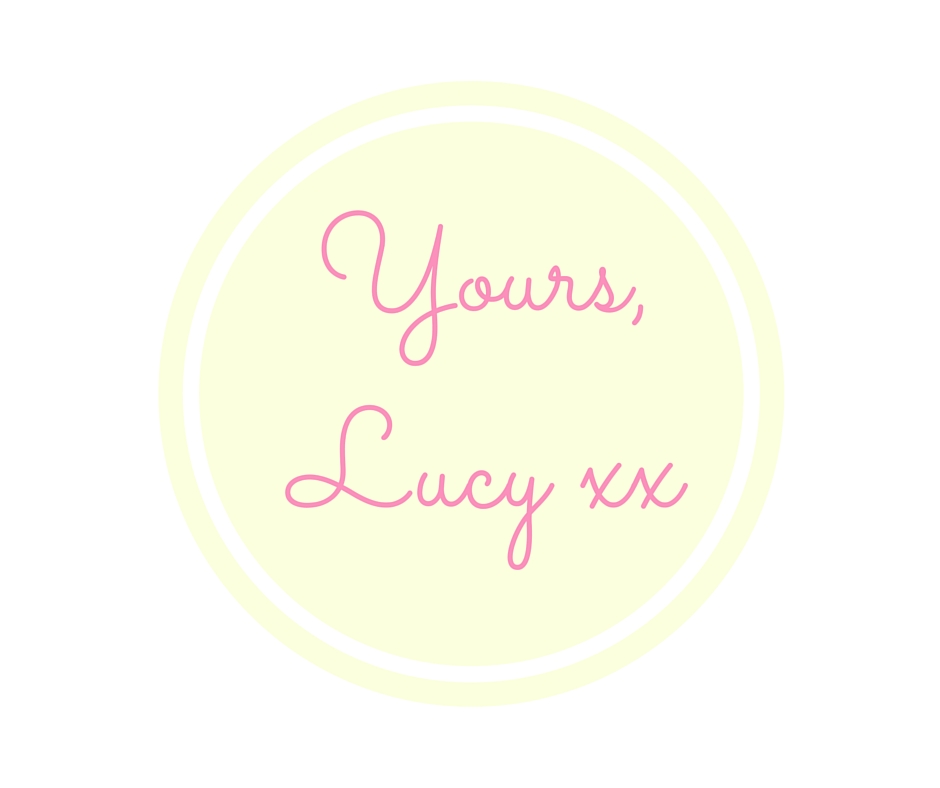 Disclaimer: YO! Sushi, kindly invited me to try their dishes and drinks with their compliments in exchange for my time writing this, although the opinions are my own.