I have a confession to make. Last week I fell in love with a kitchen appliance. I'm sure my twenty year old self would be shaking her head in despair if she could see I'd fallen so hard for a piece of kitchen kit  – but there it is.
A Serious Piece of Kitchen Kit
Priorities change when you're a Mama and something that can create quick, easy, healthy meals, effortlessly, has to be the holy grail of parenting joy! The appliance that turned my head so spectacularly was the Thermomix – have you heard of it?!
Smart Piece of German Tech
The Thermomix is a kitchen appliance to end all kitchen appliances and above all it's a really smart piece of German tech. Samantha Croom, Thermomix Team Leader and a Harrogate Mama herself, came round to mine to cook lunch for me in a Thermomix and show me how it works first hand.
Cooking from Scratch Made Simple
Thermomix are a world wide brand and they're especially popular in Australia and Europe where cooking meals from scratch are really valued. They're not available from retailers, so you won't find it in John Lewis, they take some seeing to be believed which is why they're only available from their expert advisers like Sam.
Fast and Easy
The main benefits of the Thermomix are that it makes cooking fast and easy – yes please, it promotes healthy eating – yes please, it saves you money – yes please and it helps you get more creative in the kitchen – yes please! You had me at fast and easy!
It chops, it weighs, it blends, it cooks, it steams, it whisks, it simmers, it purees, it mills, it kneads, it emulsifies AND it juices! It even cleans itself! I know! Lust doesn't even cover it!
Built in Recipes to Guide You
The Thermomix also has inbuilt recipes, available by online connection to the Cookidoo recipe platform.  The recipes are then synched directly to the machine by a Cook Key for guided cooking!
Sam ran it through its paces over a couple of leisurely hours at mine whilst we chatted, and enjoyed trying out the tasty treats the Thermomix rustled up for us!
Home-made Sun-dried Tomato Bread Quickly
Firstly we made a sun-dried tomato tear and share bread. I was astonished to see that you simply use a touch screen on the front of the machine to scroll through your selected recipes and then it simply tells you what ingredients you need and when you need to add them.
So we started by adding the flour to make the bread. We just poured the flour straight into the mixer, since that's what the display instructed us to do, since it also works as a smart weighing scale. We added all the other ingredients as per the instructions displayed on the Thermomix screen, then it was time to mix. The Thermomix told us which speed to set the mixer to and for how long and then it kneaded itself all for just the right amount of time (just two minutes). All that was left to do was to turn it out and leave it to prove before shaping it and baking it in the oven! There was zero mess!
Clever Chopping
Next the Thermomix was showing off its chopping skills making us a most delicious beetroot, apple, carrot and corriander salad. Sam simply whacked the ingredients into the mixer for the prescribed amount of time and speed on the display, and in seconds a perfectly formed salad was created.
So now I know how those trendy cafe's whip up such spot on salads so effectively without all that chopping! Apparently they're as popular in commercial kitchens as they are in domestic ones! We sprinkled a little goats cheese on top of our finished dish and voila we had a £5.99 artisan cafe price salad for the DIY price of about 90p! The texture was just spot on and it tasted amazing!
Self-Cleaning
Before we started on our next dish we gave the Thermomix a clean – which required no effort at all as we slipped in a bit of warm water and some washing up liquid to the mixer, set it to clean and it actually cleaned itself! All that was left was to rinse it out and dry it off before starting again. (It is also totally dishwasher safe too).
Mousse Maker Magic
We were then on to dessert, an extremely tasty raspberry mousse come sorbet! So simple to make too. Again we scrolled through the electronic recipe book, selected the recipe we needed and started to add the ingredients to the mixer just as it instructed is to. The recipe also shows a break down of nutritional content of recipes which is ideal for those considering any aspects of nutrition in their food.
The Thermomix whizzed-up some regular granulated sugar into powder fine icing sugar, we popped in a packet of frozen raspberries and some lime juice and before we knew it we had the perfect raspberry smoothie. Finally we attached the butterfly whisk (like the machine told us to), added an egg white and set the mixer to the required speed and time and the result was a magnificently grand raspberry mousse in seconds! It tasted delicious, was low in calories and is a great way of getting fruit into the Smalls.
Delicious Mushroom Rissotto Without the Labour
Finally it was time for our main course, mushroom risotto. Now if you've ever made a risotto you'll know just how labour intensive they are. Not this one though, no endless stiring is required, the machine does it all. We simply popped all the ingredients into the mixer, at the required times, set it to stir or chop for the ammount of time as directed and left it to it!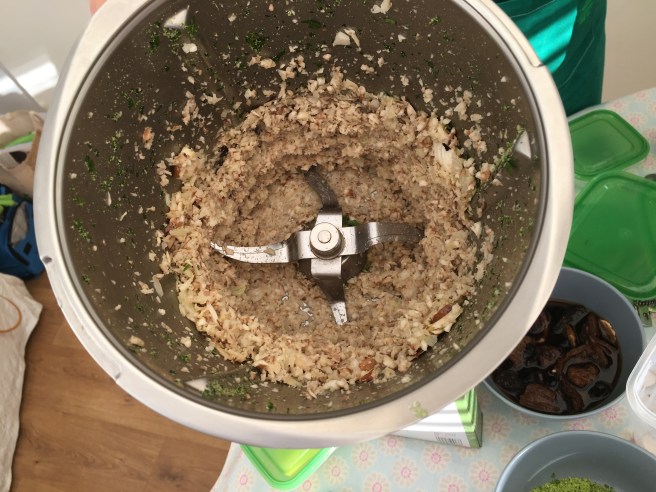 It Gives the Gift Of Time
The last part of the cooking took around fifteen minuets, and the best thing of all is you can just leave it alone. Think what you could do with fifteen minutes of not standing over a cooker, you could do a piece of homework with the Smalls, get one of them ready for bed or make the packed lunches for tomorrow! The gift of fifteen minutes is huge for a Mama! Plus there's no risk to your meal burning while you distractedly scroll through your social media feeds (as so often happens to me!)
The rissotto was just as tasty as all the other dishes and I was left with the feeling – is there nothing the Thermomix can't do?
However, such a quality piece of equipment comes with a decent price-tag – BUT they do have options to pay monthly (around £34 per month) and for January there's a 0% interest on payment options too.
Cost Savings on your Weekly Shop
Sam ran through some of the savings that could be made each week by using the online menu-planner and talked about ways to reduce your food waste.  A recent article in The Guardian newspaper estimated that the average household wasted £470 worth of food per year (that's £39 per month!)
As the weekly planner will even generate a shopping list from the recipes you select for the week, you only buy what you are going to use.  Sam told me that most Thermomix owners even make their own stock paste from any bendy vegetables and herbs left lurking in the vegetable drawer…or whizz up a delicious soup with any leftovers (with hidden veggies for the Smalls!!), resulting in zero food waste.  This, teamed with the fact you cook everything from scratch with minimal fuss means you save even more money.  You can then email the ingredients to whoever is doing the grocery shopping with the click of a button!
Book a Demo with Sam
Mainly I would say you have to see this to believe it and understand its capabilities properly. If I were you I'd book a demo with Sam, and she can come round and cook lunch (or dinner) for you too you can email her at croomsta@hotmail.com to find out more or book a demo.
It's a seriously impressive piece of kit. It's totally on my lust list and I'm going to save for one. I know it will help me feed the family better, with healthier home-made choices without additives or ready-meal nonsense in them.
Sam is delightful too – she's not at all salesy, you just feel like you've learned loads and enjoyed a good honest chat with someone about how you eat and cook, and how by using the Thermomix your dining lifestyle would improve.
Healthier Home-made Meals Quicker
They'd be ideal for weaning babies too – think of the time you'd save poaching pears and chopping carrots and all while being away from the stove, giving you more time to sit cuddling your bambino and less time shifting them from arm to arm whilst you stir.
I was so impressed with it that I feel like I want to shout about its glory from the rooftops!
Frozen Cocktails Night Out Anyone?
I'm thinking about doing a larger scale demo with the blog (an evening out with food and wine or even better – frozen cocktails, as they do a mean frozen cocktail, or something similar) – Possibly 'Margheritas and Margaritas'?! Who's in?!  If you'd be interested drop me an email HarrogateMama@gmail.com and I'll sort something out. There is no pressure to buy, just to see what it does first hand.
How You Can Get To See a Thermomix First Hand
If you'd like to organise your own demo at home with some friends you can contact Samantha Croom directly to ask her to come round to yours to see the Thermomix in all its glory for yourself.  Just email her at croomsta@hotmail.com to book your experience!
There are currently around 1,000 Thermomix Advisors in the UK & Ireland.  Sam is always looking for people to join her team and mamas are exactly the right fit as it is so family-flexible.  You can even earn yourself a Thermomix!
Thermomix
You can find out more about Thermomix on their website www.Thermomix.co.uk and check out this amazing video which shows first hand what it can do!
Disclaimer: This is a sponsored post and as always the views are my own.