Here's a little round up of from some Amazing Harrogate Independents sharing their perfect Christmas gift ideas for all the Mamas out there!
So if you're looking for some inspiration for yourself, looking to drop hints to your other half or hoping to find the ideal present for the other lovely Mamas in your life you're sure to get some ideas from this lovely lot…
'All That Glitters' – From Jewellery Works.com
The gorgeous Isabel from Jewellery-Works.com shares here top picks below. Best of all there's FREE packaging and postage when you order online!
Stocking Filler – Crystal Wrap Bracelet £12 A gorgeous red and gold six-strand multi crystal studded suedette bracelet, it has two length popper fastenings and is also available in a multitude of beautiful colours. Beautifully soft, easy to wear and so sparkly – perfect for this time of year when we crave a little more colour and bling!
Mid Price – Danon Gold/Silver Pineapple Necklace – from £39 – A rich and decadent symbol of this cute pineapple charm on a smooth chain, hand crafted and plated in real matte gold or silver, matching items are available.
Wish List – Fur Hood Coat – from £149 to £199 – All our fabulous Parka's are made with hard-wearing cotton and are luxuriously fur lined to keep you warm and looking gorgeous. The oversized natural fur hood adds an instant WOW factor – this is the ultimate statement piece for winter. Available in a long or short version and a vast choice of colour options.

'Mamas Like' – From Sophie Likes
The brilliant Sophie from Sophie Likes in Harrogate has picked her top three Christmas favourites, you can order them all online too!
Stocking Filler:The perfect present for anyone who loves Harrogate! Take a sip, sit back and dream of being in Bettys! Harrogate Blue Mug; £10
Mid Price: This Block Culture  print is printed using woodblock letters and cleverly printed with lightfast inks on Archival Matte Paper (192 g/m2) for long lasting image quality. All prints come unframed but are sized to for standard frames from eg. Ikea. Champagne Print £25
Wish List:A Love Molly Poncho £90 is a luxurious soft wool, silk & cashmere shawl that can be worn as a scarf, wrap, poncho – in fact many ways – thanks to the clever mother of pearl button design. All pieces come with a step by step guide and a little pouch perfect for storage and travel.
'Fragrance du Jour' – Louise Lunn – My Showcase
I featured the lovely local make up artist Louise Lunn on the blog back in the summer, as part of her My Showcase range she sells this fab fragrance. I loved it back then so had to include it in my roundup!
It's Connock London Kukui Eau de Parfum fragrance, £35 and it's on my wish list this Christmas, it's so different from anything else out there and I love that not everyone's wearing it. It's Connock London'€™s signature scent has been skilfully blended to reflect the soul and beauty of the Hawaiian Islands. If you're looking to make it an extra special gift the Kukui Eau de Perfum gift set includes a 125ml radiance body glow too for £49.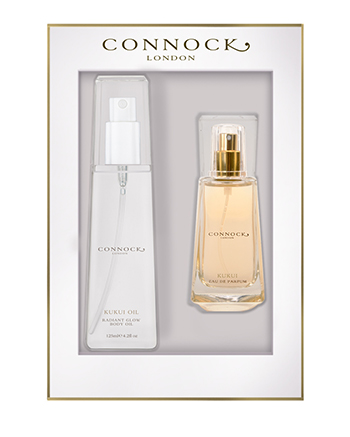 'Gin for the Win' – from Harrogate Tipple
This Premium Harrogate Gin and box of Harrogate Rum and Harrogate Gin chocolates are on my Santa list this year! Three of my favourite things all in one place, Harrogate, Gin and Chocolates! ? What's not to love?! There's even FREE delivery at the moment for all HG1 and HG2 postcodes too!
'Harrogate Style' – from Violet
Violet, is a new and pre-owned designer womenswear store and the newest Independent on the block in Harrogate. Violet sells bespoke 'HGTE' sweaters (along the same vein as the FMLY/Selfish Mother Tees) which would look amazing on any Harrogatarian!
I can't wait to get mine on! The store is donating a percentage of each sale to the Harrogate Homeless project too, a perfect way to give back at Christmas. The Organic Cotton sweaters retail at £55 with £5 going straight to the Charity. The tops are unisex and you may have spotted the lovely Tim from Hoxton North proudly sporting his recently too!
'ME TIME' GIFTS
Turkish Baths
I had a gorgeous time at Harrogate's Turkish Baths recently – treating a Mama to time to herself is always a perfect present in my book! Gift vouchers start from £17.50
Hotel du Vin Spa
Mama Time can also be enjoyed at Harrogate's Hotel du Vin Spa – treatment packages such as an aromatherapy back massage using a blend of individually chosen oils start from £36.
Tropic Skincare
The lovely local Mama Rachel from Tropic Skincare has been sharing her fave products. She says;  "All Tropic Skincare products are 100% naturally derived, cruelty free, vegan and handmade in the U.K. All products bought up to Dec 31st have a money back guarantee until Jan 31st."
Stocking Filler: So Sleepy Collection £10 100% naturally derived, a pillow mist (15ml) and temple roll on (5ml) to help promote a peaceful nights sleep. Dreamy essential oils of rosewood, vanilla and lavender.
Mid Range Price: Fresh Faced Collection £38 100% naturally derived – it's all about the contouring. Now you can contour with face masks. Using this trio of handmade skin-loving masks you will have clearer, hydrated and visibly firmer skin. A limited edition collection that includes a deep hydration mask (50ml), face lift mask (50ml), clear skin mask (50ml) and a mask spatula.
Wish List: Deluxe skincare collection £84 (£1 extra for gift box) all your skincare essentials in one amazingly luxurious collection. 100% naturally derived. This collection contains smoothing cleanser (120ml), bamboo face cloth, vitamin toner (120ml), skin revive (50ml), eye refresh (10ml), organic elixir (50ml), face smooth (100ml), bamboo headband.
Butterfly Kisses
Liz from Butterfly Kisses in Harrogate had these decorating tips to share with me. "One of our favourite products for Christmas this year are these beautiful tea light holders.
The silver colour and simple style make it perfect for adding to your existing Christmas collection and at only £5.99 gift boxed, it's a pretty superb gift idea too for family members and friends that have it all!"
"These beautiful all natural bath creamers are the perfect girlie gift this Christmas and the link egg carton packaging is stunningly fun. With combinations like Clementine &Prosecco and Patchouli &Rose, they smell divine too! They're only £2.50 each"
Disclaimer: Since it is the season of good will to all, everyone included in this round up have been involved soley because they are fab local independents who I love to support!