The high street in Harrogate seems to be struggling at the moment. High profile stores like TopShop, Miss Selfridge, H&M and Jamie's Italian have all rather worryingly closed their doors this month.
Whatever the reasons, it just makes it all the more important to love our locals a little more if we want to keep a diverse, vibrant town for visitors and locals to keep enjoying!
So if you're planning a little something for Valentine's this year here are some ways you can do it by supporting our amazing local businesses whilst finding a creative gift or experience to treat your Valentine with too!
Dine out with Filmore and Union
Harrogate's Filmore and Union have created an evening meal menu that is wholesome, delicious and perfect for a romantic, but relaxed night. The three-course menu is £24.95 and comes complete with candles and the all important cocktail menu!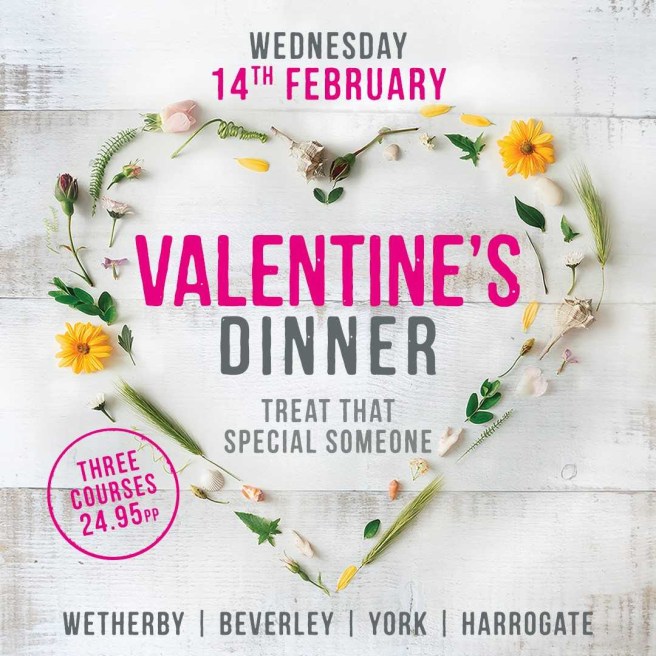 "If your partner happens to be vegan, gluten free or has other special dietary requirements then we're the perfect 'date night' destination because they can enjoy a delicious meal without having to compromise on taste or satisfaction. But we're also not off-putting for those with big appetites who like to try everything."
Shop for Flowers at Lucy MacNicoll Floral Design
Lucy is based at Lucy MacNicoll Floral Design on Tower Street in Harrogate and you can order one of her gorgeous bouquets at prices starting from £40. You need to order before noon for next day delivery or can be collected from the shop between 9-5.30 Tuesday to Saturday.
This is my personal favourite – 'The Stray' and 'The Florence' has Valentine's Day written all over it!
Breakfast in bread with 'pain' from Le Gourmet
Treat your Valentines to a perfect breakfast in bed with bread from Le Gourmet in Harrogate town centre. Or pick up one of their freshly prepared meals to cook up a storm at home without the headache of babysitter-finding!
Buy a cupcake from Mama Doreen's
Buy a cupcake or better still treat your loved ones to Mama Doreen's (Cold Bath Road) deluxe Valentine's themed Afternoon Tea. It's available from the 10th- 18th February, to book call 01423 313 282 and there'e even a special one for the Smalls too! 
Treat yourself to some Oysters from Ramus Seafood
Ramus Seafood on Kings Road have these beautiful fresh Oysters for just £1 each so if you really want to treat your other half, these served alongside a really nice glass of Champagne would get my vote!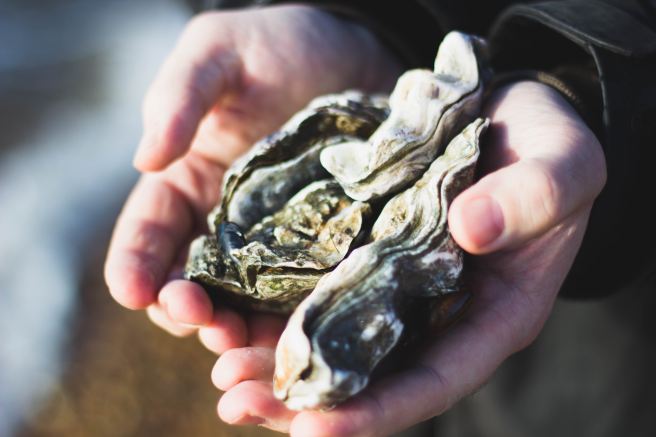 Buy a card from Imagined Things Bookshop
Imagined Things Bookshop in the Westminster Arcade has a host of perfect Valentine's cards, all made here in the UK and most of them are made right here in Yorkshire.
Gift a hand designed cushion by Anita Bowerman
Harrogate artist Anita Bowerman has loads of gorgeous artwork in her Dove Tree Art Studio in town, situated on Back Granville Road. You can pop in on Thursdays and Fridays 10-3.30pm and Saturdays noon till 5pm to have a browse at all the beauty within. Anita has created these beautiful velvet cushions from her cut-out range especially for Valentine's Day. They're available to buy from her studio or online at her website.
Disclaimer: All views are my own