I spent some time with Harrogate Jamberry Nail consultant Kim Doan-Nim who showed me how the USA nail sensation is taking over here in the UK!
I love my nails to be looking nice, it's not always achievable with small children as I spend a lot of my time washing up, wiping someone or something and washing my hands. But when I get the chance I love to have shiny, pretty, nails – like the grown ups have!
So, I was really excited to speak to Kim Doan-Nim who's a Harrogate Mama herself about her new business venture that she's working on with Jamberry. Jamberry are an American company that specialise in nail wraps.  Kim is working as one of their consultants so she took some time out to chat to me all about Jamberry and their wraps!
Jamberry nail wraps are vinyl nail wraps that are heat and pressure activated and are super easy to apply yourself at home, you don't even need any specialist equipment! They're mainly for adults but they do a really cute kids range too, that my girls went nuts for!
What's great about the wraps it that you don't just have to stick to one colour like with traditional nail polish. The wrap designs are delicately detailed and intricate, something you could never achieve with just paint alone! There are over 300 designs to choose from from simple and chic to sporty and runways looks, there are so many available!
You can also mix them up and have all one design or choose to have accent nails or alternate designs! There are so many combinations, it's brilliant! That means that you can be totally unique in your look, as chances are no one is going to have the exact same combination as you!
Kim came over to show me how to get started and my girls loved joining in with the fun too!
You simply make sure your nails are clean and polish free first. Then you can give them a quick buff, you choose your wrap design and then you're away!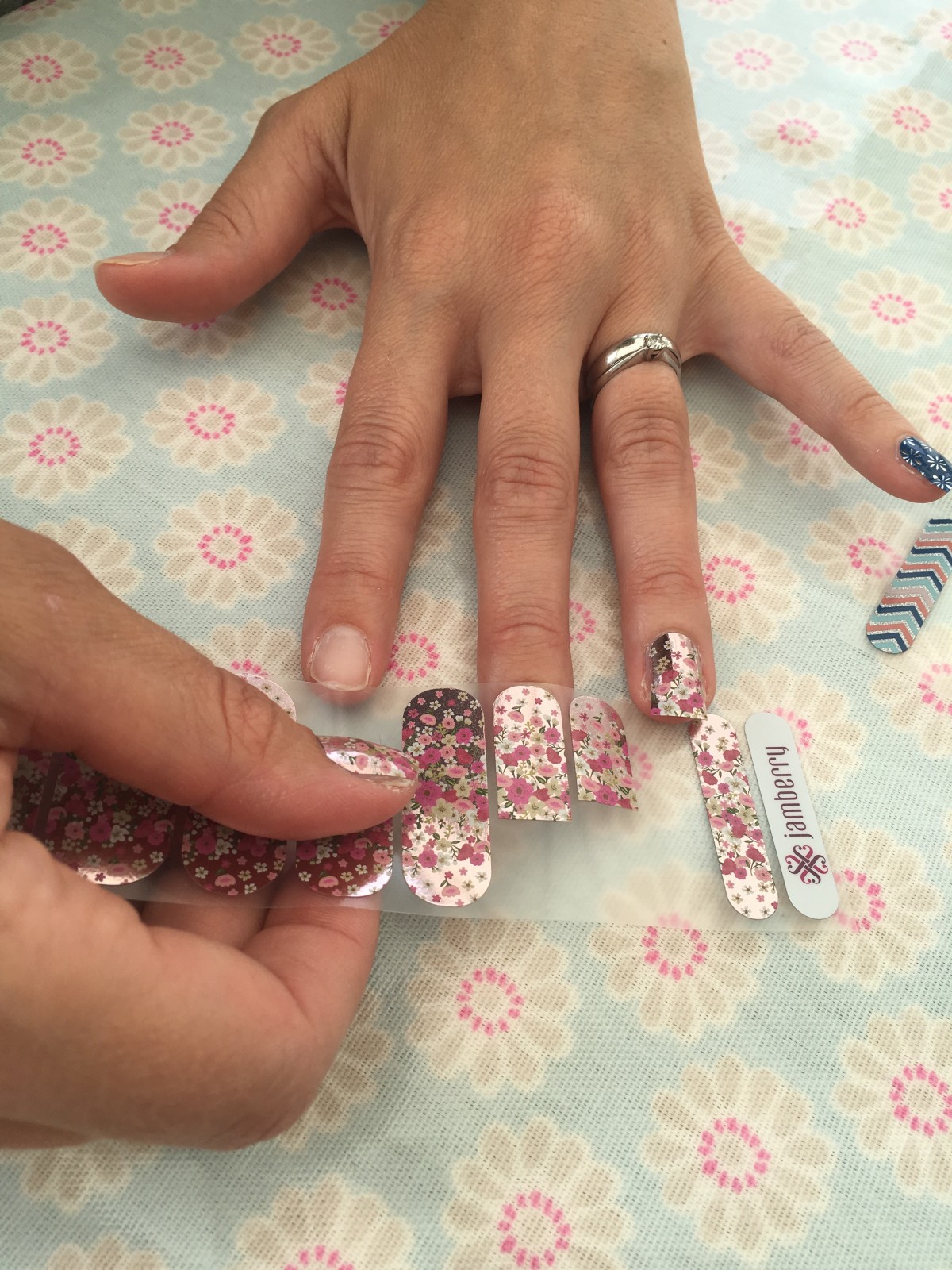 After choosing the right size wrap for each nail you just peel the nail wrap off the transfer paper, cut it in half, warm it using a hairdryer or heater and carefully place it on your nail.
Then you smooth it out with your fingers, heat it gently again and smooth it out with a cuticle stick. All that's left to do is trim the end of the wrap and file it down using a glass file to remove the excess! It's really very straightforward.
It's miles quicker than painting your own nails, there's no mess or smudges left on your fingers and there's no drying time so you can get back to what you were doing straight away!
The wraps are also toxin free so they're safe for children to use too, they last for they last for up to 2 weeks on fingers and up to 4-6 weeks on toes! Which is miles longer than I get out of normal nail polish, which sometimes only lasts around 24hrs on me!
Each set of wrap costs £15, which gives you enough for two manicures and two pedicures with four accent wraps left over.
The kids wraps (Jamberry Juniors) are also £15, but they end up getting 5/6 manicures out of a sheet and 3/4 pedicures (depending on the size of their nails). They're suitable for age 3+ to around 8/9 years (due to the size of the strips)!
You can buy extra equipment if you want to from heaters to cuticle kits, but to get started all you need is a set of wraps and a hairdryer!
It was really lovely to get to chat to Kim about her business and how she's fitting it in around her young family of four. It was also lovely to spend that time with my girls doing something fun and girly together, I could see it working really well for a kids party (or at a grown-up one for that matter!)
Kim hosts online and at home parties too, you can contact her if you want more info about how they run and she is also offering business opportunities to join her team. Kim loves being able to work her Jamberry business while still getting to spend time with the kids. Plus it gives her the chance to meet amazing supportive and inspiring women from local mums to women from around the globe!
I'm thrilled with my finished nails and am already browsing the catalogue for new designs to try!
If you want to find out more about Kim's Jamberry products you can check out her website at www.KimDNimJamz.Jamberry.com or going her Facebook group at www.Facebook.com/groups/JamberryfunwithKimDNim and joining in with her Jamberry fun!
Disclaimer: Kim kindly demonstrated how to apply the nails for me and the girls with her compliments. The views are my own.