We had a gorgeous family time when we dined at Gino D'Acampo My Restaurant in Harrogate recently. It's the perfect place to head to with the Smalls with a welcoming team, great Bambino menu, amazing food and drink for grown-ups and loads of family friendly fun for everyone.
We were welcomed with a bottle of Prosecco, just one from ten available on the menu, which was the perfect Sunday night treat. The Smalls were keen to pick their menu choices, classic Margherita and Penne Pomodoro were the order of the day, so they could crack on with the colouring whilst sipping  on their own glasses of (non alcoholic) fizz.
Whilst we enjoyed our bubbles and perusing the menu, the Smalls were able to partake in all the FREE entertainment upstairs. They loved the table football and pool table which also created a feeling of nostalgia for Harrogate Papa as he was able to teach the Big Girls to play Pool – their first foray into the game, given that heading out to the pub for a Saturday afternoon Shandy is not de rigueur these days!
Back to dining and for starters with we all shared a Fantastico Sharing Board – which is a great shout for dining out with the Smalls. It's a brilliant way to get them to try new tastes that they wouldn't normally choose. My Smalls love Parma Ham, Bresaola, Olives, Salami and Buffalo Mozzerella, so we were already on to a winner. They learned to love Percorino (my favourite), Buffalo Ricotta and char-grilled baby artichokes and sun dried tomatoes as these ALL come with the Fantastico board too. Plus it is all served alongside a breadboard which also went down well!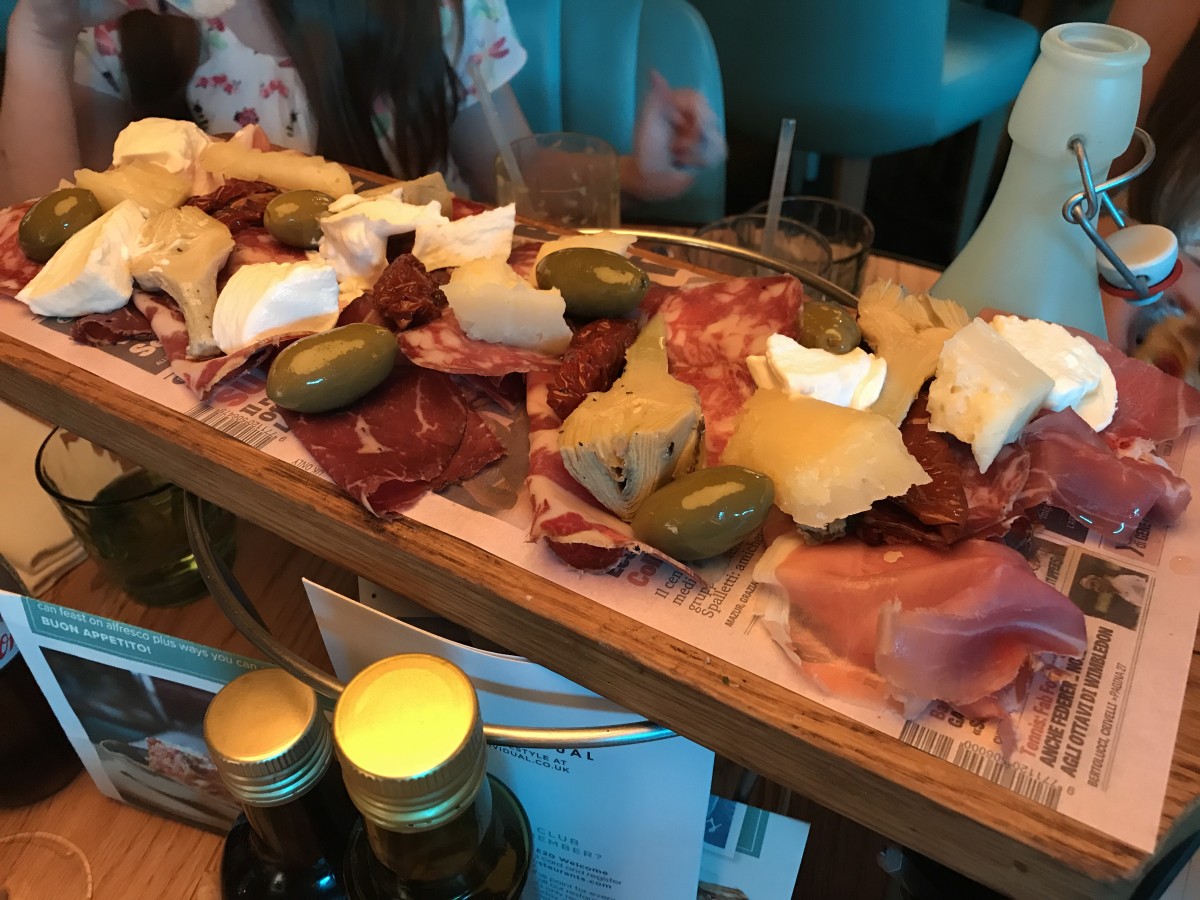 I ordered one of Gino's signature dishes, Linguine with King Prawns, served with basil pesto, cherry tomatoes and rocket.  The Pesto is so much tastier than any usual pesto, really vibrant and distinctive and the prawns were cooked perfectly too. Harrogate Papa, ever the traditionalist, chose the Margherita pizza. The meals were all top notch and the Pizzas were a particular highlight for everyone.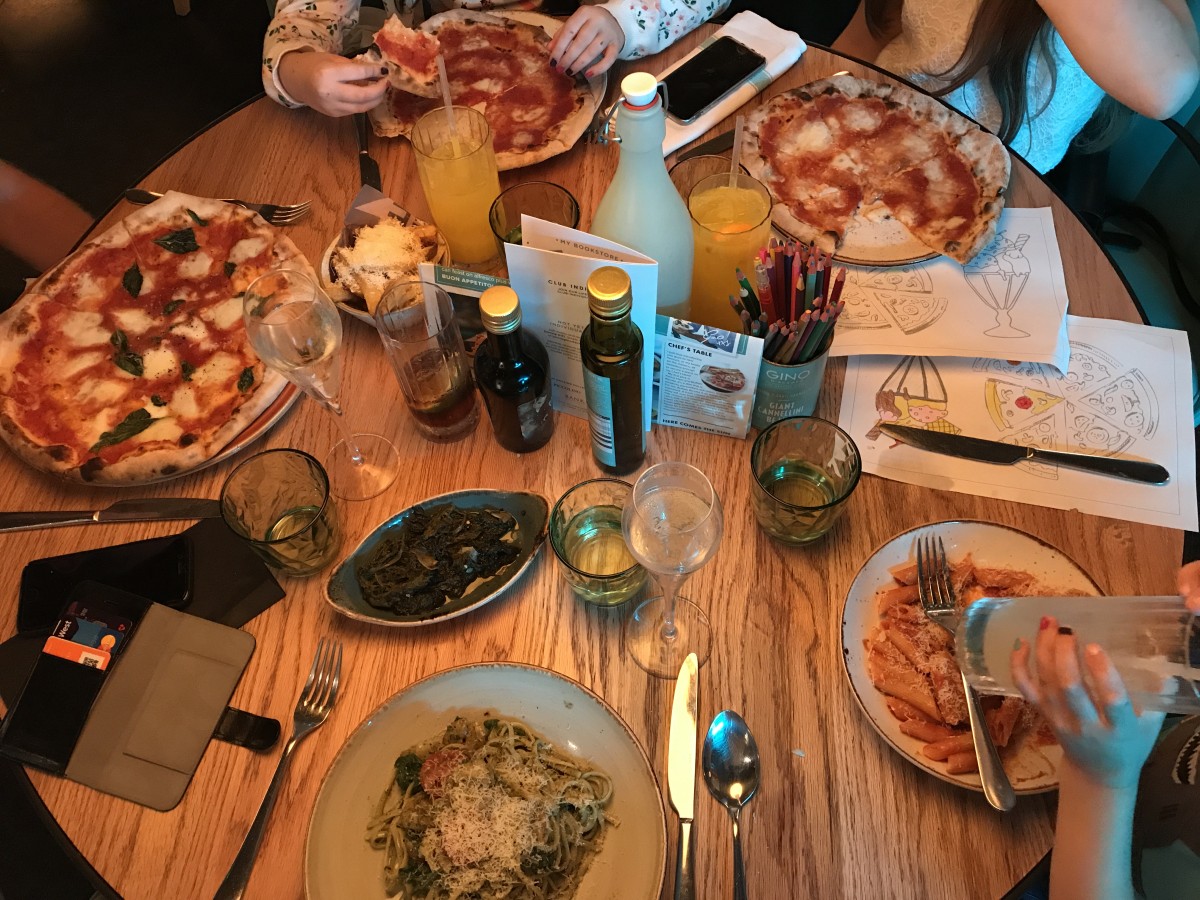 We had some brilliant service on the night, really attentive and our waiter Nicola was really on the ball all night long!
After the Smalls had partaken in a little more FREE fun, in the form of endless trips to the 'fotobooth' it was time to order deserts.
The Bambino menus offer a choice of Ice Cream (all made in house) or The Best Lemon cake served with vanilla ice cream, they ordered one of each between them. The Small Boy wolfed down his Nutella ice cream and the Big Girls loved the more grown up Best Lemon Cake, which I ordered too and it was incredible light, zezty and tasty.
All that was left was to enjoy some further pool and table football fun, which is such a relaxed fun way to enjoy a family meal together. It was the perfect balance of enabling Harrogate Papa and I to have a good catch up sans Smalls and Family Fun all together, including in the photo booth.
Gino's have loads of family friendly touches like this, including FREE changing equipment, nappies, wipes etc in the toilets and waiting staff who are really welcoming to all families, just as they are in Italy.
All in all we had a lovely evening and are looking forward to heading back, and it's perfect for the school holidays. The food was top notch and the service was great, the games room was a huge hit withe everyone and we'll have to go back soon – how else are the Big Girls going to perfect their Pool hustle?!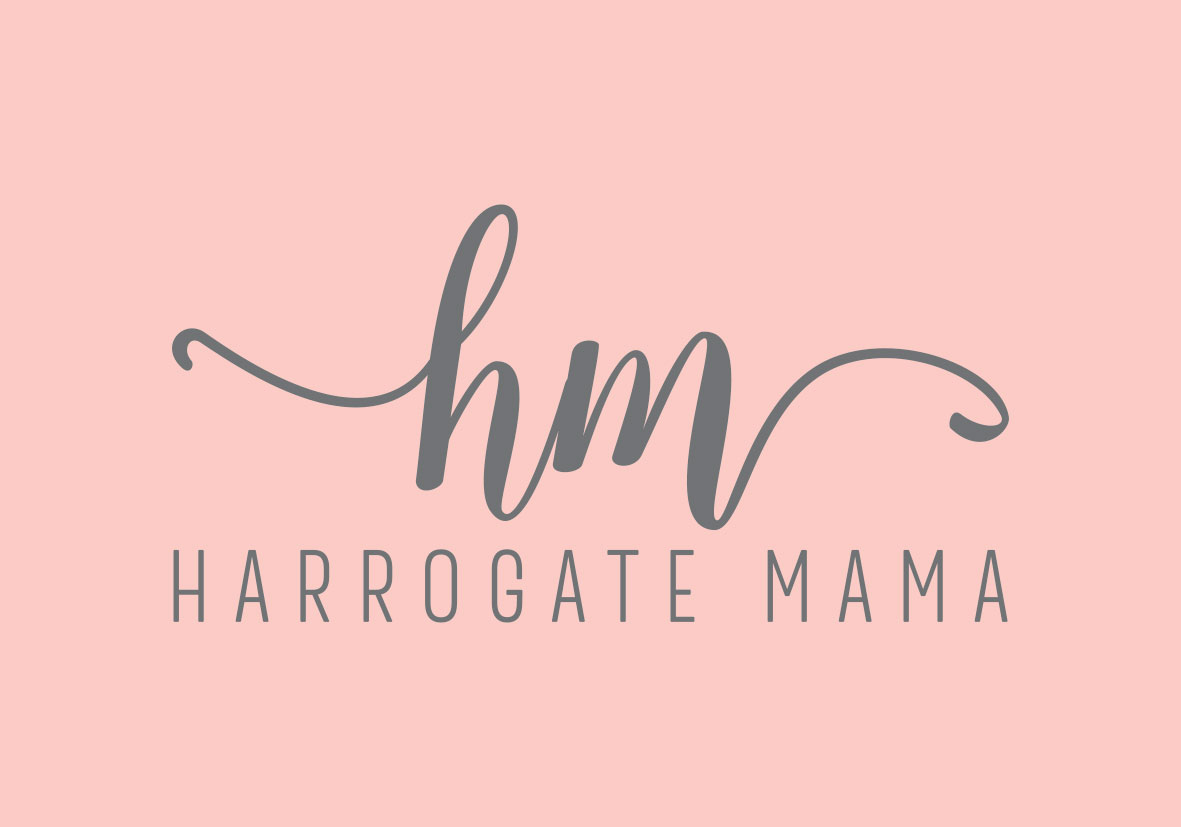 Just so you know: Gino's invited us in to review the restaurant with their compliments, the views, as always, are my own.