Last weekend we were lucky enough to be invited to Deer Shed Family Festival in Topcliffe, near Thirsk in North Yorkshire as an official festival blogger. We'd never been to a festival before (ever!) and we'd never camped before, so were super excited and a little bit scared in equal measures!
It turned out we had absolutely nothing to fear and all had a totally brilliant time! The weather was amazing for the weekend, it was almost, dare I say it? too hot!
Here's a little write up about what the event was like and what we got up to!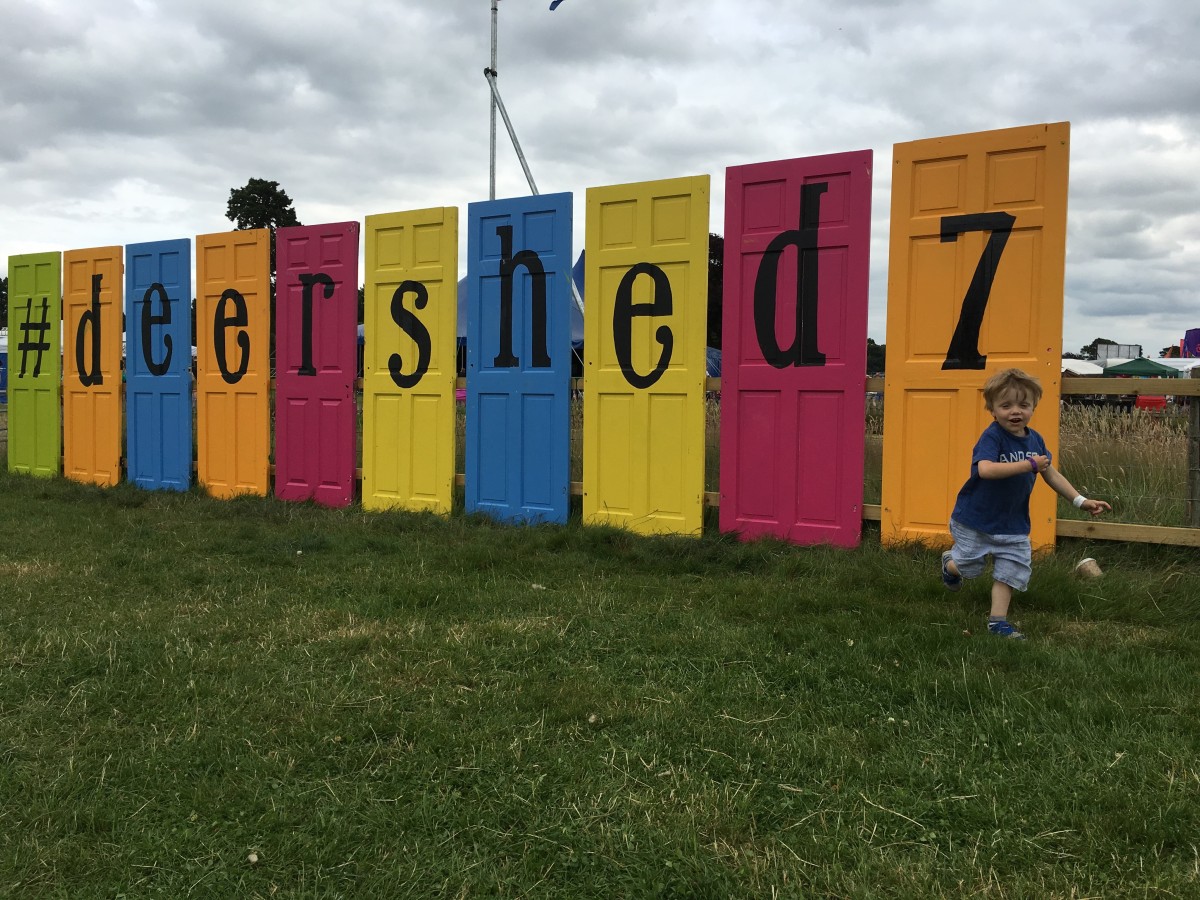 We were weeks in the planning for all our camping paraphernalia, becoming regulars in the likes of Mountain Warehouse and Blacks. Tent, sleeping bags and gas stove purchased we set about packing the car with boxes full of emergency snacks and baby wipes.
We arrived on Friday afternoon after collecting the children from school. Getting in the car park was easy with no queuing. The car park was quite a long way from the campsite so we had to park up and use a trolley to transport all our camping gear to our pitch. You could hire trolleys for £5 for half an hour, but we brought our own make-shift device with us!
It was a bit of a trek with the kids to transport all our gear, and it took us two trips, it would be about 10 minutes on our own but with the kids in tow it was more like 25 mins!
There are no set pitches, you just find a space in the huge fields and pitch up. We found a spot down by the lake area which turned out to be very close to the festival. It seems most of the pro-festival goers knew to come earlier in the day to get pitched, which we would definitely do that in the future.
After some slight passive-aggressive tent pitching from the grown-ups and lots of placating the children with snacks and drinks (did I mention it was hot!) we all settled into making camp and got busy blowing up air beds and unfolding camping chairs. Oh, and opening the wine!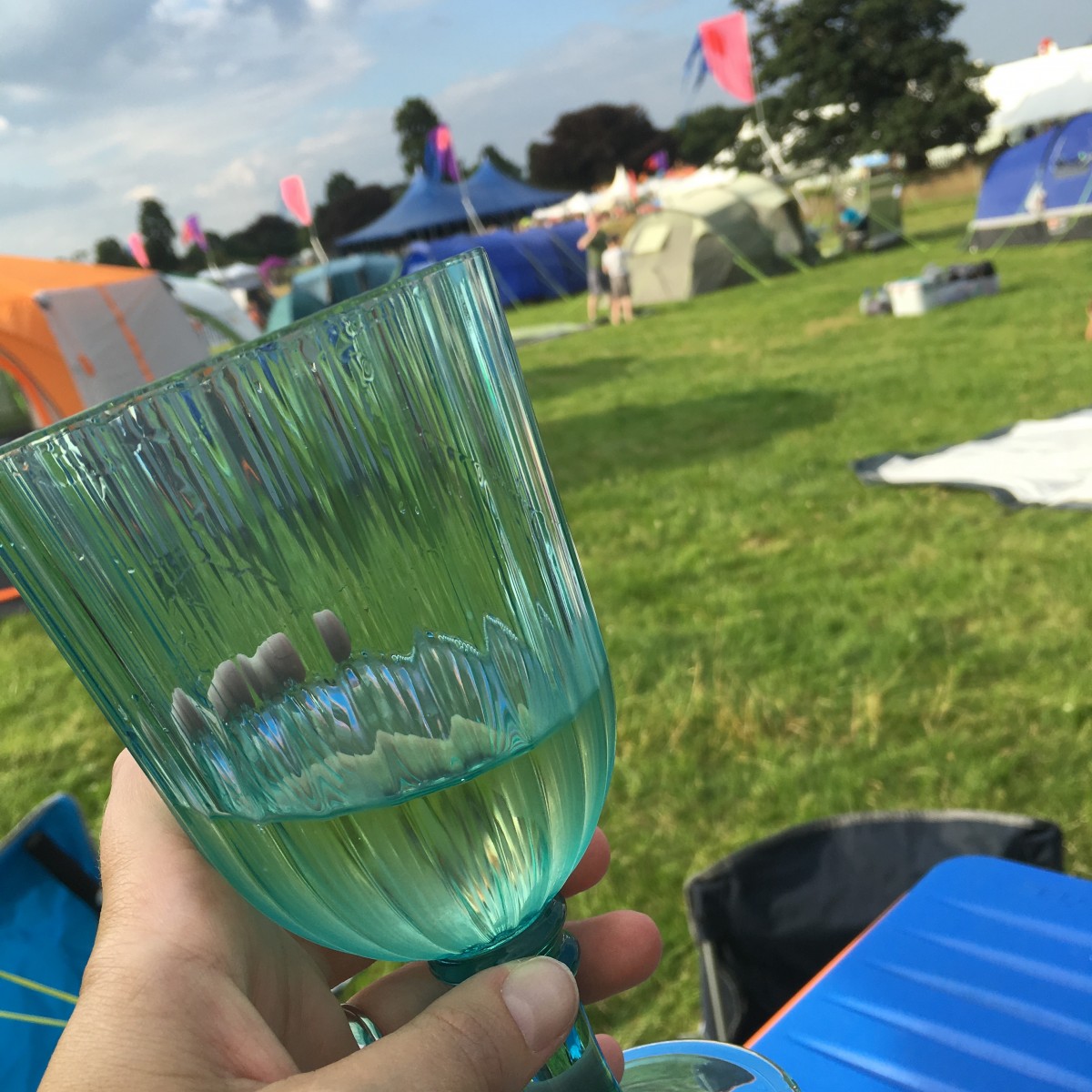 It was around 8pm by the time we were straight and everyone was starving hungry so we headed off into the Festival to find some food!
The atmosphere in the Festival was amazing, it was really chilled and friendly. Loads of children being carried around on their Dad's shoulders, being pushed around in buggies or dragged in the trolleys for hire. Teenagers hanging out with their mates sharing a laugh and giddy at their semi-freedom. Families holding hands and happily taking it all in.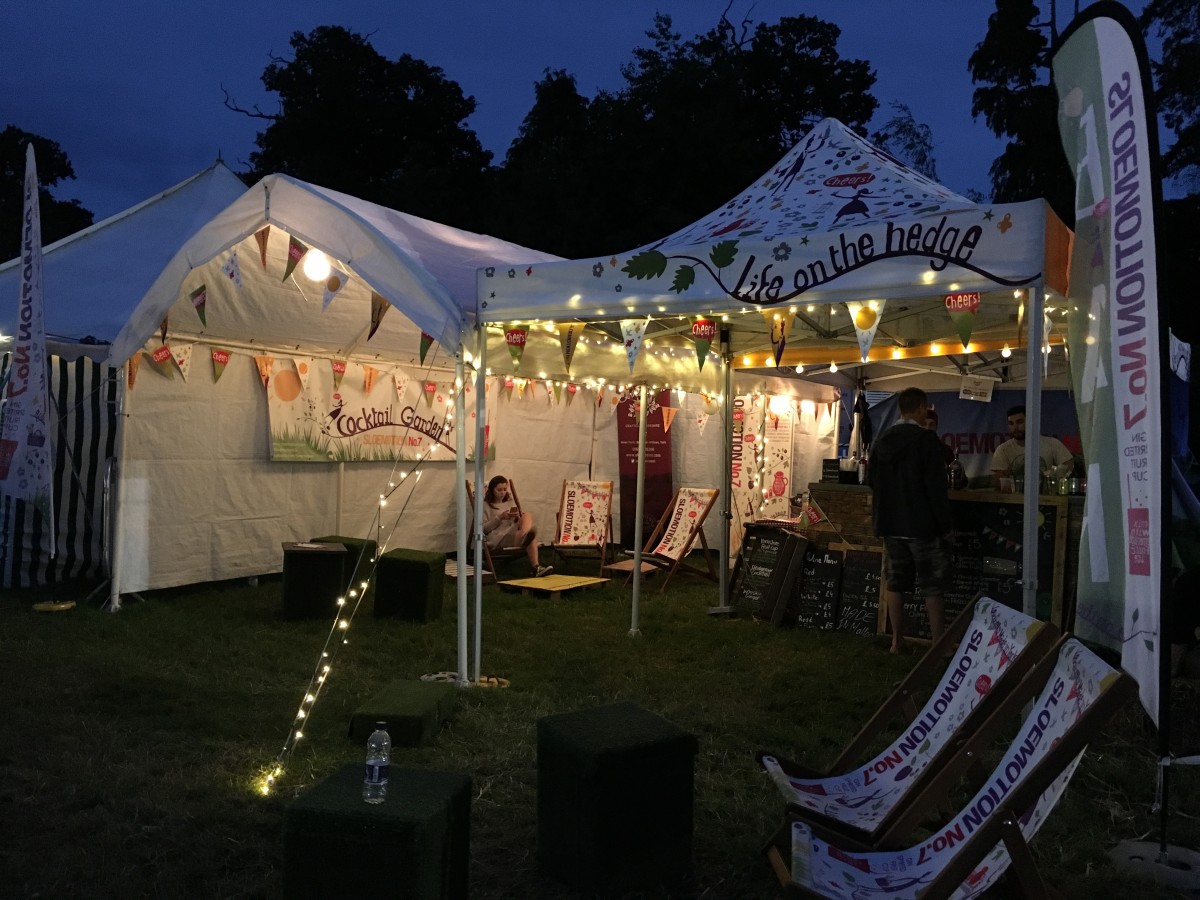 There was open air music playing and against the warm summer night it drifted around the site beautifully. There were loads of lovely food outlets, smells of fairgrounds and camping with loads of variety. Stalls selling festival wares and trinkets which all looked appealing and the odd bar here and there with seating inside and out.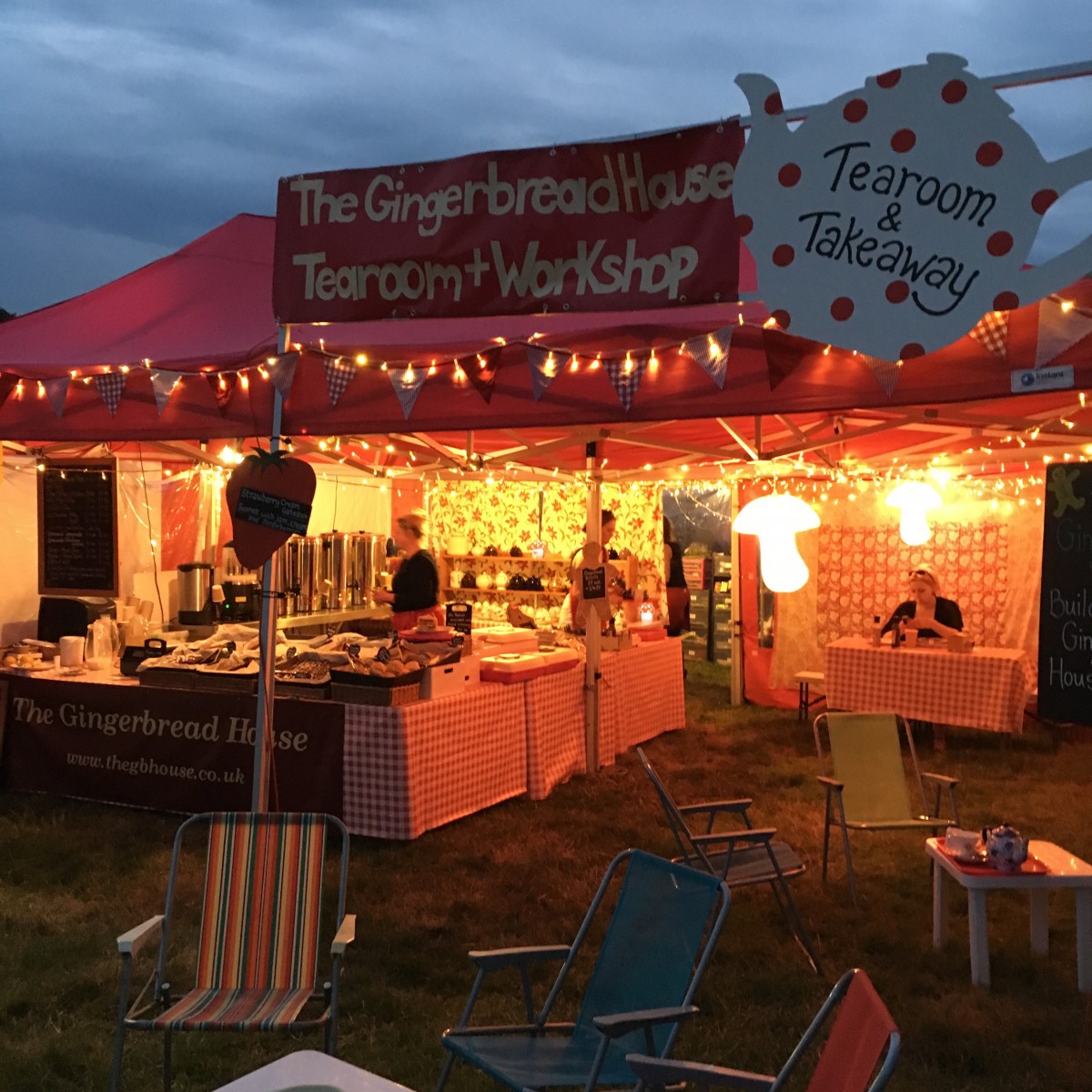 We let the kids choose whatever they wanted for dinner and the girls picked pancakes with lemon and sugar and the small boy an ice cream (look away now if you're a judgey parent!).
James and I being grown ups plumbed for actual food of substance and I had a delicious vegetarian curry, all handmade from fresh ingredients on site and James went for a rotisserie chicken wrap, which the kids all tucked into too – since the meat was so tasty (and they hadn't eaten any proper food up till then! Ha!)
The evening was so mild that we just pitched up on the grass, with the music from 'Everything, Everything' who were playing on the main stage drifting over us as we ate.
We wondered around the Festival taking in the giant Ferris Wheel which was all light-up against the night sky and the squeals from the heater skelter echoing in our ears. The Small Boy loved the bubble mania tent and the girls were fascinated with the opaque white bubbles which disappeared into a puff of sherbet smoke when popped!
We wandered around and checked out the movie tent and soaked up the atmosphere finding out bearings. By now it was getting on for 10pm and the Small Boy was literally on his knees so we headed back for bedtime which was an exciting event in itself for the kids!
The kids were all tucked up and asleep in no time, despite the booms from the music across the water. The sounds from the  Festival kept on till around 2am, which didn't bother the children but the grown-ups found it a bit harder to get off to sleep!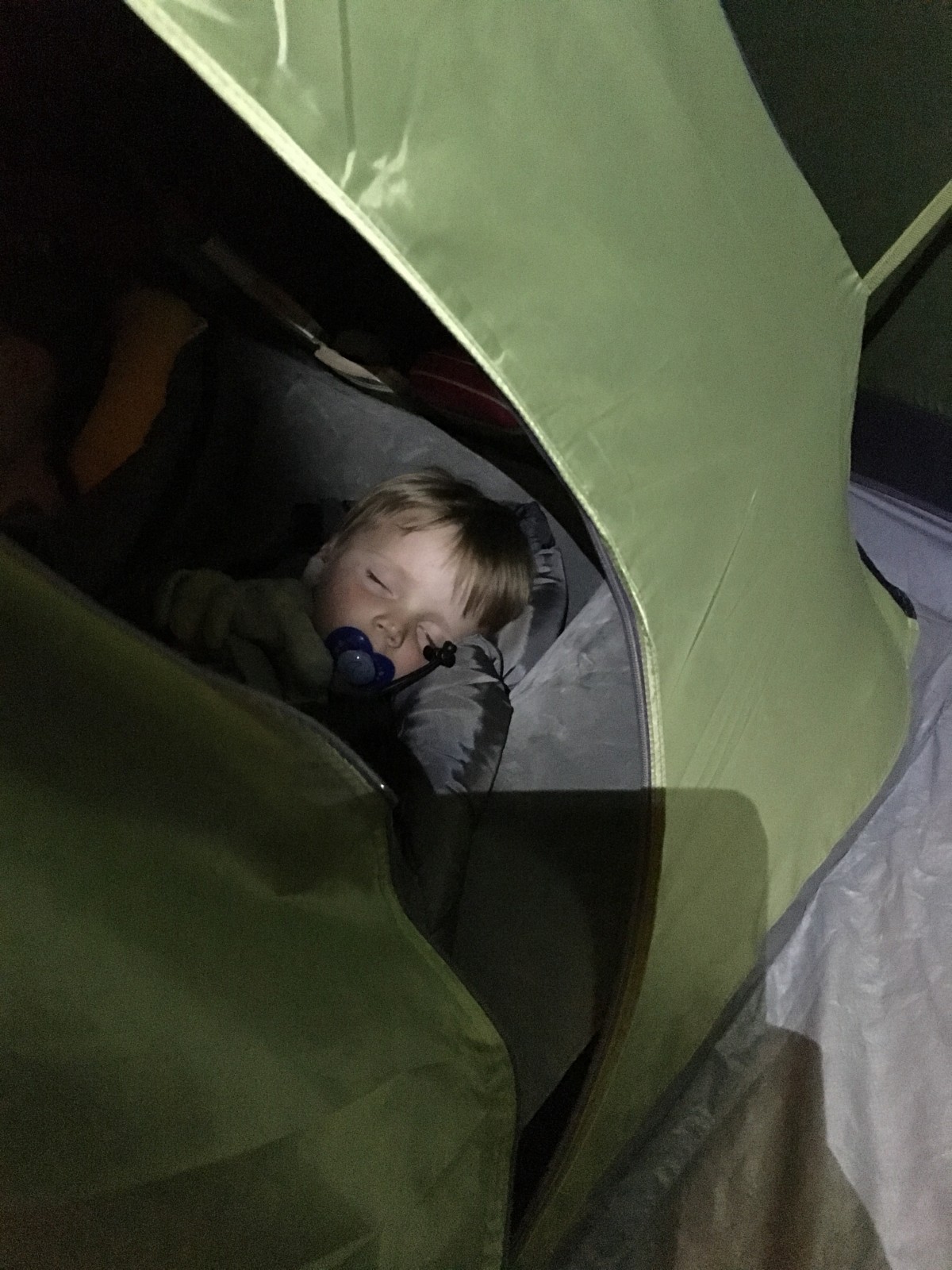 Ram-packed Saturday at Deer Shed Festival
Morning came all too quickly, which it does when you're in a tent as soon as the sun pops up! So we were all out of bed by .6.30am and heading to the toilets.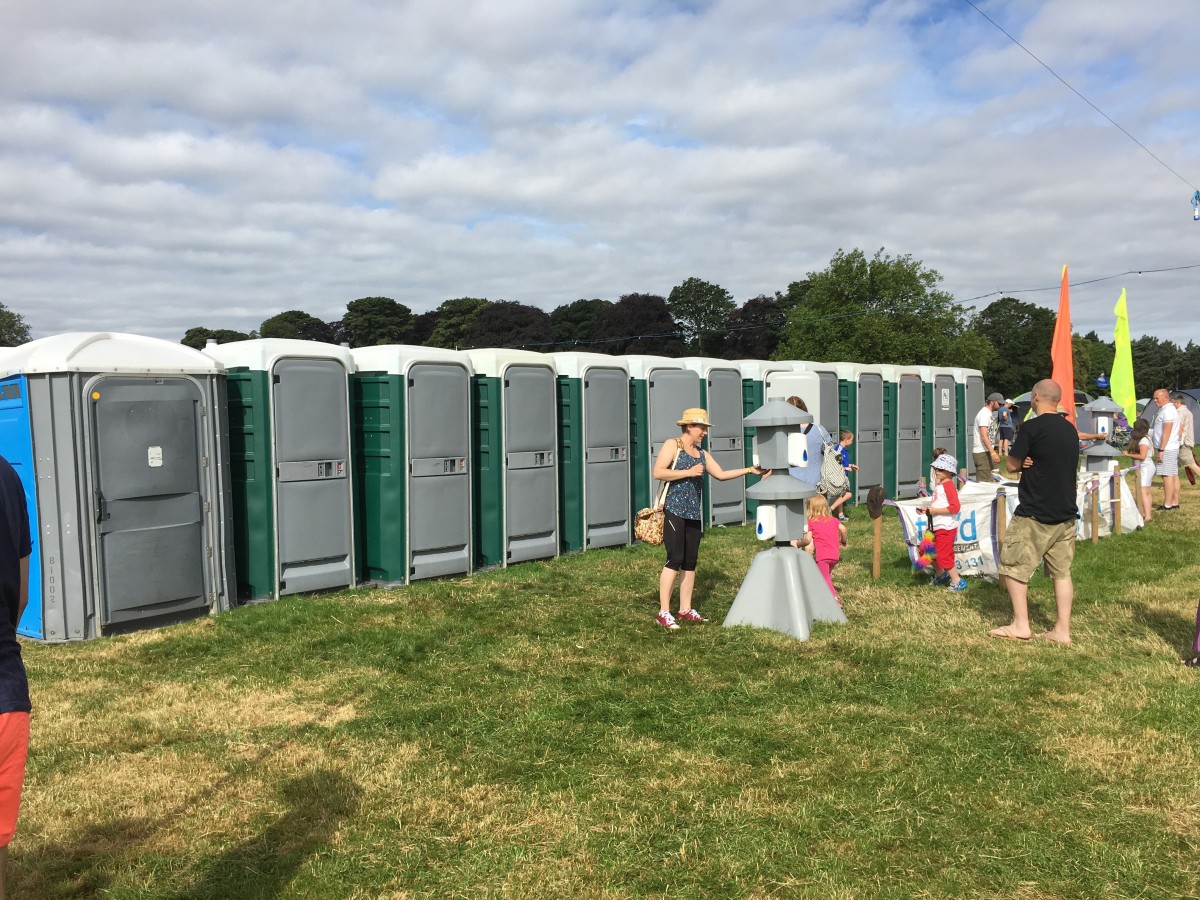 There were port-a-loo type toilets dotted all around the campsite and the Festival.
Sometimes you had to queue for one, but not for longer than a couple of minutes. 90% of the time they had toilet roll and paper towels in them but it was worth taking a packet of tissues in with you just in case. There was a sink in them too but no soap, but hand sanitisers outside the loos, so we made sure we always made good use of them! The loos were cleaned out over the course of the weekend so they didn't get too full – but all the same, they were festival loos!
If you wanted a shower you had to queue between 7am-noon and 6-9 pm and pay £3 for 10 minutes in one. The queues were long and most people didn't bother!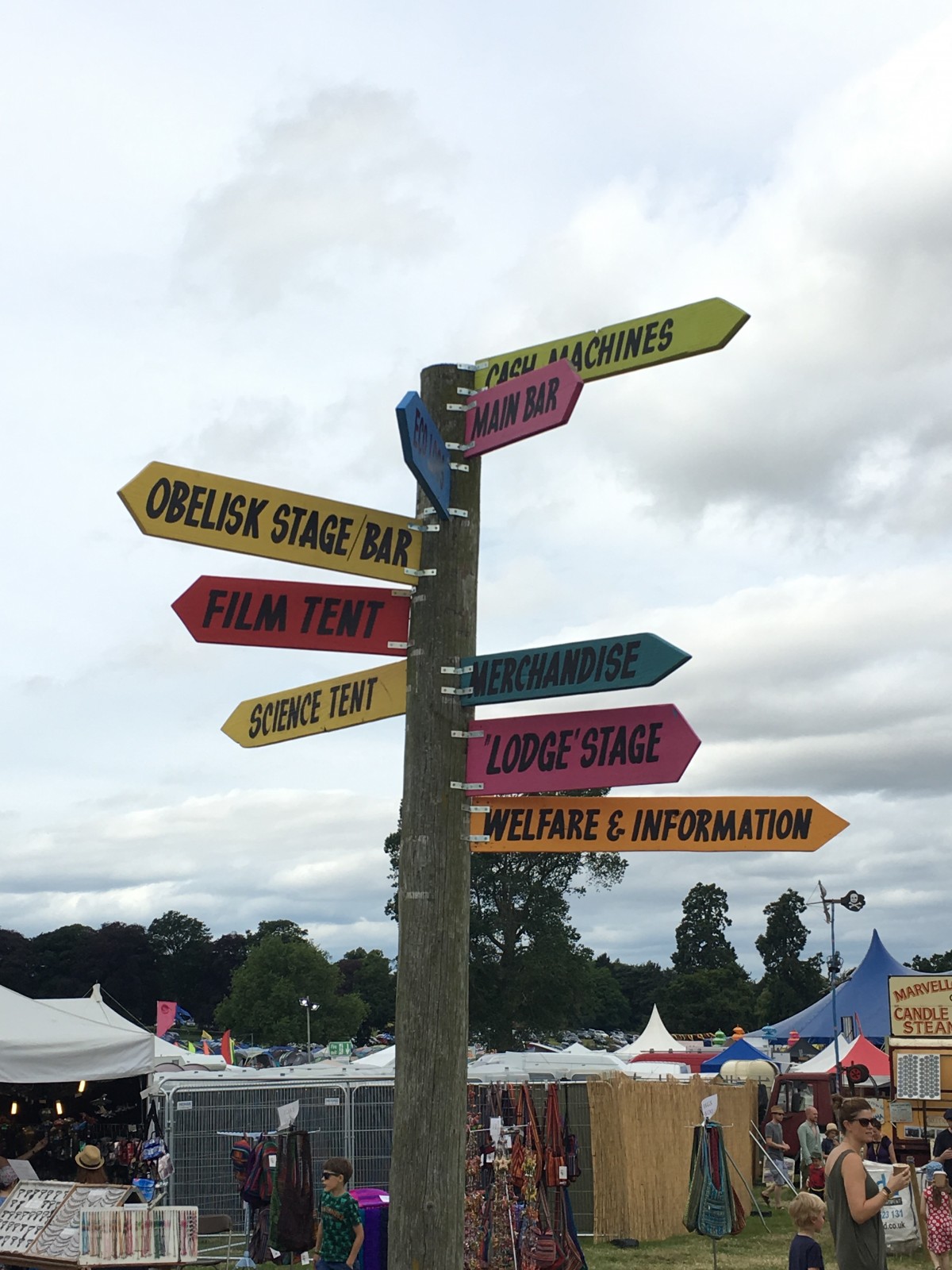 Once we were all dressed we made a spot of breakfast at the tent, we'd taken some cereal and I even cooked some scrambled eggs, which were pretty good considering we were camping!
Then it was time to head back into the festival to do some more exploring! The girls were desperate to go on the fairground attractions. Beth and I ? zoomed down the Helter Skelter, £1 a go, and both girls went on the swings. The Small Boy was mostly hot as it was so humid and when the sun wasn't behind a cloud it was baking!
Then the kids wanted to head to the workshop areas where there were SO many craft activities to do.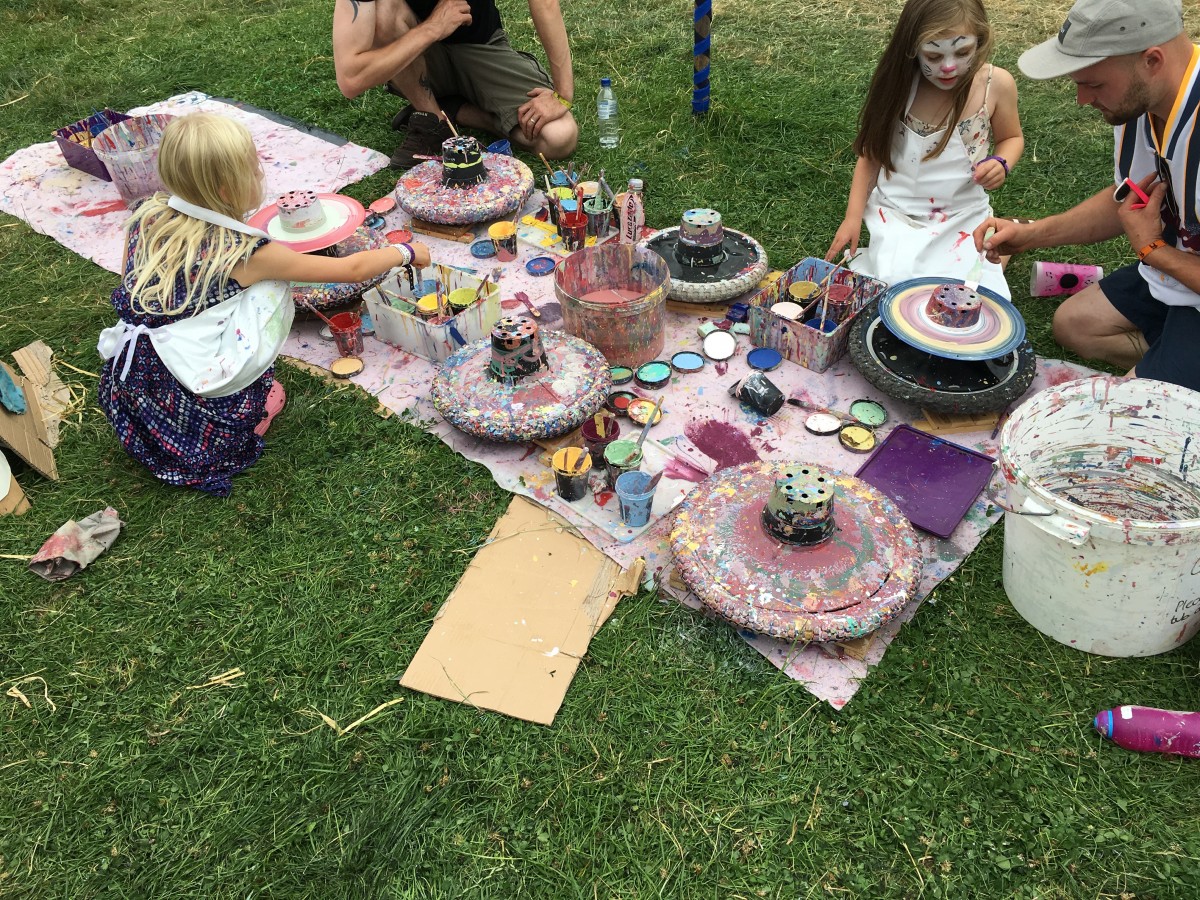 Some you had to pay for, like the blacksmiths workshop and the fire starting ones, the weaving willow hearts was £1 a go and the gingerbread men decorating, £3 a go. The children all made a 'Walk of Fame' mat with handprints and stars, which was free and decorated a CD for the 'wishing tree' which was also free!
We were still warm so headed for a drink in the Obelisk bar and a sit down in the shade (except we couldn't find any! Ha!)
Next on the agenda was the Sports Arena, a big wide open space with loads of organised games going on. From football to badminton, ping pong to rugby – you could take your pick.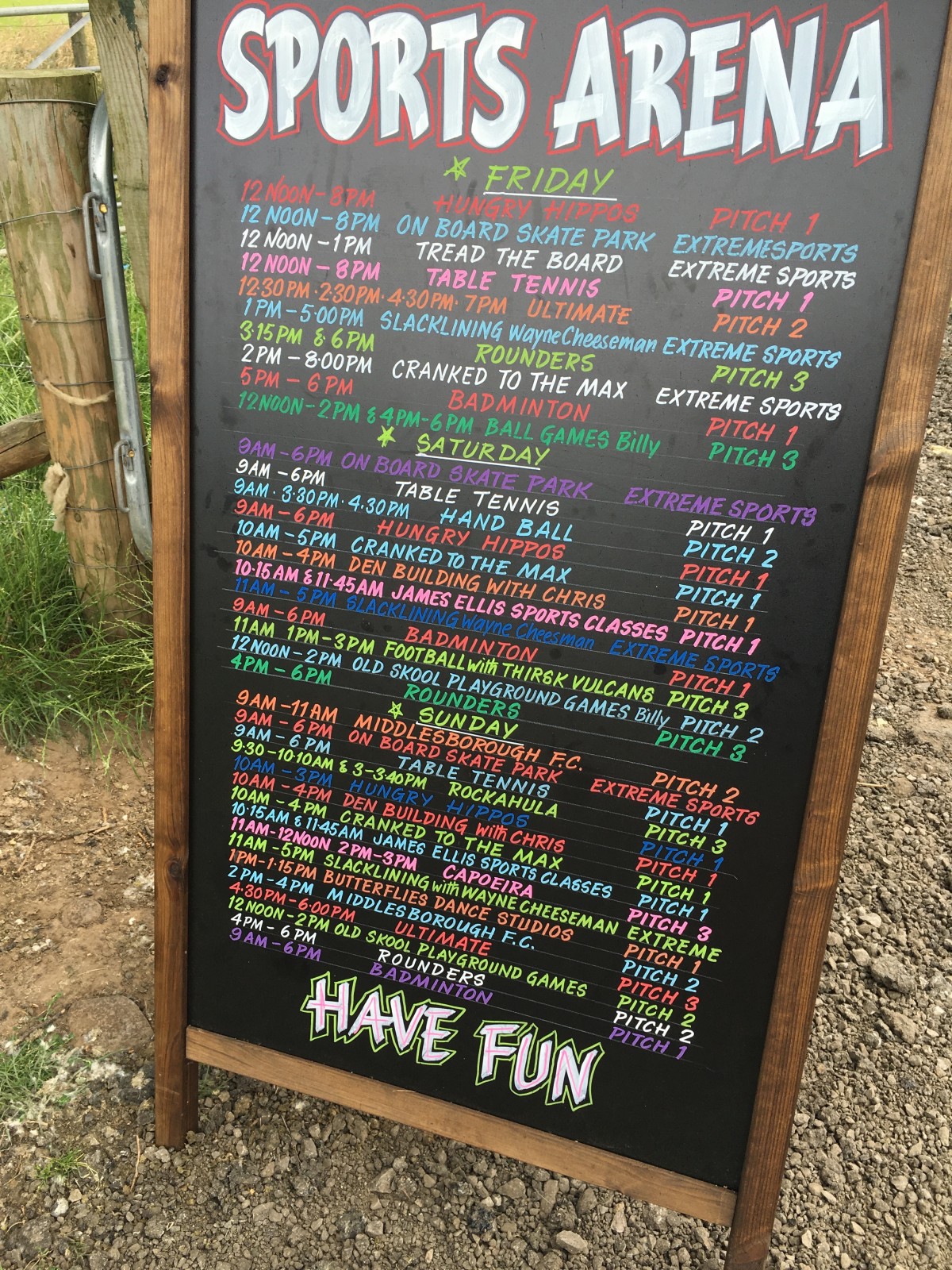 Little Miss B headed to the balance area where you could walk the tightrope across various lengths. The Skate Park looked popular with some outstanding displays and amazed sounds coming from the crowd watching.
The Small Boy and I pitched up our picnic blanket and watched Mr P and Little Miss K play frisbee while he used his newly purchased bubble wand to make some huge bubbles!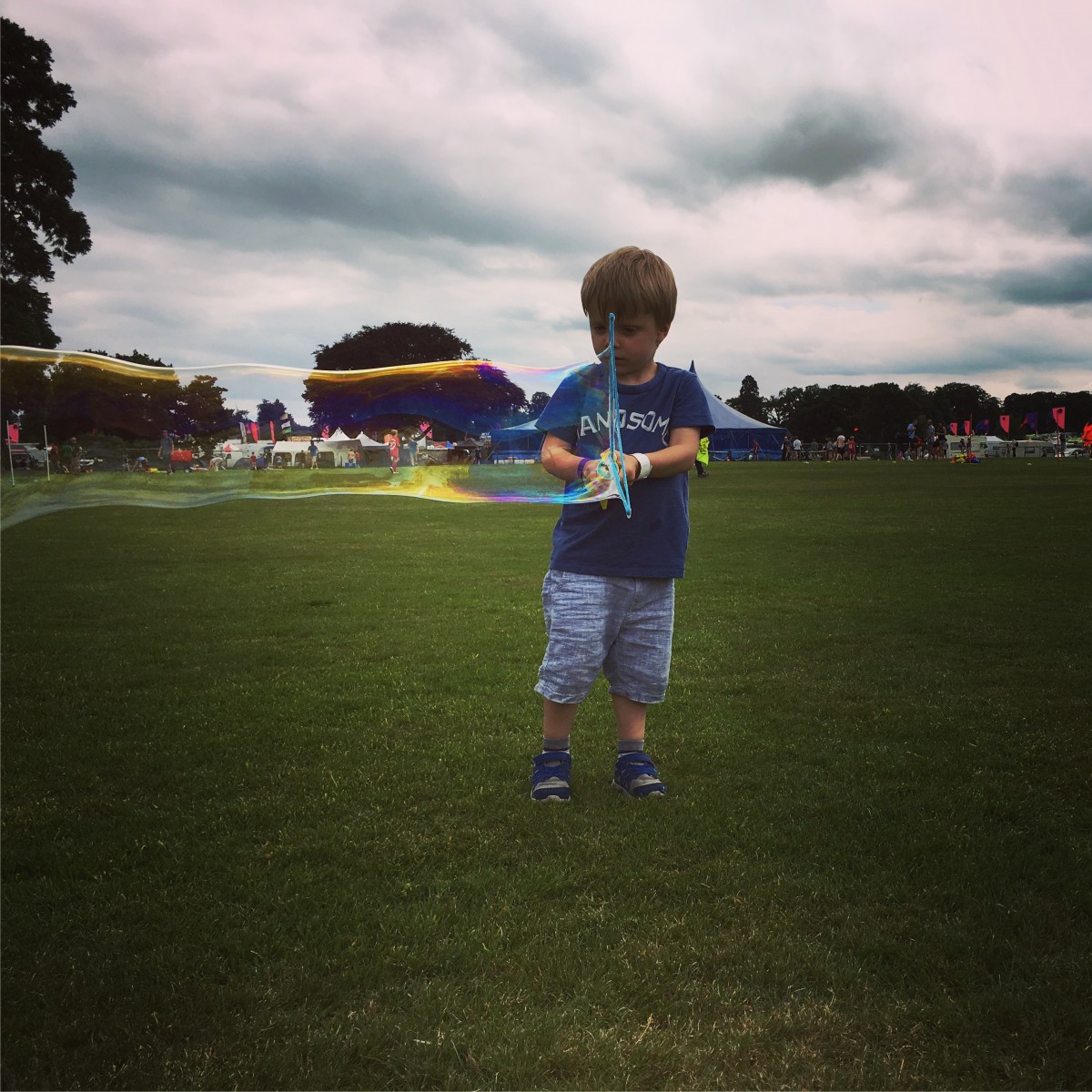 We heard a high-intensity aerobics class going on – which looked seriously impressive and best watched from afar! Ha!
The girls had wanted to play hungry hippos but it was time to head back to the tent for lunch!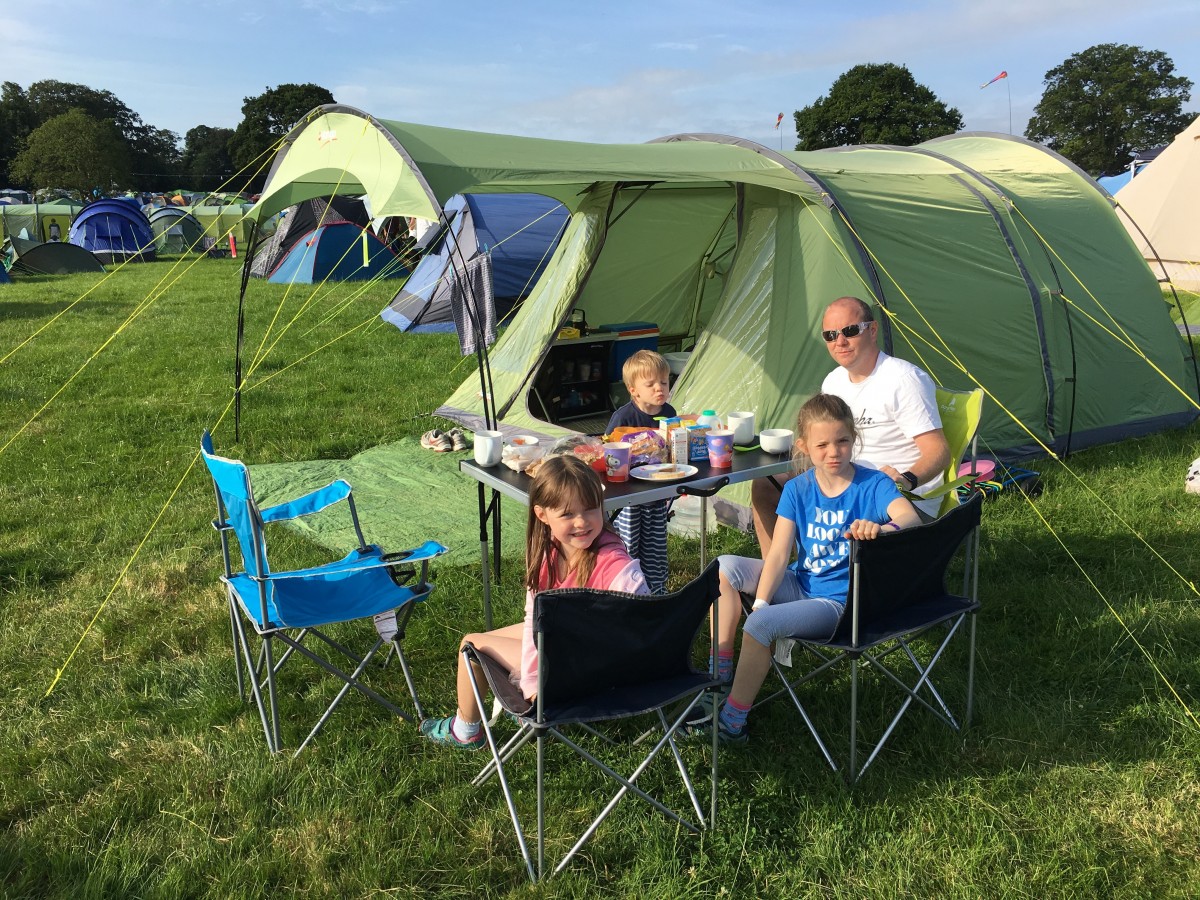 A few hot dogs and a little sit down later it was time to go back 'Festival side'. The girls did a bit of ribbon weaving on the way to meet the lovely Charles from SNAP!Recipebox for drink in the Sloemotion gin tent.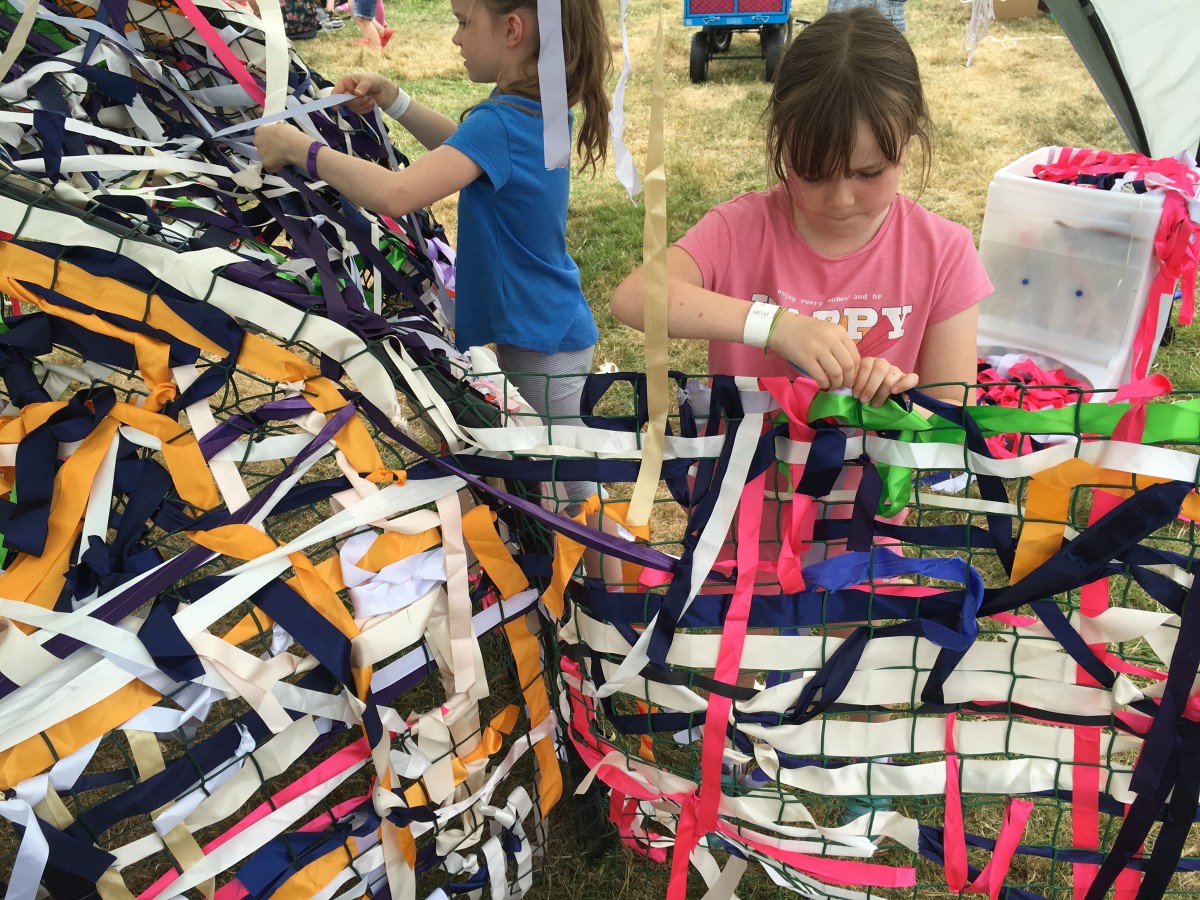 SloeMotion are a Yorkshire company who create their own sloe gin – more to come from them on the blog soon! There were kids games set up in the bar come tee-pee which the girls enjoyed playing while we enjoyed a cocktail – very civilised!
The girls wanted to buy some fake animal tails after that at £15 a pop, but they loved them and refused to take them off the entire time!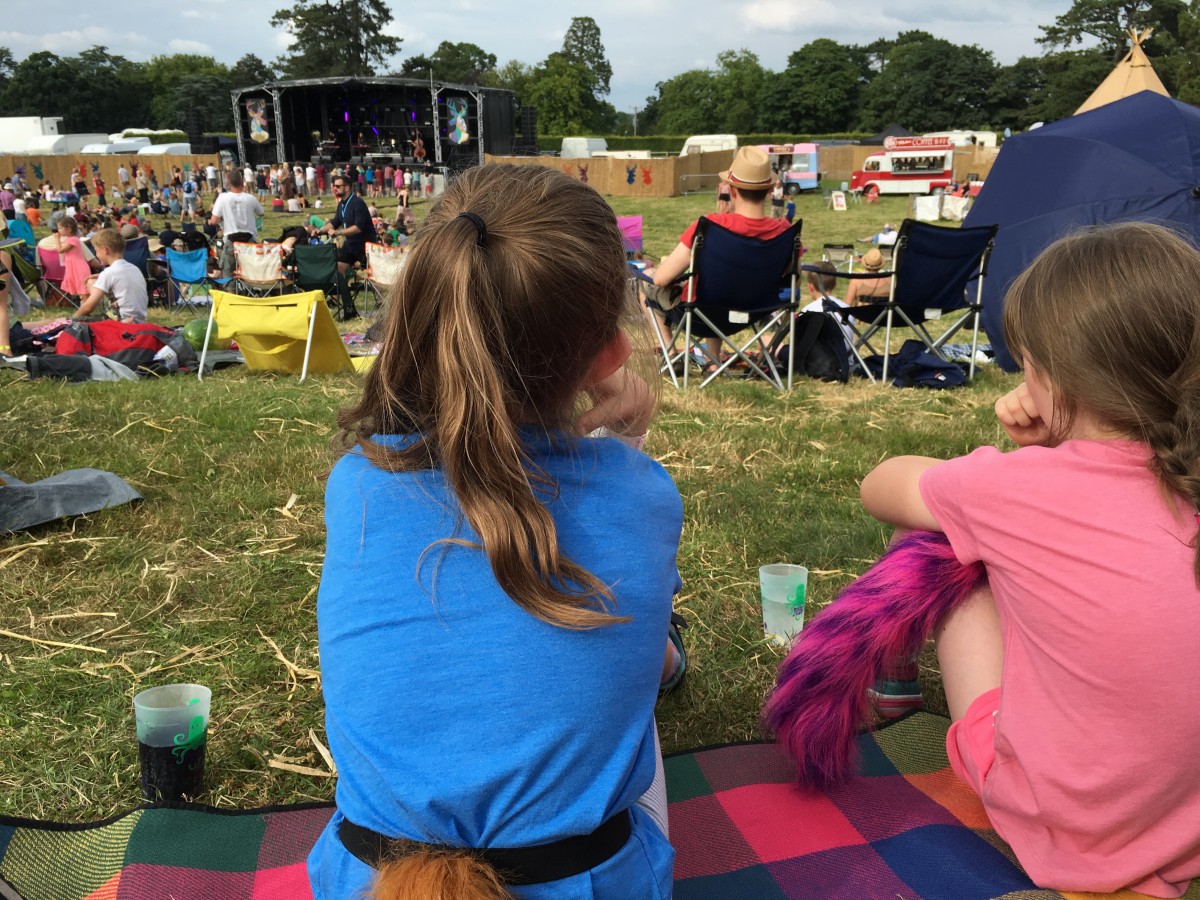 It was then time to all pull open our picnic rug and get a couple of drinks in to enjoy watching Rae Morris on the main stage. Her set was brilliant! We all enjoyed it.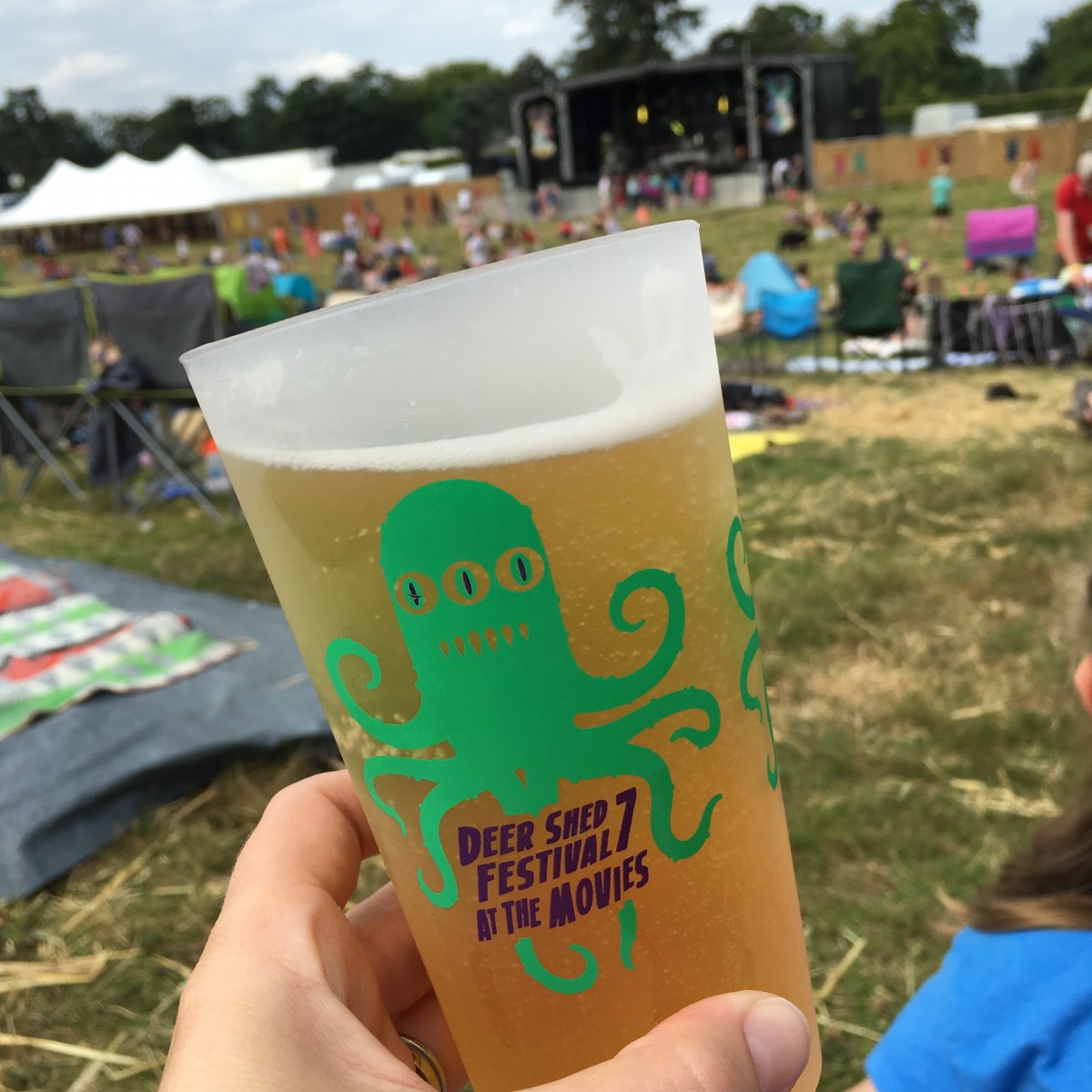 Little Miss K and Mr P headed down to the front of the stage to get a better view for a while and join in up-close! It was a really lovely afternoon to sit outside and listen to some serious talent from an amazing singer. It was one of the highlights of our Festival.
We headed back to the tent so Mr P could have a quick shower and on the way back in were lucky enough to see two hot air balloons taking off. It was magical to see them so closely and watching them sail over the festival in the warm late afternoon sunshine was beautiful. The sounds of laughter and music were washing over the site and the sky was just turning pink. It was a pretty gorgeous moment.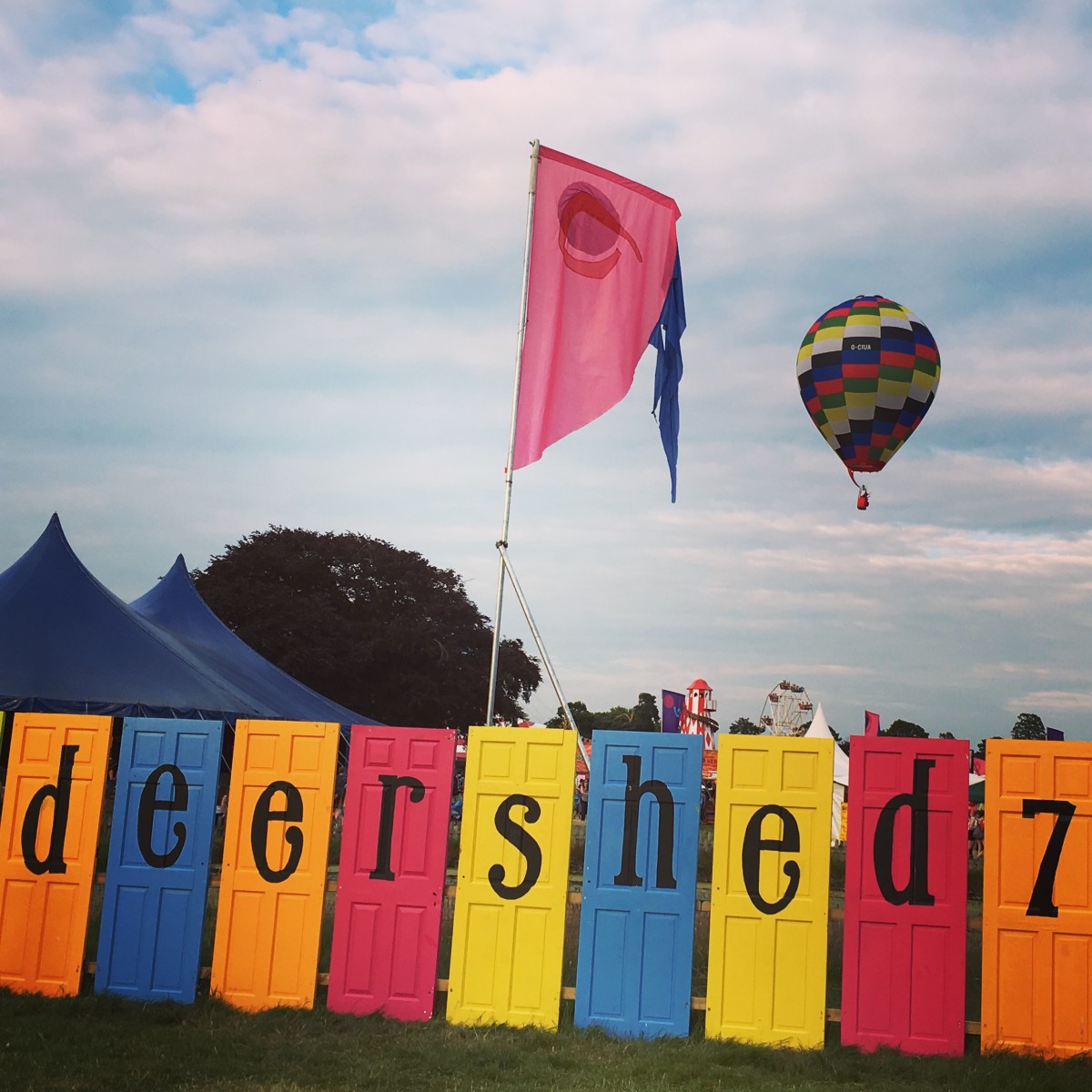 The kids were allowed to choose their own tea again, pancakes, chicken and some amazing freshly stone-baked pizzas from a little van, were the order of the evening.
Followed by fresh Churros lathered in sugar with a side of hot chocolate sauce for dipping! As you can imagine the children thought they were in heaven!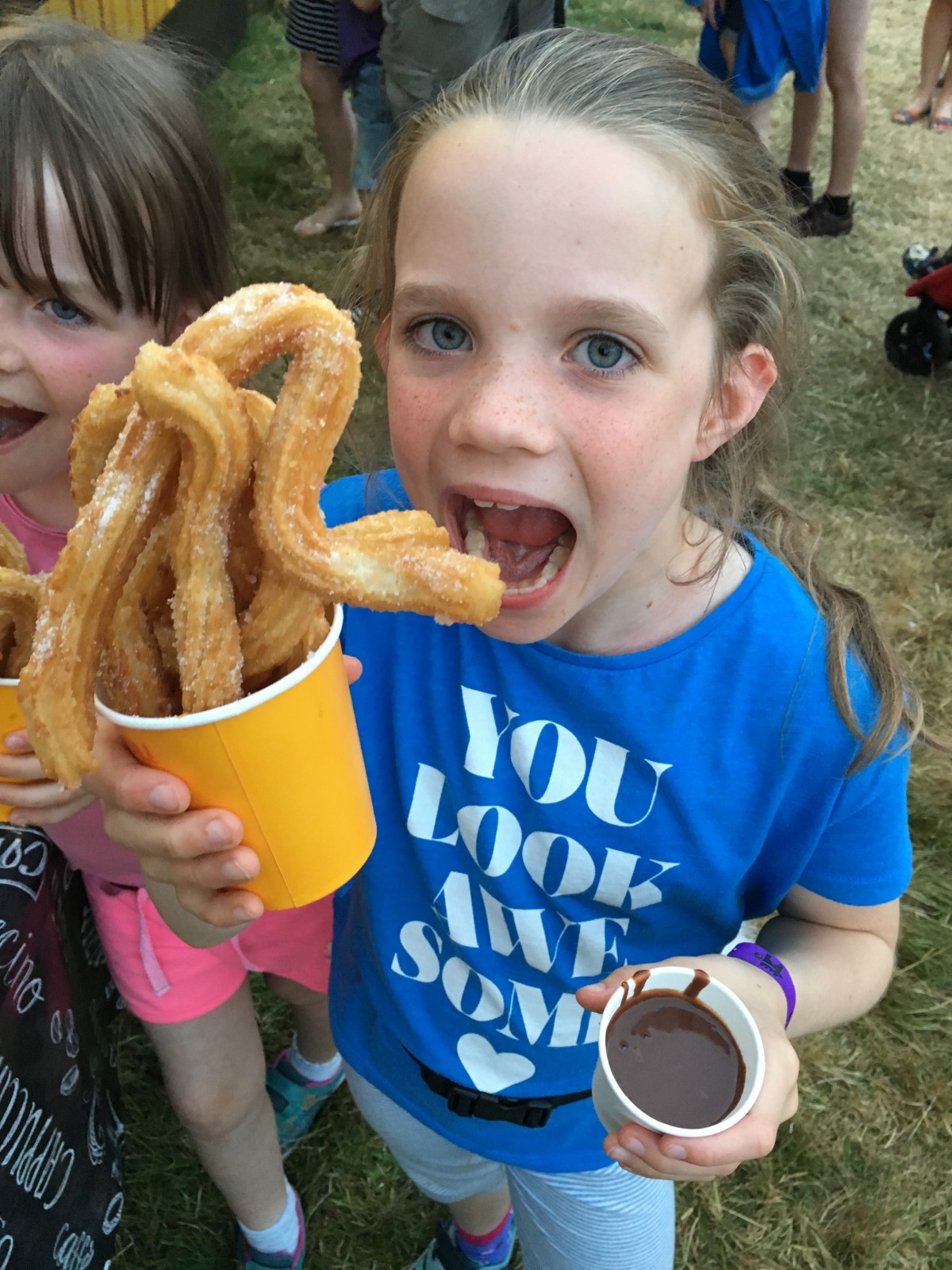 Back to the tent for our second nights sleep – the music ended around midnight at that point, so the grown-ups slept better too!
Bedtime at the Festival
Sunday Funday at Deer Shed Family Festival
On the Sunday morning it was time to start packing a few things up and hauling them back to the car.
We stopped by the glamping tents on the way to have a peek, the big hummingbird ti-pis looked amazing with loads of space inside and the vintents reminded me of camping as a child myself! They're a great option if you don't want to haul your gear across fields or pitch a tent yourself!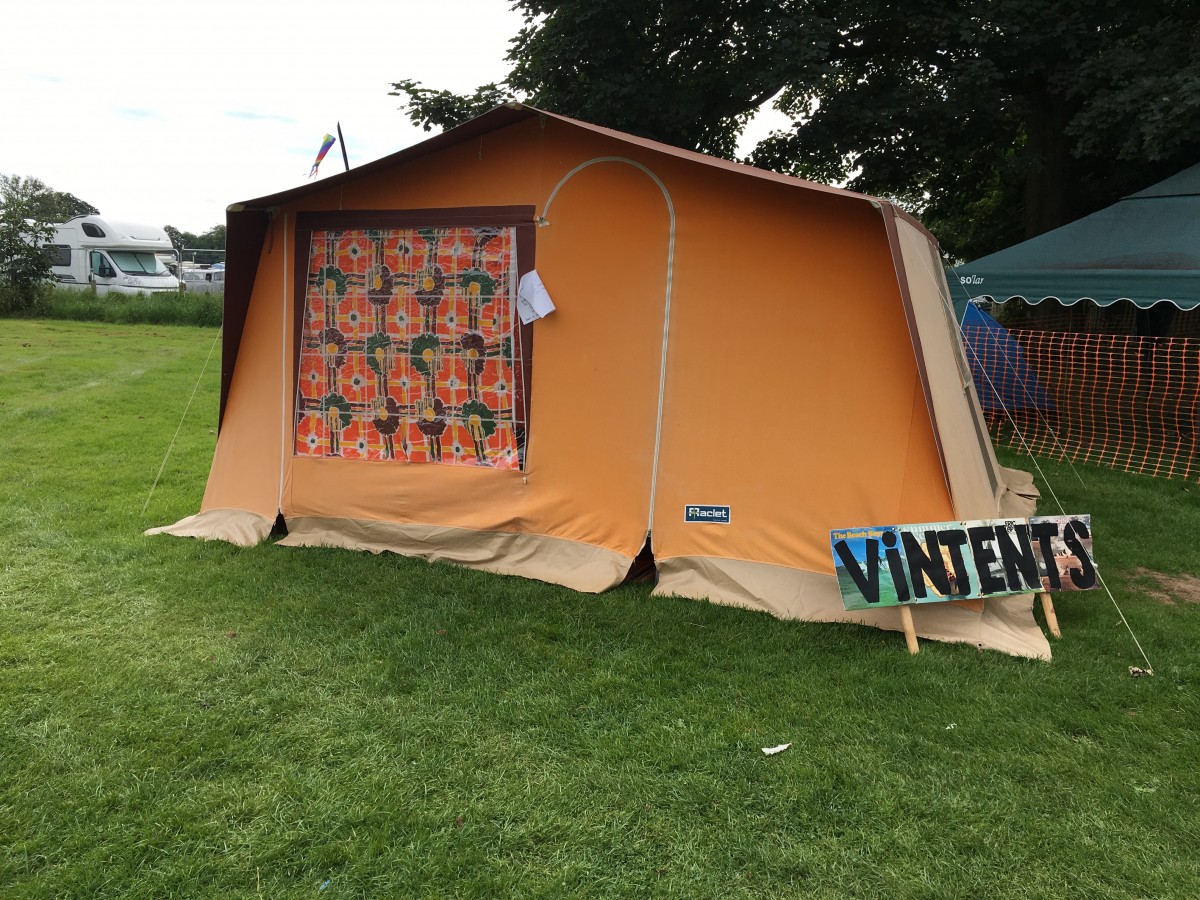 Once the gear was back in the car we decided to explore the Science Tent – inside there were so many workshops going on; from plant potting to Mecano, to making your own rocket to forensic workshops. SO many wonderful things, any of which would have filled an hour!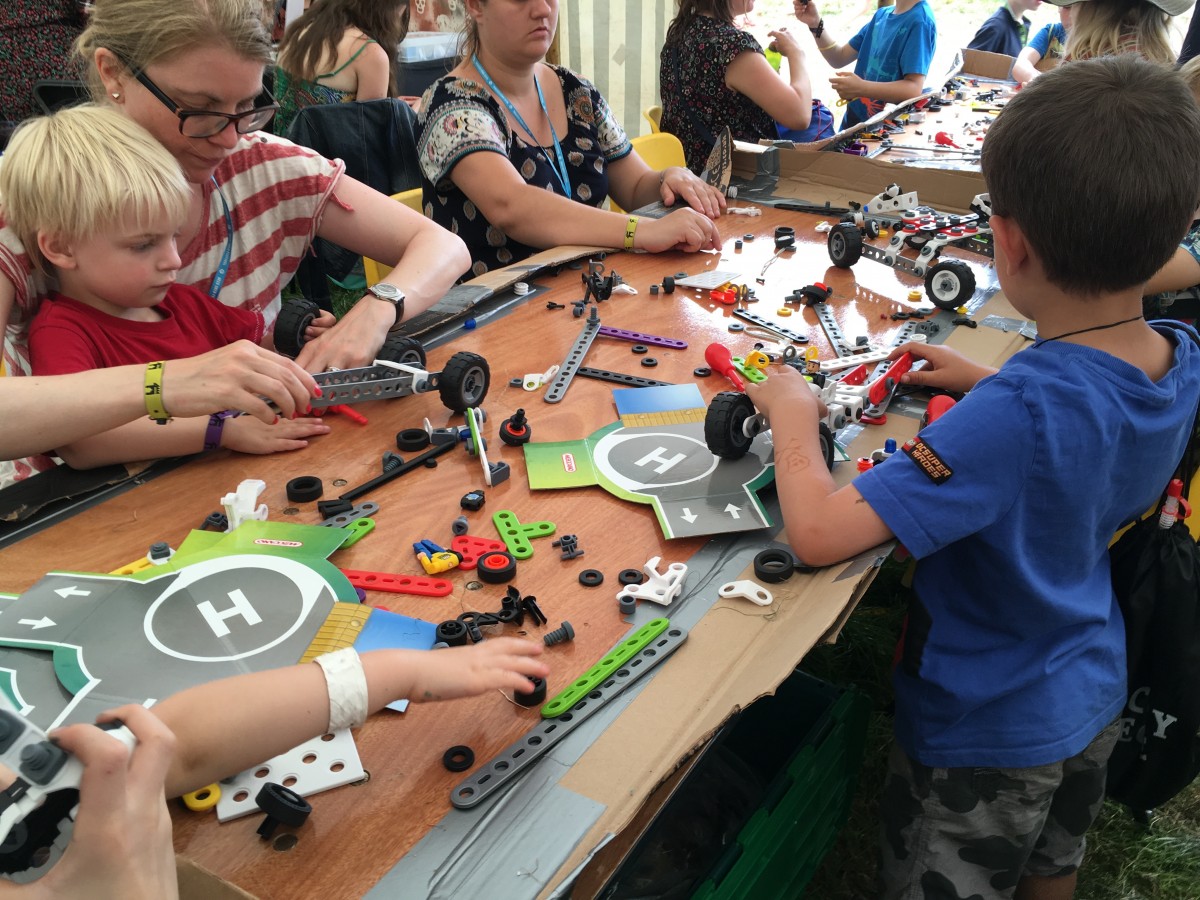 The girls decided they wanted to have a go at the Aardman workshop whereby they could make their own Gromit (from Wallace and Gromit) one of the leading animators from Aardman was running the workshop and it took over an hour.
They loved every minute of it and were so thrilled with their final finished result a combination of the right tools and modelling clay, great instruction and a bit of creativity on their part! They're still very proud of what they made! The Small Boy watched a bit of Frozen inside one of the tents with Daddy while the girls enjoyed their model making.
Then the heavens opened at the rain started, while it was still warm, which was great we hadn't packed the tent away yet! Rookie error! We decided to stay for a bite of lunch, some delicious made-in-front-of -us handmade mozerralla flat breads and bought the Small Boy a bubble gun to keep him entertained while we de-camped the tent.
Once the tent was down we loaded our trolley for the second time and headed back up to the car! We packed up and were out in no time again as there were no big queues leaving either.
Everyone went home tired but happy as all that fresh air, running around, campsite living and fun had exhausted us all. The Small Boy fell asleep on the way home at 4.30pm and did't wake till the next morning at 7.30pm! 15 hours sleep!! He must have had fun!
Looking back at Deer Shed Family Festival
Looking back at our time at Deer Shed Family Festival we had had an amazing time, created some really happy memories and stepped out of our comfort zone a little. There was literally so much to do I think we only managed a tenth of what was on offer! If we're lucky enough to be invited back next year we'll understand a bit more how it all works and make even better use of our time!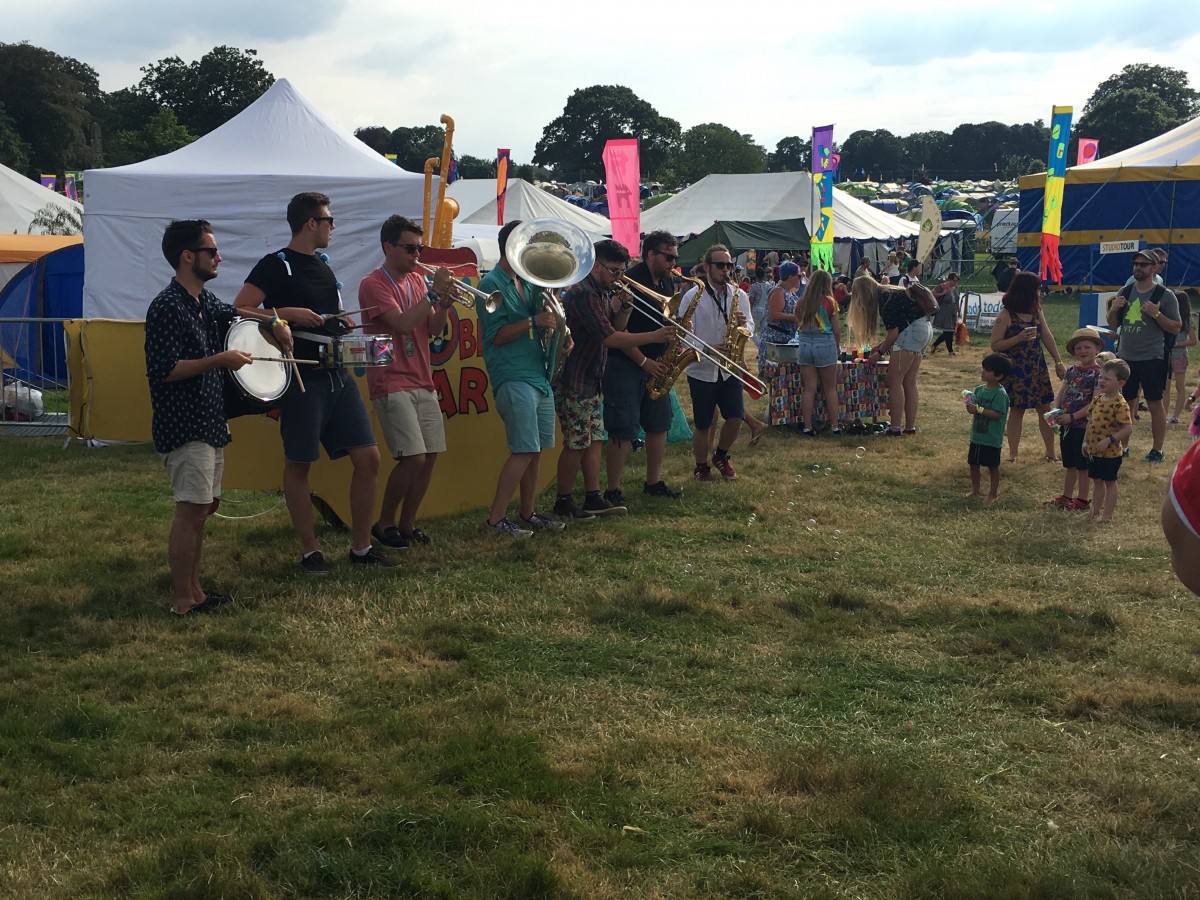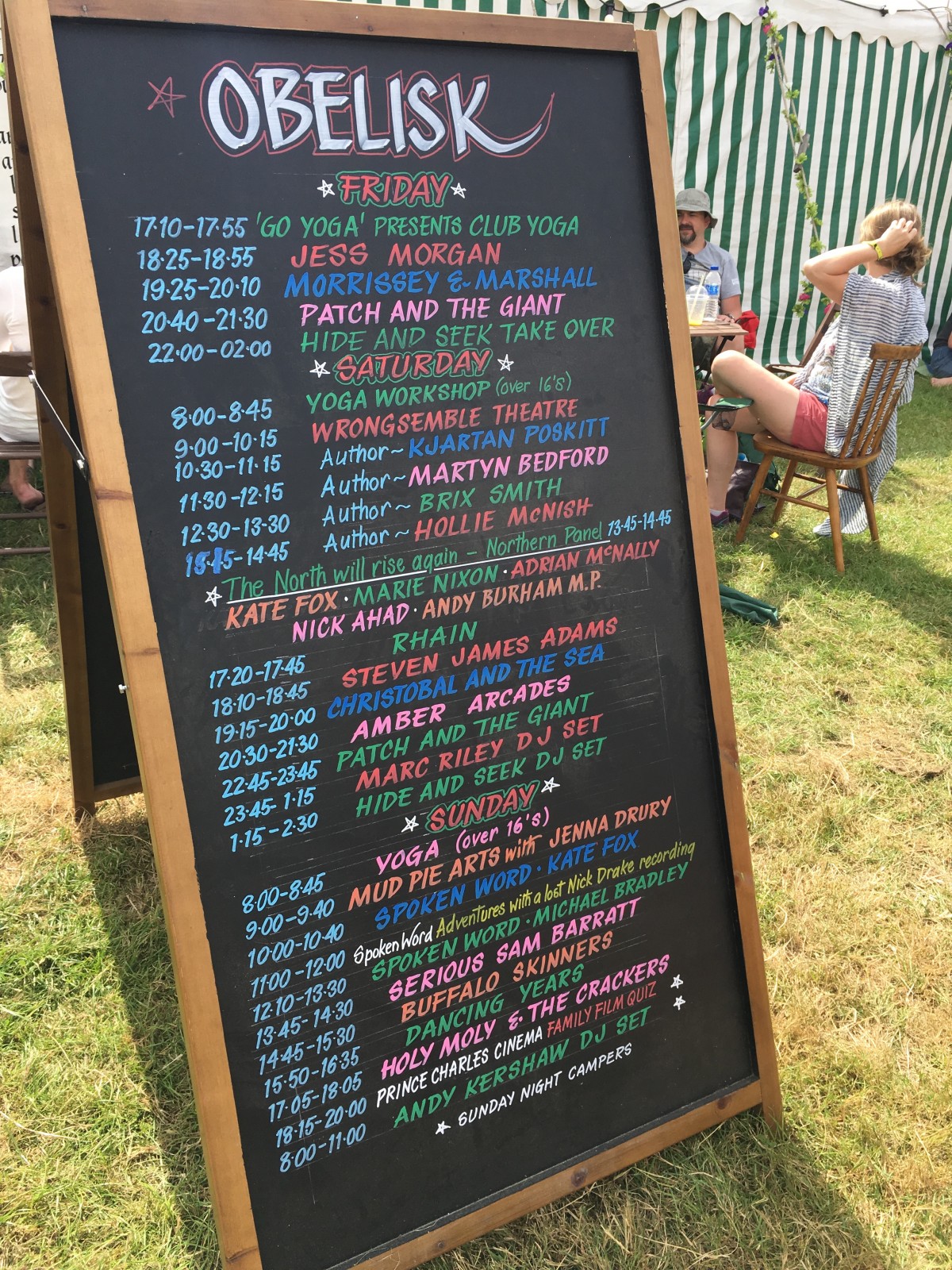 Other things we saw but didn't get chance to enjoy were; swing ball fun, make your own minions, make your own minecraft head, all the comedy acts, the DJ sets, some of the shows performance and theatre, any of the literature and spoken word acts, parent and baby yoga, messy play and endless other wonderful things!
The great thing about the Festival is that everyone who goes has a different experience given that there's so much to do, you simply can't do everything! We chose all the things we enjoyed most and focussed on them! Someone else might go and find just as much fun doing some of the things we didn't do!
NCT had quiet areas and baby changing and breastfeeding spaces
The workshops were a sure fire hit for my kids and the Games Arena. The food was also another highlight and Mr P loved getting to go to a 'live gig' in the form of Rae Morris. I loved seeing how happy the children were and how excited they were by all they could see.
It was brilliant to see how well they took to camping and really great to spend that time all together as a family. It's wonderful being outdoors all the time and it helped that the weather was really fantastic!
If you love outdoor life, music and spending time with your family then I would say mark Deer Shed Family Festival on your calendar for next year. We had a brilliant family time of it!
Early bird booking for Deer Shed Family Festival opens on 8th September from 10am – visit www.deershedfestival.com
Here are my top Deer Shed Festival tips:
Go early in the day on the Friday to pitch up
Hire a Trolley or take a good one with you to cart your stuff about
Take plenty of cash – no one was accepting cards, there is a cash machine on site though
Pack for rain and shine – if it rains there's little outdoor cover and when the ground's wet you need your camping chair to sit on so take it into the festival with you
Read up on the programme and highlight any of your 'must sees' the Festival is so packed with fun stuff it's easy to miss things
Go with an open mind and be willing to pop your head in any of the Festival tents as you never know what's going to be inside!
What do you think? Have you been? Is family festival life for you?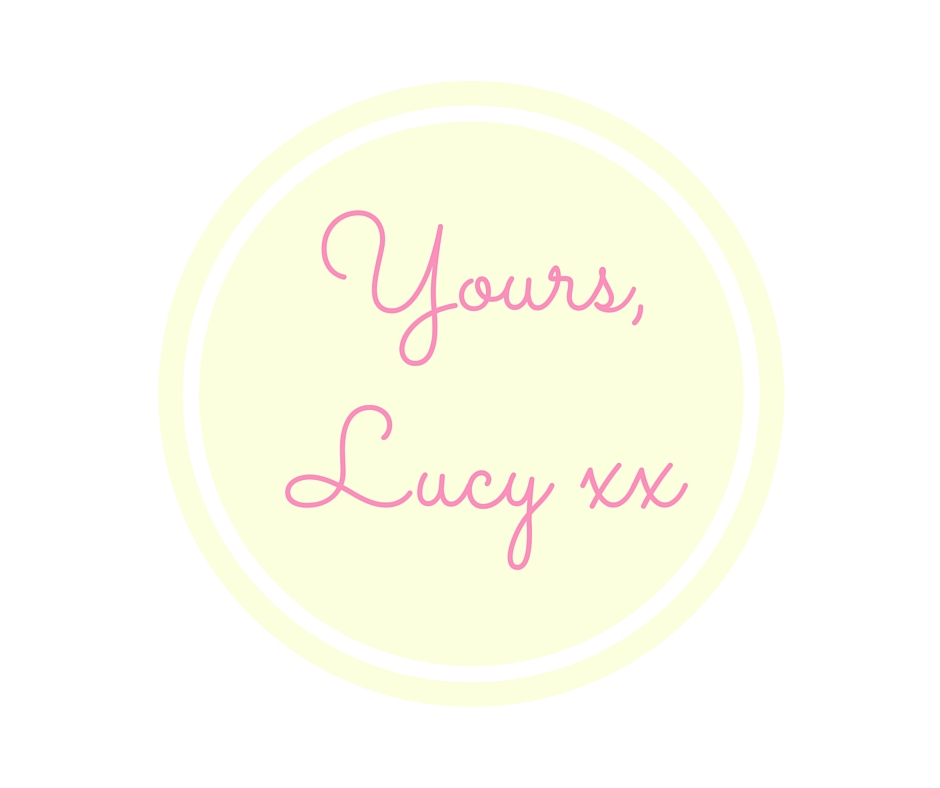 Disclaimer: Deer Shed Family Festival invited me and my family to the event as an official festival blogger so our tickets were on them. Thank you Deer Shed!