I know no words are really needed for this one. But just to clarify; this is actually a small, brown, lego, dog that 'somehow' managed to end up down the toilet bowl! No one is quite sure how (!) but I sure know that they weren't happy about it when it did happen! ?
Obviously I was left to rescue him! #Parenting #Theglorydays ?
#wickedwednesdays 4.5.16
(*The lovely BrummyMummyof2 shares her favourite #wickedwednesdays picks of the week over on her blog…so if you're feeling like the only one who's dealing with this sort of shizzle, then check out the links, for you're not alone!)Here are a few previous Wicked Wednesdays of my own!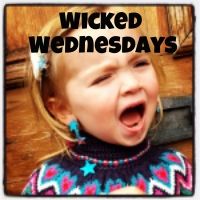 If you liked this you might like some previous Wicked Wednesdays; Walking with Watering Cans, Limpet Child, In Da Hood, The Instagram Selfie,  The Small Boy is Crying because…
Follow: Me (Harrogate Mama) on Facebook and Twitter and Instagram
(All photos copyright © Lucy Playford)