My little Miss K has always been quite a quiet child, when she was younger I would constantly worry that she would end up not getting involved with the fun and games other children were enjoying and would be happier sitting on the side lines watching.
Moving forward a few years she seems much more settled in her own skin and is often now described as a quietly confident child. One of the things that's helped her on her journey is attending her weekly Starmakers performance class in Harrogate.
The Ethos of Starmakers
I LOVE the Starmakers classes as their ethos is something that stands up against the mindset of today's 'pushy parents'. I caught up with Chris Kemp who set up and runs Starmakers to hear what makes the club different from your average Stage School.
Starmakers started seven years ago off the back of Chris' passion for performing arts. Being a stay at home Dad at the time he felt he wanted to start a class for children so that they could enjoy music, drama and dance just as he had done from a young age.
So far, not so different; but it's Chris' belief system about performing that is what really makes  Starmakers stand out as something exceptional.
At the heart of the organisation is the belief that at all children are stars, whether they know it or not. It is about nurturing children and not pushing them into something.
He said that Starmakers has been created to help find the star in everyone and give them the chance to shine. Chris explained that the key to running the group is to get the children to believe in what they are doing and then giving them the platform to do the rest.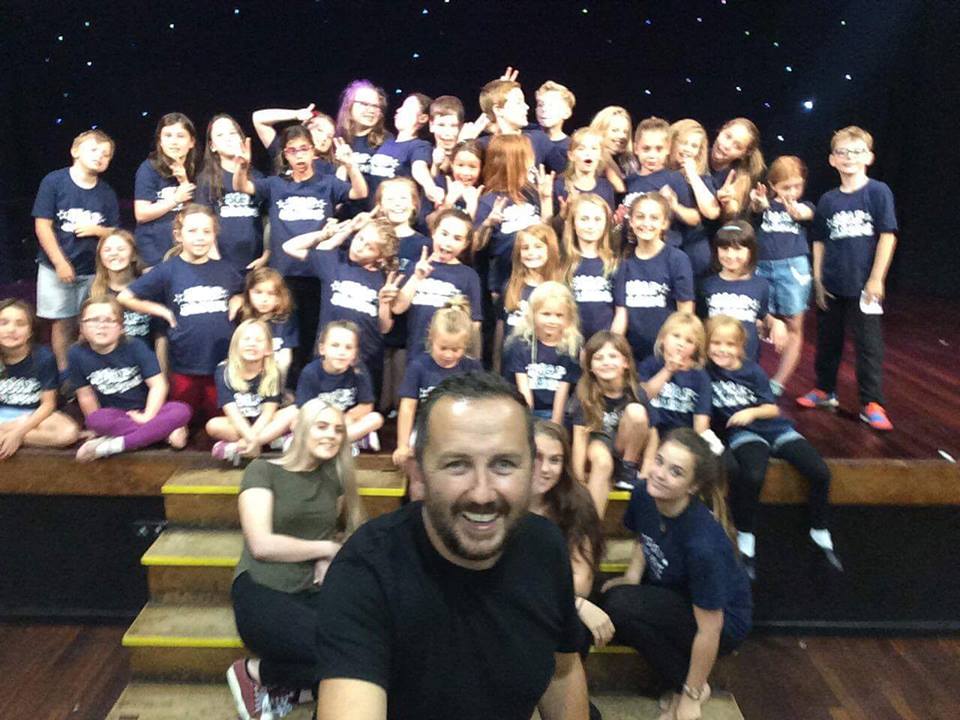 Believing that Every Child is a Star
Chris loves giving children the opportunity to enjoy singing, acting and dancing at the Saturday morning sessions at Harrogate High School and the two annual shows at Christmas and Summer. He believes that by enjoying all these things that they really become more confident in other aspects of their lives too.
He's not interested in making the next child star but the belief that every child is a star, whether they know it or not. He loves Starmakers so much that he told me if he were to win the lottery he would keep doing Starmakers but offer it for free, that's how passionate he is about passing on these life skills to these kids.
As a parent myself I love that the sentiment behind the club is nurturing my child, bringing out the best of what she has to offer and giving her the time and space to play and enjoy performing without the usual pressures that other groups offer.
Starmakers is also enormously great value for money, as a parent himself Chris was really keen from the outset that the group would be at a price point available for most families. £5 for an hour session for the Minis and £7 for an hour and a half session for the Juniors, charged half termly. He's just started looking into offering scholarships for kids who would love the chance to get involved too.
The holiday clubs are even better value, £80 for a Monday-Friday week course whereby the children also get to perform what they've been learning at the end of the week.
There are also no exorbortant ticket prices for shows or high priced costumes to buy, another rarity in the world of performing arts today!
Support from Emmerdale Actress Charlotte Bellamy
Up until now Starmakers has been a small business alongside Chris' full time job, but he feels that he really wants a better work/life balance. He wants to put his passion for Starmakers at the forefront of making that transition so has decided to quit his mainstream job to focus on Starmakers and his young family.
One of the Mum's at Starmakers happens to be an actress in Emmerdale. Actress Charlotte Bellamy came to Chris saying she loved that the focus of Starmakers was that there was no pressure on the kids and that she'd like to enrol her daughter in the classes. Since then Charlotte has become the Patron of Starmakers and Chris hopes that in the coming months she'll be able to become even more involved with the group, possibly running a few workshops for the children to enjoy.
Adult Choir 'All Together Now'
If you're a Mama (or a Dad) who loves to sing Chris has started 'All Together Now', a choir for grown-ups, giving adults the chance to get together and return to a love of singing and become part of a group. It's been enormously popular with around 80 people a week taking part.
Chris also runs Starmakers and 'All Together Now' choir in Baildon, where he lives and between the two towns he has over 140 children who make up Starmakers and between 80 to 100 adults who attend 'All Together Now'.
As he moves into the future Chris' looking forward to being able to spend more time on Starmakers, the possibilities of running a theatre group for older children (12- 15 year olds), starting an 'All Together Now' Choir in Bingley and planning for delivering some theatre support for schools too.
Chris Kemp is such a dedicated,positive person, he really believes in children and wants them to make the most of who they are and believe in themselves. He works alongside; Becky, who has a performing arts degree, Charlotte (Chuggy) and sometimes Amy. All of which have enjoyed the Starmakers classes and who now work with Chris to give something back to the kids they once were. He also has a new staff member joining him this year, Alexia, who has a wealth of experience in performing arts.
Joining Starmakers
Starmakers has some availability for places starting in September, they're always offered with a free trial session too. To find out more you can speak to Chris directly on 07782 333835, visit the Starmakers Facebook Page or contact Chris through the website www.starmakers.co.uk.