I was thrilled to be interviewed for this week's edition of the Harrogate Advertiser, talking about why the local independent shops, restaurants and businesses in Harrogate are so important for families. It's something I'm passionate about and I love to champion independent businesses here on my blog.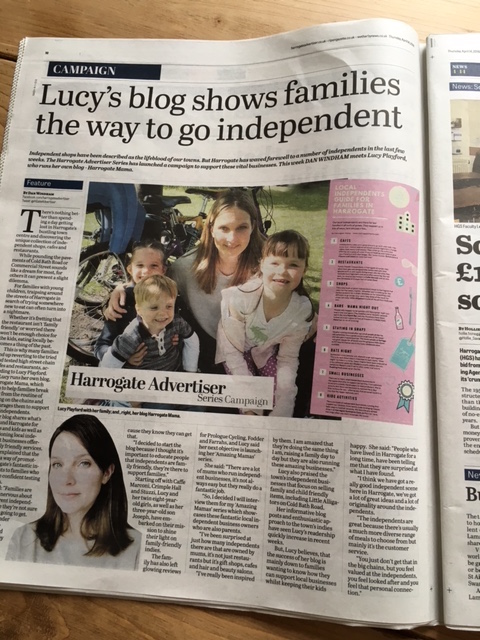 My blog shares three main things for families in Harrogate:
1.) Showcases Harrogate Independent Businesses
I feel it's vital to support the independent businesses who work so hard bringing their skills, dedication and expertise to our town because in return they support local families in all sorts of guises. We all benefit
Here are two of my most popular blog posts about local independent businesses – click each picture to read the post.
2.) Shares great places to go and things to do in Harrogate with kids
It's always great to discover new places to go in your home town with kids. Two of my most popular posts about this include;
3.) Supports you during your parenting journey with stories of 'Real Parenting'
I'm here to help you on your parenting journey too – sharing what it's like being a 'real parent' in today's busy life. Some of my most popular parenting posts are;
By sharing my blog with you I hope you feel more engaged in Harrogate and you enjoy discovering new people and places to help you whilst you do the most important job you'll ever do, raise a family. You're doing great ?
Keep reading to find out more ways local independent businesses support Harrogate families and see my infographic all about how we as families can love our locals…
Here are just a few ways local independents in Harrogate support our families…
I have blogged about lots of local Harrogate businesses here are just a few:
Caffe Marconi – Italian cafe bar and restaurant
Crimple Hall – Garden centre, cafe and shopping experience on Leeds Road
Stuzzi's – Italian restaurant visited on a Mama day trip on Kings Road
Prologue – Performance Cycling shop and Cafe on Cold Bath Road
SNAP! Recipebox – Local food produce delivered to your door with recipes
Fodder, Farrahs and Bettys – Food Halls and the famous cafe tea rooms are mentioned in my six lovely things to do in Harrogate post.
Wetherby Whaler – Fish and Chip restaurant in Wetherby
If you're a local independent business are are interested in working with me you can contact me on email or check out my work with me page.