Margaret Dabbs London
I had the pleasure of meeting the rather brilliant Margaret Dabbs herself at the official opening of her Harrogate foot clinic and nail spa last week. Margaret is passionate about hands and feet, she's a celebrated podiatrist and foot expert who founded her first foot clinic in London in 1998 in the private consulting rooms in the Harley Street area of London. She's since gone on to open nine Margaret Dabbs London clinics both across the UK and two International clinics in both Dubai and Qatar and now one in Harrogate too!
Margaret Dabbs London offers medical and luxurious treatments and products for hands and feet. The Harrogate Margaret Dabbs clinic is on Montpellier Hill just down from Bettys and offers expertly crafted treatments and products for luxury foot and hand care.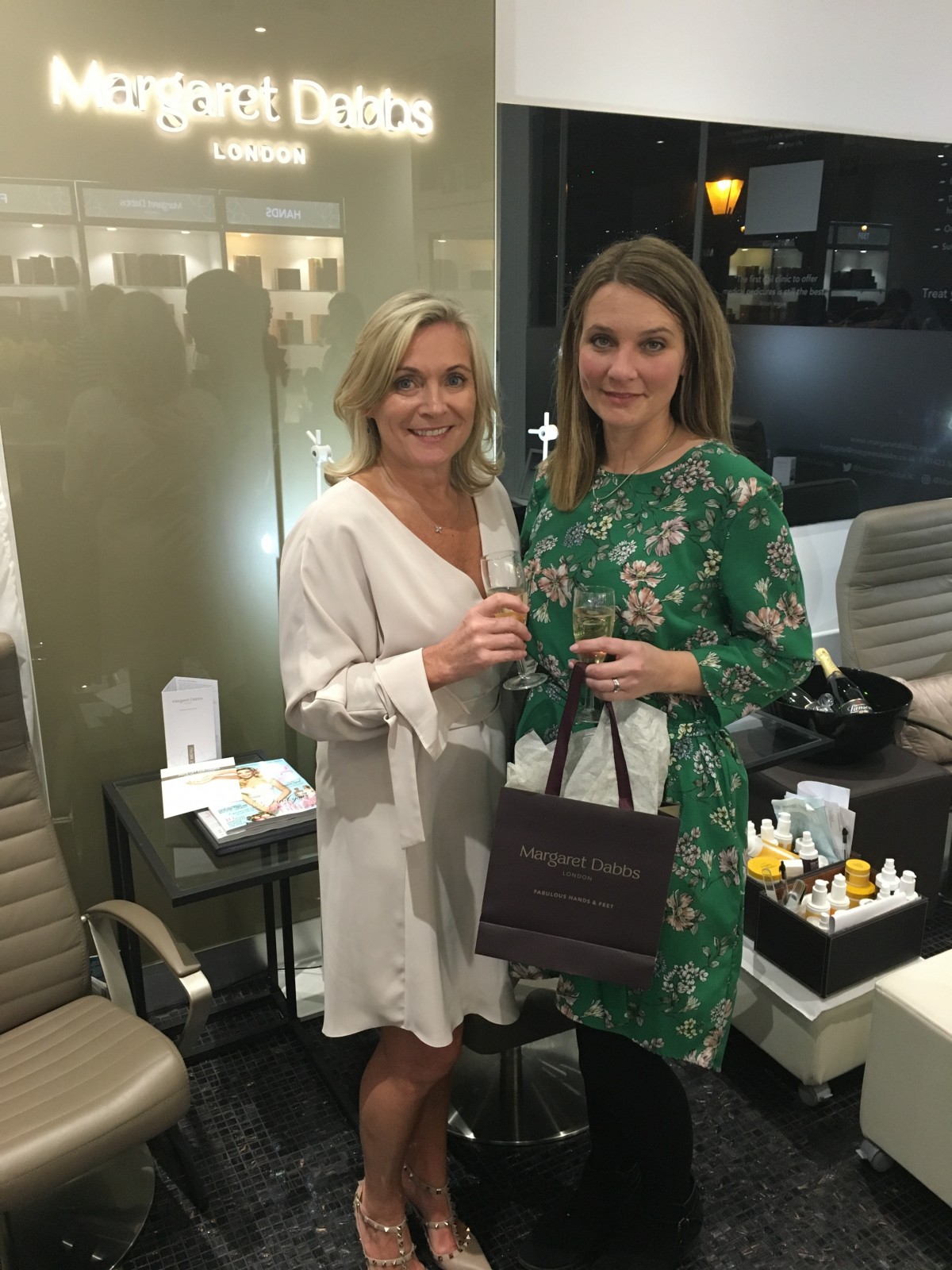 Friendly Qualified Podiatrists
We met some of the friendly, qualified podiatrists who are all fully trained in Margaret's expert techniques in the beautiful setting which makes you feel like you've stepped into a luxury spa.
I loved getting to spend some time treating my feet to a mini pedicure in this welcoming, private setting.  Probably, like most of us, my feet are one of the parts of my body most neglected – until the sun comes out anyway. So it was really lovely to pay them some attention from a fully trained expert – and they looked around 100 times better after the treatment than before! The clinic also offers hand treatments and manicures in the luxury setting too.
Private Parties for Teens
I was also interested to hear that Margaret Dabbs London hosts private parties for teens who are looking for a new way to celebrate with their friends, with nail spa events! The nail spa area of the Harrogate clinic hosts four hand and foot stations where manicures and pedicures are undertaken by the professional nail technicians. The nail spa uses all Margaret Dabbs London hand and foot care products within them too.
TVs Jess Cunnington
The brilliant Jessica Cunnington who was a contestant in The Apprentice and CBB recently also popped by to check out the clinic. She's expecting her fourth baby in a no time at all and was as chatty and friendly as she came across on the shows!
We all went home with a beautiful goody bag filled with Margaret Dabbs London treats and feet to keep us smiling for the next few weeks.
Disclaimer: Margaret Dabbs London invited us to this event – the views, as always, are my own.